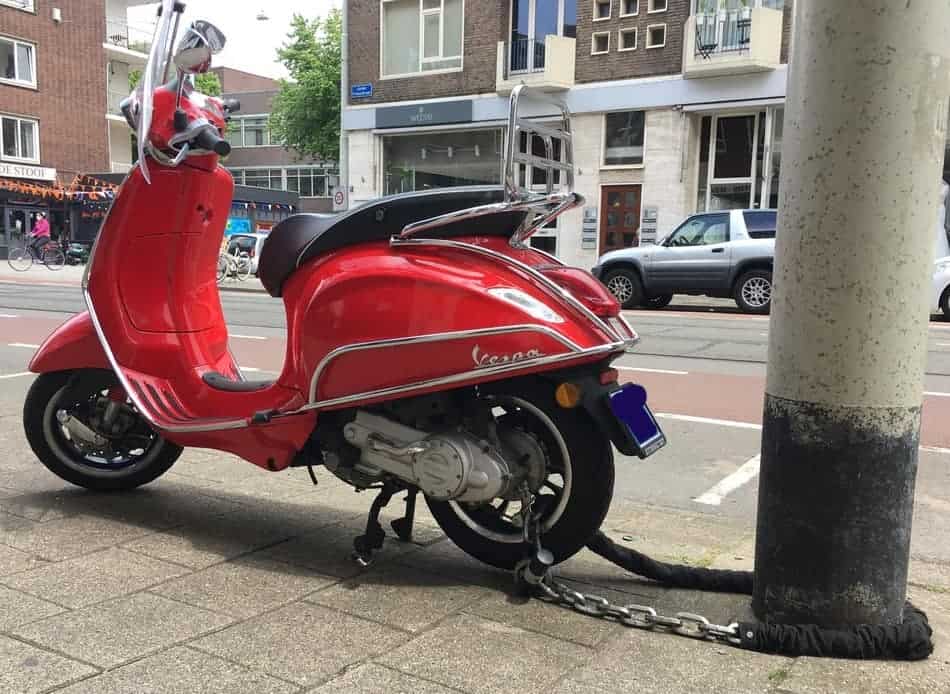 Now that you own a Vespa, the next step is to make sure it doesn't get stolen. Vespa is a popular scooter brand and a favorite among thieves. We always make sure that we get the best heavy-duty chain lock so we can leave our Vespas safely behind.
A heavy chain together with a lock that guarantees certain security (so call Accredited products) is actually crucial for any Vespa. Popular quality locks are for instance Kryptonite, Mammoth, and Abus. There are other alternative locks (which we will explain at the end of this article) that are more convenient to use, however, these locks should only be used as an addition to a heavy-duty chain lock.
So while the heavy-duty chain lock is the best way to lock your Vespa it is still essential to know how to lock your Vespa properly. Thieves are always on the lookout and you will make their life more difficult if you consider the following 9 tips.
1 Choose the correct place to park your Vespa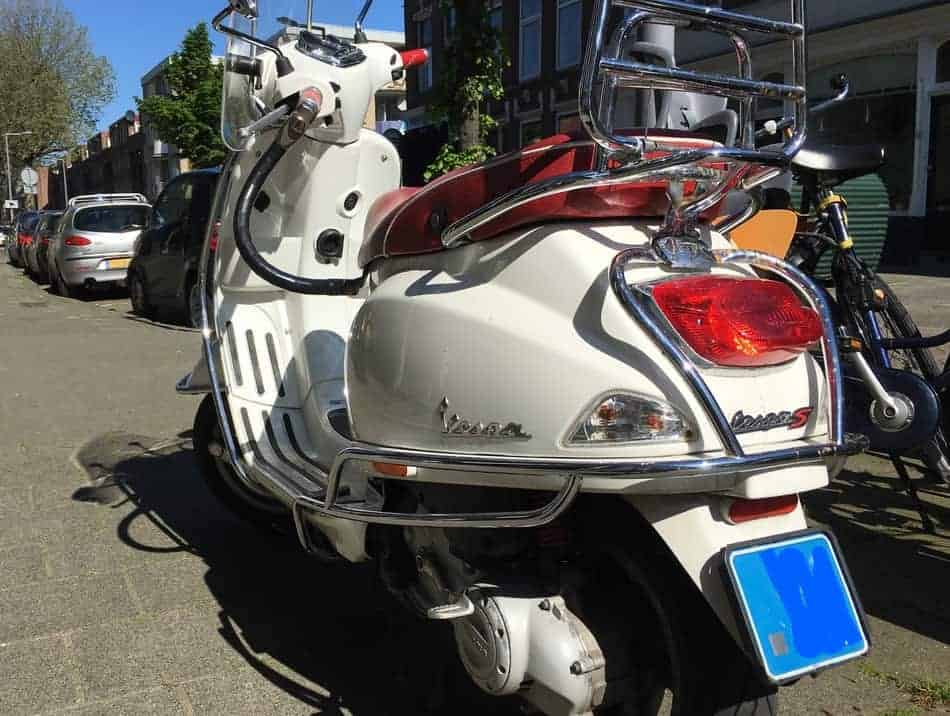 Obviously, the best place to park your Vespa is out of sight. A garage or a shed is the ideal place. Unfortunately, even then it is not 100% guaranteed that it will not be stolen. Make sure you still lock your Vespa properly once parked indoors with a heavy-duty chain lock, preferably securely fixed on ground- or wall anchor. In our case, we had more Vespas so at the end of the day we would park them closely together and connect them with heavy-duty locks such as this one which is sold online.
It sounds silly to fix your Vespa onto something when it is parked indoors. But you will be surprised. Our neighbors always parked their Vespa inside the communal garage box. Somehow thieves managed to enter the area and the Vespa was pushed straight into a van.
If you are not able to park the Vespa inside then you should avoid parking it in quiet dark areas and nearby alleys. You can imagine that thieves prefer not to be seen when they are working on a lock. So try to park it under a street lamp, a public area, or a busy corner.
A wall anchor is also ideal for outside use. You do need to drill some holes into the wall, but if it's your own place or the landlord allows it, then it is a perfect option for Vespas which can not be parked indoors. It is a small investment for extra security. You can shop all types of anchors here.
2 Understand the type of locks suitable for your Vespa

Once you start shopping around you will notice that there are a lot of locks to choose from. Make sure you get a quality lock. There are many organizations that have appointed levels of security for locks. For instance, in the Netherlands, there is an organization called ART. The more ART stars a lock has the more security it guarantees. For some insurances, it is mandatory to have a lock with a certain number of ART stars. So in the case of the Vespa, we always choose the lock with the highest stars.
In the USA and other European countries, there is a similar organization called SOLD SECURE. They have classified locks into three groups: bronze, silver, and gold.
While these locks are extremely strong, they can still be broken. Nevertheless, thieves need heavy tools to be successful. So at least you keep the opportunist thieves at bay and make life difficult for the professionals.
3 Always attach your Vespa with a chain lock to a fixed object
No matter how many locks you use, if professional thieves see a Vespa that they can wheel or carry away then it is a very easy target for them. Attaching your Vespa to a fixed object with a chain lock is the best way to keep it safe. A fixed object can be a beam, lantern, fence, tree, ground -or wall anchor, etc.
So as you can imagine it is pretty crucial to look at your Vespa and to think about how you will be attaching it with a lock and chain. The longer the chain the easier it is to loop it around an object. However, do make sure you keep your lock off the ground. If you do so, thieves are unable to use the ground as leverage making it more difficult to break or cut it. They will need additional tools.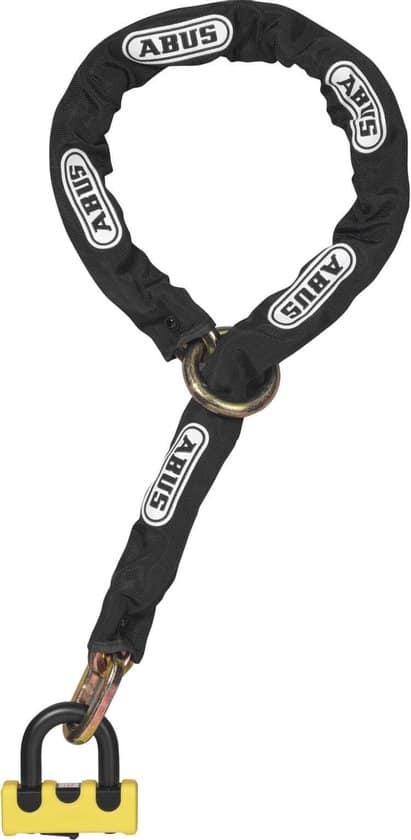 From our own experience, we prefer a long chain to make parking nearby an object easier. If a chain is longer you don't need to make too much effort to park the rear wheel near for instance a street pole. We tried a couple of chain locks. But as you can imagine, the longer the chain, the heavier the lock. In the end, we preferred a chain with a loop together with a U-lock. They are long yet half the size of other locks plus they are very user-friendly.
If you own a classic Vespa you will know that you don't need a key to start it. The Vespa will be running just by using the kick start alone. Therefore it is almost impossible to leave your Vespa behind without attaching it to something with a good lock. The U-lock loop chain which we mentioned earlier fits perfectly in the little compartment under the seat. We only use this type of lock on our classic Vespas.
This loop chain together with a U-lock gives you different ways to lock your modern or classic Vespa.
Place the chain through the spokes of your rear wheel, then loop it around a fixed object and lock it with the U-lock.
Wrap the chain around an object and place the chain through the loop. Then place the U-part of the U-lock around a spoke and fasten the lock with the loop of the chain within the U-lock
If you have a Vespa LX you can use the loop in the frame to attach the U-lock. Same case for a classic Vespa. It is impossible to place a chain through the spoke so we use the rear brake together with a U-lock to attach it to something.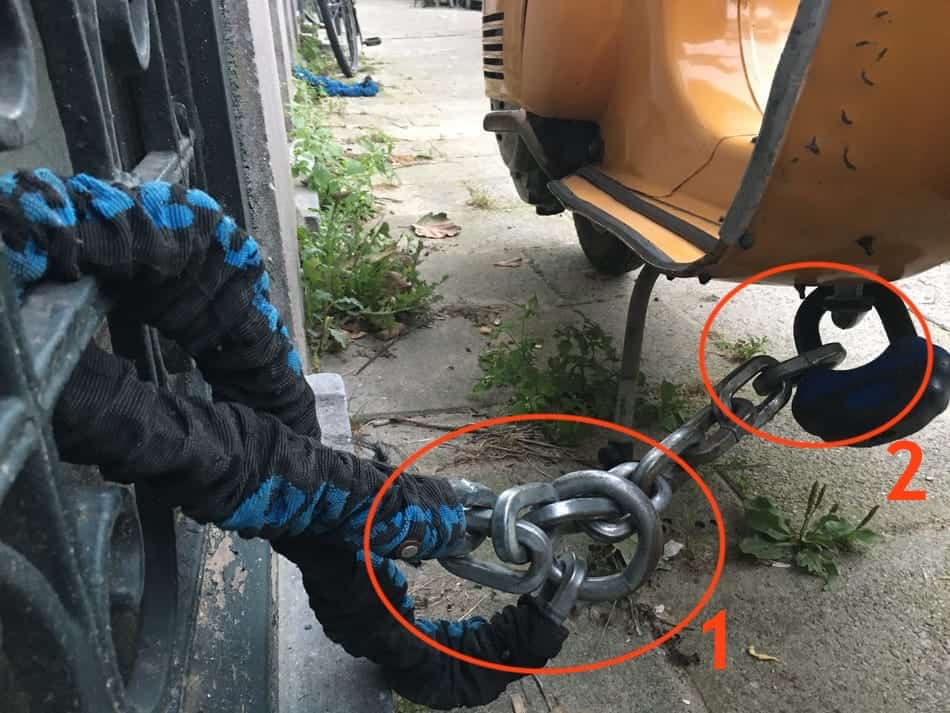 4 Place the chain through your rear Vespa wheel to lock it safely
While it is easier to put the chain through the front wheel, it is always better to do it through the rear wheel of your Vespa. The rear wheel is really difficult to remove and thieves need more time. This is not the case for the front wheel.
Funny enough we see most people fixing their lock through the front wheel. Usually, the front wheel is less greasy and dirty. The chain through a rear wheel on the other hand makes it tricky since the exhaust pipe is extremely hot. Additionally, you need to park the rear of your Vespa closely to a fixed object in order to attach it with a lock. You don't want to cause damage to your Vespa when doing so. Even though it is a bit more difficult, always use your rear wheel to lock your Vespa.
It is not possible to place a chain through the rear wheel of a classic Vespa. You can either place a U-lock through the rear brake under the floorboard or you need to buy a very long chain and wrap it around the floorboard.
5 Use a scooter cover to make the Vespa less obvious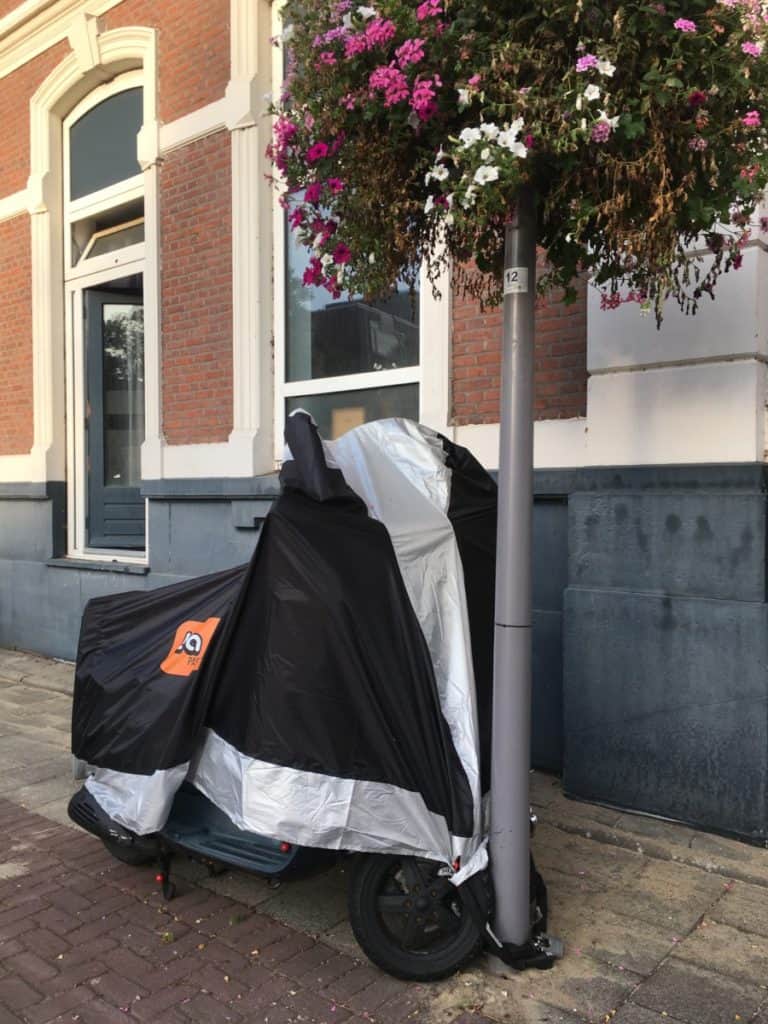 Thieves are often on the lookout and will follow a Vespa for a couple of days to see where and how it is parked. Once they have all the information they will bring the correct tools to get the Vespa.
If you are not able to park your Vespa inside you might want to consider using a scooter cover. Not only is your Vespa out of sight but a cover creates another hurdle thieves need to take. It takes extra time to take the whole cover off, especially if it is also locked to the Vespa as well. Additionally, they can not see what type of locks are used on the Vespa making it less interesting to them. You can imagine their surprise when they uncover the Vespa and see 2 or more different types of locks on it!
We used a scooter cover a lot when we parked our classic Vespa outside. Not only does a cover make it less obvious that something worth USD3500 is parked outside but it also prevents it from getting damaged.
Also, make sure you get a cover with loops so you can attach it to your Vespa with a chain. Again it will create an additional obstacle for the thieves but it also prevents it from getting uncovered by the wind or from somebody taking it. Believe me, the latter has happened to us once.
Additionally, it is better to get one that fits the model correctly. You don't want the wheels showing too much as you can tell by looking at the wheels what type of scooter is underneath. You can also consider purchasing covers made for motorcycles. They are much more expensive, but we noticed that these covers are much more ticker and of better quality. Here are some examples of great covers.
Unfortunately, we do experience a big disadvantage of using a cover. It is pretty bulky yet you do need to stow it either under your seat, leaving no space for other stuff or you leave it at home. Not to mention when it has rained. The cover is wet making it a nasty task to get off the Vespa and stow it. That said, it did give us peace of mind when we had to park our Vespa outside overnight.
6 Always use the steering lock on your Vespa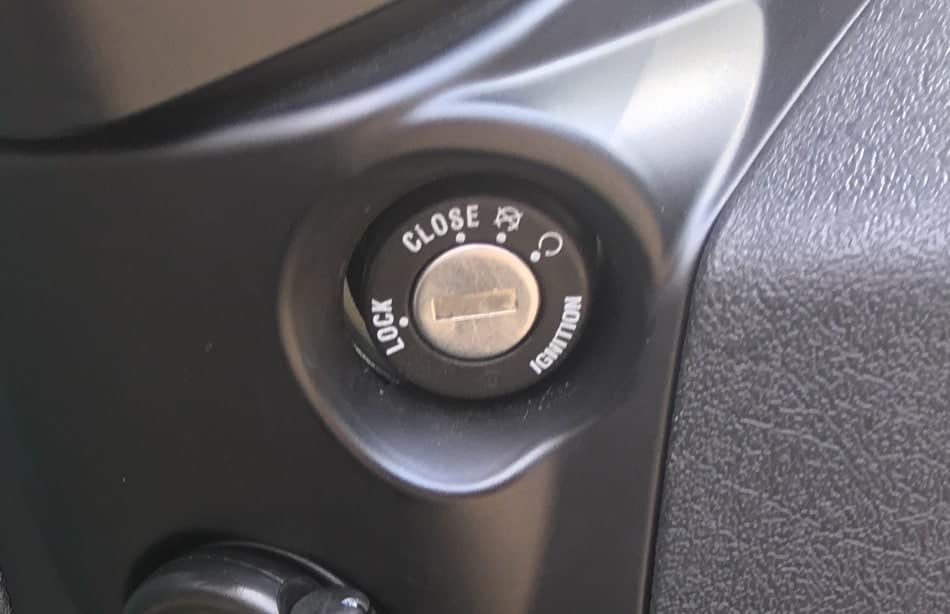 All Vespas have a steering lock. It is a simple way to avoid your Vespa getting pushed away. You should use it at all times. Once you have switched off the ignition, turn the steering wheel all the way to the left. Then turn the key all the way to the left in the ignition before pulling it out. You will notice that the steering wheel will stall when you try to turn it.
Classic Vespas need to turn the key to the left as well then wiggle the key and the steering wheel simultaneously. You will feel the key falling into the steering lock mode.
The more convenient a lock, the easier it is to break. As such the steering lock. There are many videos online that show thieves giving a sturdy kick on the left scooter handle to dismantle the steering lock. So always use this lock together with a heavy-duty chain lock.
7 Use additional locks to conveniently secure your Vespa
Besides the heavy-duty chain, you might want to use an additional lock for your Vespa. There are many types of locks. Best to check them all to see which you find the most convenient to use. You can not attach your Vespa to a fixed object with these so-called 'passive locks'. Thieves can easily load the Vespa straight into a van. So always use these locks together with a heavy-duty chain lock.
Disk Brake Lock: we see this lock a lot. It is a small sturdy lock that you attach to your brake disc located on your front wheel. A pin goes through one of the holes in the disc or all away around it jamming your wheel. Some of these locks come with an alarm.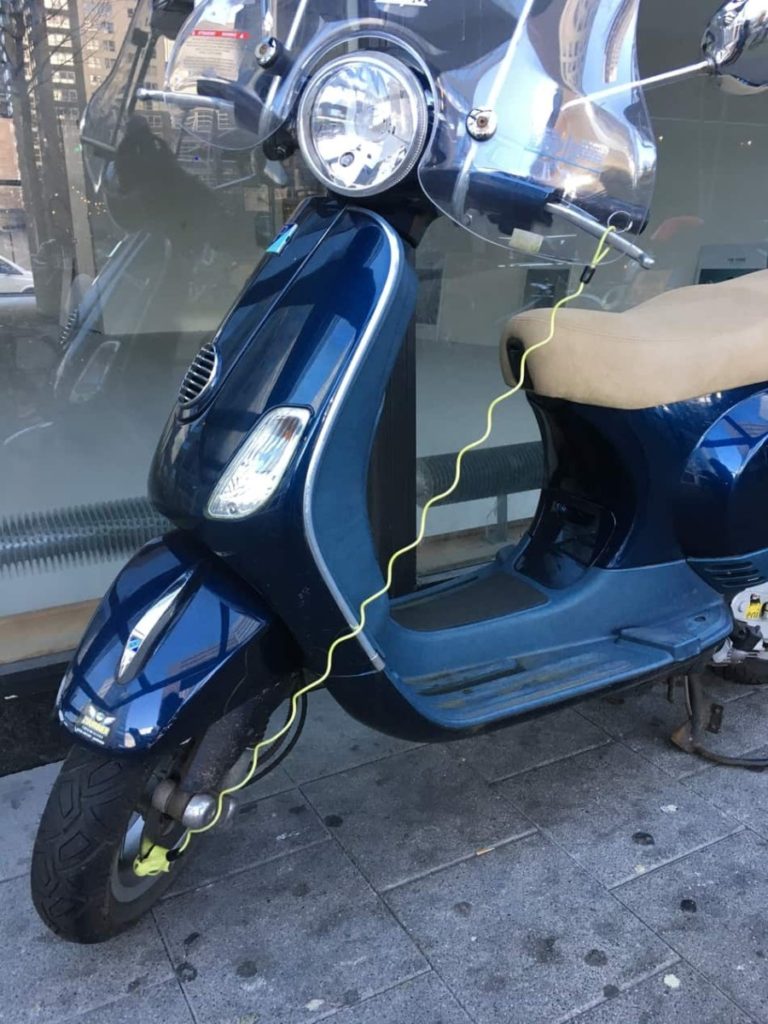 The lock comes with a long cable. You need to attach it to the lock and onto your throttle. The bright-colored cable doesn't increase the security of the lock, be reminds you that your front wheel is jammed before driving off. Additionally, it will scare thieves away as they can tell from far away that the Vespa is locked with a disc lock making it less attractive.
Nowadays we mostly see disk brake locks on big motorcycles. Not so many on scooters. A new and more convenient lock has become more popular, which we will discuss next.
Grip Lock: this small lock is ideal for those who don't have a lot of storage. It is also easy to use as you don't need to reach down to attach it to a tire. Instead, the lock is attached to your handlebar. You will have your Vespa locked within seconds.
Use the lock by squeezing the brake lever towards the throttle and then wrapping the lock around it. Once the grip-lock is secure, it is impossible to get the Vespa off its stand. The lock is easy to dismantle though, so make sure you use another lock as well at places where a Vespa can be easily stolen.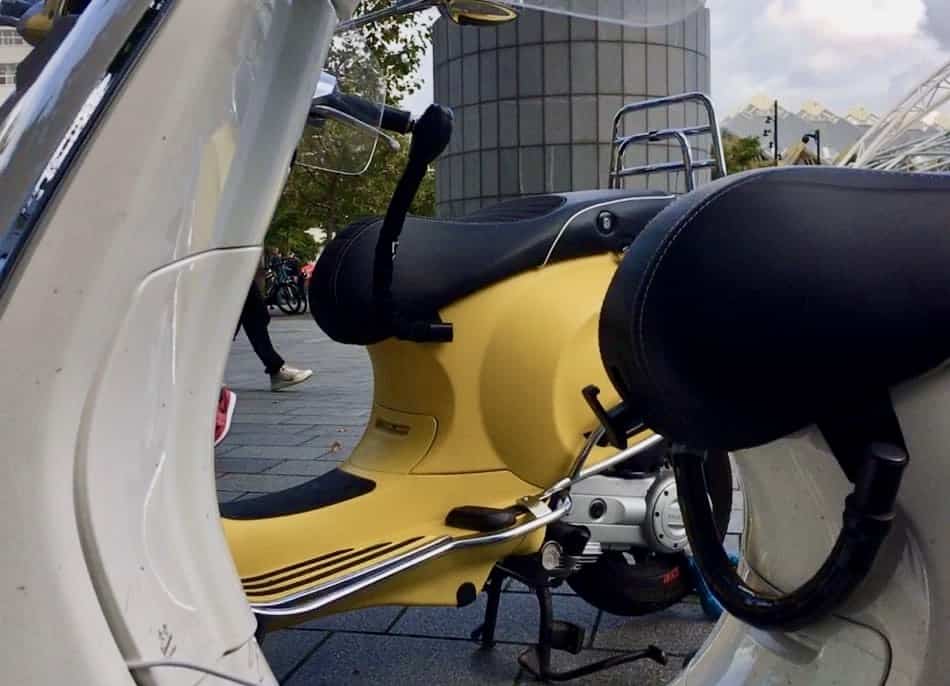 Steering Lock Cable: this cable lock connects your left steering handle with your saddle making it impossible to move your Vespa. Because it is simple to use you will have no trouble locking your Vespa. It is clean yet very reliable. Make sure you choose the lock that fits your Vespa model. Best to buy an original Vespa factory lock to ensure maximum security.
8 Place a visible alarm on your Vespa to scare off thieves
So far we have never used or met anybody who has installed an alarm on their Vespa. But it is another way to scare off thieves or at least call attention if somebody is tampering with your Vespa. Some alarms are extremely sensitive and will even go off with a gush of wind. On the other hand, some are not sensitive at all and will only go off once the Vespa is moved.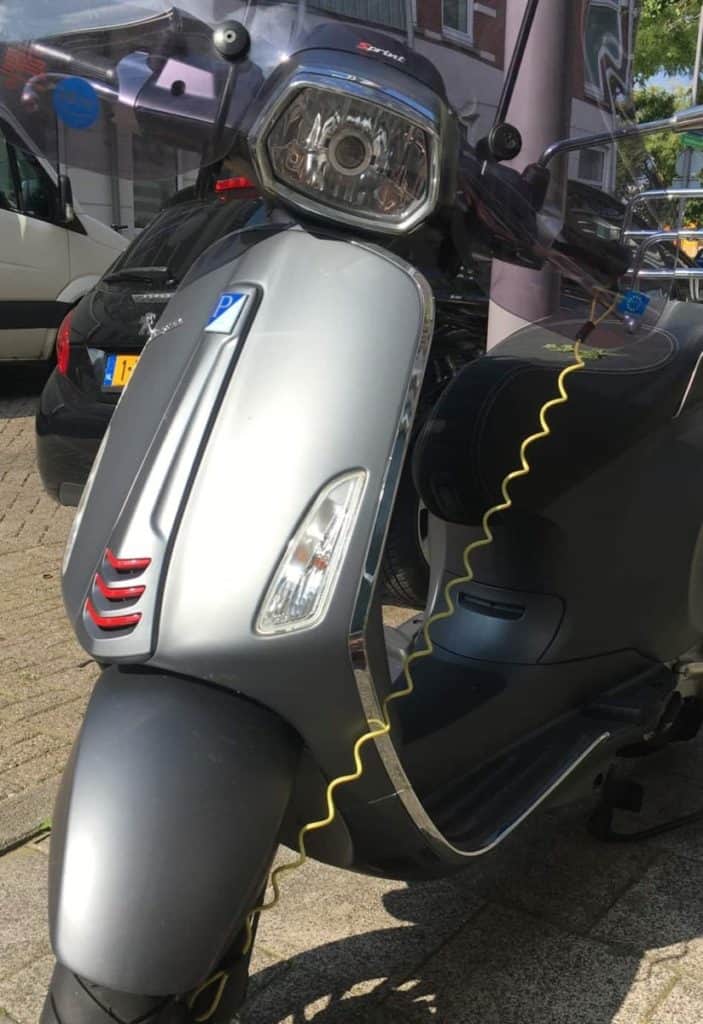 You need to test which motion-sensing alarms suit you best. The WSDcam is a great one to try out and see if you like the idea of an alarm. It isn't expensive at all, easy to hide under your seat yet works perfectly if somebody is pushing and pulling your bike. The alarm will not prevent your Vespa from being stolen, but the noise will deter the thieves and create attention.
There are front disc locks that have alarms incorporated in them. This is a great option as it will go off once somebody moves your bike or tries to break the lock.
9 Place a GPS on your Vespa to track it when it gets stolen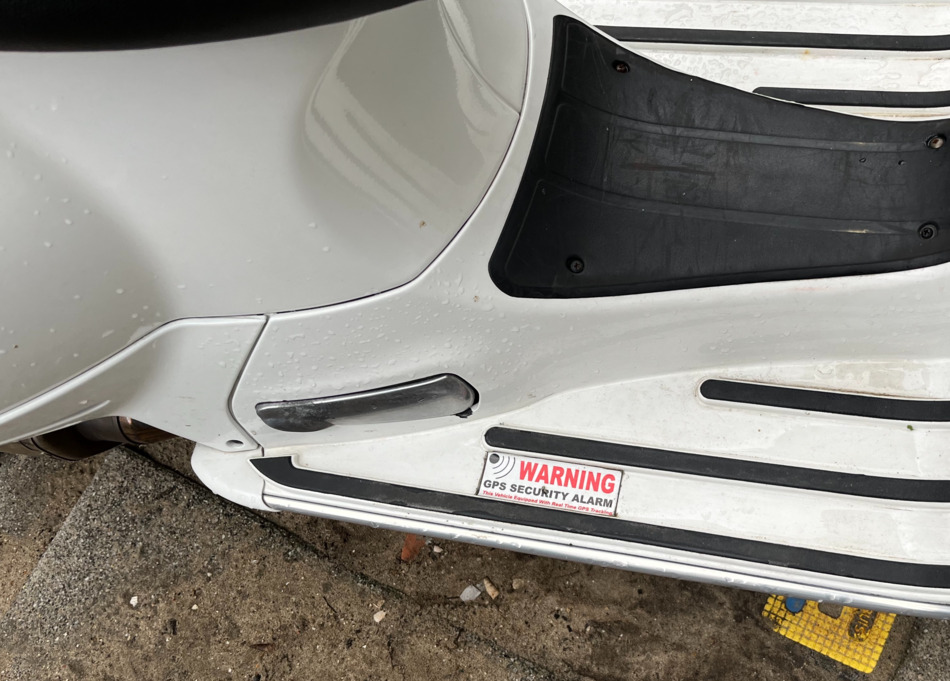 We used a GPS tracker a lot on the Vespas we rented out. Not only was it ideal to trace it if it would get stolen (which luckily never happened) but it was also the perfect way to localize the Vespa when customers called with problems or when being stuck somewhere.
Some are pretty accurate. They come with a magnet making them perfect to attach to the inside of the Vespa metal frame. You do need to make sure the battery is charged often. Additionally, a SIM prepaid card is necessary as you need to call the tracker to receive a massage of its location.
The newest Vespas have the 'bike finder' feature. Unfortunately, it is not similar to an actual GPS tracker. The bike finder is only useful to locate your Vespa if it is parked between hundred of other scooters.