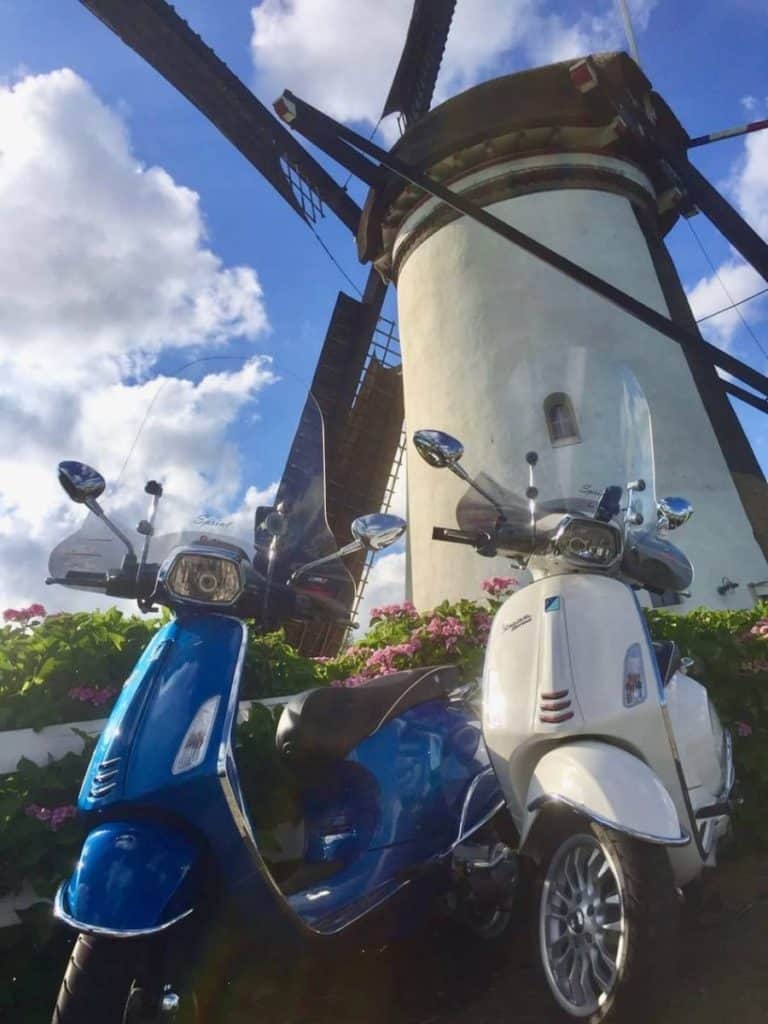 Motorcycles and mopeds have different laws, regulations, and driving licenses. But what about a Vespa? It is wise to get a bit of an understanding of what type of vehicle a Vespa is. Somehow for a Vespa, it seems not as straightforward as it may seem.
A Vespa is a scooter that can be classified as a moped or a motorcycle. The Vespa 50cc small frame can be considered a moped as it doesn't exceed 30mph/48kph. Large and small frame Vespas with a 125cc engine or more are motorcycles. Usually, these types of Vespas are allowed to hit the highway.
Let's have a closer look at what the main differences are between a Vespa moped and a Vespa motorcycle and how these differences can affect your choice of buying or driving one.
What kind of vehicle is a Vespa?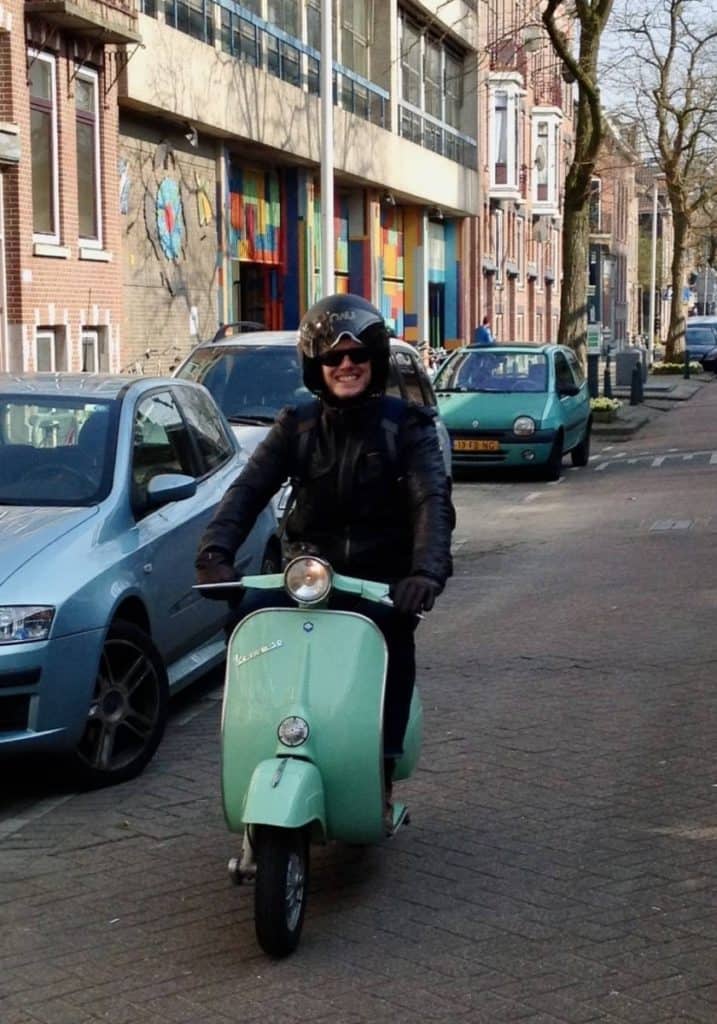 Vespa is a motor scooter, also known as 'scooter'. If you look up the word 'motor scooter' in a dictionary you will find the following or similar definition:
A light two-wheeled open motor vehicle on which the driver sits over an enclosed engine with their legs together and their feet resting on a floorboard.

www.dictionary.com
With Vespa being one of the best-known scooters in the world, you might think that Piaggio was the one who invented it. But this is not the case. There were many forerunners who had the characteristics of a scooter we see driving the streets today: engine under the saddle, sitting upright with feet on a floorboard.
For instance, there was the ABC Skootamota (1919) built by Gilbert Campling Ltd which had a 123cc engine and the Unibus Scooter (1920) designed by Harold Boultbee. The latter was advertised as the car on two wheels.
Both scooters were made by British aircraft manufacturers and both had to stop their production in 1922 because it was just too costly. It was just as expensive as a car which was equivalent to an average yearly salary.
In the United States, various types of scooters were produced as well, such as the Motor Glide (1936) and the Cushman scooter in the USA (1936-1965).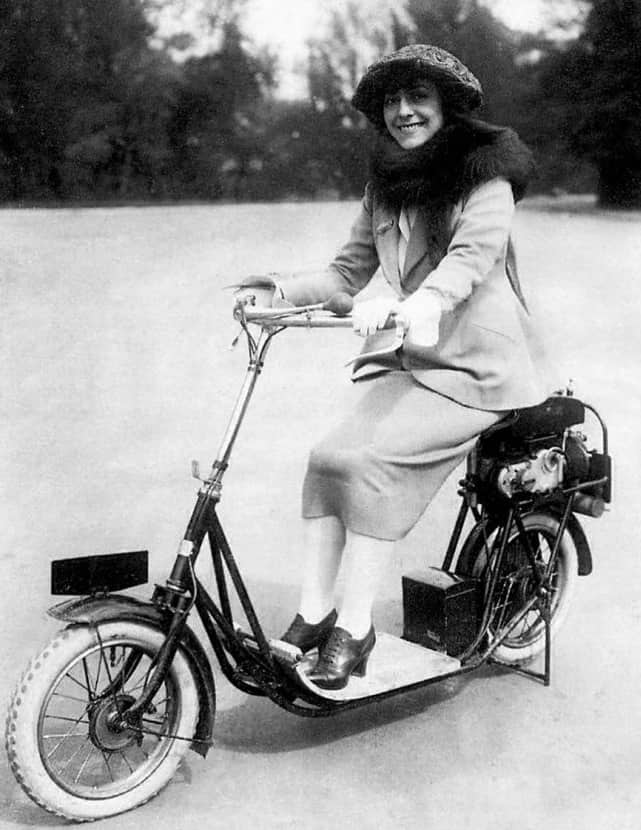 In the beginning, Piaggio was only specialized in aeronautics but only started to consider designing a scooter after seeing the Cushman scooter. In their turn, they created the MP6 in 1936, a 98cc scooter that could reach 21mph/35kph.
At that time the Italians already knew what 'style' was all about and the MP6 wasn't that. They immediately called it the 'Paperino': the ugly duckling.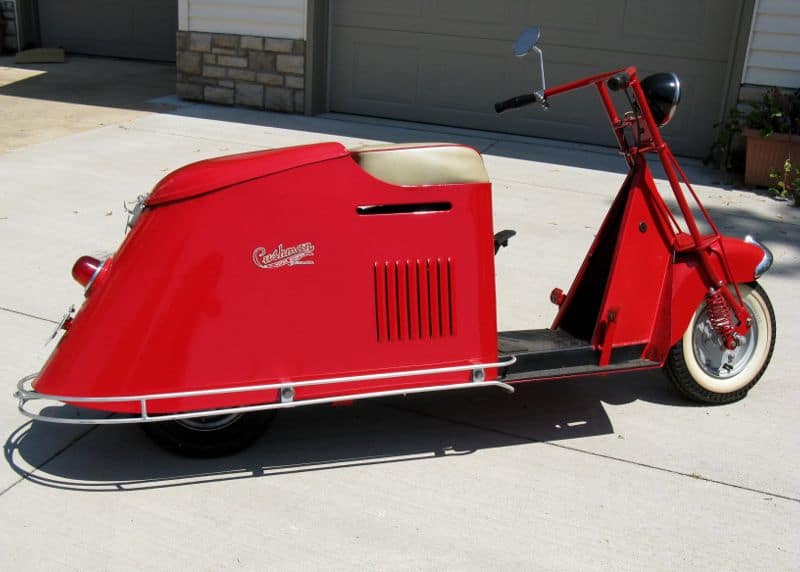 Piaggio launched another scooter in 1946. The first Vespa is the Vespa 98 and was an immediate success as it was affordable for most people in Italy, a country in a post-war economic depression. Another factor that was really smart of Piaggio was to create a scooter that was easy to use by everybody, so not only by men but also by women. It was far cheaper than a car and that's the reason it became a favorite form of transportation in Italy.
Today the main characteristics of a scooter are:
the engine is under the seat of the driver and the passenger
both feet can be placed together on the floorboard
small wheels
can have an engine size ranging from 50cc to 250cc.
The Vespa has models which come with various engine displacements. For instance, the Vespa Sprint and Primavera can have a 50cc, 125cc, or 150cc engine. While the Vespa GTS and GTV can have an engine from 200cc up to 300cc.
Other types of scooters besides the Vespa are for example:
Aprilia Piaggio, Lambretta (Italy)
Honda, Yamaha and Suzuki (Japanese)
Kymco, Sym (Taiwanese)
What is a Vespa moped scooter?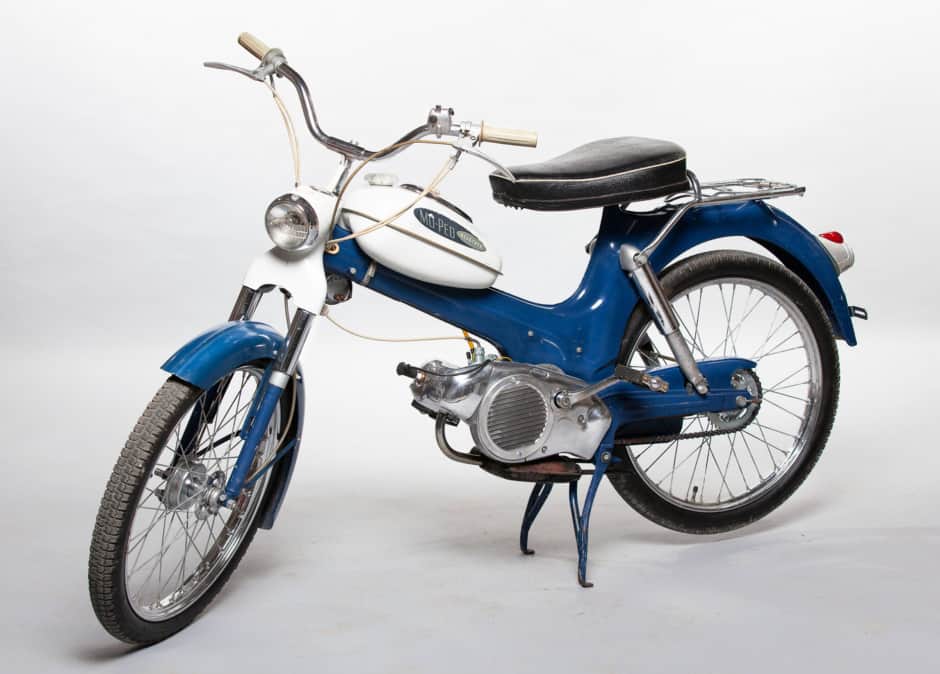 A Vespa is considered a moped when it has an engine 50cc engine or lower and can not exceed 25 to 30 mph (40 to 50 kph). Often you are allowed to drive a moped when you are 16 years old. A moped license (different from a motor license) and registration are sometimes mandatory. The small frame Vespa models with a 50cc are all considered mopeds. These models are:
Vespa V50 (1963)
Vespa 50 Super Sprint (1965)
Vespa 50 PK (1982)
Vespa ET2 50 (1997)
Vespa ET4 50
Vespa S 2T (2008)
Vespa LX 50 (2005)
Vespa 50 LXV (2006)
Vespa Sprint 50 (2014)
Vespa Primavera 50 (2014)
When you look at the engine and speed you can say that a Vespa is a moped. But aesthetically a Vespa looks nothing like the original moped.
A moped is a motorized bike. It has paddles and a small engine that assists the driver to go faster. Today the definition of a moped has changed. Most motorized bikes with an engine do not have paddles anymore, yet they are still classified as 'mopeds' as the engine capacity is more relevant today.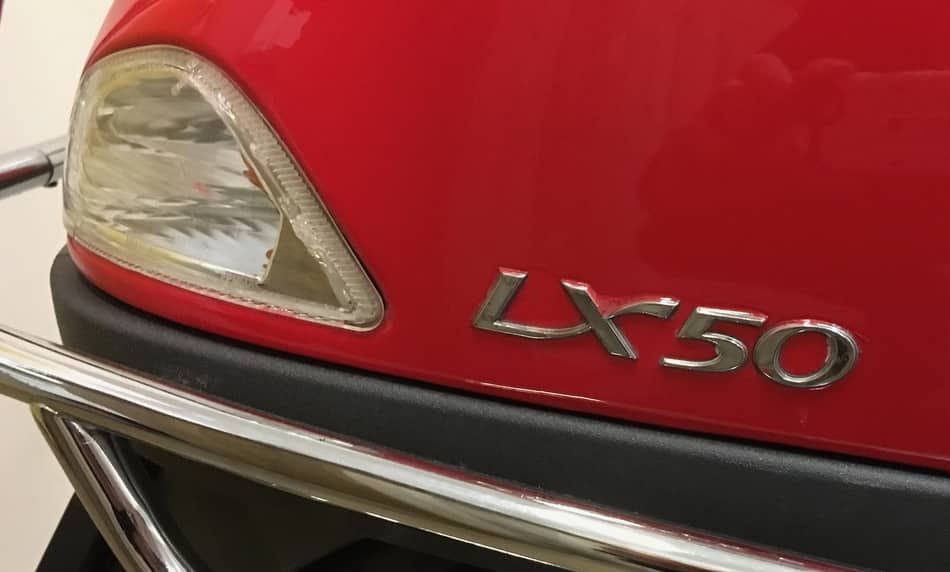 Mopeds are generally cheaper however not with a Vespa. While the engine capacity might be smaller, the scooter itself isn't of the same quality and size. The Vespa is probably the most expensive 50cc scooter you can get.
Not all models are sold worldwide. The Vespa 50cc models are particularly popular in Europe. It is a form of transportation to get from A to B in cities.
Some Vespas go even slower than 30 mph/50 kph. For instance, in The Netherlands, there are Vespa mopeds that only go 15 mph/25 kph. You might think it is not attractive at all, but you don't need to use a helmet and are allowed to use the bicycle lanes. The Vespa Moped Scooter is therefore very interesting for teenagers from 16 years old.
States in the USA where helmets and other safety gears aren't compulsory for moped drivers are California, Arkansas, Arizona, Colorado, Florida, District of Columbia, Hawaii, Idaho, Illinois, Indiana, Iowa, Kansas, Kentucky, Louisiana, Maryland, Massechutees, Montan, New Hampshire, New Mexico, Pennsylvania, Rhode Island, Texas, Vermont, Washington, West Virginia, Wisconsin, and Wyoming.
Digest of Motorlaw lists in detail what is required to drive a moped per state.
What is a Vespa motorcycle scooter?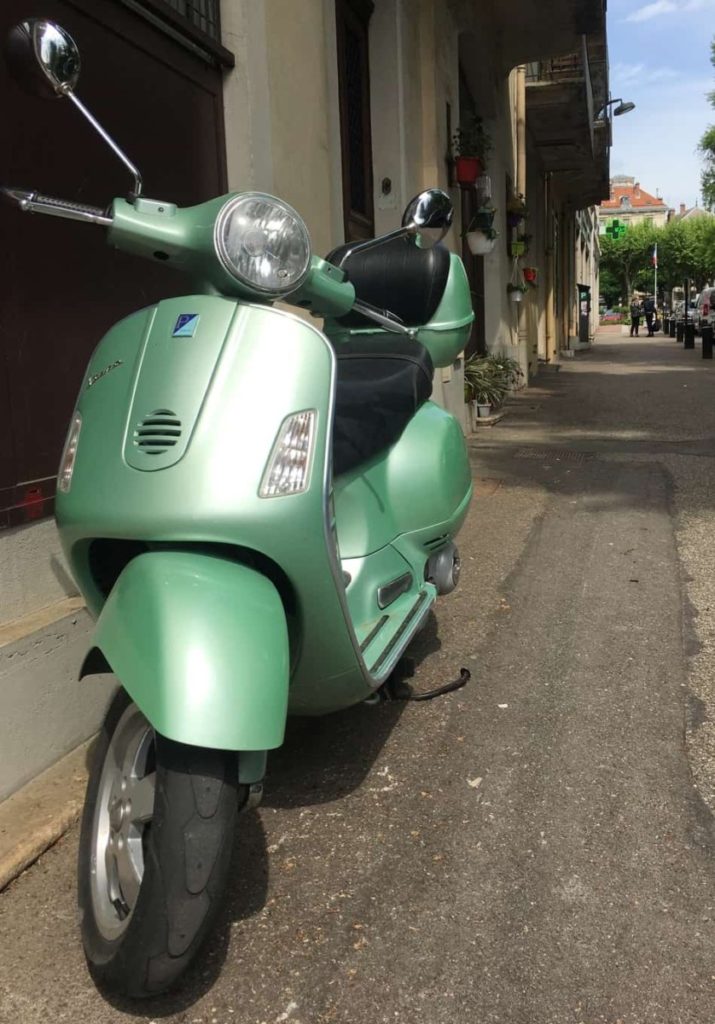 A motorcycle is a two-wheeled vehicle with a large engine that can range from 50cc to 2000cc. Motorcycles come in all forms and sizes such as cruisers, sportbikes, and scooters. The latter is also the Vespa.
There are however a lot of differences between a common motorbike and a Vespa motorcycle scooter.
Vespa has a step-through frame, motorcycles drivers need to swing their leg over the seat
Vespa is automatic while motorcycles more often than not have manual transmissions
Vespa has the engine and tank under the seat, while most motorcycles have the engine in the center of the bike and gas tank in front located between the legs
Vespa has smaller 12-inch wheels, motorcycles large 16-inch wheels
Vespa is great for urban commuting, and motorcycles are great for long distances.
Vespa has two types of frames: small and large frames. All large frames have a 125cc engine or higher. However, there are small frames that can also be classified as a motorcycle. The chassis of a small frame Vespa Primavera 50cc is the same as that of a Vespa Primavera 150cc. So the size of the frame will be the same no matter the engine capacity.
There are classic and modern Vespa motorcycle scooters. Most classic Vespas are considered a motorcycle except for the Vespa Vespa V50 (1963), Vespa 50 Super Sprint (1965), Vespa 50 PK (1982).
The rare Vespa 98 (1946), Vespa 90 (1963), and Vespa 90 Super Sprint (1965) have a 90cc engine. They are motorcycles but you can wonder if it is safe to classify them as a motorcycle. Those who are lucky to own one of these gems will probably stick to the small roads anyway.
The modern Vespa motorcycle scooters from 1997 are:
Vespa ET4 125 (1996)
Vespa PX 125 (1998)
Vespa LX 125 & 150 (2005)
Vespa S 125 (2008)
Vespa Granturismo 200 (2003)
Vespa GTS 250 (2005)
Vespa GT 200L (2006)
Vespa Granturismo (2006)
Vespa GTS series (2008) 125, 200,250, 300 Super & Super Sport
Vespa 946 (2012)
Vespa Primavera 150 3V (2014), Vespa Primavera 150 (2017)
Vespa Sprint 150 3V (2014), Vespa Sprint 150 (2015), Vespa Sprint S 150 ABS (2017)
In most countries, you are allowed to drive on the highway with a motorcycle with just a 125cc engine displacement. Some states in the United States do not allow it, or they have put up signs that prohibit motorbikes with 200cc or lower to enter the highway.
It is unsafe if you can not keep up with the traffic. It is advisable to have at least a 250cc engined motorcycle if you want to drive safely on the highway. Classic Vespas drivers will not enjoy driving here anyway. They should drive on the backroads and on small roads in the countryside. However, the Vespa GTS 250 and GTS 300 series will do just fine.
For a Vespa motorcycle scooter, you will need a helmet and proper shoes. In some countries, you can choose if you want to wear protective clothing. In some states in United States, this is compulsory. Again, the Digest of Motorlaws gives a detailed description of whether you need to be able to drive a motorcycle, including the requirements of the passenger.
What are the differences between a Vespa moped and a Vespa motorcycle: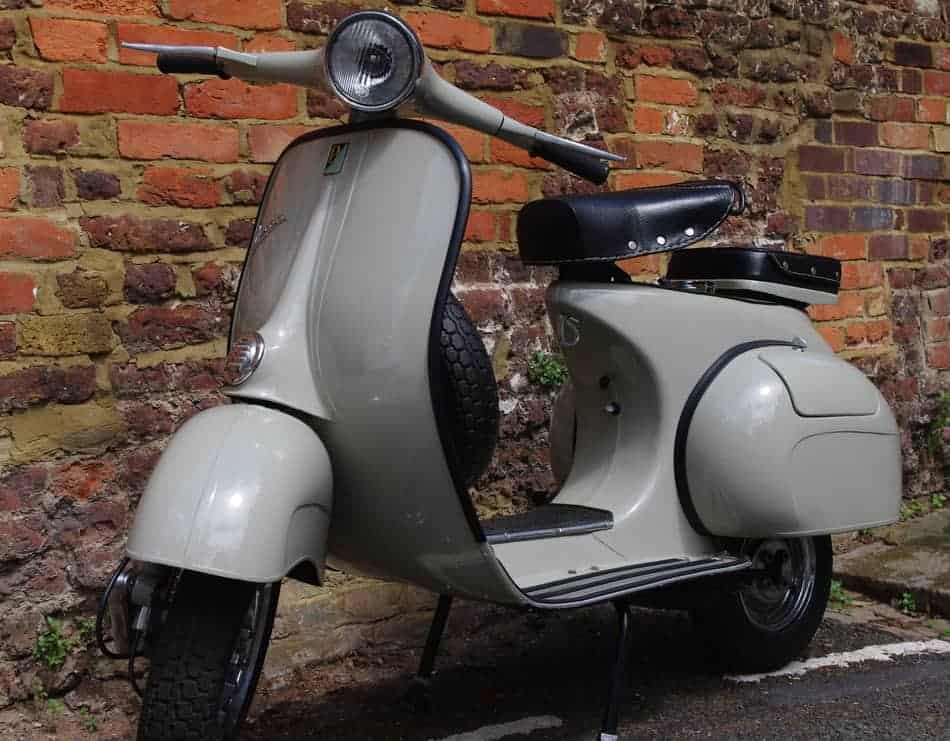 Now that we know what Vespa mopeds and Vespa motorcycles are, here is a quick overview of the differences between the two. This is important if you are not sure which one you want to get or if you are allowed to drive one at all.
Characteristic
Vespa moped
Vespa motorcycle
Engine capacity
50cc
90cc-300cc
Frame size
small frame classic or modern
small/large frame classic or modern
Speed
31mph/50kph
62mph/100 kph
Wheel size
12inch
12inch or 13 inch
License
not always required
motorcycle license required
Age
from 15/16 years
16/18 years
Highway
Not allowed
Depending on local laws;
usually from 150cc or 200cc
Safety Gear
Not always mandatory.
A minimal requirement is a helmet and shoes
Mandatory, helmet and sometimes special clothing
and driving goggles are required
Differences between a Vespa moped and Vespa Motorcycle