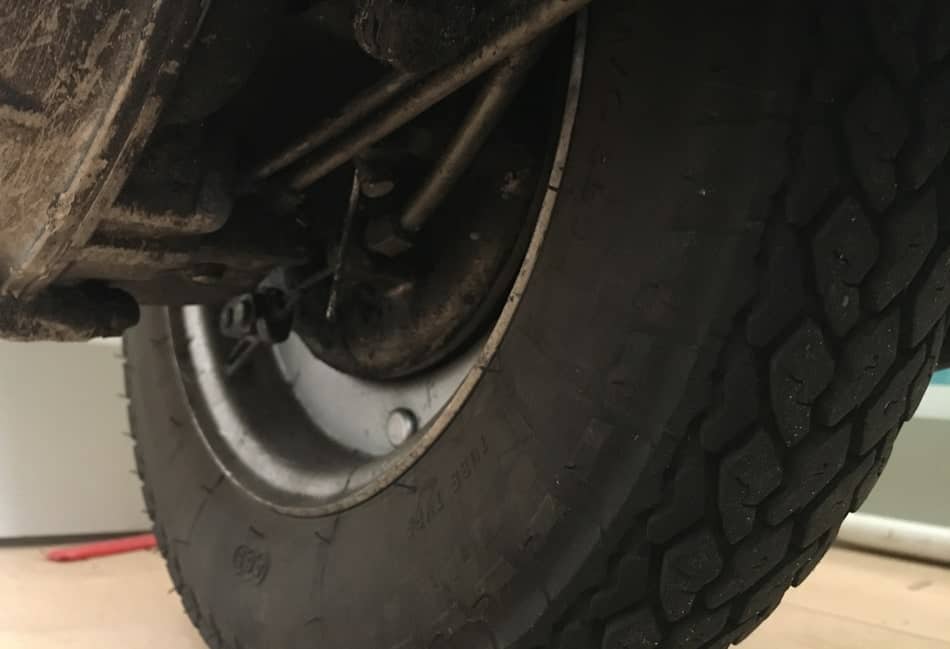 The tires of your Vespa are probably just as important as a well-running engine. Without tires, you will not get anywhere. Luckily tire maintenance is pretty simple and can be done by anybody.
There are just 2 important things you need to check when it comes to your Vespa tires: tread condition and tire pressure. The tread condition can be done visually but the tire pressure needs to be checked with a tire gauge. You can either do this at the gas station or auto workshop but you can also get yourself a tire inflator portable air compressor. These compressors are small making them easy to take with you and to check your tire pressure more regularly.
Each Vespa model requires a different tire pressure ranging from 1.8 bar/ 26psi (front) to 2.2 bar/31.9 psi (rear). If you never take a passenger with you then the pressure can be slightly less. The exact tire pressure for each Vespa model can be found in the following table.
Vespa Model
Front tire
Rear tire
Front tire pressure (with a passenger)
Rear tire pressure (with a passenger)
GTS300
120/70 -12″ 51P
Tubeless
130/70 12″ 62P
Tubeless
1.8 bar
2.2 bar
GTS250
120/70-12″
51P
Tubeless
130/70-12″
62P
Tubeless
1.8 bar
2.2 bar
Modern Primavera 50/125/150cc
110/70-11″
45L
Tubeless
120/70 – 11″
56L
Tubeless
1.6 bar
2.3 bar
Elettrica
110/70-12″
47L
Tubeless
120/70-11″
58L
Tubeless
1.7 bar
1.9 bar
LX 50/125/150
110/70-11″
45L
Tubeless
120/70-10″
54L
Tubeless
1.6 bar
2.3 bar
Sprint 50/125/150
110/70-12″
47L
Tubeless
120/70-12″
58P
Tubeless

1.6 bar
2.3 bar
946
120/70-12″
51P
Tubeless
130/70-12″
62P
Tubeless
1.8 bar
2.2 bar
Classic Primavera 125 ET3
3.0 X 10″
3.0 x 10″
1.2 bar
1.9 bar
PX125/200E
3.50 x 10″
3.50 x 10″
1.2 bar
2.5 bar
Rally 180/200
3.50 x 10″
3.50 x 10″
1.1 bar
2.2 bar
GS150
3.50 x 10″
3.50 x 10″
1.1 bar
2.2 bar
GS160
3.50 x 10″
3.50 x 10″
1.1 bar
2.2 bar
VBB 150
3.50 x 8″
3.50 x 8″
1.07 bar
2.15 bar
tire size and pressure of various Vespa types
Surprisingly the importance of the tires' conditions is often overlooked. However, it is part of your Vespa that needs to be checked and changed most. It is also a pretty expensive thing to replace. Luckily you can do a thing or two to increase the longevity of your tires.
Let's have a closer look at the Vespa tires to learn more about why it is such an important part of your Vespa and how to prevent them from getting worn out.
Why is tire pressure for my Vespa important?
Besides a comfortable driving experience, there are many other reasons to ensure your Vespa has the correct tire pressure of which safety is the most important. Here are just a few of why you should check the tire pressure at least once a month.
Safety
Under-inflated tires will affect the ease of steering and making turns. Additionally, braking will be less efficient and the stopping distance will be increased. You are also more likely to lose control, especially in wet road conditions.
On the other hand, over-inflated tires have less contact with the road surface making handling also difficult, especially when you are going at high speed and need to take a turn.
Longevity
Correct tire pressure is one of the ways to increase the longevity of your tires. It not only ensures the correct contact with the surface, preventing uneven tire wear but it will provide optimal grip and is more puncture resistant.
Over-inflated tires are prone to increase wear on the center area as the contact on the road is minimal. If your tire is under-inflated then the quality of the tire will decrease considerably and has to be replaced more often.
Economy
Under-inflated tires are known to increase fuel consumption. Your Vespa will be driving slower, using more gas plus the tires will deteriorate sooner. So more the reason to have the correct amount of air in your tires.
Driving with the correct pressure isn't only economical, it is of course more environmentally friendly too.
For those driving the Vespa Electrica, it is even more evident that you need to drive with the correct tire pressure. Saving battery power will increase the number of miles you can reach on one full battery.
How to check the Vespa tire pressure and add air to the tires?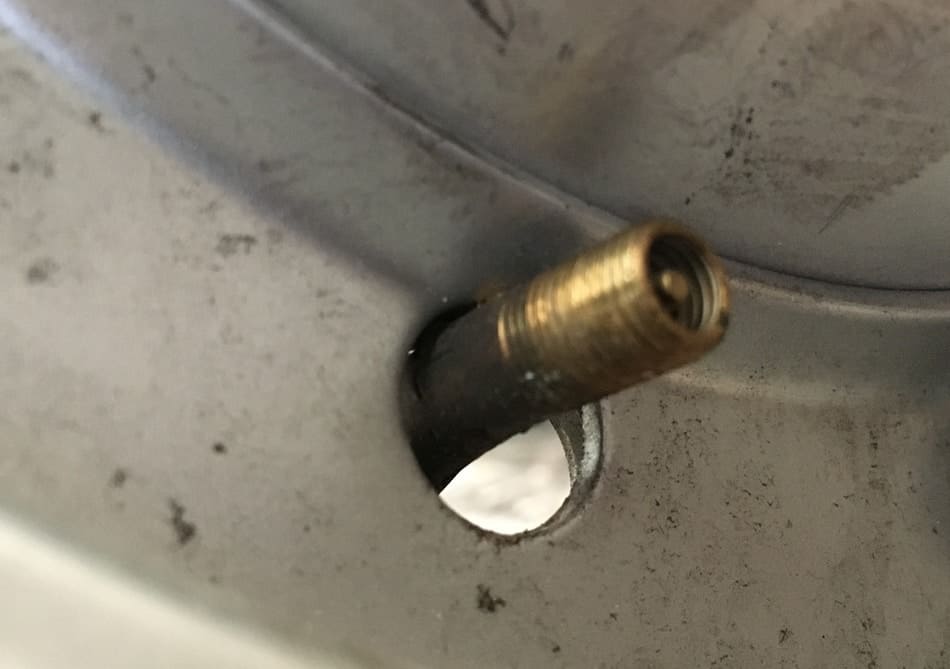 To keep the optimal tire pressure of your Vespa you should check the pressure at least every month. The best time to do so is when the tires are still cold. For instance just before a long drive.
Generally speaking, every petrol station has a pressure gauge (bar/psi) and air pump. If you prefer to check the tire pressure at home then there are many gadgets you can get. There are ones that even inflate the tire to its correct pressure in no time. These are extremely convenient and there are many affordable types to choose from.
So how should you check the tire pressure on your Vespa?
Make sure the pressure gauge displays the same measurement as mentioned in the Vespa manual. In the USA and UK, they use the measurement Psi for tire pressure, while in other countries it is BAR. You don't want to apply the wrong measurements on your tires.
Place the pressure gauge on the tire valve after removing the cap.
Press the gauge down. You will notice that the reading display will start moving
Read on the display what your tire pressure is and decide if you need to inflate or deflate your tires
To inflate the tires, set the pump on the correct air pressure and start adding small amounts of air.
To deflate use a flat-head screwdriver to push the pin down on the tire valve. You should hear air being released.
How long do Vespa tires last?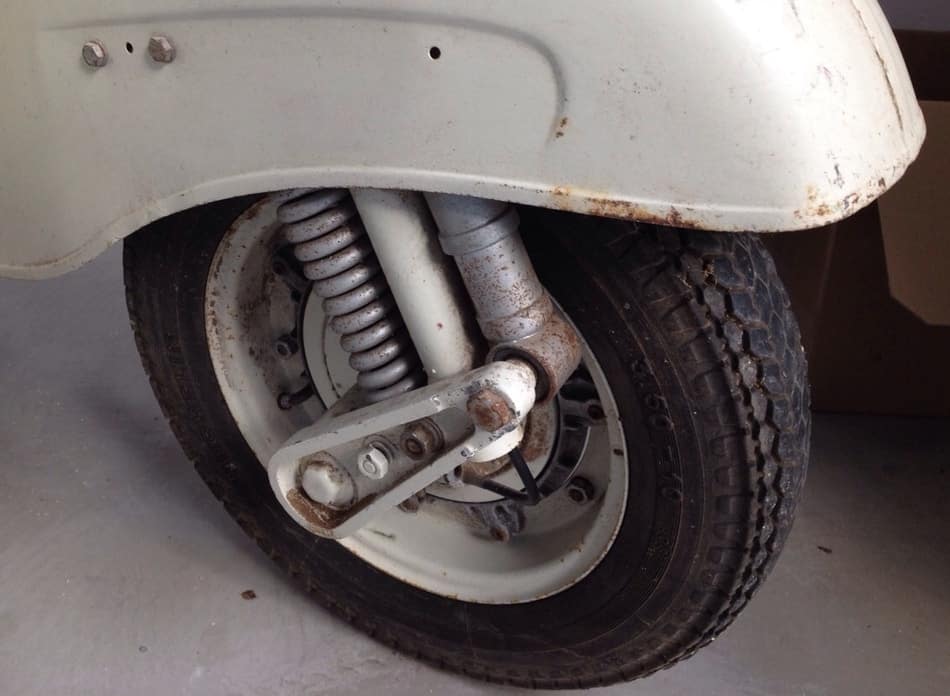 Tires can be the most expensive cost of owning a Vespa. A good quality tire such as Michelin can cost around 40 euros in Europe to USD 75 in the USA each. On top of that, you likely need to take it to a workshop to have the tire placed. Naturally, labor will lead to additional costs.
Understandably people tend to wait till the very last minute to change their tires to avoid expenses. But be aware that in some countries there is a minimal wear limit of 1mm. Some tires even have 'wear indicators'. Once these are visible you should change the tires.
In the end, a worn-out tire will be a pain since it is prone to puncture and you will lose a lot of grip when driving, especially when it is raining.
In theory, you can keep driving with the same tires for up to 2 to 3 years. It all depends on how you take care of your tires. The rear will need to get changed sooner than the front.
There are a couple of things you can do to prolong the longevity of your tires.
Visible check your Vespa tires
After every ride check your tires for any objects stuck in the tread. As you can imagine, if you continue driving with something stuck in your wheel it will damage the tread.
This is also the time to check for cracks or splitting at the side of your tire or irregular tread wear.
Cleaning your Vespa tires
If your tires have come in contact with gasoline or any type of lubricant try to wash them off as soon as possible. Most tires have a layer of oil to protect the rubber preventing them from developing cracks. You do not want to remove this when washing the tires. So always clean it with mild soap and water only.
Check the tire pressure
Driving with the incorrect tire pressure will lead to uneven tire wear. Under-inflated tires have a larger contact area leading to wear on the edge of the tire. Whereas over-inflated tires carry the weight on the center of the tire only which will wear out the tire much sooner. Use this device to check your tire pressure easily.
Adjust your driving style
Your drive style will of course affect the longevity of your Vespa tires. If you tend to brake or accelerate hard then the tire tread will be flying off in no time. So try to be aware of your driving style, and only squeeze the brakes hard when necessary.
Tires will also be worn out much sooner if you tend to drive fast on your Vespa. There is more friction on the road at high speed. Additionally, when driving fast there will be more heat which will soften the rubber of the tire leading to wear acceleration.
Park or stow your Vespa in suitable conditions
Tires that are subject to long-term sun exposure will likely show wear much sooner. So try to avoid parking your Vespa in direct sunlight.
If you need to store your Vespa long-term then you need to tend to your tires as well to prevent uneven wear. First of all, put a bit more air in the tires than necessary. Over time your tire will lose air leading to flat spotting.
Also, make sure you move your Vespa every now and then so it is not always leaning on the same spot of the tire the entire time. Another option is to lift the tires from the ground. You can place it on the center stand so the rear tire is at least off the ground or purchase paddock stands.
Use a plug instead of changing your Vespa tire entirely
Modern Vespas use tubeless tires meaning it doesn't have an inner tube. So if you get a nail stuck in your tire, then you don't necessarily need to change it immediately. You can apply a plug to close the puncture in your tire.
If you noticed that you have done all the above but still have the idea that your tires are worn out much sooner than expected, then you might want to check if your Vespa is well balanced. This is usually done during the yearly service maintenance, but you might want to have it checked sooner. If the wheel balance isn't correct then the weight on the tires is not well divided which will lead to unusual tread wear.
Which brand and size of tires do you need for your Vespa?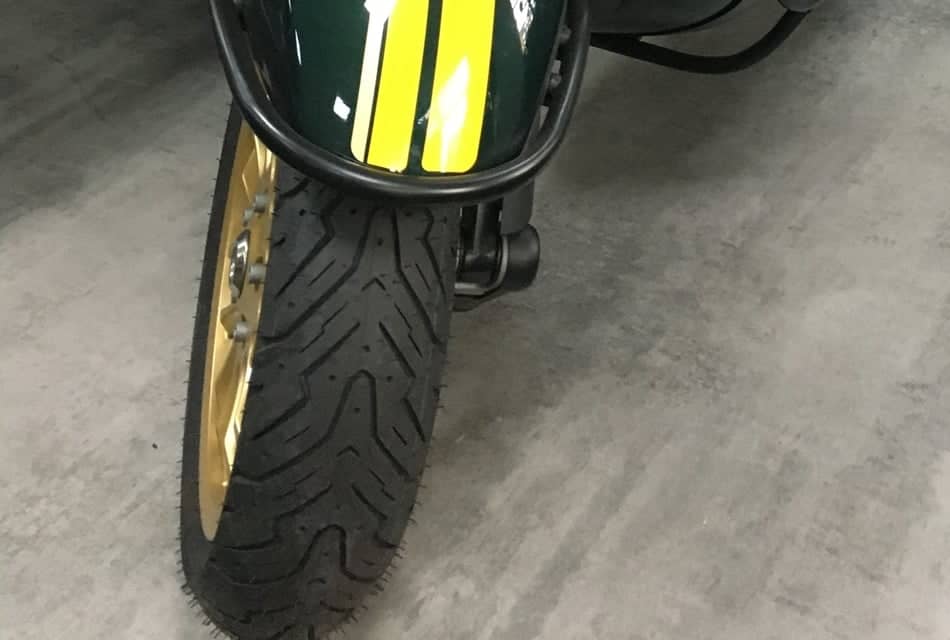 The size of the Vespa tires ranges from 8-inch to 12-inch. It all depends on the Vespa model you have. The large-frame Vespa GTS models and the modern small-frame models such as the Sprint and Primavera have 12-inch wheels. Older models, such as the classic Vespas usually have 10-inch wheels.
You can find the exact tire sizes of each model in the table above.
Tires can be expensive. But in this case, you should stick to the rule: pay more for quality. Good quality tires will last much longer and will ensure more safety on the road. It doesn't guarantee you will not get a puncture if you drive over a nail. However, they will give you lots of years of happy driving.
If you are tempted to go for a cheaper brand, remember that not only will you need to change it much sooner but you will have to pay for the labor costs to place the tire on your Vespa.
So we highly recommend sticking to the number one brand when it comes to Vespa tires: Michelin City Grips.