So you have decided to buy a Vespa. Very good choice. But which one should you buy? Once you start to look around you will soon realize that there is more to a Vespa than just choosing one that looks good and has a nice color. There are all kinds of models, prices, engine-, and frame sizes that you should consider to figure out which Vespa fits your expectations and needs.
Hopefully, we can help you with a step-by-step checklist so you can easily find out which Vespa suits you best.
1. Choose between a classic or a modern Vespa
First things first. Do you picture yourself comfortably driving off on a modern Vespa or have you fallen in love with a classic? These two types of Vespas vary considerably from each other and it will quickly be clear if a modern or a classic is for you.
What is a modern Vespa?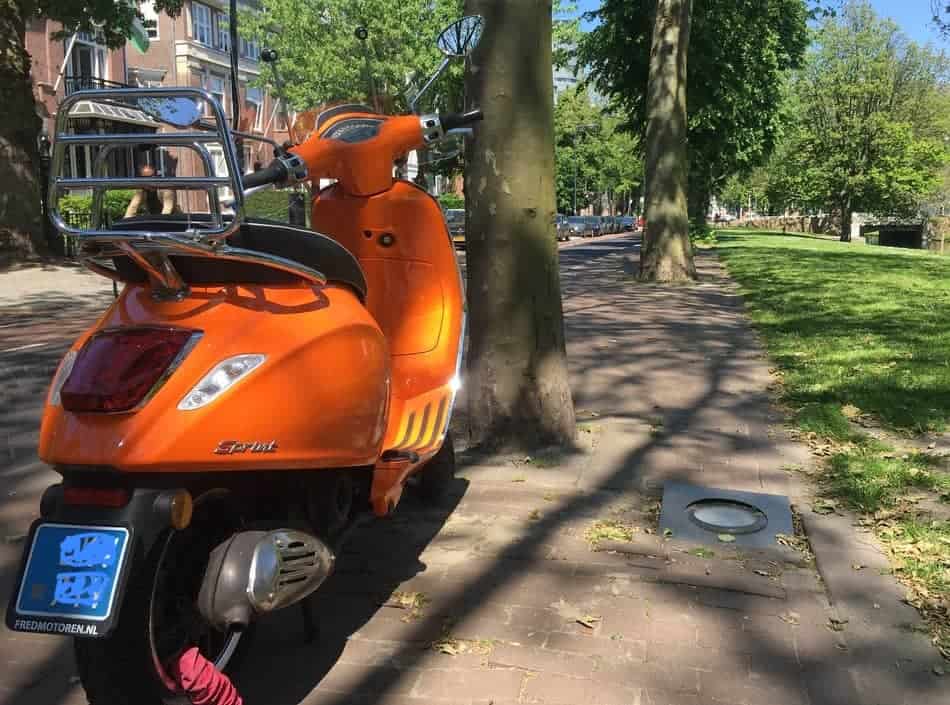 All Vespas introduced since 1996 are considered modern Vespas. These Vespas are known for their high-quality parts, driving comfort, and fuel efficiency and they are automatic. The 1996 Vespa ET was the first modern Vespa developed by Piaggio. It became an immediate hit and all models afterward have been popular as well.
The modern Vespa is a comfortable ride. It has automatic gears which means that you don't need to worry about changing gears when driving, making them very easy to drive. Compared to classic Vespas and other scooter brands a Vespa is quite heavy and big.
The plus side is that it makes driving much more comfortable and is great for taller people. Shorter ladies that are inexperienced in driving a modern Vespa might have this feeling that the scooter is too large. But even short ladies can enjoy a modern Vespa as you can read in an article we wrote here.
The modern Vespa is very reliable as long you stick to the maintenance schedule, check the oil regularly, and use the correct gas. However the engine and other parts are advanced, so finding the solution to the engine problem can be pretty complicated. In this case, it's best to bring the Vespa to a scooter workshop for regular checks and repairs.
Talk around to figure out which workshops are reliable and provide good service. We once had a Vespa LX that kept quitting after driving for a while. We brought it for repair to a nearby scooter repair shop. Instead of using genuine parts, he installed cheap ones without consulting us about the parts and the price. Since the engine needed to break in after the repair, it took us extra time and money to find out that a repair was needed again.
Modern Vespa models are: ET, LX, S, Primavera, Sprint, GTS, Elettrica
Should I buy a used or a new modern Vespa?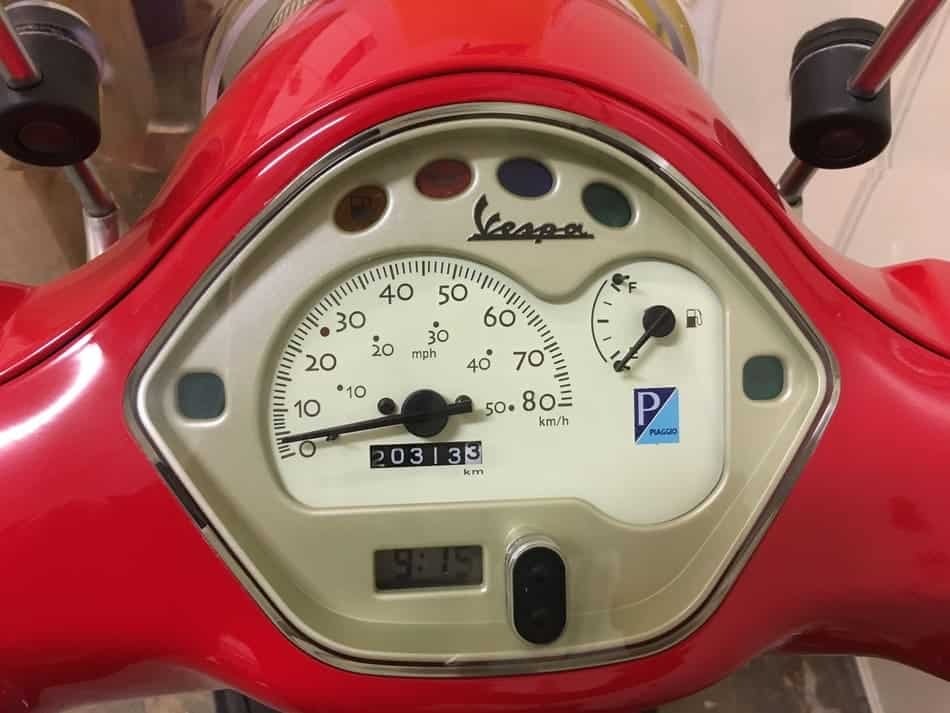 Let's be honest, a brand new modern Vespa is expensive. Especially if you compare it with other scooter brands. A new Vespa Primavera 150cc costs around USD5500, while the GTS300 is USD7000. But if you have set your mind on a Vespa then it is difficult turning back.
Luckily Vespa is a quality bike and will run for many years to come. Classic Vespas older than 60 years are still running but you can also see the modern Vespa ET from 1996 still driving through heavy traffic. A Vespa will give joy for decades as long as you maintain it regularly.
This can be one of the main reasons to buy a new Vespa since you will be able to drive it for a very long time. The advantage of buying a new one is that you are its first owner so you can make sure it is maintained properly from the beginning.
Additionally, you will be getting the most up-to-date engine technologies. For instance, Primavera and Sprint now come with the IGET technology which stands for "Green Experience Technology". This engine is smoother, quieter, and more environmentally friendly. The same story goes for the GTS. The newest GTS has High-Performance Engines, or for short HPE.
Still unsure if the price of a Vespa is worth it then you might want to read the reasons why this brand is so expensive.
However, you can also think that a used Vespa is the best way to go considering a Vespa is very reliable and known to go for years on end. Like all used vehicles, there are more points you should be aware of before going for a purchase. Best to buy a Vespa that has all the papers of its repairs and services. If you go to a dealer there might even be a warranty. You will be able to find good deals on the market making a Vespa affordable for many people. Just make sure you know what you are buying.
One thing that always makes me wary when considering a used Vespa is the state of the engine. If you have a new Vespa you need to break in the engine. This means you need to drive slowly for the first 310 miles/500km so all moving parts can adjust steadily. As you can imagine, this is important for the future performance of the engine. Something like this can not be checked. A good test ride and more know-how on buying a used modern Vespa are crucial to getting one that you are more than happy with.
We have listed all the lessons we learned after making a lot of mistakes when buying a used Vespa. If you are considering purchasing a used Vespa then read through the tips based on our mistakes. This might save you a lot of money in the end.
New and used modern Vespas retain their value pretty well. If you would buy a used Vespa for USD2500 you are likely to be able to sell it again for USD2200 2 years later.
What is a classic Vespa?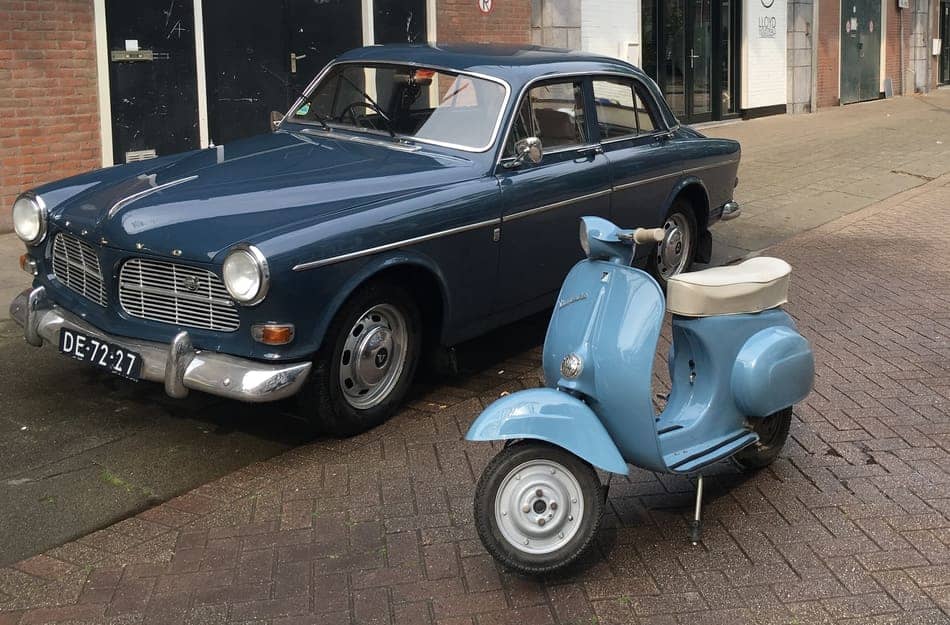 A classic Vespa is considered all Vespas made before 1996. Since Vespas have always been made out of a solid steel monocoque frame and equipped with quality parts today you will still be able to find models driving around which were made in the 1960s. Over the years many have been restored into their former glory and some have turned into highly-priced collectibles. A classic Vespa is eye-catching no matter where and when and it always has heads turning when buzzing by.
Like many older vehicles, a classic Vespa needs more TLC than a modern Vespa. Many people say that it needs more maintenance and it is more prone to hiccups. However, I disagree. If the classic Vespa is well maintained and taken care of then it should be running just fine. Of course, there might be some occasions that it will leave you stranded along the side of the road. But this can also happen with a modern Vespa.
Fortunately, the classic Vespa was made in a time when technology wasn't that advanced and too complicated. Compared to a modern Vespa the technology of a classic Vespa is fairly 'basic'. Those with some technical background can easily figure out common problems in the engine and repair them. But for those who are just starting, it might take some time to grasp the basics.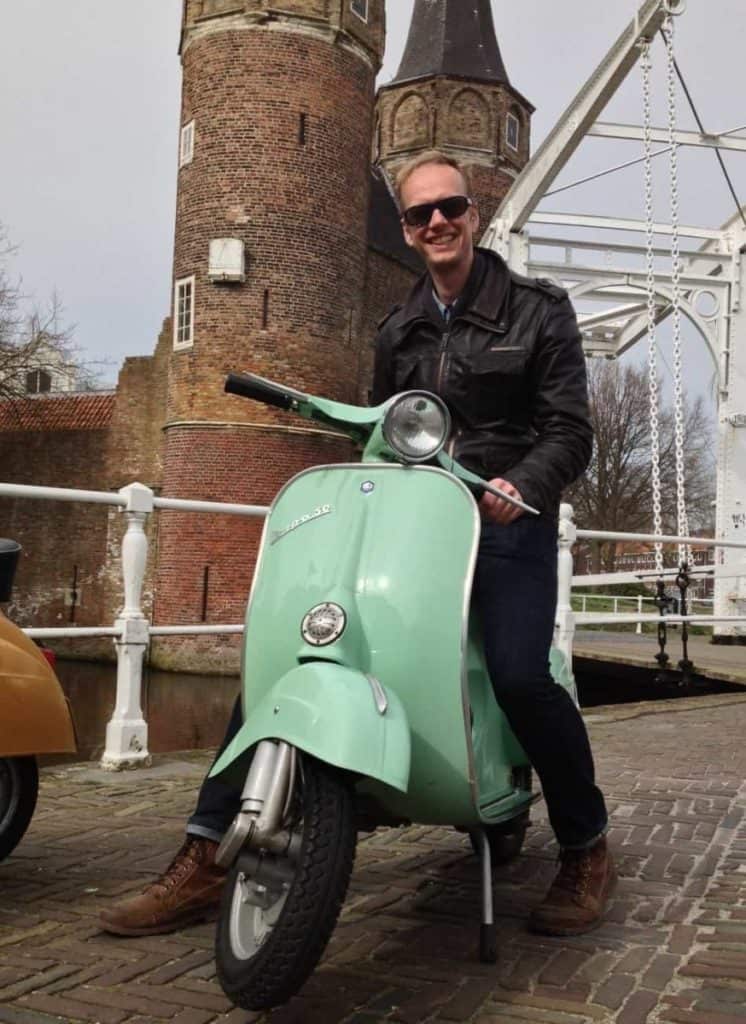 After driving a classic Vespa you will know what it can handle and what to expect. At one point we had three classic Vespas, all from the same model but different years. We soon noticed that each Vespa was different. One would have difficulty starting, while the other would start in one go even though the engine was still cold. And while one would feel zesty when driving, the other would feel more grounded and stable.
Driving a classic Vespa is definitely different than a modern Vespa. In the beginning, it might seem difficult but once you know how to start and drive, you will get the hang of it soon enough. Have a look at this article where we explained step by step how to start and drive a classic Vespa. You will soon see that you can do it too. It is fun to drive a classic Vespa since you are actually interacting with the Vespa. Getting the engine running with the kickstart and gaining speed with the gears is what driving a classic Vespa is about. You can consider driving a classic Vespa more of a hobby and an experience, than just going from A to B.
The downside of the classic Vespa is that is not environmentally friendly at all. Classic Vespas all have a 2-stroke engine with the fuel/gas mixture which is the worst you can have. Besides being bad for the environment, the 2-stroke engine has many other disadvantages which you can read in an article where we compare the two types of Vespa engines.
Collectible Models: Rally 180/200, GS150/160, SS90, 1952 U model
Popular and favorite models are: V50, Primavera, PX
Choosing between a classic or a modern Vespa
Feature
Classic Vespa
Modern Vespa
engine
2-stroke
2 or 4-stroke engine
gears
manual (3 or 4 gears)
automatic
starting
kickstart
electric ignition
petrol
fuel-oil mixture: 2% or 5%
gas octane 91 USA/ octane 95
environment friendly
the fuel-oil mix is NOT
environmentally friendly
4T and electric Vespas are
the most environmental friendly
driving experience
sense of driving is high
comfortable
safety
lacks modern safety features
such as indicators or mirrors
meets modern safety requirements
brakes
drum brakes
hydraulic control (GTS has ABS braking
system and ASR traction control)
Main differences between a classic and a modern Vespa
From my own experience, I really enjoy driving a classic Vespa. Hearing the engine buzz, knowing I'm driving a scooter that holds a long history and is older than me makes it so much more fun. A classic Vespa is a unique vehicle and while you will occasionally bump into one slightly similar to yours, it will always have a different look and character. It is wonderful to take the old lady out for a drive through the little backroads and countryside.
As for the modern Vespa, somehow it also holds the fun aspect. I have driven other scooter brands however the Vespa brings a joy factor to it. It is ideal for the city, to take someone along and to just easily shift through traffic. Compared to a car a Vespa is more pleasant to move around, especially during summer and spring. That said, with the necessary accessories and clothing a modern Vespa is a good ride during the colder seasons too.
In one of our articles, you can check a list of accessories that will make driving a Vespa much more comfortable, no matter what type of weather conditions.
2. Choose how fast your Vespa must go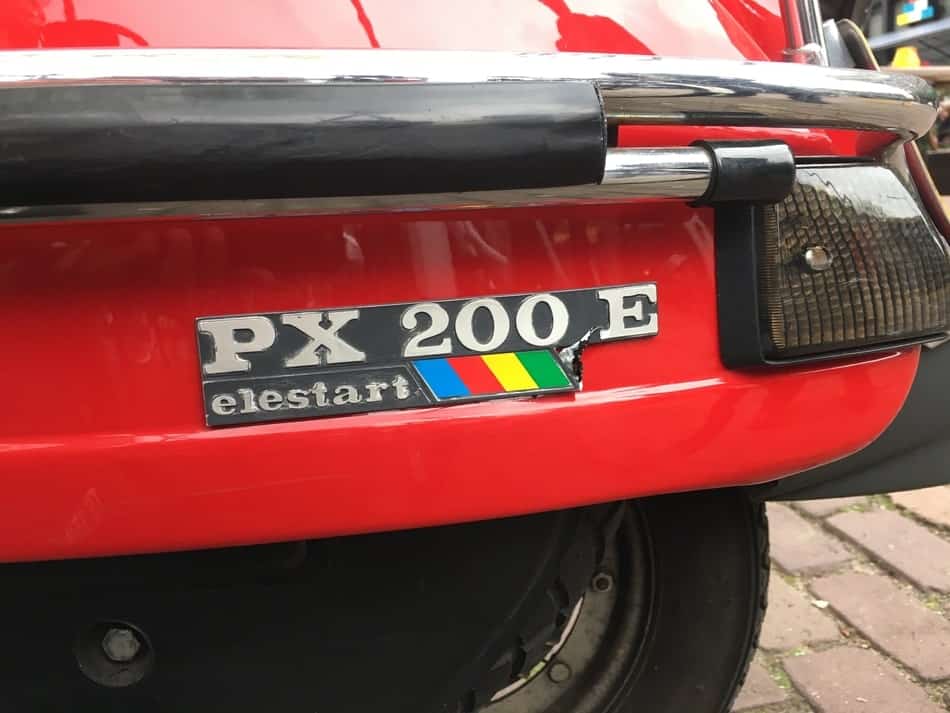 Once you have decided if you will be purchasing a classic or modern Vespa, you now need to know what type of engine size you will be needing. Vespas come in 50cc, 125cc, 150cc, 250cc and 300cc engine displacement.
To make a good decision on which engine displacement to get, you should base your decision on the following points:
Top speed of the engine
Type of license needed to drive with a certain engine
Minimal engine displacement to access the highway
Top Speed: Naturally the lower the engine capacity, the slower you go. For the modern and classic Vespa the top speed of the engine displacements are:
Engine
Size
Top
Speed
Modern Vespa model
50cc
30mph
50km/h
Primavera, Sprint, LX, ET,
n/a
28mph
45km/h
Elettrica
n/a
43 mph
70km/h
Elettrica
125cc
56mph
91km/h
Primavera, LX
150cc
59mph
95km/h
Primavera, Sprint, 946
155cc
64mph
103km/h
Sprint Racing Sixties
198cc
74mph
119km/h
GT200
250cc
76mph
122km/h
GTS250
278cc
80mph
129km/h
GTS 300 super, Sei Giorni
Estimate top speed of modern Vespas
Engine
Size
Top
Speed
Classic Vespa Model
50cc
25mph
40km/h
Vespa 50 (1963-72), Special (1969-1983)
90cc
43mph
70km/h
Vespa 90 (1963-80)
125cc
43-57mph
70-92km/h
Vespa 125 (1951-65), GT (1966-73), 125 Primavera (1967-76),
PK125 (1982-83), P125ETS (1984-85), PX125T5 (1985-91)
150cc
51-56mph
83-91km/h
Vespa 150 (1954 -60), GL (1962-65), Super (1965-69), Sprint (1965-74)
P150X (1978-82), GS (1955-58)
160cc
62mph
100km/h
GS (1962-64)
180cc
65mph
105km/h
Super Sport (1964-68), Rally (1968-73)
200cc
72mph
116km/h
Rally (1972-79), P200E (1977-83)
Estimate top speed of Classic Vespas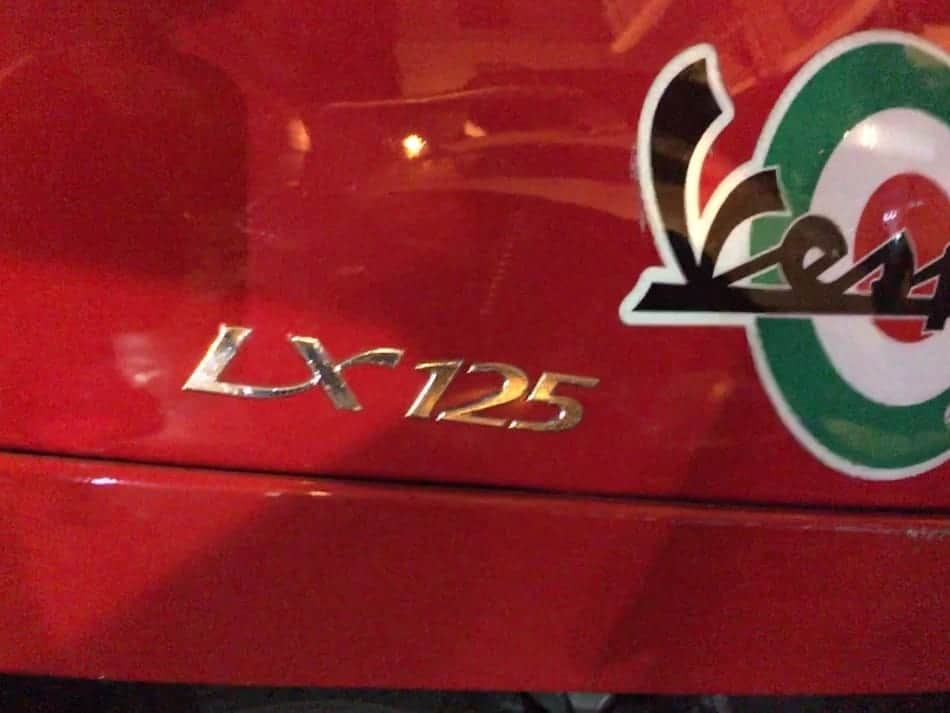 License: The 50cc Vespa is considered a moped scooter and is ideal for getting to places in the city. With just 30mph (50km/h) you might think it isn't that fast, but in busy traffic, it is the ideal and safest speed. The great advantage of having a 50cc Vespa is that in most countries and states in the USA you only need a regular driving license. So it is a great option if you don't feel like getting your motorcycle license. The latter is needed for all engine displacements bigger than 50cc.
Access to the highway: All engines bigger than 50cc is considered motorcycle scooters. In most countries, you are able to access the highway with your Vespa as long as the engine displacement is more than 50cc. However in California for instance it is only allowed to enter the highway with a 150cc Vespa. So double-check the laws and regulations in your area first.
If it is safe or comfortable to drive a Vespa 150cc or lower on the highway is another question. For heavy commuting along the highway, we suggest having at least a 200cc displacement. With this powerful engine, you can keep up with traffic.
3. Choose a Vespa model based on engine displacement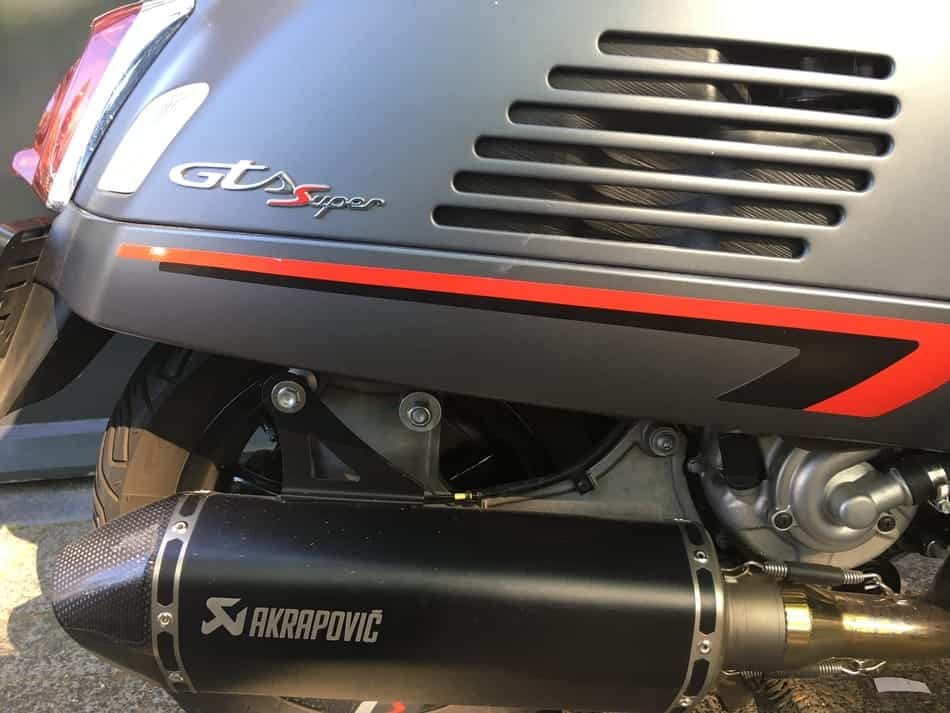 You might immediately think the faster the better. Yes, if you are going to use your Vespa on the highway and plan to go touring around the country then you should go for a 250cc or more. It gives you more freedom to make long distances yet at the same time, it is manageable in the city as well.
However, if you do plan to stay mostly in the city and you will be using your Vespa for shorter distances, then a 50cc also has a lot of advantages. Especially if the law allows you to drive with a regular driving license. Additionally in many countries, there are mandatory annual tests of safety, roadworthiness, and exhaust emissions for a Vespa motorcycle (in the UK it's called MOT). This is not necessary for the 50cc Vespa.
The 50cc Vespa is available in many European countries. As for the United States, you can enjoy riding this type of Vespa in Alaska, Arkansas, Colorado, Connecticut, Indiana, Iowa, Massachusetts, New Hampshire, New Mexico, New York, North Carolina, Oregon, Rhode Island, South Dakota, Virginia, and Wisconsin with a regular driver's license.
A smaller engine displacement is also cheaper than a big one. A good point to keep in mind when the price is an important factor in choosing the type of Vespa. Roughly a 50cc Primavera costs USD4500 while a 150cc Primavera USD5500. The GTS motorcycle scooter starts from USD7000.
4. Choose between a Large frame or a Small frame Vespa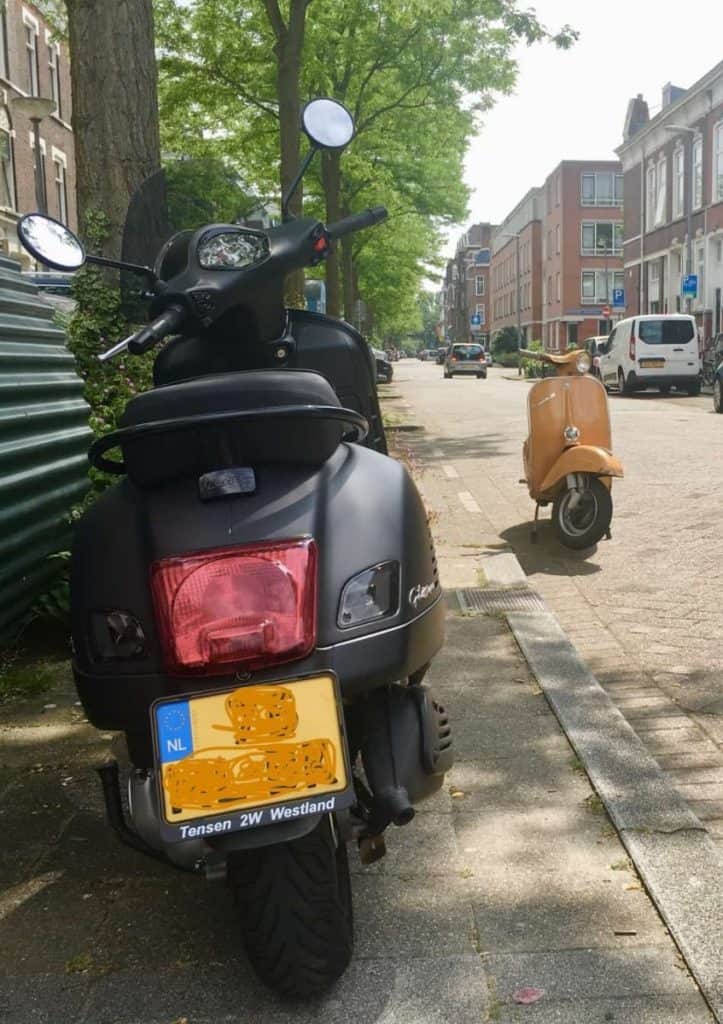 While engine capacity determines the choice of a Vespa, you will now come to the point where you need to decide which frame chassis size is suitable for you. If you have already decided to go for a 50cc or an electric engine, then it will immediately be the small frame Vespa. For larger engines, you can go either for a small frame or a large frame Vespa.
So what are small- and large-frame Vespas?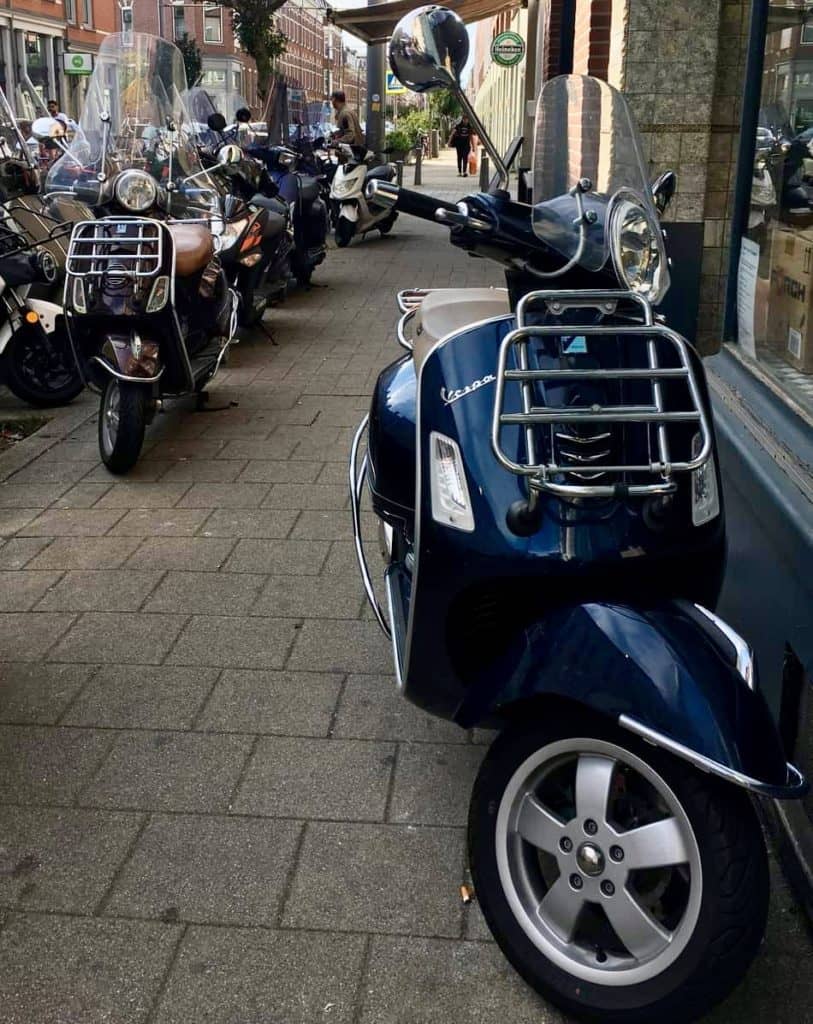 All Vespas made before 1963 are large frame Vespas. Only after 1963 did Piaggio introduce small and large frames. At that time small frames were targeted at teenagers as these Vespas didn't require a driving license and were much lighter. Today there are several modern small frame Vespa models and one modern large frame Vespa model.
Modern Vespa
At first glance, it's difficult to find visual differences between a large- and small-frame modern Vespa. However, when you put the two of the types together you can immediately see the differences between the large and small frame Vespa:
large frame Vespa is 100lbs heavier than a small frame
large frame Vespa is slightly longer than a small frame
Other than that, you will not see immediate differences. Both have 12-inch wheels and have slightly the same seat height. Additionally the newest GTS, Primavera, and Sprint have an ABS braking system. At a sudden deceleration of the wheel, a speed detection system will activate the ABS to prevent the wheel from locking.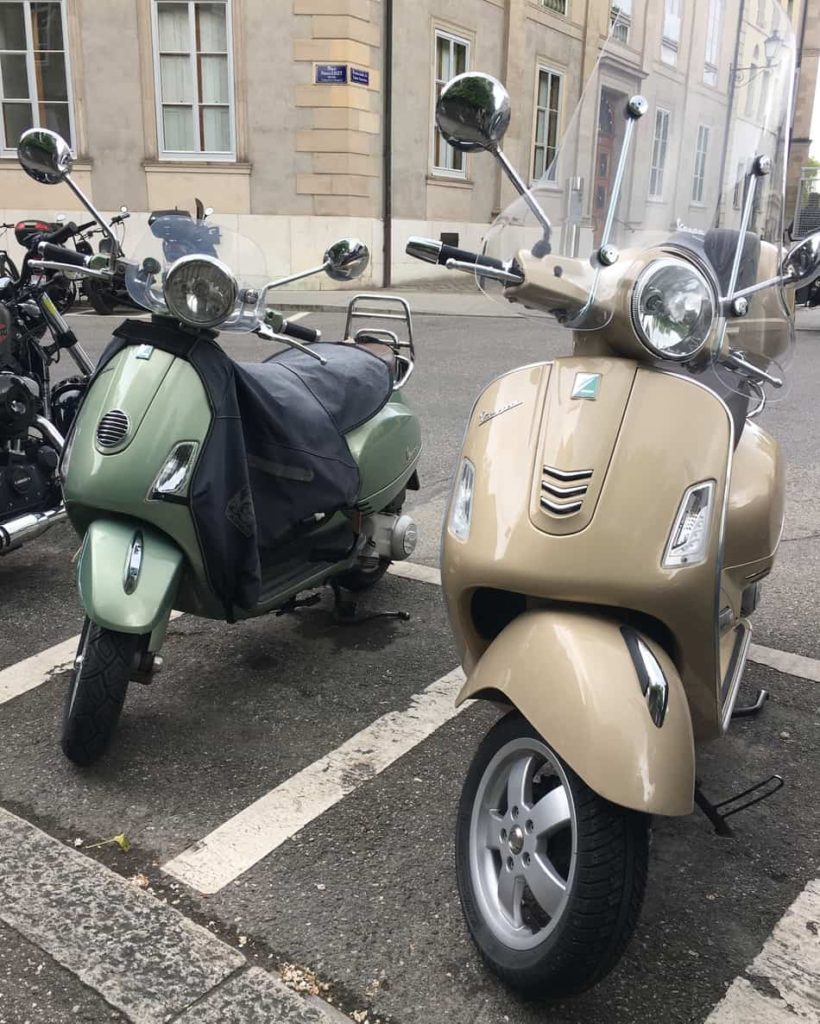 But funny enough, while the large frame engines are considered motorcycles, the small frames can be that too. Small frame Vespas can have 50cc, 125cc, or 150cc. So if you want a motor scooter then you can also go for a small frame scooter with a 150cc engine displacement.
| | | |
| --- | --- | --- |
| Vespa Chasis size | Small Frame | Large Frame |
| Engine displacement | 50 cc, 125cc, 150cc | 250cc, 300cc |
| Seat height | 780 mm/30.7 inches | 790mm/31.1 |
| Length | 1860 mm/73.2 inches | 1930 mm/75.9 inches |
| Width | 735 mm/28.9 inches | 755 mm/29.7 inches |
| Dry weight | 117kg/258lbs | 158kg/350lbs |
| wheel size/wheelbase | 1340mm/52.7 inches | 1370mm/53.9 inches |
| wheel size | 12inch | 12inch |
Differences between a small and a large frame Vespa
Classic Vespa
It is pretty easy to see if a classic Vespa has a small or a large frame chassis. Not only is the small frame much lighter and smaller in size, but also in width. The cowls are clearly slimmer and unlike the large frame, they are unremovable. Additionally, most large frames have dual seats so a passenger can easily hop on, while for a small frame, this is possible but it isn't really made for two.
The small frame classic Vespa models are the V50 and the Primavera. In 1978 the PK came into the picture. The Primavera and the PK also come in a 50cc and a 125cc engine displacement. Meaning that they can be considered motorcycles despite having a small frame.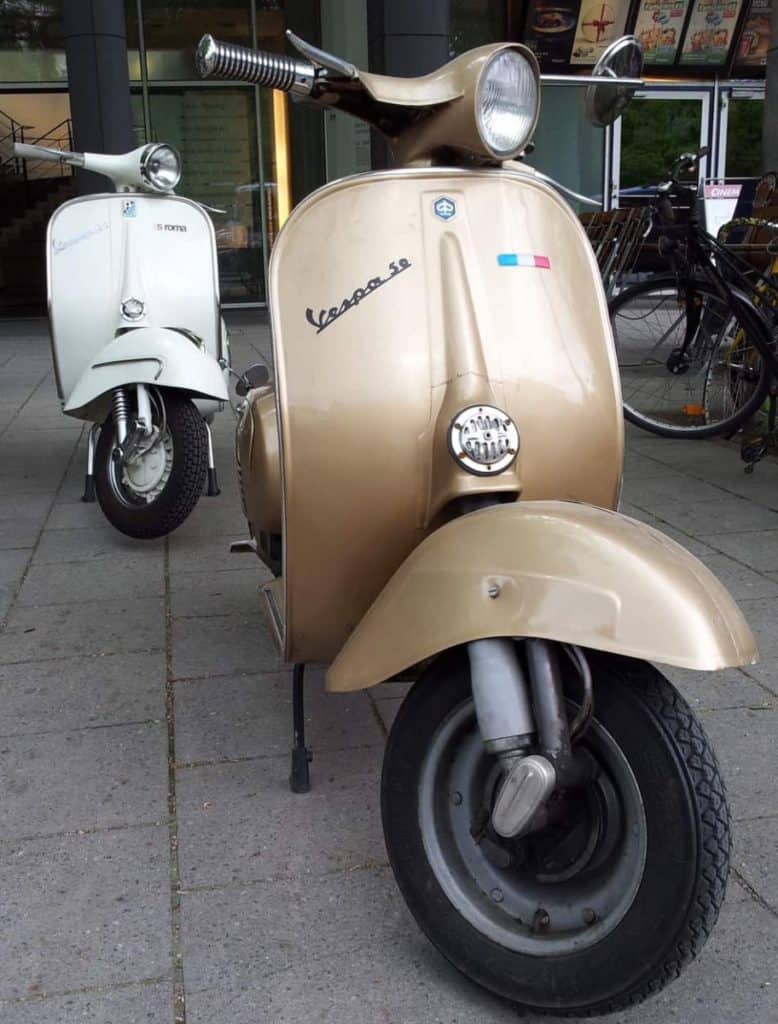 Advantages of a large or small frame Vespa
So the engine size doesn't necessarily determine the frame size. You can still have a large engine yet choose a small-frame Vespa. If you still have difficulty selecting the best chassis size, then it would be best to focus on how you will be using the Vespa. Again, the way you use your Vespa is an important factor in choosing the right model.
Large frame:
Long-distance commuting (including highway) and touring are more comfortable.
Option to choose the most powerful engine.
Additional technical aspects to increase safety and comfort in driving
All-purpose scooter: good to drive through the city, countryside, and highway
Small frame
A small frame Vespa with a large engine displacement enables you to enjoy a little bit of all. It's perfect for driving through the city, taking short journeys along the highway, and occasionally go touring around.
While most might lack the advanced braking system, the small frame Vespa does weigh 100lbs less
Ideal for drivers who want to avoid a heavy scooter such as the Vespa GTS.
5. Choose your Vespa based on your driving needs
Now that we have narrowed down the options, it is time to decide which Vespa model you want. While you should base your final decision on your needs (type of Vespa, engine displacement, and frame size), understandably you will go for the looks as well.
Modern, High Engine Displacement, Large frame: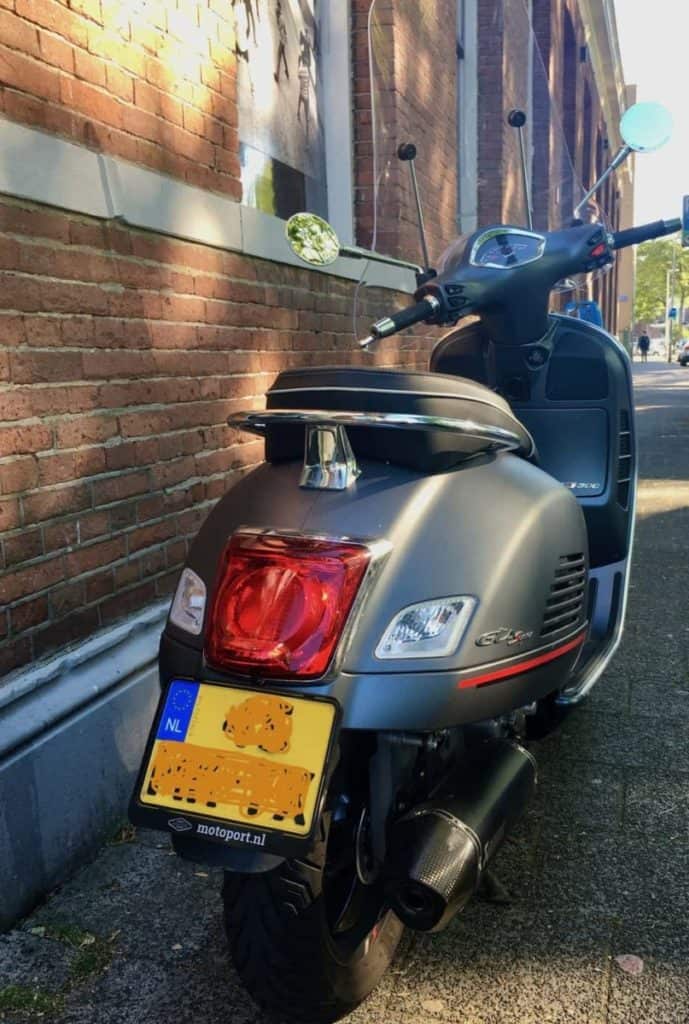 Vespa Gran Tourismo (GTS)
With a 300cc engine displacement, the GTS is the only and fastest large frame modern Vespa. This motor scooter has the most powerful engine of all models. It has 12-inch wheels, disc brakes, and a dual rear shock. The size is big enough to comfortably bring a passenger along. A motorcycle license is mandatory when driving a GTS.
The newest GTS comes with a High Engine Performance Engine (HPE) which is more economical and environmentally friendly. The TFT display shows your driving progress, while you connect your smartphone to your Vespa through the Vespa MIA system.
This large frame Vespa comes in various series and limited-themed colors such as Yacht Club. The differences between the series mainly lie in the upgraded technology and slight differences in design.
The GTS is ideal for:
daily use and is an ideal all-purpose motorcycle scooter
commuting: powerful and reliable engine, comfortable ride, safe for the highway, and economic
city: upright position and compact size easy to maneuver through heavy traffic, easy to park, enough storage possibilities
long trips/weekend trips: reliable, easy to create enough storage as you read in this article on 12 ways to stow your stuff.
The GTS Series: Vespa GTS, GTS Touring, GTS Super, GTS SuperSport, GTS SuperTech (HPE engine and TFT display) and GTS Sei Giorno
Modern, High Engine Displacement, Small frame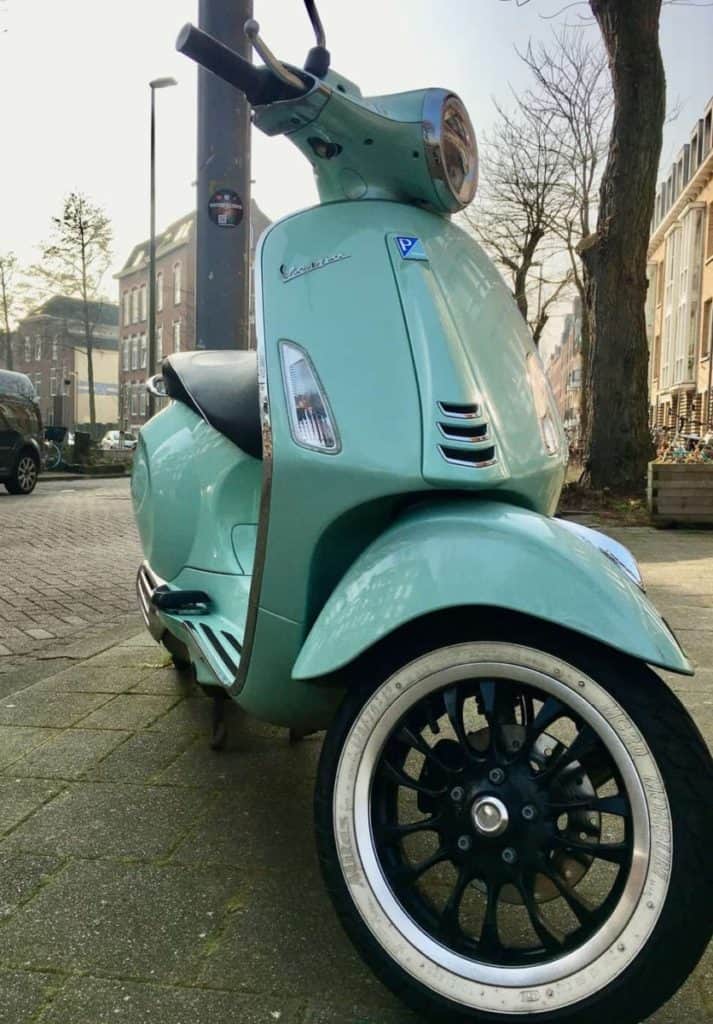 Primavera 125cc-150cc, Vespa Sprint 125cc-150cc, Vespa 946 125-150cc, Vespa LX 125-150cc
The 125 and 150cc Primavera and the Sprint are the new modern Vespa models. Both have 12-inch wheels, the latest comes with an ABS braking system and the IGet system. IGet stands for Italian Green Experience Technology. The 125 i-get has a Regulator Inverter Start & Stop system which enables the Vespa to restart and change gears smoothly. This system is perfect for in the city where you will stop and accelerate often.
Both Vespa models come with a full-color TFT display and a connection to the Vespa MIA app that provides all sorts of personal information on your Vespa.
The Primavera's design is inspired by the classic Vespa Primavera. It has elegant lines and a familiar round headlight. Piaggio seems to be exactly on point when it comes to the type of driver of these Vespa models.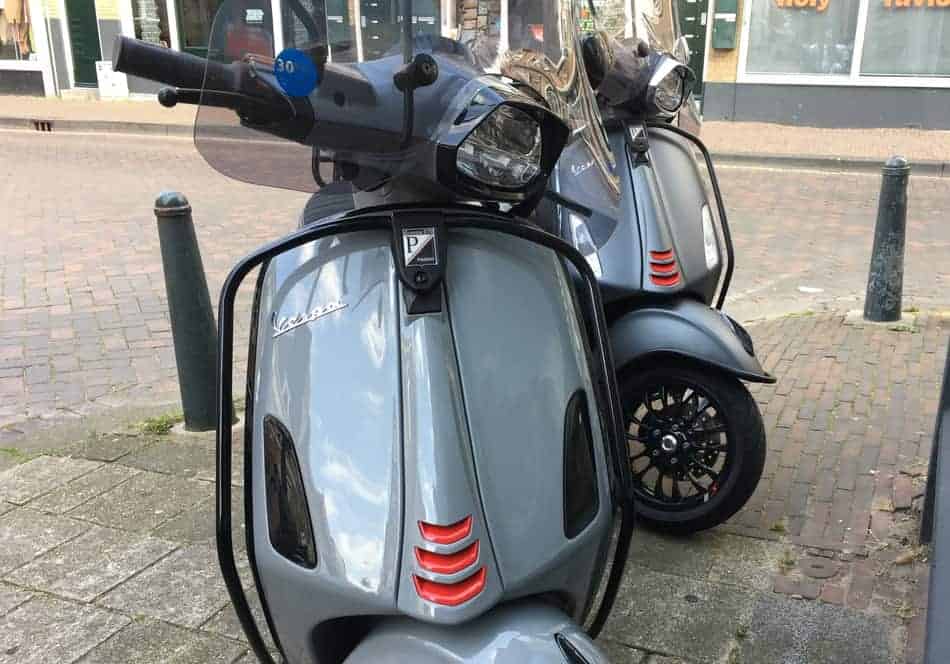 I have seen more women in their 20s or both men and women in their 30s and older driving the Primavera. It has softer color tones and elegant lines. Whereas the Sprint has a more sporty look and is mainly popular among younger drivers, particularly in their 20s. The black and dark grey Vespa Sprint is extremely popular. While Piaggio also offers them in yellow and red, I don't see them driving around that much.
If you are going for a used Vespa then you can still go for the Primavera, Sprint, or even the Vespa LX. The latter is an older model but still very much loved. The LX comes in a 2-stroke and 4-stroke engine. I do suggest the 4- stroke since it is more environmentally friendly.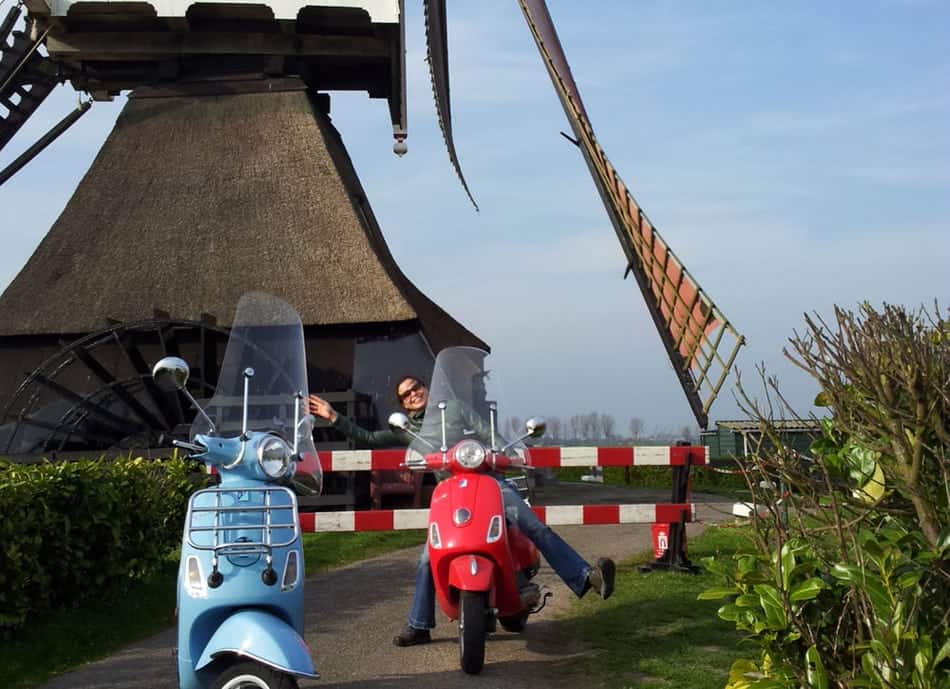 The Vespa 946 125-150cc is a whole other story. This Vespa is the Maserati among the Vespa scooters and you will at least need to pay USD 10.000 to be able to drive it. Pretty crazy in my opinion. But when it comes to the 946, Piaggio wasn't aiming at large quantities but at just the few who have enough to pay for something stylish and unique.
Fortunately, the 946 doesn't only have unique looks but Piaggio also focused on quality and its technical standards. Since 2013 Piaggio has launched 5 Vespa 946 series: Ricordo, Bellissima, Emporio Armani, Red, and Cristian Dior.
The 125-150cc small frame Vespas are ideal for:
commuting: short distance suburb city commuting, for driving 30miles a day with hardly any highways
city: compact yet strong motor with the IGet system
the price is cheaper than the large frame GTS yet it still has a strong engine
drivers who want a Vespa motorcycle scooter but the GTS is too heavy
Modern, 50cc Engine displacement, Small frame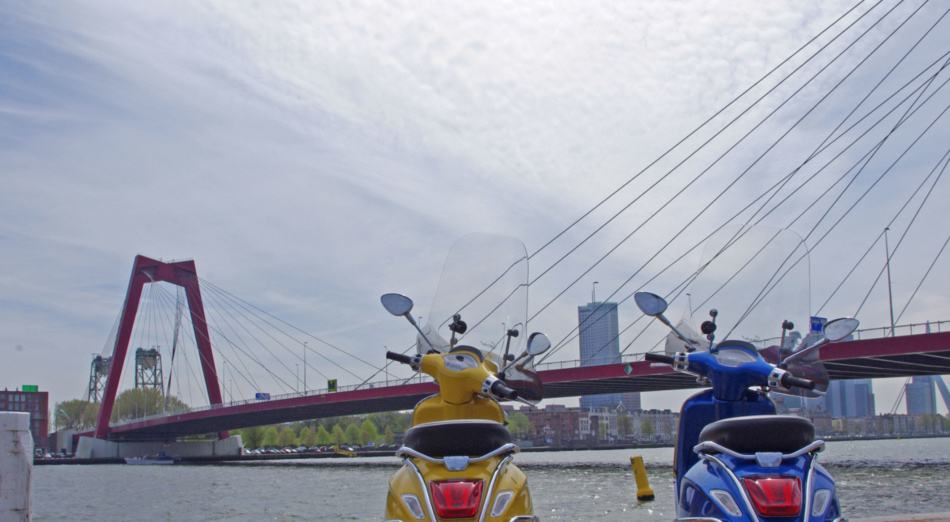 Primavera 50cc, Vespa Sprint 50cc, Vespa LX 50cc
The new 50cc Primavera and the sporty 50cc Sprint also come with the new Italian Green Experience Technology (I-Get). It's more comfortable and economical when driving in cities with all those traffic lights and junctions.
While the classic Primavera was a success among teenagers in the 1970s, today the Sprint seems to be targeted at this young group of drivers. Unlike the modern 50cc Primavera sold today you will not find pastel-colored Sprints. Instead, dark colors are used with bright lines along with the cowl and leg shield.
In the Netherlands, the Sprint is extremely popular, especially for its limited speed. With a speed of 20mph, you can drive with a regular license. Ideal for early 20-year-olds to drive through the city and hang out with friends. Exactly the same image Piaggio used for their marketing in the 1970s.
The 50cc small-frame Vespas are ideal for:
city: offers easy parking, driving through traffic, and more environmentally friendly
young drivers looking for a small frame Vespa which still has 12inch wheels. It is more compact and lighter than a GTS.
drivers looking for low maintenance
drivers seeking a slow engine displacement yet the frame is large enough to take a passenger along.
The Vespa Electrica doesn't come with an engine displacement. You can choose between the 28mph-45km/h or the 43mph-70km/h version. Just like the previous 50cc Vespa models, the Electrica is convenient for the city. Its design is based on the modern Vespa Primavera.
Classic, High Engine Displacement, Large Frame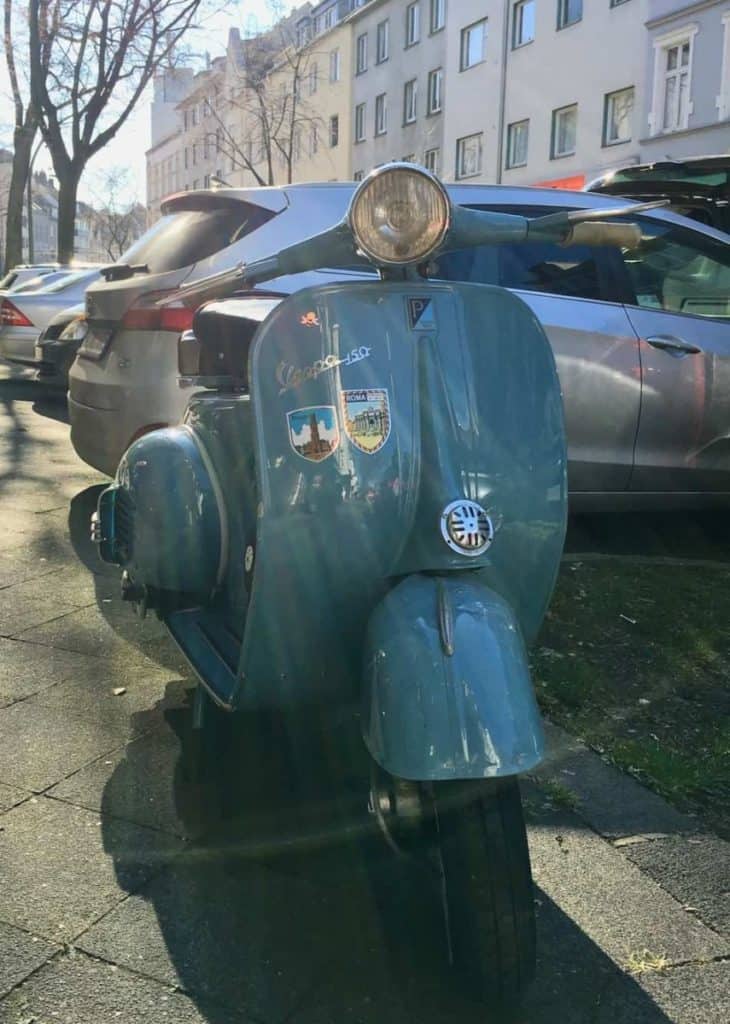 Vespa is a fun ride, no matter which model you have. But if you are looking for a second motorbike or you always wanted to have an oldtimer scooter then a classic Vespa is a wonderful option. Especially if you have fallen for the vintage look.
Driving a classic Vespa is an ideal companion to have on an adventure or just to get away from the daily routine. If this is what you hope to get out of your Vespa then a classic large frame Vespa is the way to go. It is also more convenient to bring a passenger along, however, we don't recommend driving with two the whole day.
Wonderful classic Vespas that are known for their reliable engine and comfort are the PX 200 and the P200E. These models are one of the last classics produced by Piaggio. Together with the PX125cc, it is still a common classic Vespa and its parts are also still easy to get. While the P-series do not win the first prize for design, its engines are very reliable.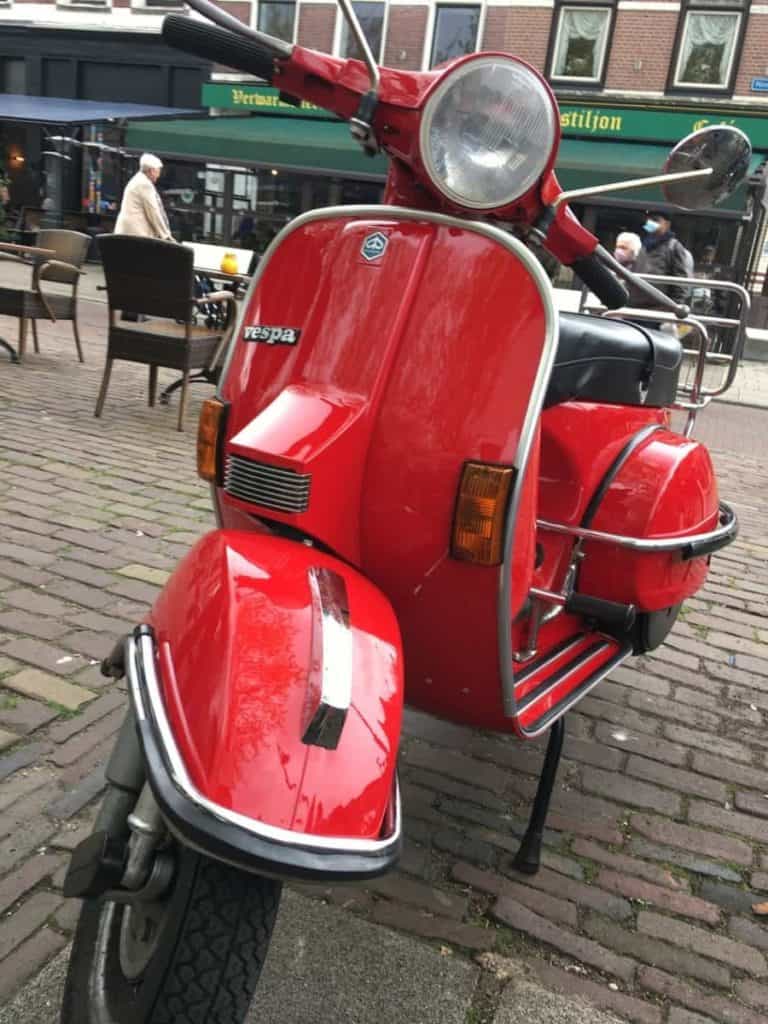 The selling price for a 1980s P200E is around USD4000. In Europe, it can range from 2.800 to 4.500 euros depending on the state of the Vespa.
If looks and round curves are more your thing, then the Vespa 150GS and 150 GL are real beauties. They are considered collectibles and therefore hard to get. The same for the Rally 200. Its fast engine was an immediate hit at that time and even today many Vespa lovers are trying to get their hands on one.
The prices of a fully restored 150GS and 150GL are around 10.000 – 11.000 USD, 9.000 euro, or 7.500 pounds. A Vespa 160cc is even rarer and goes for USD17000 in the USA.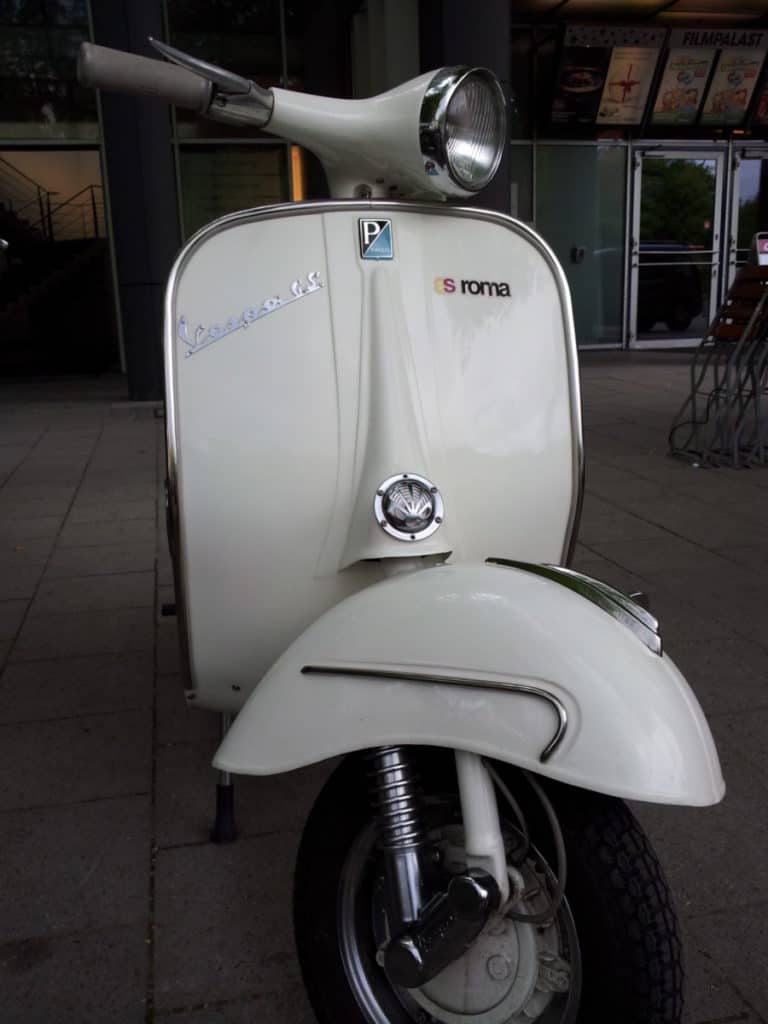 Numerous companies are selling large-frame Vespas in very good condition. Of course, you will be paying the highest price, but you will get something unique. If you have the patience, do some research, and talk around. You might be lucky to find one still hidden in a shed somewhere. You might be surprised that even today there are still hidden Vespas somewhere.
We happened to meet someone who had purchased a Vespa in the 1960s and had not ridden it for decades. Luckily we were allowed to take it to someone who renovated it into its former glory.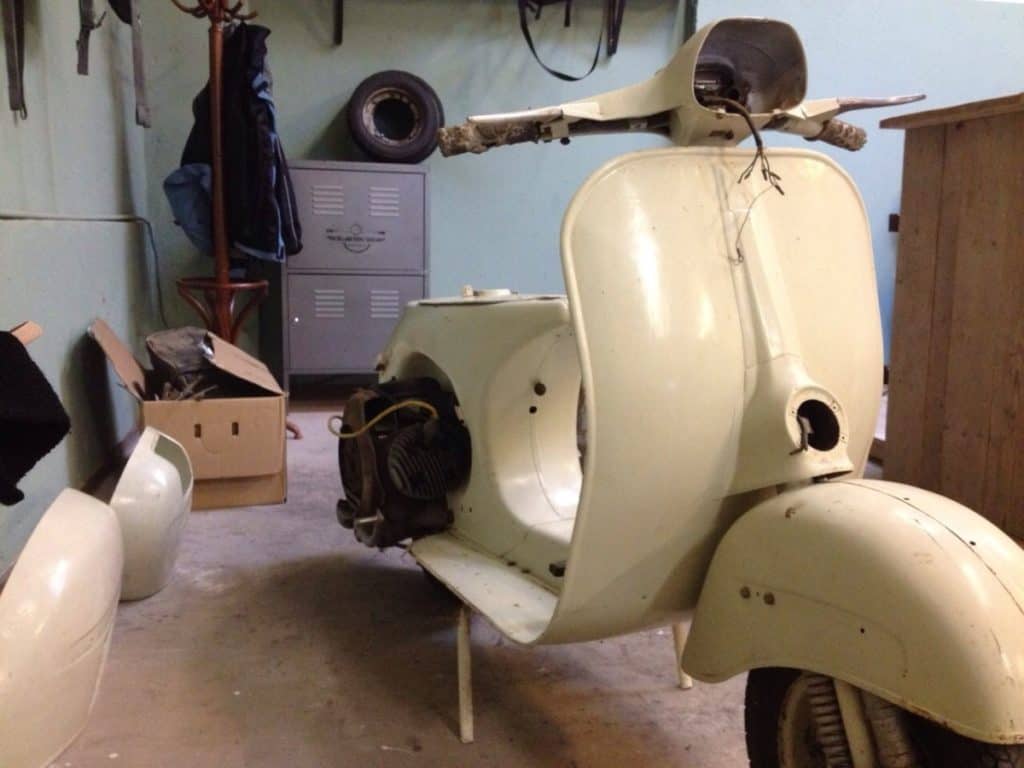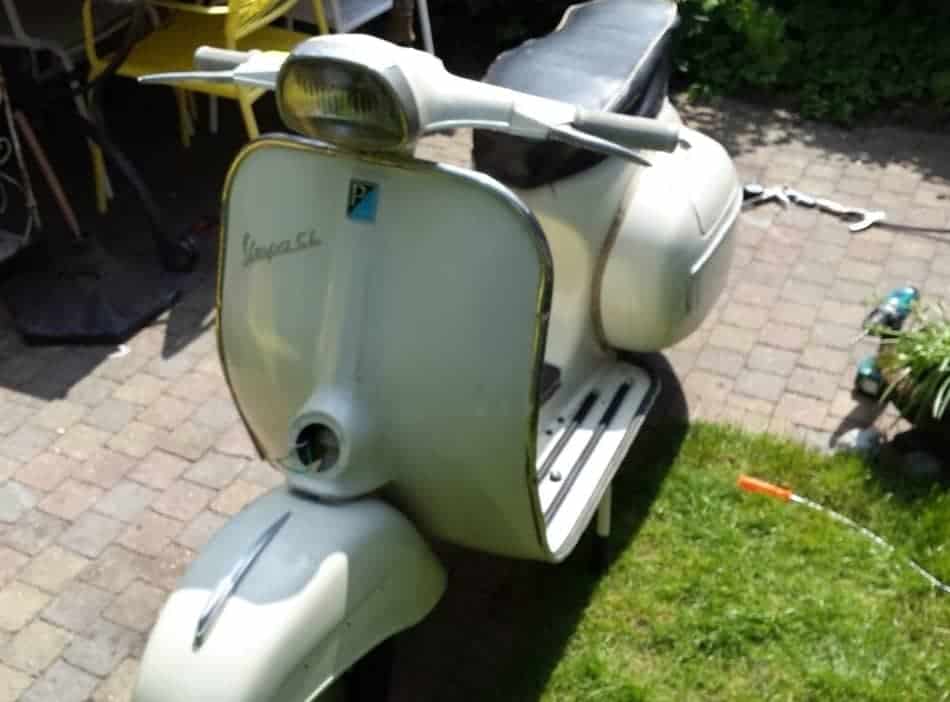 Online you will find a lot of Vespa VBB 150. These are beautiful large frame Vespas and drive quite comfortably. However, make sure you know exactly where the Vespa is from. Many VBB models have been imported from Asia, which are often of less quality than the ones made in Italy. If you are serious about buying a VBB read our list of 22 points to determine if the Vespa is from Vietnam.
A 150cc or higher large frame classic Vespa is ideal for:
hobby and collection
touring through the countryside and backroads
commuting: it is possible to hit the highway but not very comfortable
those with some technical know-how
Classic, Small frame 50cc or 125cc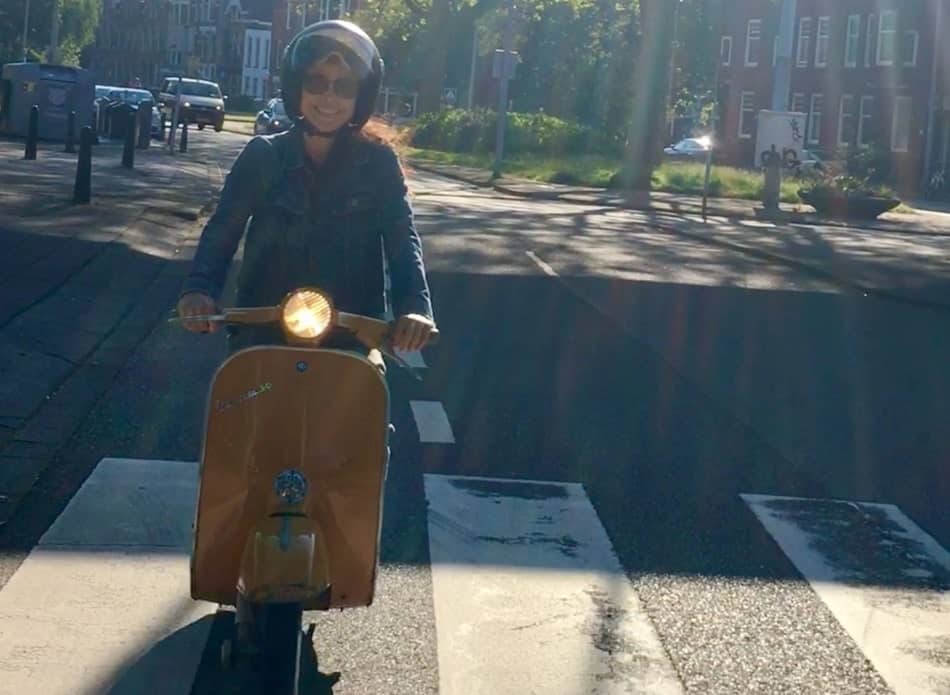 In Europe, the small frame is still widely available. You can easily purchase a Vespa V50 for around 3000 euros. It is a great classic model to start with and it isn't as expensive as a large frame or the classic Primavera 125cc.
If you don't mind using gears then it is pretty ok to drive a small frame in a city. I never have problems driving my V50 around the busiest part of town. I do feel I need to be more aware of the traffic considering I don't have indicators or mirrors, but the gears don't bother me much. Just make sure you are still allowed to drive a 2-stroke engine in the city. Many cities in Europe are starting to ban this type of engine since it emits harmful gasses.
The V50 can go around 31mph-50km per hour. If you want something with more speed then you should go for a classic Primavera. It has a 125cc engine but the frame is just as compact as the V50. The Primavera ET3 is a great classic Vespa. If you can find one then you have a winner. A well-restored or maintained classic Primavera can be sold for around 5000 to 7000 pounds which is about 6800 to 9600 USD. I've even seen them online for 17000 pounds (23000USD).
The last small-frame classic Vespa produced by Piaggio was the Vespa PX50 and the PX125. They are sold cheaply on the market. It has never been the best sold Vespa because the design is somewhat off. Then again if you find a nicely maintained PX and you just want to see if a classic is something for you, then you should have a go. In Europe, these models go for around 1500 euros. In the United Kingdom, I did find prices around 3,500pound but they were very good-looking ones and sold by a dealer.
Things you should know about the Vespa V50 model:
one of the cheapest classic Vespas.

light and small, not suited for passengers
ideal for those who don't have a license
not possible to go on the highway
you are often allowed to park it along with bicycles
fuel consumption is very low.
The Primavera is a very popular small frame Vespa and it comes with a 125cc engine displacement. A driving license is therefore mandatory.
Things you should know about the Vespa Primavera models:
small frame Vespa yet considered a motorcycle
ideal for those seeking a small, light, and strong Vespa
not suitable for highways
ideal for short-distance commuting between suburbs
once you carry some extra weight you will notice that it's not a motorcycle scooter