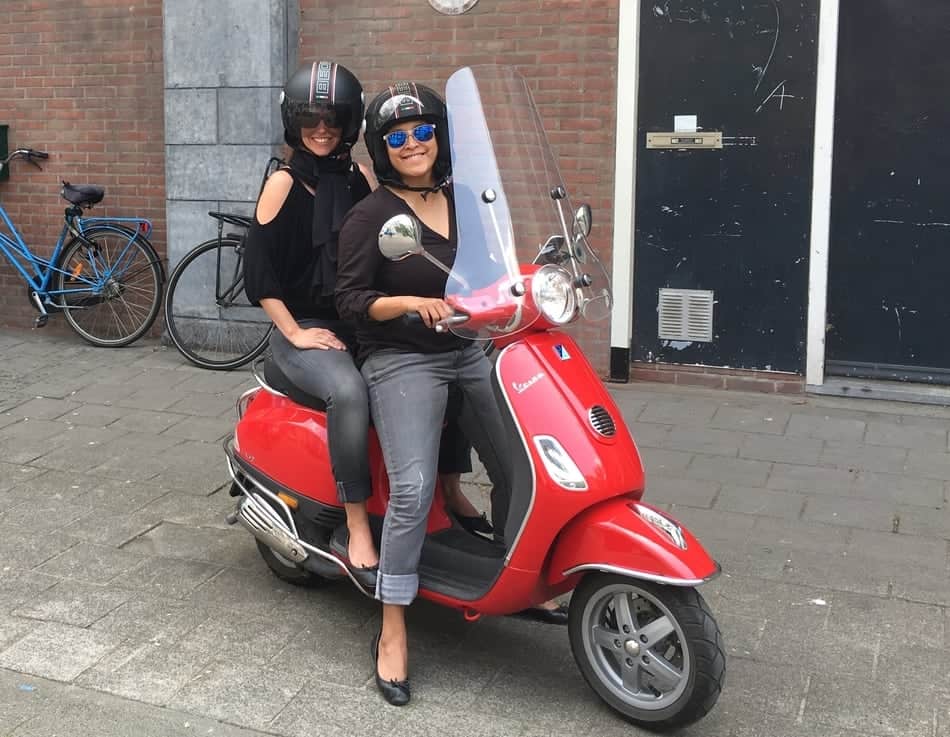 From the very beginning, Piaggio focused on designing a two-wheeled vehicle that could easily carry a passenger. Unlike regular motorcycles where the driver needs to lean forward slightly, the Vespa frame enables the driver and the passenger to sit upright. In the 1940s this was the beginning of something successful. Suddenly couples felt a sense of freedom and were able to head out together to enjoy the countryside.
Throughout the years the Vespa models have changed, road safety regulations became stricter and traffic more hectic. So how about today? Is it still possible to carry a passenger on a Vespa?
The Vespa dual seat makes it possible to carry a passenger. The frame creates comfortable seating for the driver and passenger to sit for long distances. There are however a few models that were built for just a driver alone such as the classic V50, classic Sprint, and the modern Vespa S (2007). 
As you can imagine, while the sturdy frame and the comfortable seating allow the Vespa to carry a passenger, you do need to check what specific rules apply. Additionally driving a Vespa alone or with a passenger are two different experiences. You might want to continue reading to learn what they are so you can prepare yourself if you want to bring someone along for a ride.
Which Vespa models are ideal to carry a passenger?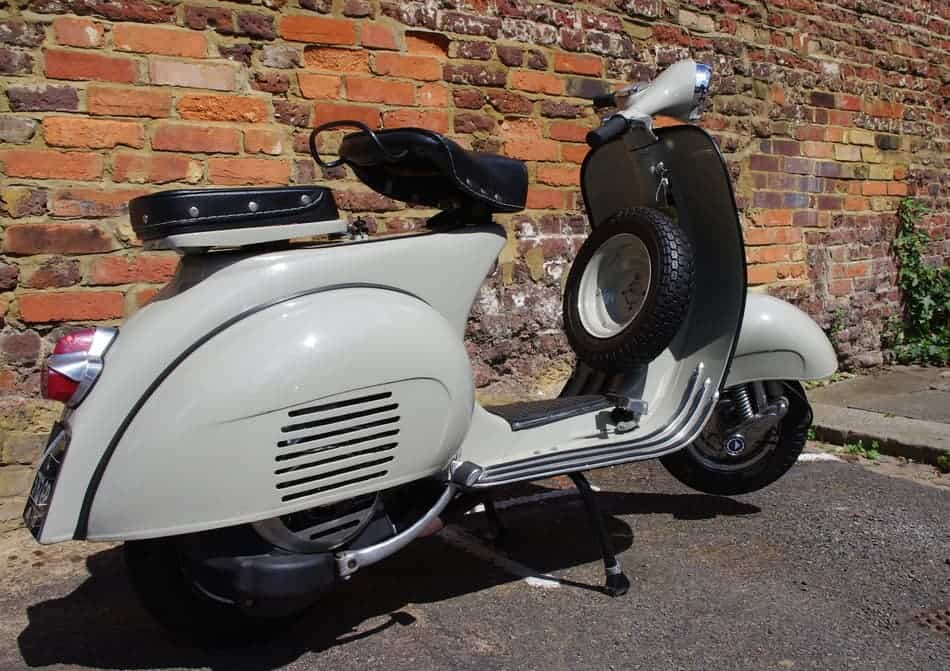 The Vespa is an ideal moped or motor scooter for a passenger. Its frame allows the passenger to sit upright behind the driver. Unlike other scooter brands, the rear end of a Vespa is much bigger creating more space for the driver and passenger.
In general, all Vespas can carry a passenger no matter what model or engine displacement. Both the large frame and the small frame Vespa are large enough to hold a passenger. Same for the engine displacement. A 50cc Vespa frame is just as big as a 125cc frame while the 250cc and more are slightly broader at the back.
All modern small and large frame Vespas come with a buddy seat which is perfect to take a passenger along. However, the first Vespa S (2007) comes with a single saddle that can only hold the driver. Since the body looks somewhat similar to the Vespa LX, you can easily change its saddle for a dual if needed.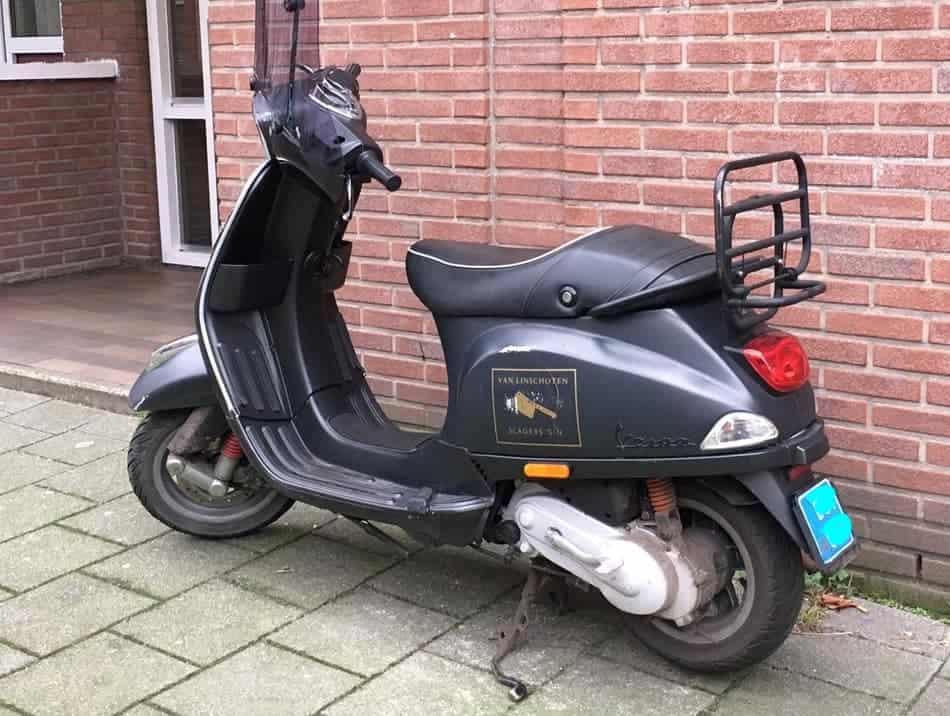 All large frame classic Vespas are also suitable for a passenger, however, they might not be always that comfortable. If the classic comes with a spring seat, then you can always add a separate passenger seat on the back.
Classic small frame Vespas such as the V50 and Sprint are much smaller than all other Vespas. These models were made for teenagers at the beginning of the 1970s. That said, I bet friends would easily jump on the back of the Vespa for a ride, but nowadays it is pretty uncomfortable.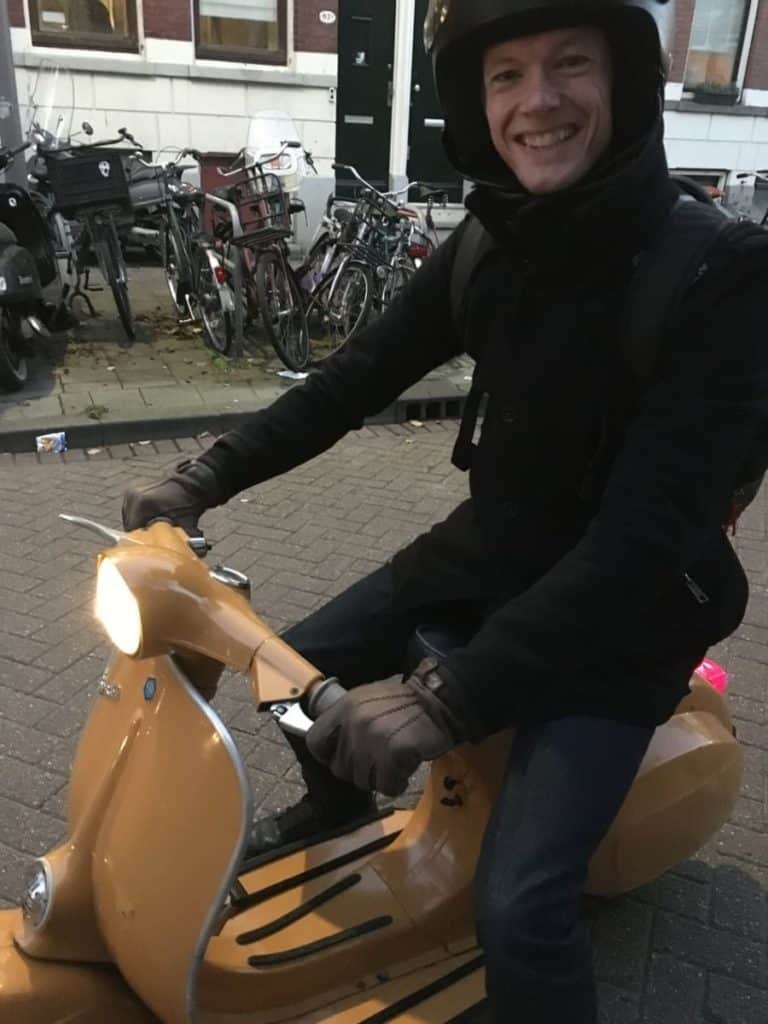 Funny enough when we only had one Vespa we did drive together on a small frame classic Vespa V50. Pretty silly considering one of us is 6.2ft/1.90m and the other 5.5ft/1.70m. It probably looked ridiculous but incredibly enough the V50 was able to hold us and we drove miles on end together. It would be ok to drive like this a couple of times, but in the long run, it will be a heavy strain for the engine of course.
Other classic large frames Vespas such as the very first V98 (1946), the 125 Sport (1950-1951), and the Vespa Sei Giorni (1951-1953) do not have the option to add a passenger seat. But then again, these models are rare so you are more likely not bothered about not being able to take a passenger. You are already lucky to have been able to obtain such a gem.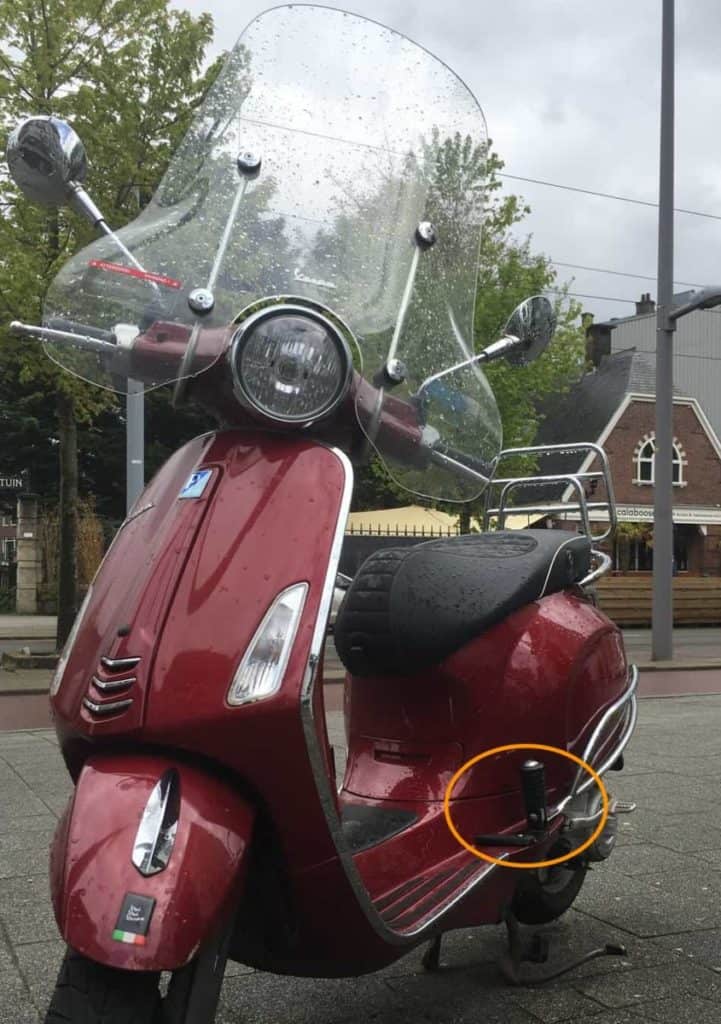 Footrests are usually mandatory when taking a passenger with you. All small frame Vespas have a black rubber platform at the end of the footboard where passengers can rest their feet. An additional footrest can be installed if necessary. You can shop various types of footrests for different Vespa models here
Only the large-frame GTS models have special footpegs located within the frame. You need to push it in order for it to pop out. For the GTS the footpegs are often located too much forward for an average-size passenger, making it difficult to find a firm footing. Taller passengers will of course have no difficulties in this case.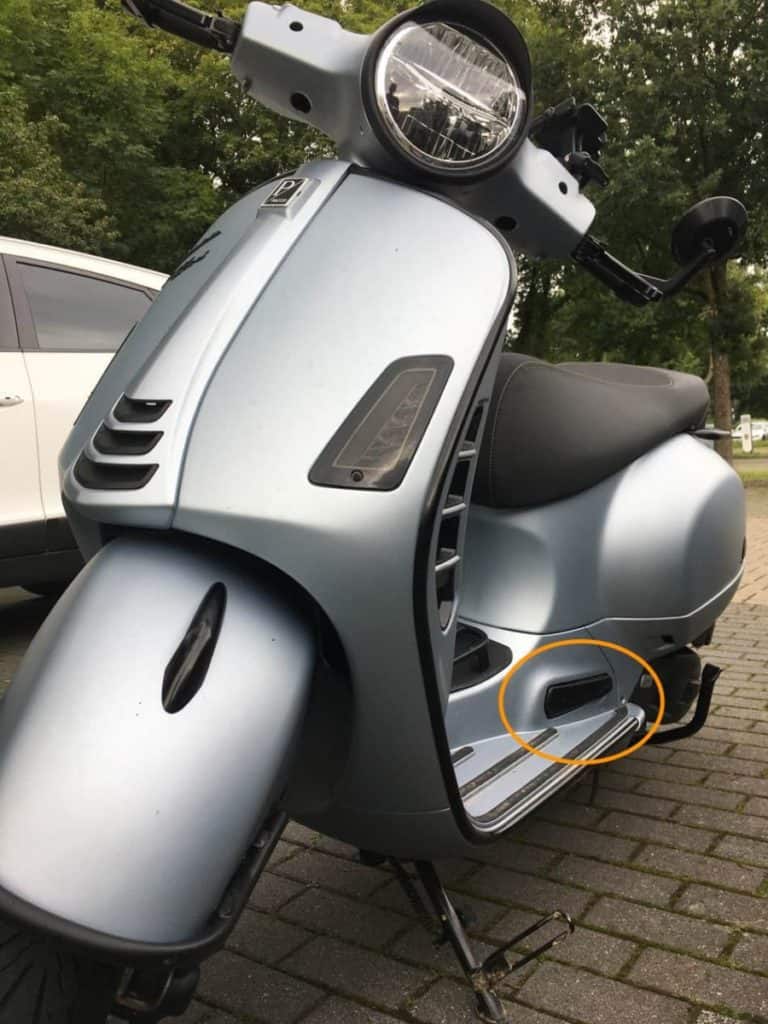 To be really honest, I would reconsider driving a GTS on the highway with a passenger. If you do it occasionally then it would be fine, but there are other scooter models that seem more comfortable and safe to carry a passenger. Putting a Vespa GTS side by side with a Suzuki Burgman 400 then you can immediately see that the latter is more fit to carry a passenger.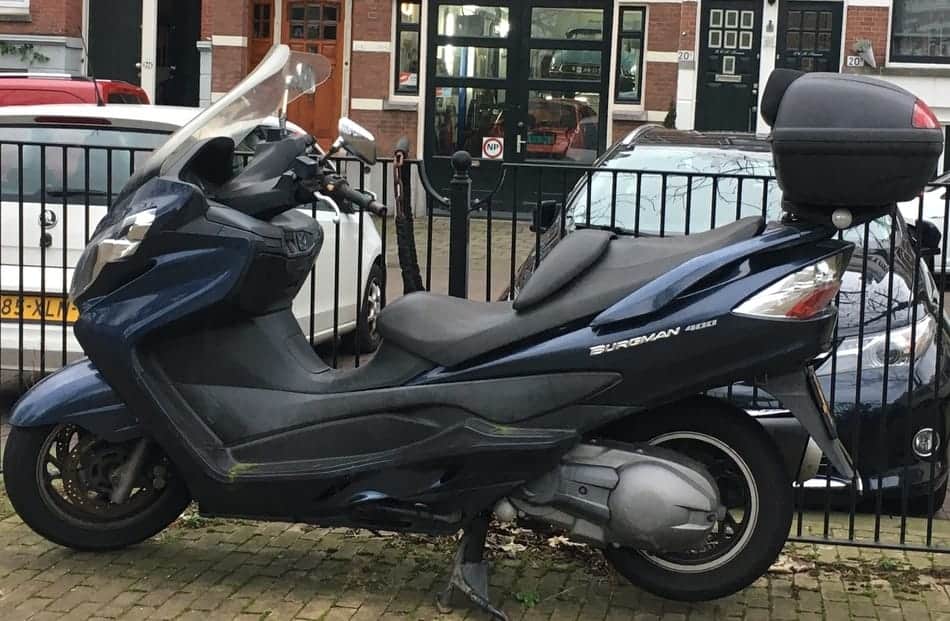 Can children drive as a passenger on a Vespa?
A Vespa is considered a motor scooter or moped and the driver must abide by the rules. In most countries, a child is only allowed to drive as a passenger on a motorcycle if he or she is tall enough to reach the footrests. This is therefore also the case for a Vespa.
You need to look up the specifics yourself as I can imagine that this rule doesn't entirely apply in all countries. In Asia and many countries in Europe, the child doesn't need to reach the footrest. If you hit the highway with a Vespa motorcycle then obviously strict rules apply.
In the United States, there are several states that require a minimum age when taking a passenger. So double-check yourself if this is also the case for you.
While it might be allowed to take a child along because of its age and size, the driver needs to know for sure that the child is responsible enough to come along. If he or she can't sit still and isn't aware of the dangers in traffic, then this will affect the driving negatively.
Scooter seats for children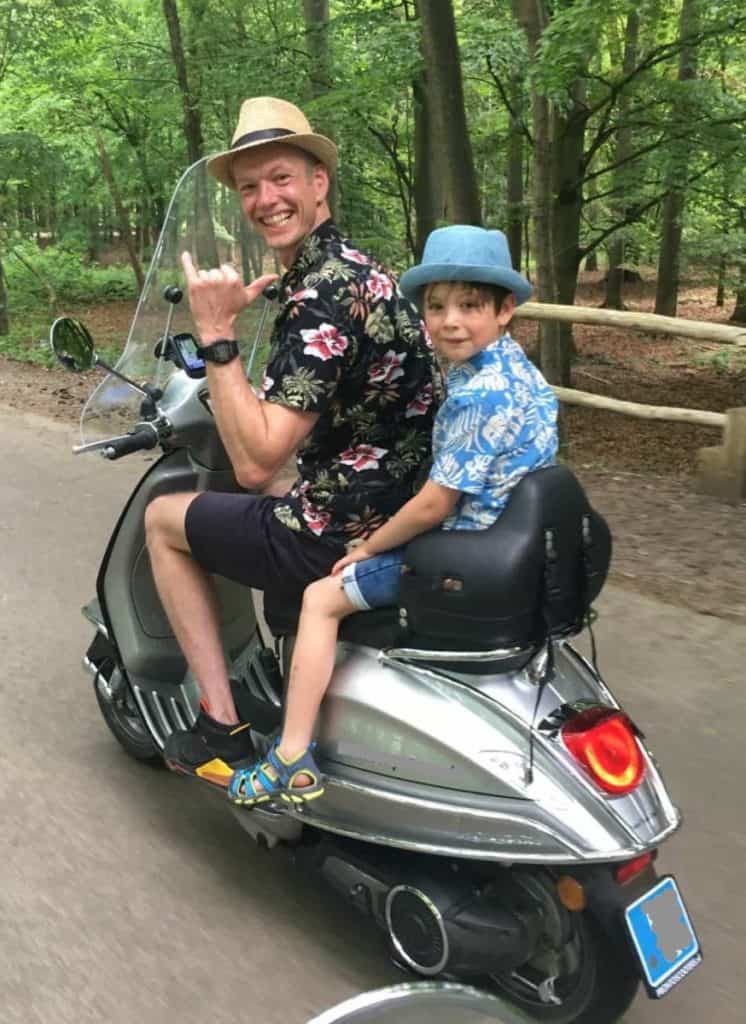 Since a child is more vulnerable to falling off, you should always take extra precautions. There are special scooter seats for children till 8 years old that can easily be fitted on a Vespa. This might be necessary for a Vespa since its back is much wider compared to other scooter brands. The short legs of smaller children will make it less stable for them to sit if they do not have a scooter seat.
Remember smaller children tend to become restless or fall asleep while driving. A scooter seat will increase overall safety. Another alternative is a motorcycle safety harness which ensures that the child is attached to you to prevent him/her from falling off. We have found a great example of such a harness here.
Additional safety measures: a rear rack or top case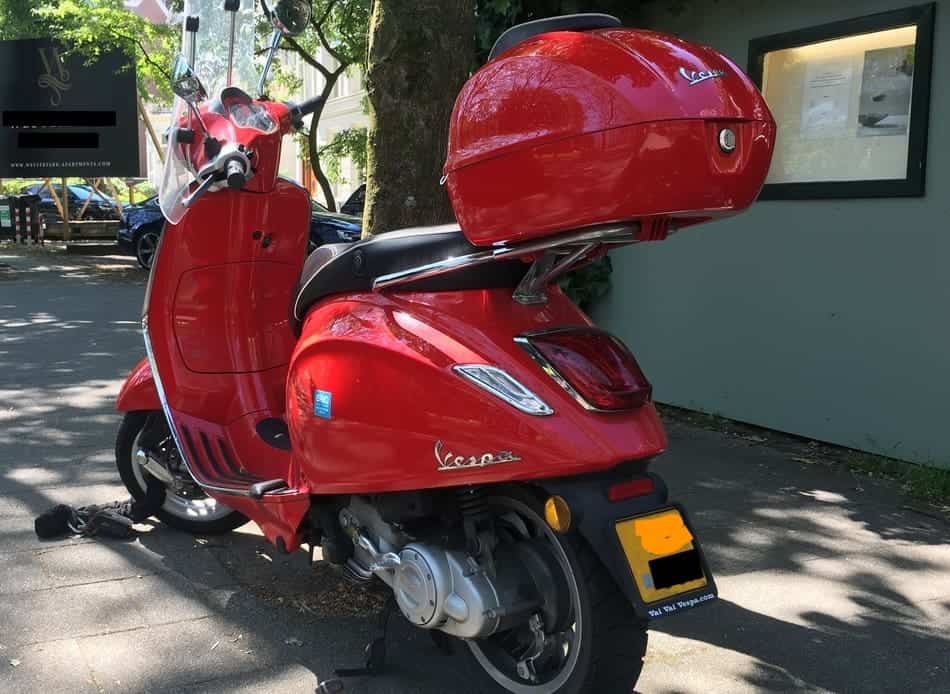 For older children or any other passenger for that matter, we always prefer to have a rear fold rack or a top case/box fitted on the back of the Vespa. The passenger is securely seated between the driver and the rack or top case and is very unlikely to fall off if the driver suddenly accelerates. Vespas can accelerate faster than a car.
Proper helmet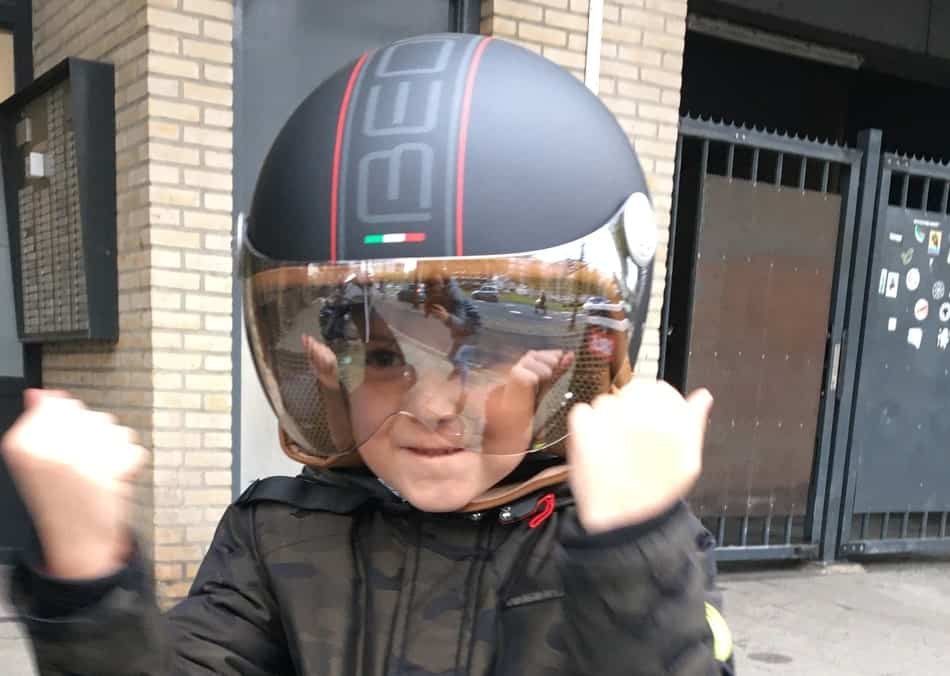 Additionally, as a driver, you are responsible for the helmet. In a lot of countries, this helmet must be DOT-approved. Don't save money on a child's helmet as it is crucial that it fits properly. I have seen many cases when a child is wearing an adult helmet that is a couple of sizes too big. It will easily fly off if something happens and will not protect the child at all in case of an accident.
If you are unsure which helmet you should get, you might want to check the article we give tips on getting the right helmet when driving a Vespa.
Seated behind the driver
Naturally, it is mandatory to have the child seated in the back as he or she must not obstruct the driver's vision when operating the Vespa. You can buy a motorcycle harness for children for extra safety. This harness attaches the child to the driver, making it unlikely to fall off.
As for a Vespa, it is pretty easy to have the child seated in the front. Especially if the child can reach the foot plateau. We enjoyed driving like this with our son many times. But as you can imagine, it isn't the safest option especially if you are not an experienced driver. One sudden brake and the child will hit face flat on the steering wheel or worse, fall off the scooter.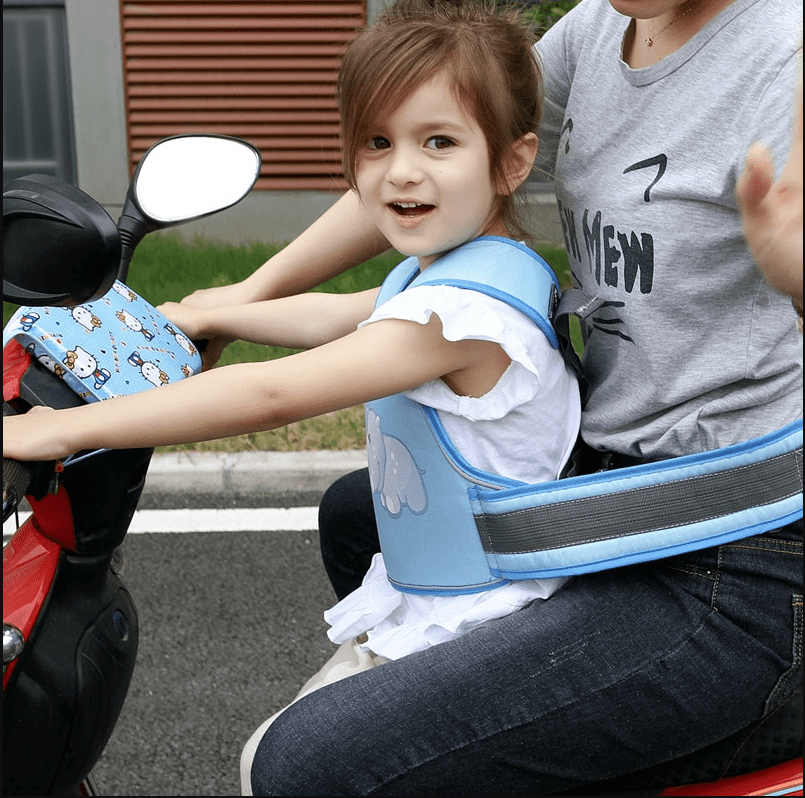 If you do choose to drive with a child in front of you make sure you instruct him or her to place both hands on the steering wheel at all times. As a driver you can firmly grip the child with both of your legs, ensuring he or she is seated somewhat securely on the seat. The driver should be tall enough to be able to look over the head of the child. Only then can the driver look straightforward and use both mirrors.
Remember, these are just our tips to increase the safety of the child when placing him or her in front of you. In many countries, it is illegal to drive like this. However countries such as Indonesia, India, or Vietnam, you will not only see a child sitting in front of a driver but perhaps its two brothers or sisters are sitting in the back as well together with their mom.
How to drive a Vespa with a passenger?
If you plan to drive a Vespa with a passenger then you must be aware of two things:
specific laws and regulations
different driving experience.
Law and regulations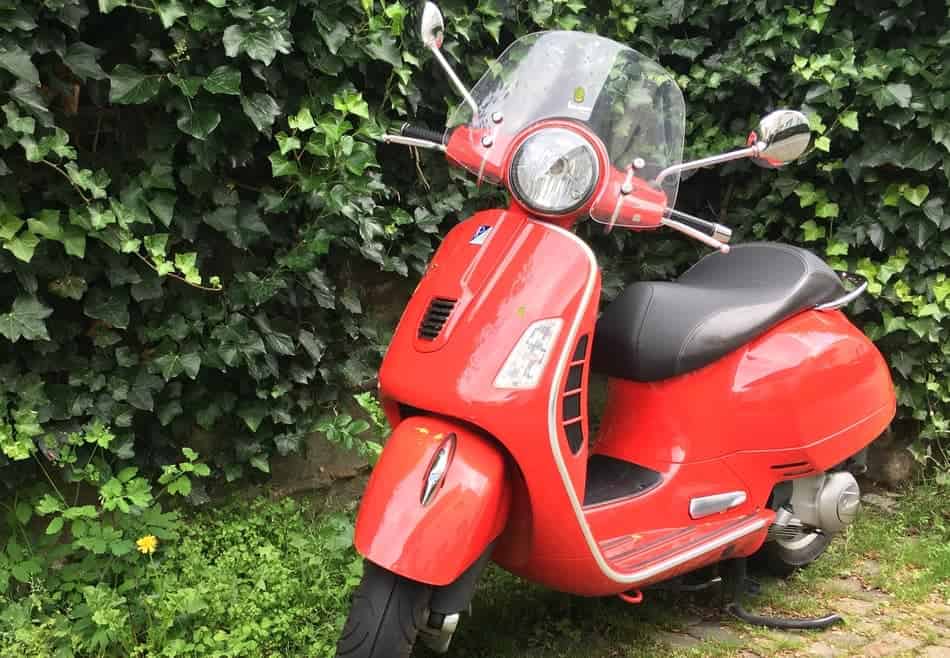 Countries have their own laws when it comes to carrying a passenger on a motor scooter or moped. Whether it is mandatory or not, always make sure that your Vespa has all the proper accessories to take a passenger along. Meaning the Vespa should have a proper seat (a separate seat for the passenger or a dual seat) and footrests. Luckily all modern Vespas are usually equipped with both.
If your Vespa is a motorcycle (all engine displacements above 50cc) then the passenger must wear a motorcycle helmet as well. In most countries, this must be a DOT-approved helmet. The passenger must be seated in the back with both legs on each side. Again, this is not mandatory in most countries (mostly Asia) where women with skirts are allowed to seat with both legs on one side.
Vespa motorcycles, such as the Vespa GTS and the Vespa Primavera/Sprint 125cc are allowed to drive on the highway. In these cases, it is very likely that it is mandatory for passengers to wear proper safety gear, such as a motorcycle jacket and trousers.
When you look at the Vespa commercials you will not see drivers or passengers geared up as it is required in most countries. But when you stick to the city and countryside you properly don't need to use additional motorcycle clothing. At least that is the case in Europe.
It is always best to check the rules on protection when taking a passenger yourself, as it can differ per country and state. For instance, in the UK they have specific rules for carrying a passenger on a Vespa. You are only allowed to bring a passenger along if you have a full driving license gained before the 1st of February 2001, or are allowed to drive without an L-plate or have passed the CBT (Compulsory Basic Training) exam and have a driving license.
Also when looking up specific scooter rules don't get mixed up with rules specifically made for 'motorized scooters'. These are not the rules for the Vespa scooter, but for the so-called kick scooter (or also known as stand-up scooter). These have different rules and regulations in which you can not carry a passenger with you.
Different driving experience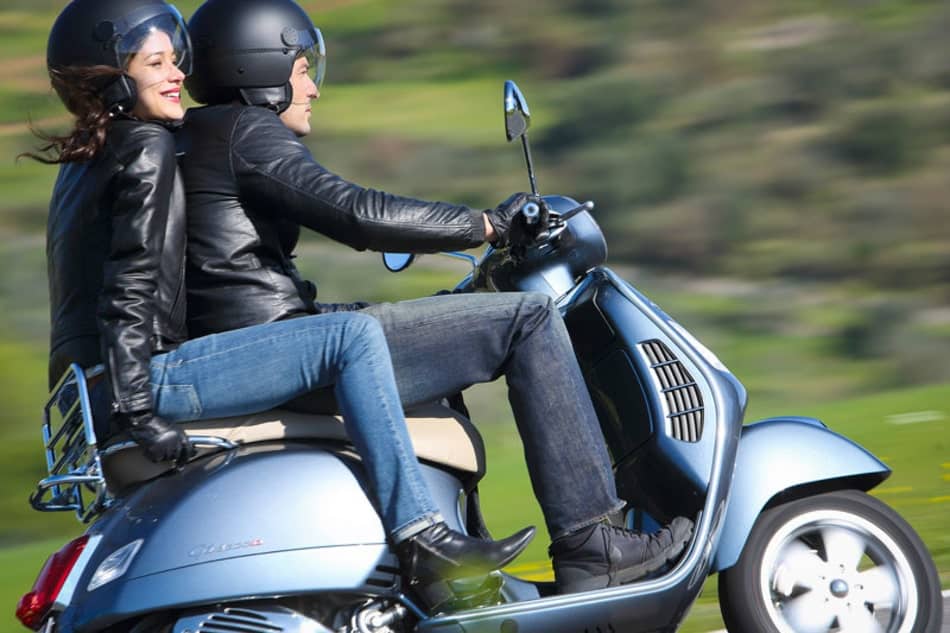 Before taking a passenger along you might want to make sure that you as the driver can tick off the following boxes:
can reach the ground with both feet when seated
together with the passenger don't exceed the weight limit of your Vespa
is a confident and an experienced driver
Other adjustments that are necessary are:
Tire pressure:
When taking a passenger you need to increase the rear tire pressure. In the case of the GTS, it should be 2.2bar instead of the usual 2.0bar. The front wheel doesn't need any adjustments. Check the manual for specifics.
You can quickly increase the tire pressure by using a portable air compressor. They are compact and easy to use. Check out the different types of compressors here.
Adjust shock absorbers
For a comfortable ride, it is important to adjust the suspensions of the bike, especially if you take a passenger along on regular basis or are planning a long ride.
Shock absorbers have 4 positions. The first is a minimum load which means for a driver only. If you are planning to take a passenger along you need to set it in the third position (medium preloading). The fourth position (maximum preloading) is necessary if you are taking a passenger plus additional luggage.
Check the manual for specifics and let your local motor shop do the adjustments. Correct adjustments will make the ride much more comfortable.
Change in drive style due to extra weight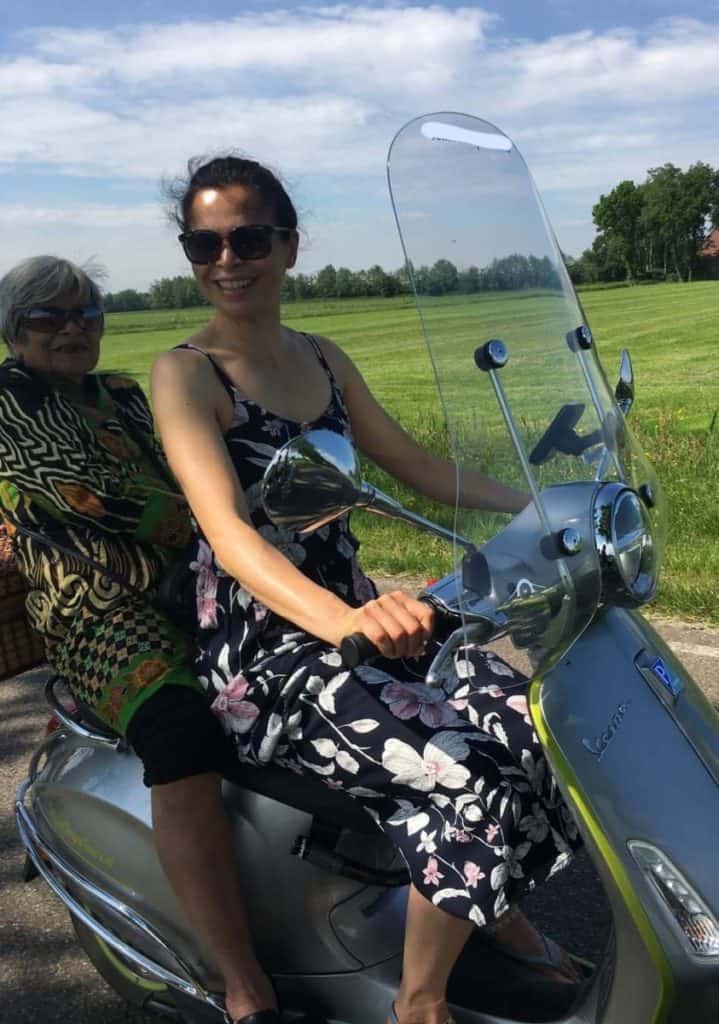 Driving alone or with a passenger on a Vespa is different. A passenger creates more weight which will affect the balance, steering, and the amount of stopping power. You will need to brake somewhat sooner in this case. Additionally, you will need to change the way you overtake other vehicles. You will need more time to do so. Drivers will also feel the impact of wind more with a passenger than without.
Luckily on a Vespa both the driver and the passenger are seated upright. This makes driving with a passenger slightly easier compared to other motorcycles, such as sportbikes.
To avoid tipping on the side always make sure that the Vespa is off the stand and that the driver is seated first before he or she allows the passenger to get on. Additionally, the passenger should be the first to get off. Use the brakes in both cases for more stability.
Before accelerating make sure the passenger is seated properly. The sudden acceleration can unbalance the Vespa or make the passenger fall backward.
If you are driving with a passenger for the first time, make sure you practice on a quiet road first. It is tempting to drive slowly at first but you will soon notice that it is more difficult to keep balance when driving slowly. In this case, more speed makes it easier to handle the Vespa with a passenger seated on the back.
The Vespa GTS is much heavier and the seat is a bit wider than a Vespa 125cc. So if you are not used to driving with a passenger, you might want to try it on a Vespa 125cc before getting on a larger Vespa.
What should the passenger on a Vespa be aware of?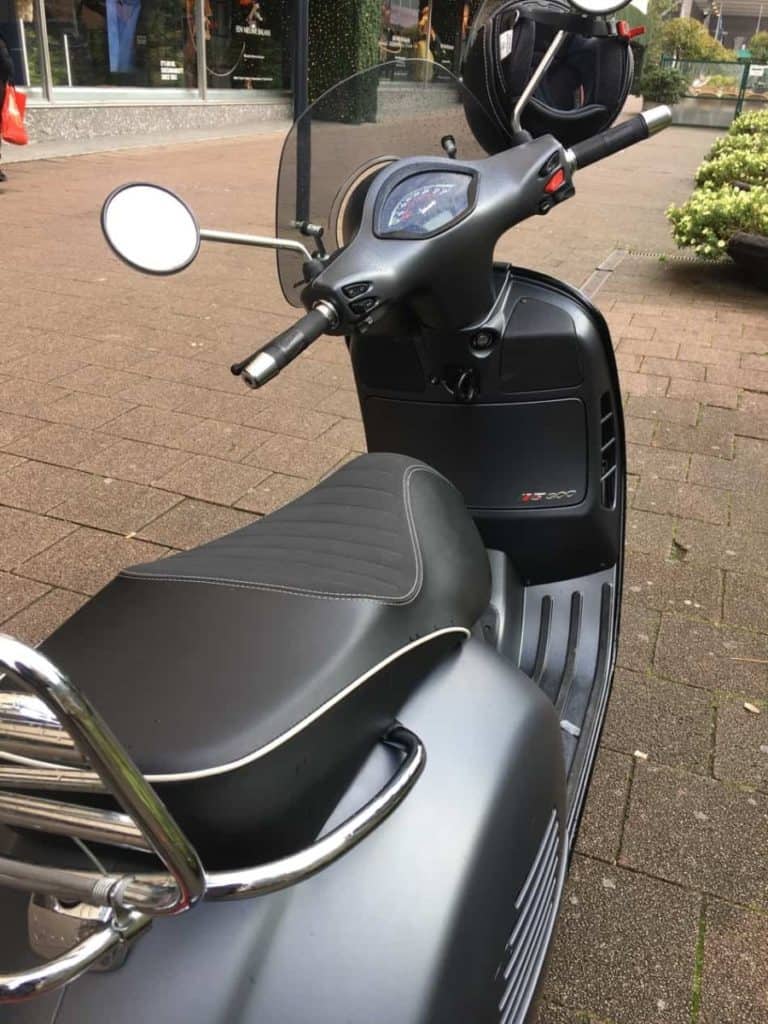 Being a passenger on a Vespa motorcycle is a different experience from a motorcycle where you will be leaning forward against the driver. The passenger on a Vespa is seated upright, making it easy to look ahead and anticipate what is coming. Best for the passenger to sit as naturally as possible, never to make any sudden movements, and not to lean in together with the driver when for instance taking a corner.
Unlike most motorcycles, the Vespa doesn't come with a backrest. As mentioned earlier you can always place a top case/box or a rear rack for more security. Passengers can hold on to the handlebars located around the rear of the seat. However, it is best to hold on to the waist of the driver. Never hold on to the driver's shoulders or arms as this will affect the driving.
Additionally, hold on by gripping your legs against the driver. If you hold on with your hands and grip your legs then this will provide optimal security, especially during sudden acceleration. Instead of gripping with your legs, you can use a slight pressure with your feet on the footrest for stability.
As a passenger, you should only get on a Vespa once the driver is seated and has said it is ok to climb on the back of the scooter. Don't lean on the bike too much when getting on or off. Try to keep it centered as much as possible to avoid the Vespa from falling on its side.