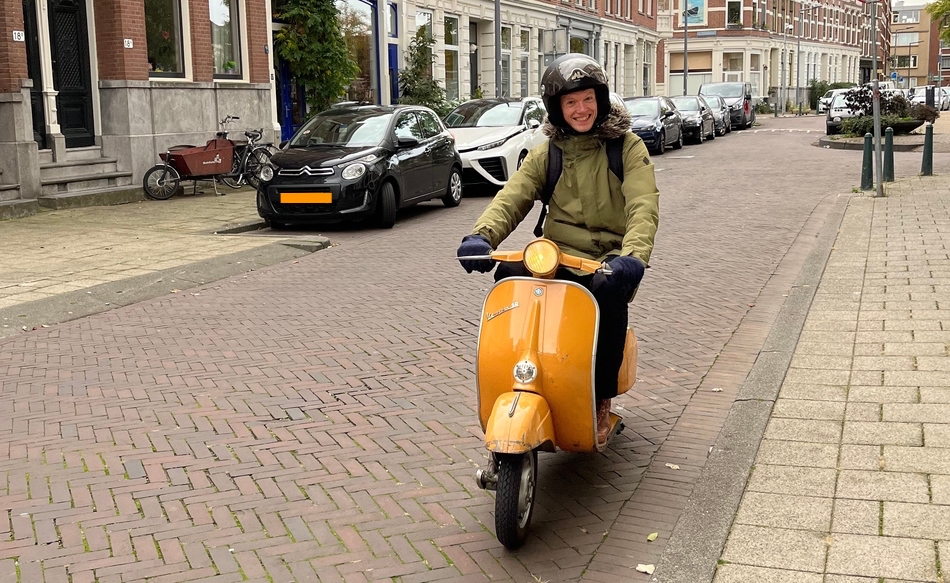 Once you got yourself a Vespa, the next thing you would need is a helmet. There are all types of helmets you can choose from. Probably like us, you will first go for the looks. However, while looks are important, safety is the main priority. A proper helmet can save your life if you do end up in an accident.
So what helmet should you wear on a Vespa? Nowadays the Vespa is always marketed with a driver using an open-face helmet. This helmet reflects the sense of style and freedom Vespa is known for. However, if you plan to take your Vespa GTS or 150cc  full speed on a highway then you should wear a full-face or modular DOT-certified helmet.
A helmet can range from USD 60 to USD 450 or even much more. Either way, all helmets sold have been safety approved. As mentioned earlier, if you go for a DOT-certified helmet then you are sure that this type of helmet has been thorough tests and ensures optimum safety on the road.
So let's have a closer look at the three types of helmets, their pros and cons, and most importantly, which Vespa helmets are on the market. Are they worth the buy or is another brand a better option?
What type of Vespa helmet should I buy?
The most common helmets used for driving a Vespa are the
full-face helmet
modular helmet
open face helmet
Full Face Helmet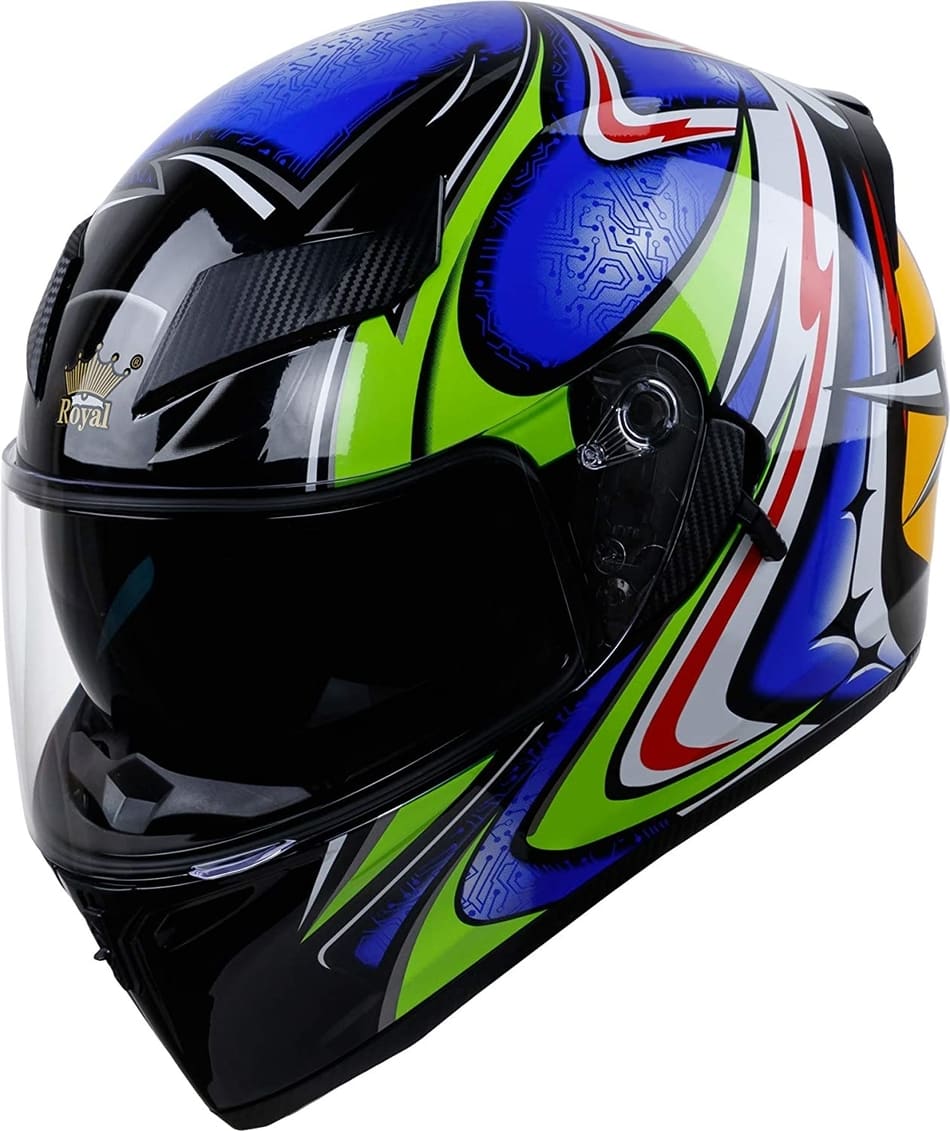 The safest helmet you can find on the market is the full-face helmet. As you can tell by its name, it covers your whole face, head, neck, and the additional Chin Bar also protect your jawline and chin.
This type of helmet always comes with a visor. A visor is ideal for those driving full speed. Your eyes will not only need protection from the wind and probably rain, but it is also a way to avoid getting dirt particles in your eyes. Can you imagine driving on a busy road and suddenly you have a tiny little thing in your eye making it difficult to keep your eyelid open?
Initially, I thought a full-face helmet wouldn't suit a Vespa at all, no matter how much safer it would be to choose this type of model. I associated these types of helmets with a sport or touring motorcycle, not an Italian-designed Vespa.
Everybody has of course their own tastes and ideas of what helmet would suit a Vespa, but looking around, I soon found out there are so many designs you can choose from that are classy and stylish. I prefer helmets with round edges, preferably matte black or some other less obvious color.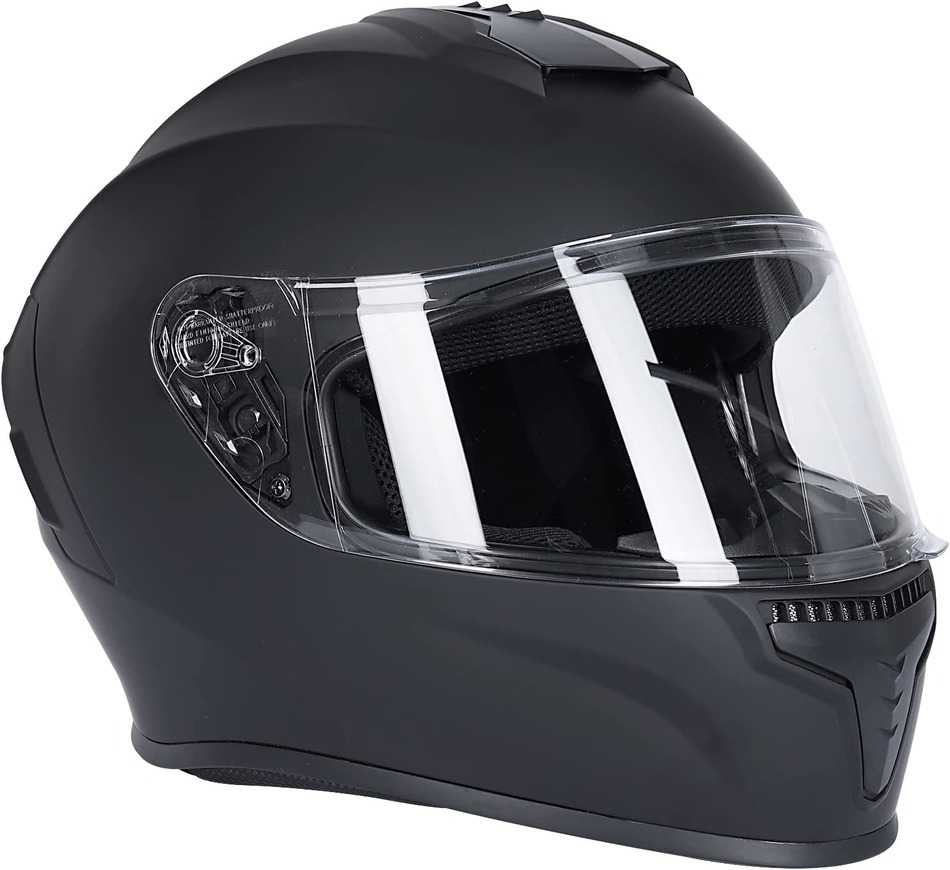 Those driving a Vespa GTS or a Vespa 125CC/150cc will benefit greatly when going for a full-face helmet. In the end, you are pretty vulnerable when driving between trucks and cars on the highway.
Funny enough Vespa doesn't have a large choice in full-face helmets. Despite the changes in driving conditions in terms of safety, they rather stick to open-face helmets. That said, they do have two full-face Vespa helmets. One white with red stripes, the other green with yellow stripes.
If your Vespa has one of these colors then it might suit you. But I think it would be wiser to start searching for other brands when it comes to full-face helmets.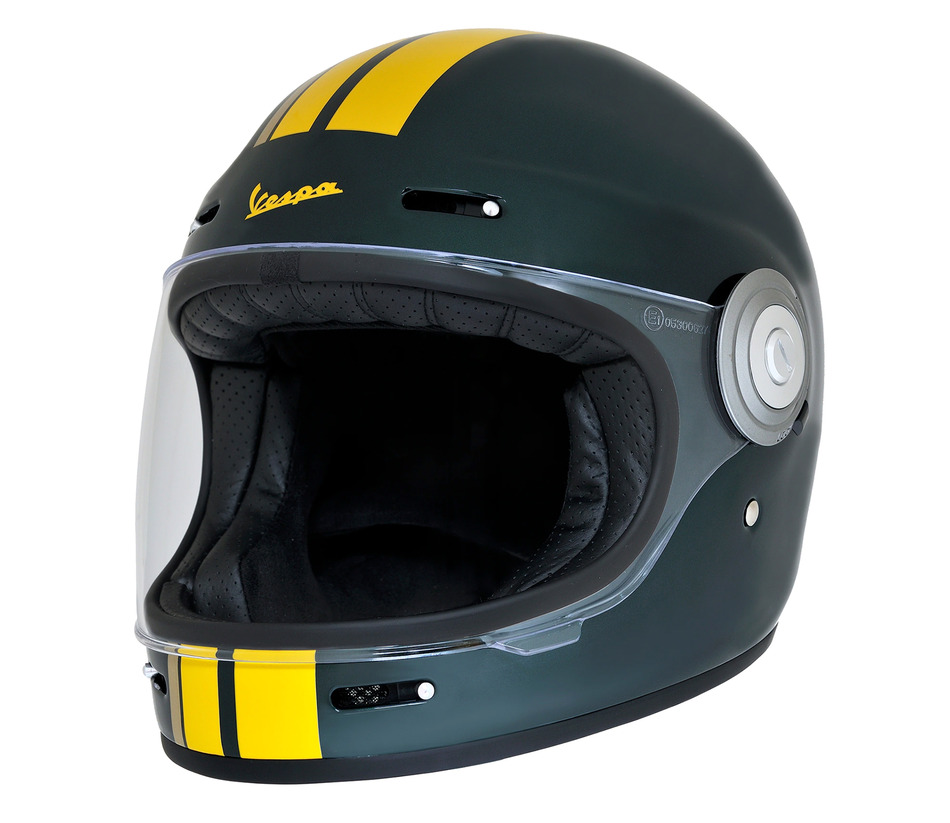 Pros:
the safest option in helmets
chances of less damage to your face when you are in an accident
Cons:
often too large to stow under your Vespa seat
uncomfortable in warm weather
can not feel the breeze on your face
Modular helmet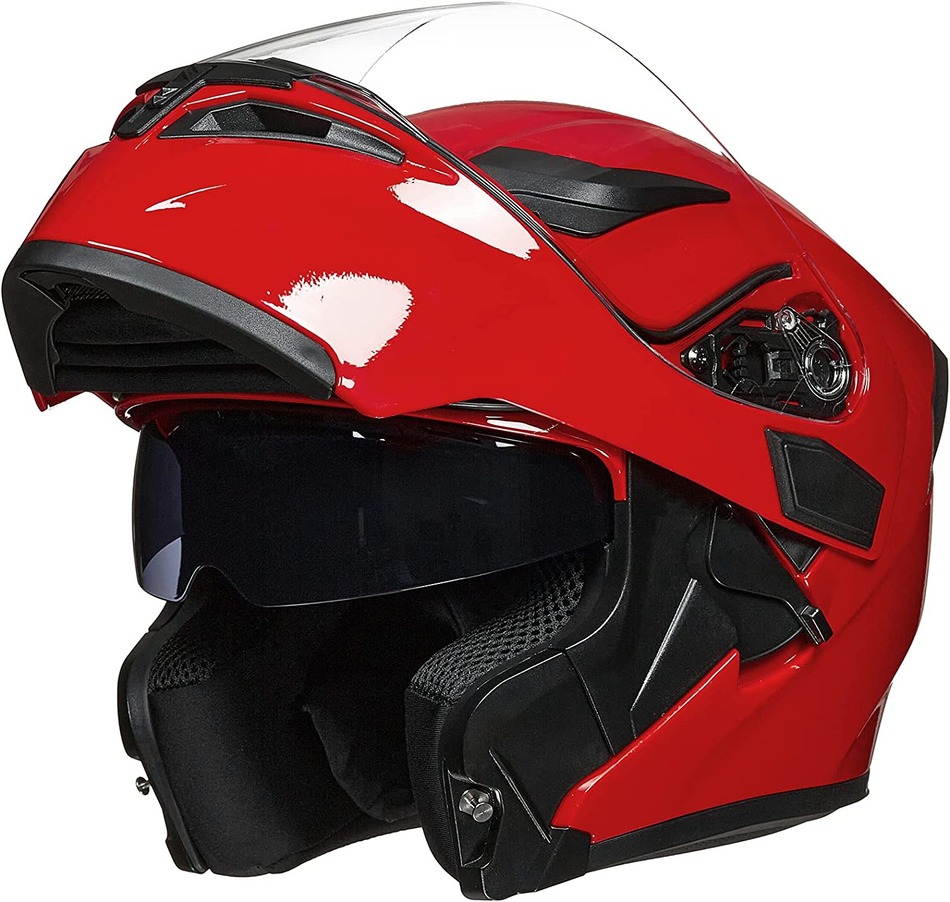 The modular helmet was pretty new to me. Perhaps because it looks like a full-face helmet so you can't really tell straight away it is a different type of helmet. While it looks like a full-face helmet, with a modular helmet you can lift the Chin Bar and visor. Ideal if you want to take in some fresh air in warm weather, or when you're driving somewhere where traffic is slow or not busy.
Just like the full-face helmet, a modular helmet is a safe option if your Vespa has a large engine displacement. Your whole face is covered when you a driving full speed giving extra security on the road.
This type of helmet does tend to be heavier than a regular full-face helmet and once you lift the Chin Bar it can look pretty bulky. That said, it also depends on the model you choose.
You can find modular helmets that look massive and often I see them on drivers of touring motorcycles. Something that doesn't really fit a compact Vespa scooter. However, again like the full-face helmet, there are various designs of the modular helmet on the market. None of them is from Vespa themselves.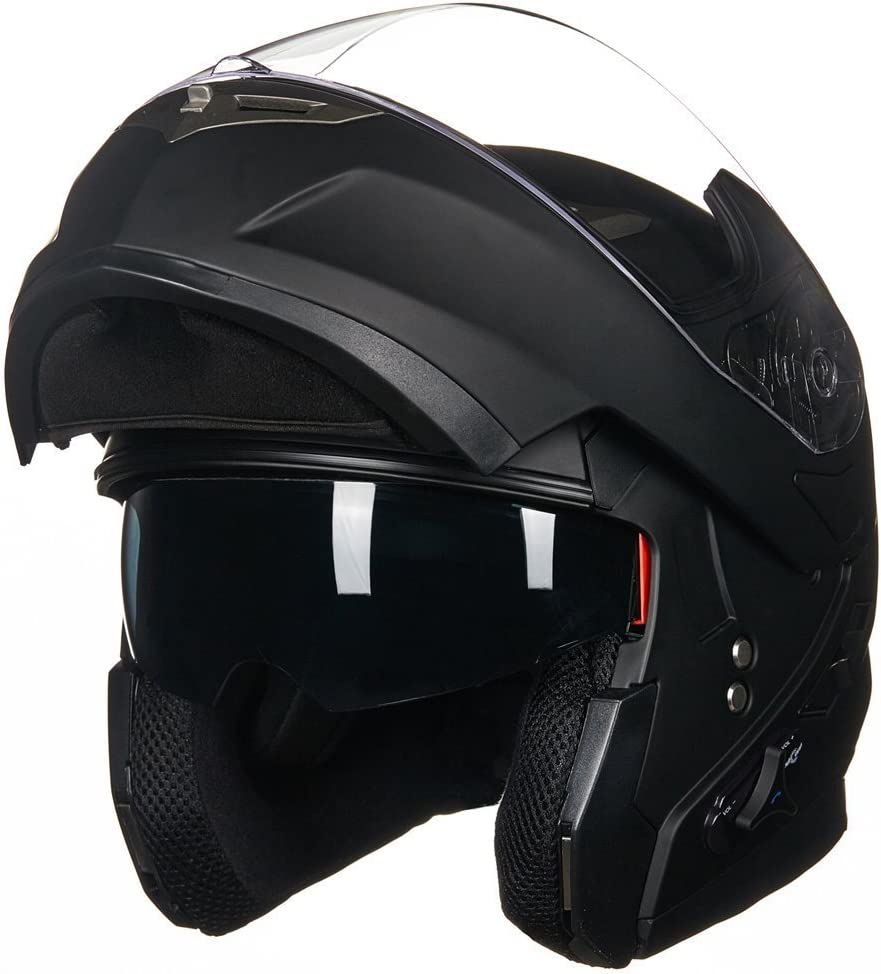 Again, I would favor a modular helmet with round touches and a compact look. Something that looks as classic as possible. No bright color designs, but more modest in decorations. However, in the end, you are the one to decide and there are no rules when it comes to extra safety and choosing what you like.
Pros:
you can change from a full-face helmet to a 3/4 helmet
catch a breath of fresh air once opened
feel the breeze when driving once opened
Cons:
heavy and bulky
too large to stow under your Vespa seat
Open Face Helmet or 3/4 helmet
The Open Face helmet is the most popular helmet when driving a Vespa. If someone is driving a Vespa in a movie, magazine, commercial, etc. and he/she is wearing a helmet then it is 99% likely an open-face helmet.
Not a surprise of course because that is the greatest-looking helmet for a Vespa and Piaggio knows it. If you look up the Vespa helmet, then it is all open-face helmets (except for two).
Funny enough, while the open-face helmet is the most popular it provides less protection than all types of helmets. If you would fall face forward while driving at high or even low speed, especially your nose and chin will be severally cut. And that is just a minor accident.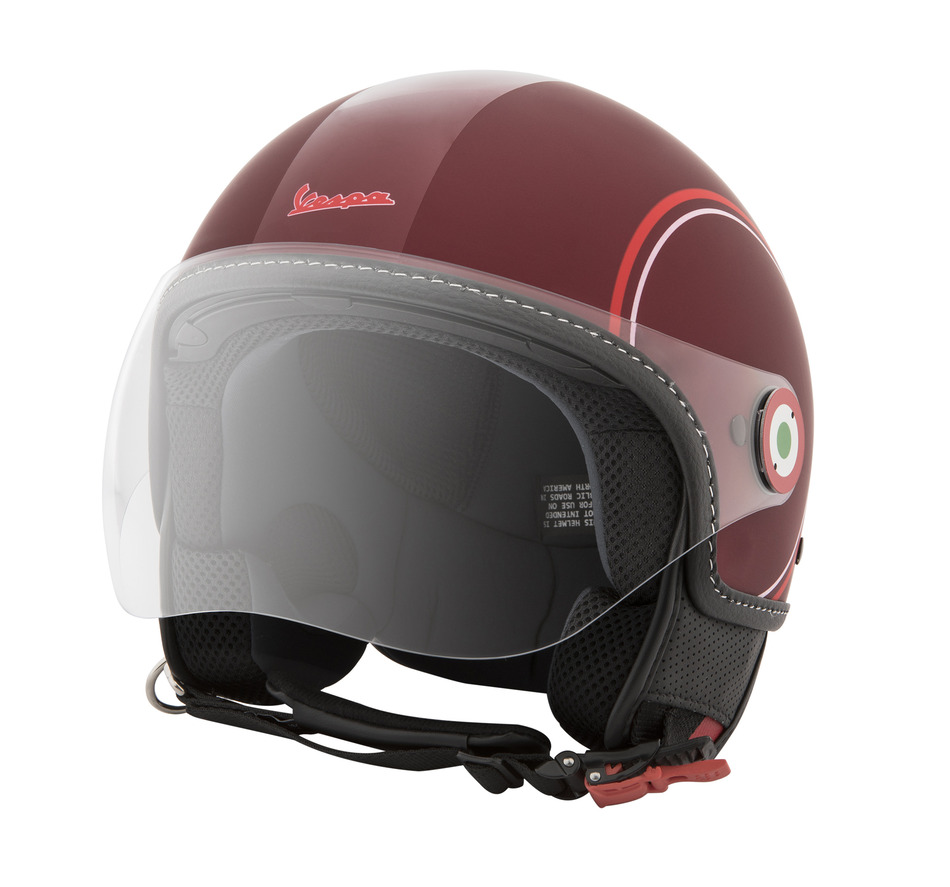 While most people know this, they still choose the style and look over safety. That's how the human mind works. And I get it. We have always used open-face helmets for our modern and classic 50cc Vespas.
So while we all know now that the open-face helmet isn't the safest at all, I fully understand that you will go for it. That said, I do want to stress that even though you can still rip your face open and lose your teeth (it's a fact, not to just shock you) I advise you to use this helmet only when driving 50km/31mph (50cc engine displacement). As soon as your Vespa drives faster than that, please go for a full-face helmet.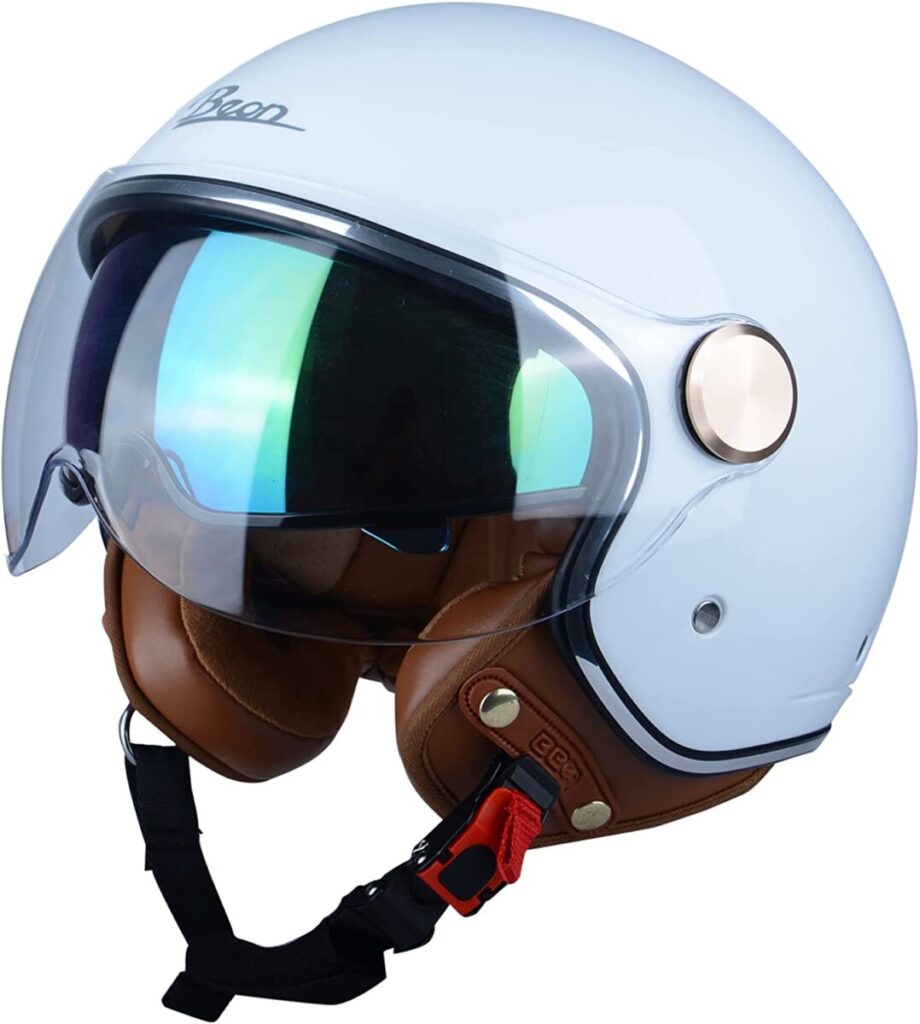 Pros:
stylish
feel the breeze
smaller and easier to stow
large range of Vespa helmets to choose from
chances are you are able to stow it under the seat of your Vespa
Cons:
Additional helmet features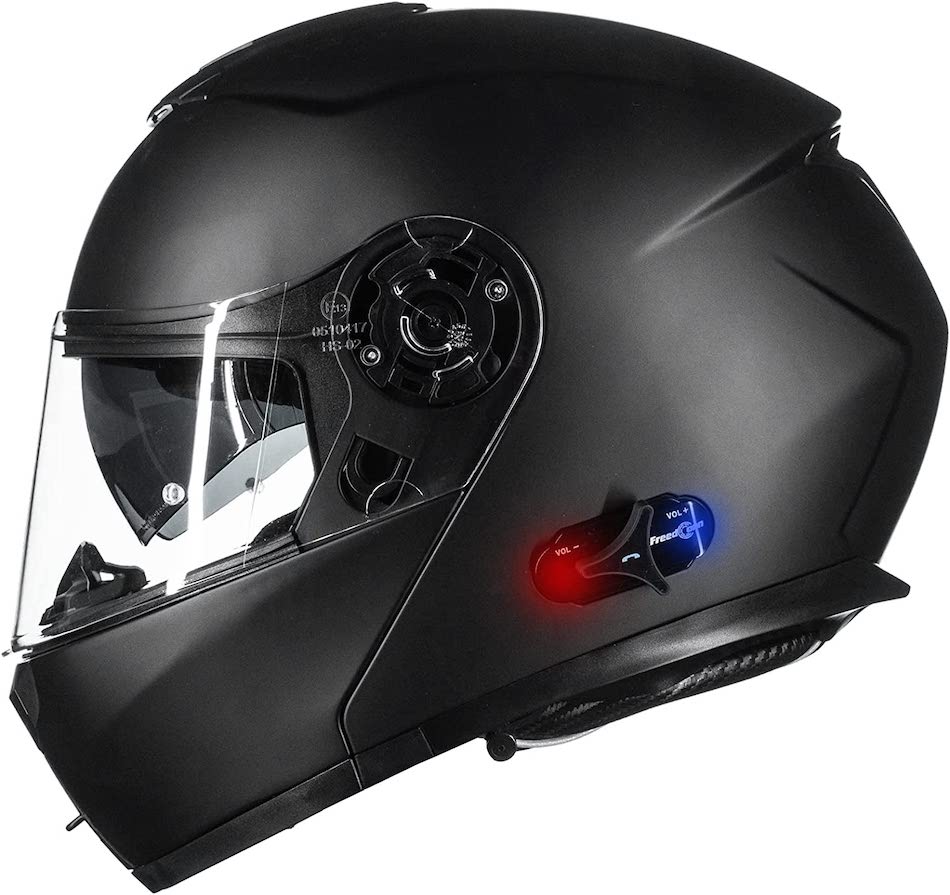 The three types of helmets mentioned above come in all price ranges. Generally speaking, all helmets on the market should meet all of the safety requirements of the country you are driving in. But like anything in life, if you want more safety plus comfort then it will cost you more.
Price ranges are often determined by the quality of material used, additional protection and technology applied.
Some have a built-in Bluetooth making communication easier, while some helmets have washable liners or customized cheek pads which provide the perfect size creating maximum comfort.
Where and how to stow your Vespa helmet?
Unfortunately, the storage space of a GTS is limited and usually, the full-face helmet will not fit in the compartment under the seat. Official Piaggio helmets will, however, fit in all newer models but as mentioned they are all open-face.
The fact that it isn't possible to stow a proper full-face helmet under the Vespa seat is in my opinion a bit of a design flaw. Not only is it impossible to keep your helmet nice and dry once you parked your Vespa but what do you do if you have to carry a second helmet for a passenger?
The only solution is to install a hard case on the back of your Vespa. This is an ideal place to safely stow your helmet when parked or to bring an optional second helmet along.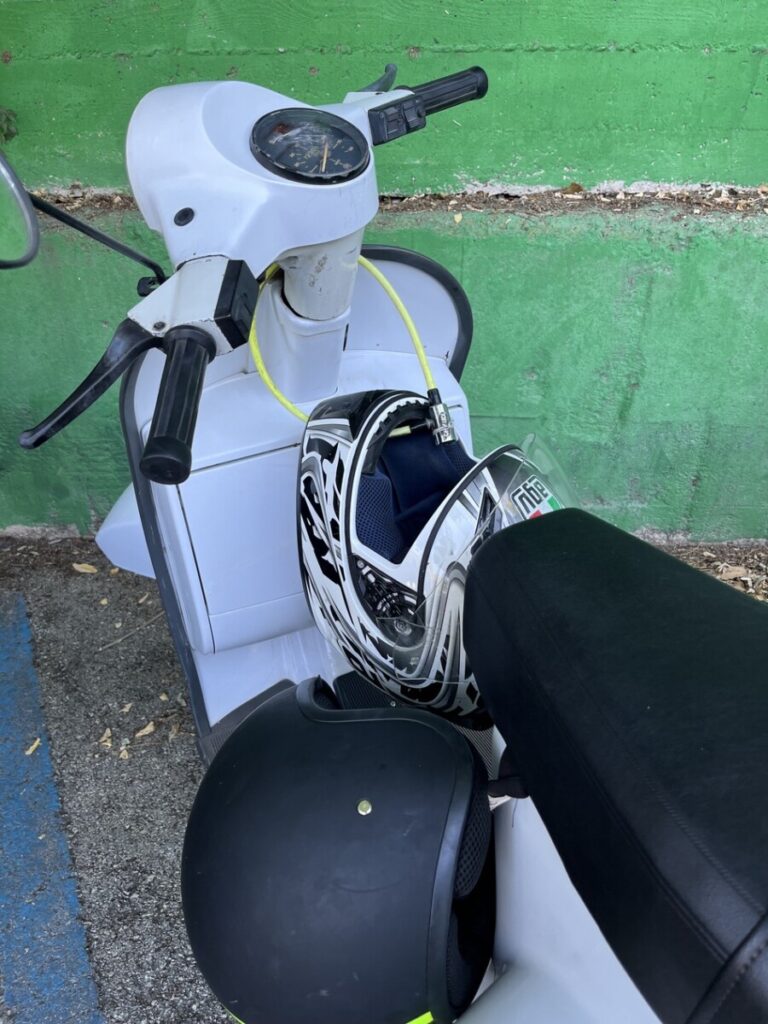 When parking your Vespa there is an option to secure your helmet on a helmet hook located on the front side of the seat compartment. Once you open the seat, hook your helmet on one of the two hooks and close the seat to hang your helmet securely. The downside is, that when it rains the inside of your helmet can get wet.
If it doesn't fit in the compartment AND you don't have a hook to secure your helmet then I have seen many drivers place their lock through the rear wheel and helmet. Of course, this can only be done with a full-face helmet or modular helmet. But I can't imagine doing that with my new and expensive helmet.
What size helmet?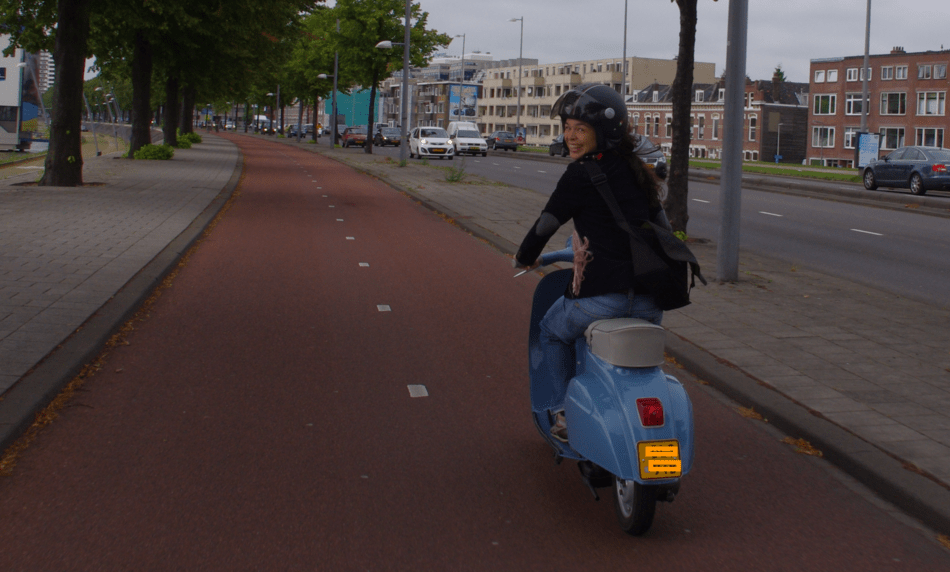 The size of a helmet determines the level of safety it can provide. Obviously, too big and it will not provide much protection at all plus it will slowly slide toward the back of your head when driving at high speeds. Too small will be uncomfortable and even painful.
So make sure that your helmet is the perfect fit, preferably for you alone.
So how do you know what size helmet you need?
You can determine the correct helmet size by measuring your head. First start off by measuring around your head, beginning at the center of your forehead, slightly above your eyebrows.
Once you know how many cm or inches your head is, then check the sizes of each manufacturer. Not all use the same sizes. So for one, you can be an M while on the other it would be an L.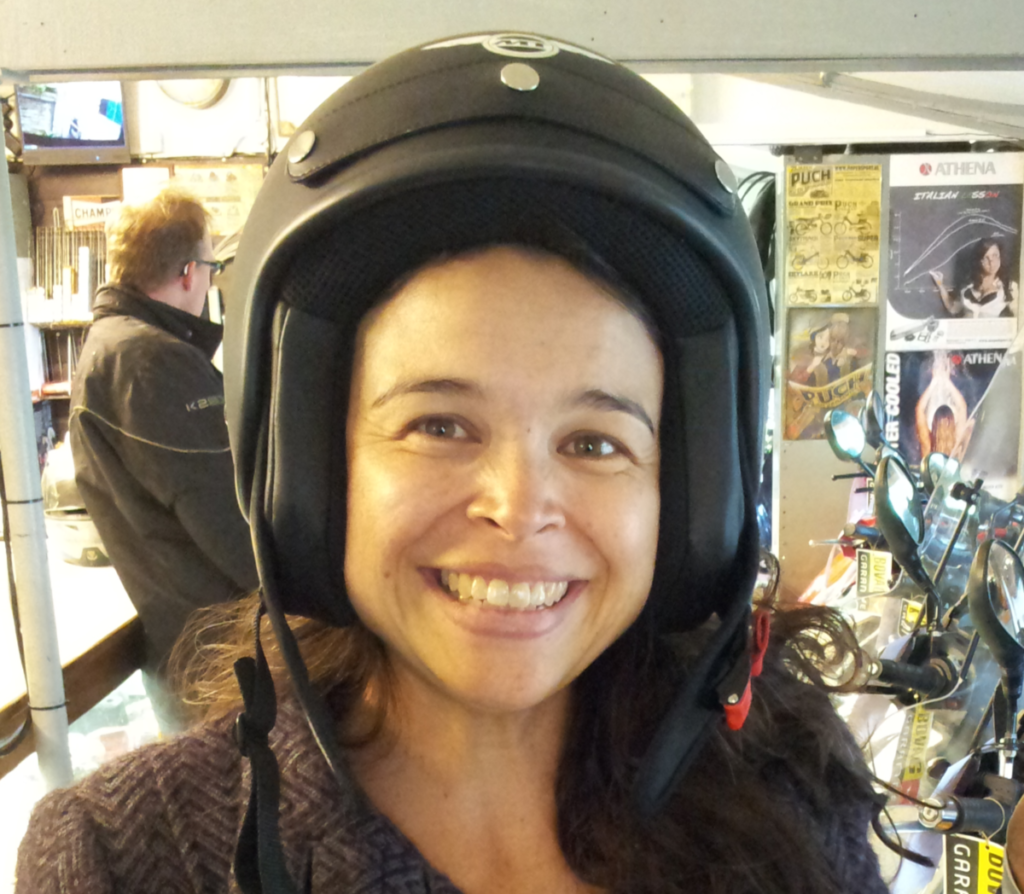 When you have chosen your size, check for the following:
When you place the helmet on your head, check if the front of the helmet is just above the brow line.
There should be an overall sense of firm pressure on the head when wearing the helmet. You shouldn't be able to place your finger between your forehead and helmet.
Make sure that there aren't any pressure points that are too heavy. But then again it is ok to feel some pressure because a helmet should not be able to slide off easily.
Additionally, there shouldn't be any lateral movement when shaking your head.
If there are cheek pads then they should feel tight.
If there is a chin bar, pull on it and make sure the helmet isn't pulled down over the brow line.
Try to wear the helmet for at least 10 minutes so you are sure you haven't felt any pressure points that will become painful after a while.
So when shopping for your helmet Vespa we do recommend putting safety above design and looks. Also, consider how and when you will be using your helmet. Long-distance drivers will find more comfort and safety with a full-face or modular helmet, while those driving their Vespa through the city will likely go for the open-face helmet.