Vespa has been popular among ladies from the very beginning. There are many reasons why it is still one of the favorites today. However female drivers might want to do some research to figure out if a Vespa would be right for them. 
A Vespa is a good choice for ladies despite being bigger and heavier than other scooter brands. While tall ladies will find driving a Vespa very comfortable, in the end, the strength and height of the driver don't matter. Shorter ladies with previous driving experience can easily handle a Vespa as well.
The height and weight of a Vespa can be intimidating for women, but these factors should not prevent ladies from considering driving one. I'm 5.5ft (169cm) and have no difficulty driving a Vespa. I have learned that driving experience and knowing how to handle a Vespa is more important than being strong or tall.  
Why is a Vespa good for ladies?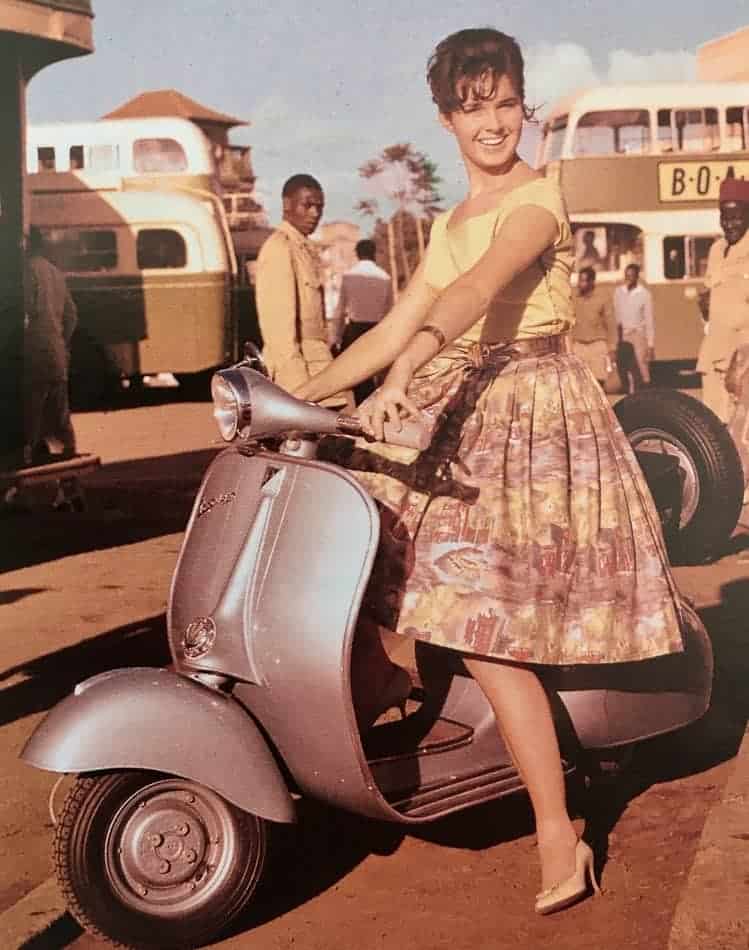 Piaggio has always successfully targeted the Vespa for women. The first ad in 1946 was of an Italian woman riding a Vespa without getting dirty while buzzing off to work. Today the Vespa remains very attractive for female drivers and here are just a few reasons why:
Its step-through frame with a platform makes it easy to hop on and off without lifting a leg over the seat.
The frame enables female drivers to sit upright when driving.
The raised handlebars make taking u-turns much easier than other scooters.
Ladies can choose to wear a skirt, high heels and even place a handbag behind their legs when driving.
Unlike other motorbikes and mopeds, the front-covered frame prevents the legs and shoes from getting dirty when driving through mud and puddles.
The modern Vespas are automatic (no gears) making them easy to drive.
The modern Vespas have an electric start ignition so it is easy to start.
Vespa has always launched its models in fashionable colors ranging from yellow to red. But any color actually fits a Vespa. You can easily customize it to any color you like. Whether it is pink, baby blue, or gold. Any color suits a Vespa.
Vespa has marketed its style and image perfectly towards women. In 2021 Piaggio will launch the Vespa 946 Christian Dior. A result of a collaboration with Dior and Piaggio.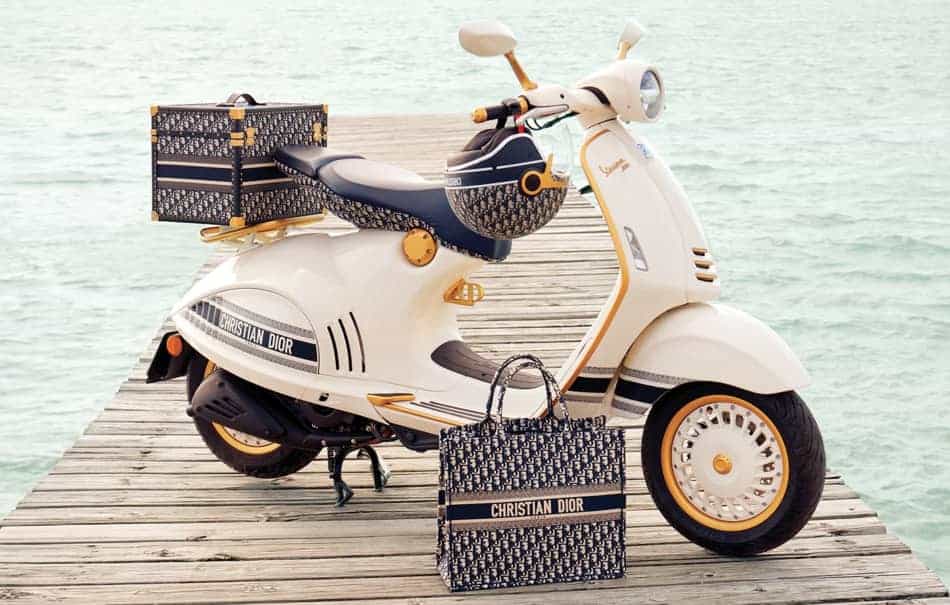 Can only strong ladies drive Vespas?
Vespas are known for being heavy due to their steel frame. They are much heavier compared to other scooter brands which have more plastic parts. Luckily I soon discovered that you don't need to be strong to drive a Vespa.
I am not the strongest yet I am able to handle the Vespa Elettrica which weighs 225 pounds (102kg) without any trouble. Remember you don't have to carry the Vespa, you just need to be able to move it around and drive it. A Vespa can be moved around by pushing and pulling the handlebar with one hand while stabilizing it by holding the seat bar with the other hand. Try to lean the Vespa slightly towards you so you can stabilize it with your body as well.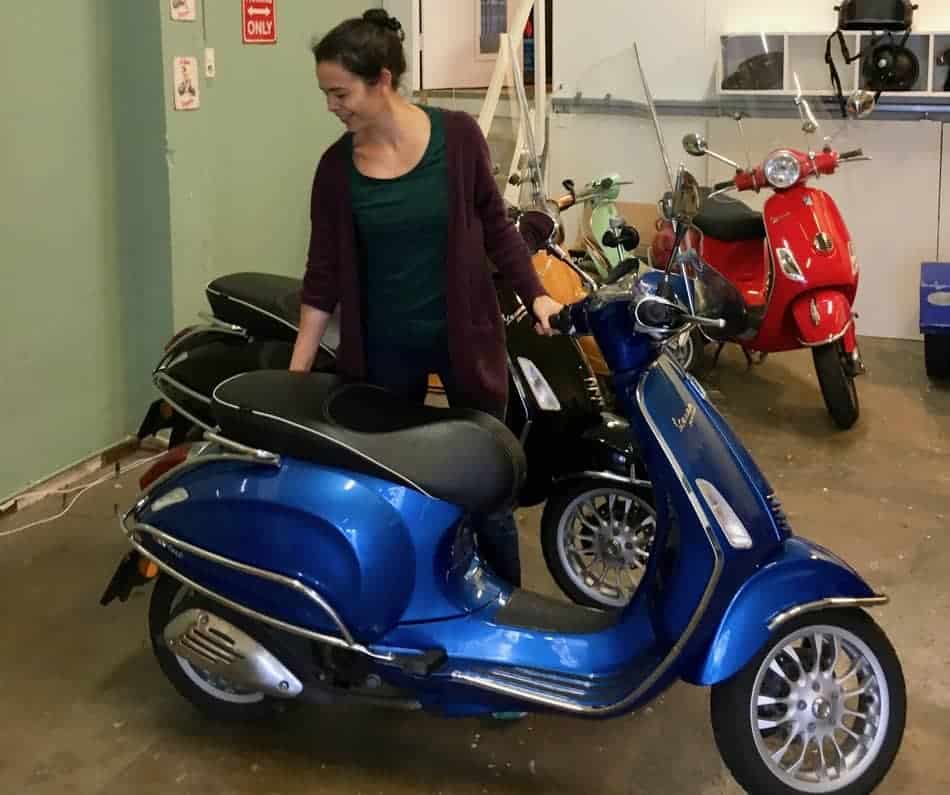 Putting the Vespa on the center stand can also be done by anyone, as long as you know the technique. Many think you need to pull the steering wheel to place it on the stand. But then you really need to be strong.
All you need to do to put a Vespa on its center stand properly is to face backward and push the stand down with your feet. By doing so you will have it on the stand without using a lot of force. You will need some practice to make it easier for yourself. Especially if you want to park the Vespa in a narrow spot or on uneven grounds.
You can consider choosing the lightest type of Vespa as well. For instance, the dry weight of a Vespa LX is 110kg / 243lbs while a GTS Super is 158kg / 348lbs. The lighter Vespa models come in 50cc, 125cc, and 150cc engine displacements such as the Vespa LX, Vespa Primavera, Vespa Sprint, and the Vespa 946.
Can short ladies drive a Vespa?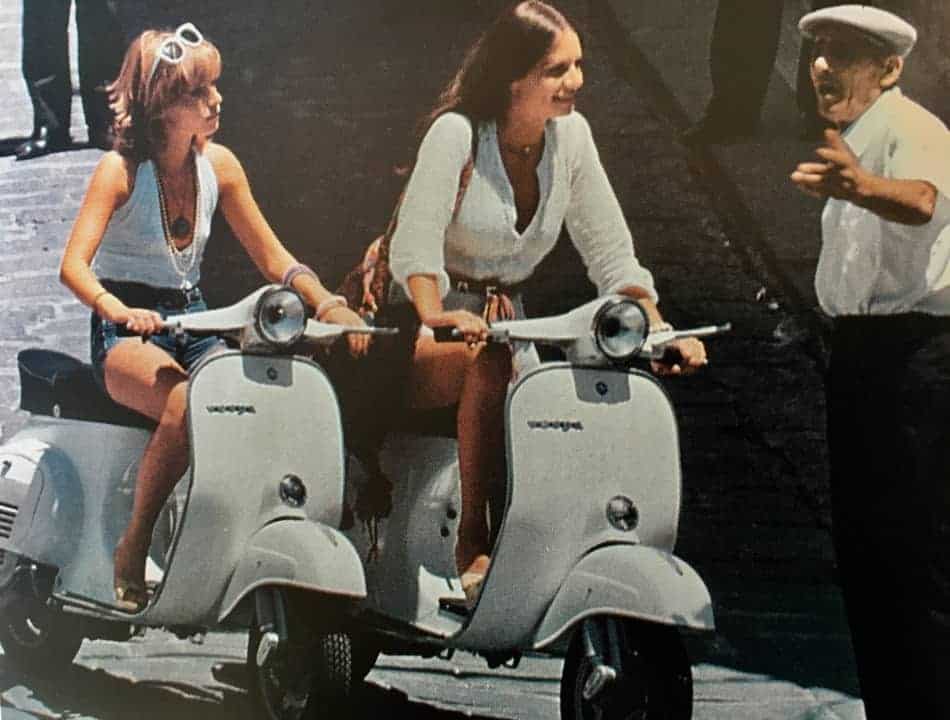 Short ladies can drive a Vespa as long as they reach the ground with both feet. If you have a lot of motorcycle or scooter driving experience then it is possible to easily lean on one foot only when standing still. This is what I do most of the time when I need to wait for the red light.
Vespas come in various sizes. Until the 1980's Vespas came in small and large frames. Small frames are for instance the 125 Primavera (1965 – 1983) or the PK50 (1982- 1987).
The 50S (1963 -1993) has a seat height of 745mm/ 29.3 inches. This Vespa was initially made for Italian teenagers, so you can imagine how light and small they were. The classic large frame Vespa models were a bit bigger and depending on the type of seat, they could be pretty high. The seat height of the 200 Rally (1972 – 1979) was 8010mm/ 31.9 inches high.
The differences in height between modern Vespa's large and small frame models are not that evident. However when looking at the GTS Super you can see that it is much more robust than a Vespa Sprint, yet the seat height for both Vespas is both 780mm / 30.7 inches.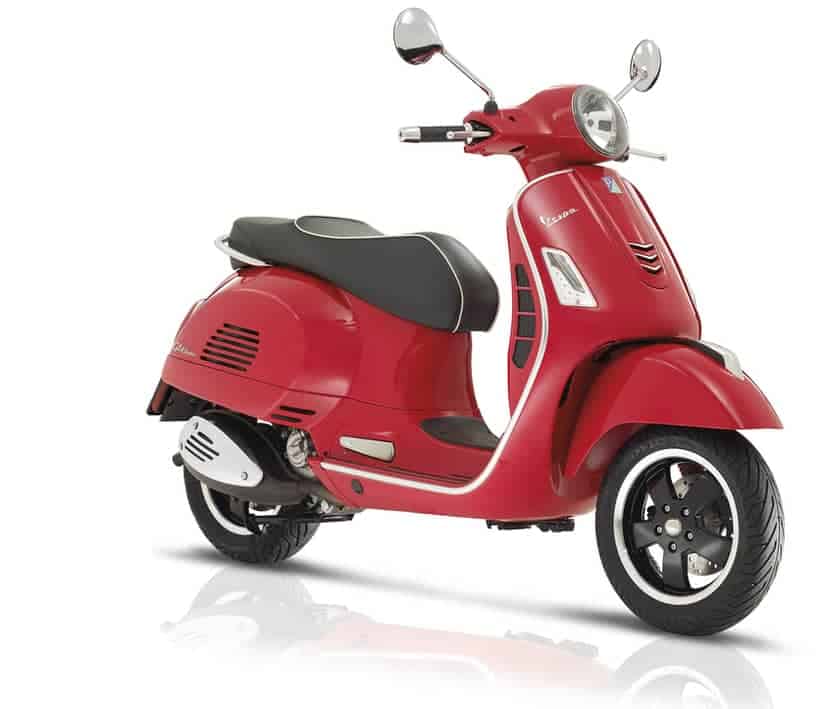 Additionally, the type of engine doesn't affect the height and weight of a Vespa. A 50 cc Vespa Primavera has the same height and weight as a 150 cc Vespa Primavera.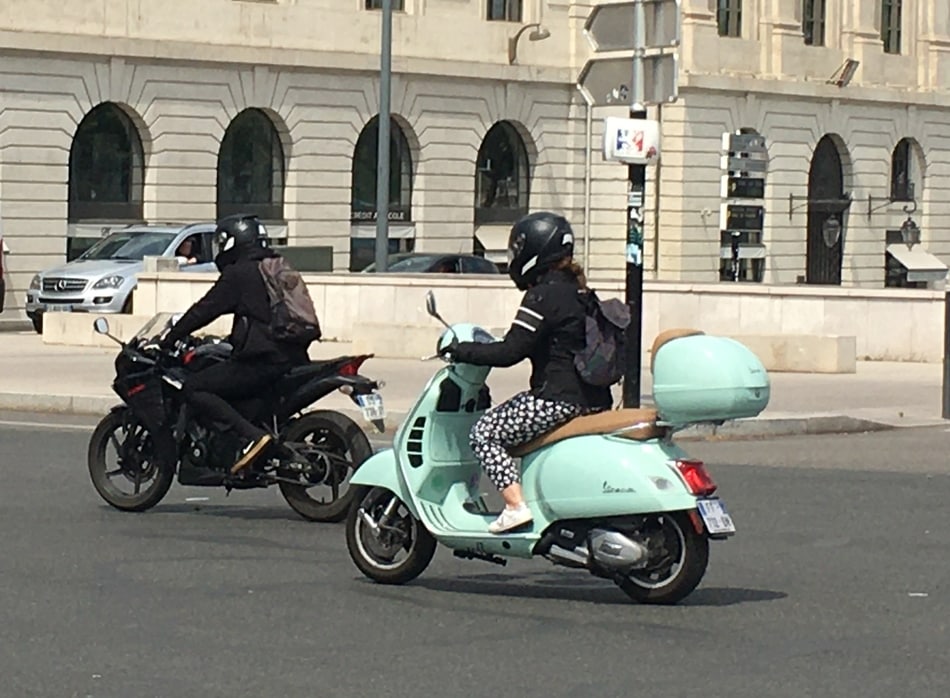 So what should you look at, if the height of the seat doesn't matter much?
Short ladies might think the Vespa with the lowest seat height is the most comfortable to drive. But the difference in the seat height isn't actually the most important point to look at.
The width of the Vespa seat can make a huge difference for shorter ladies. If you have a wide seat you will need to spread your legs more in order to place your feet on the ground.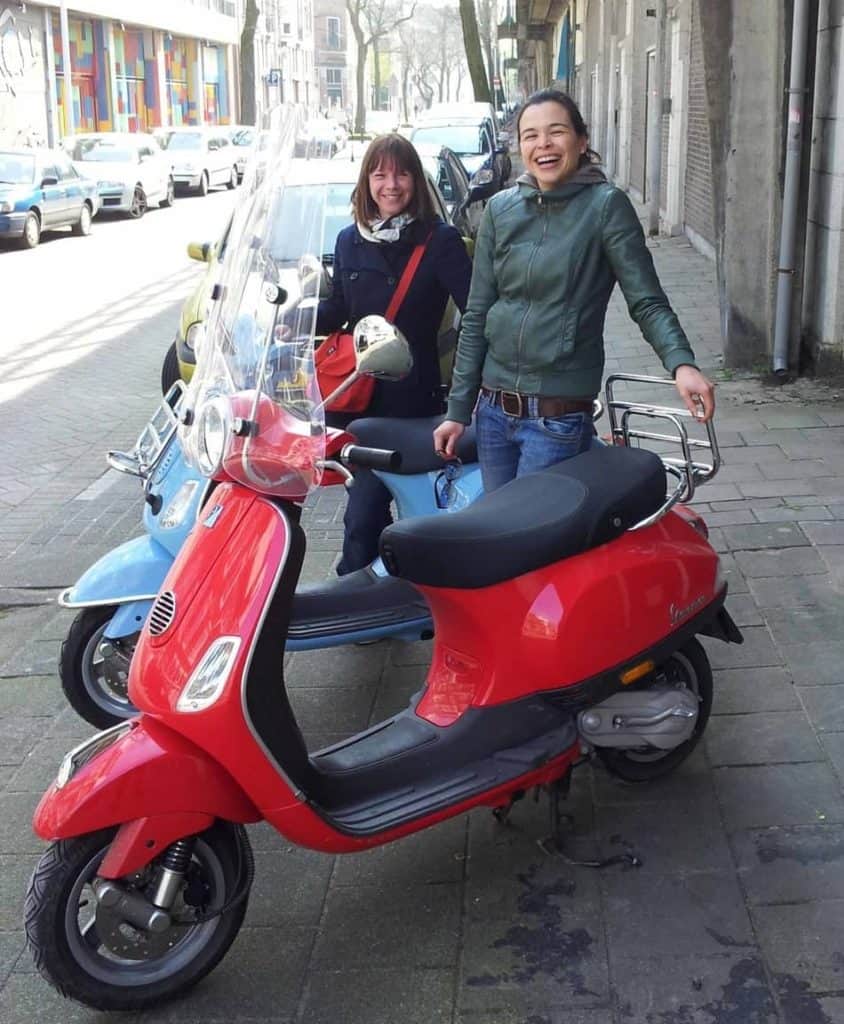 So while you might be shorter than the average lady, you need to focus on your inseam. Perhaps you are short but your legs are long. This might make a difference in a couple of centimeters or an inch.
So check the seat as well before dismissing a Vespa for its height. 
Tall ladies are likely to feel comfortable driving any Vespa. A Vespa buddy seat is long, so you can shift towards the back of the seat when your knees are touching the compartment area. 
I don't recommend going for a classic Vespa V50 if you are taller than 5,7 (1m75cm). You are still able to drive comfortably but it looks a bit out of proportion. Better to consider a large frame classic Vespa instead. 
What can short ladies do if they want a Vespa?
Short ladies who have fallen in love with a Vespa and do not want any other type of scooter, can do a thing or two to make driving a Vespa a bit more comfortable.
1. Change the Seat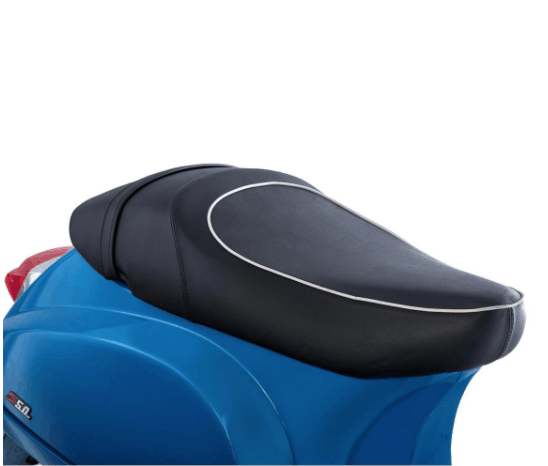 As mentioned earlier, a Vespa with a narrow seat can save you a couple of centimeters or an inch. It might make the difference in balancing on the tip of your toes or putting your feet firmly on the ground.
Luckily seats can be used on other models. For instance, the Mono Buddyseat of a Vespa S can be used on the Vespa Lx as well.
Interchangeable seats are also the case for classic Vespas, depending on the frame size. Small frame Vespa seats only fit on small frames. This is also the case for large frame Vespa seats.

2. Wear Platform Boots or Shoes
Platform footing (shoes with a thick sole) can give you the little extra length you are missing when sitting on a Vespa. These shoes can add 3 to 5 cm to your length.
Dr. Martens are probably the most popular and comfortable shoes when driving a Vespa.
Buffalo and Na-KD have many types of boots and shoes with thick soles. If you prefer sneakers then you should check Nike, Adidas, or Fila. These last years they have produced a lot of platform sneakers.
Enough options to suit your style.
3. Go for a classic small frame Vespa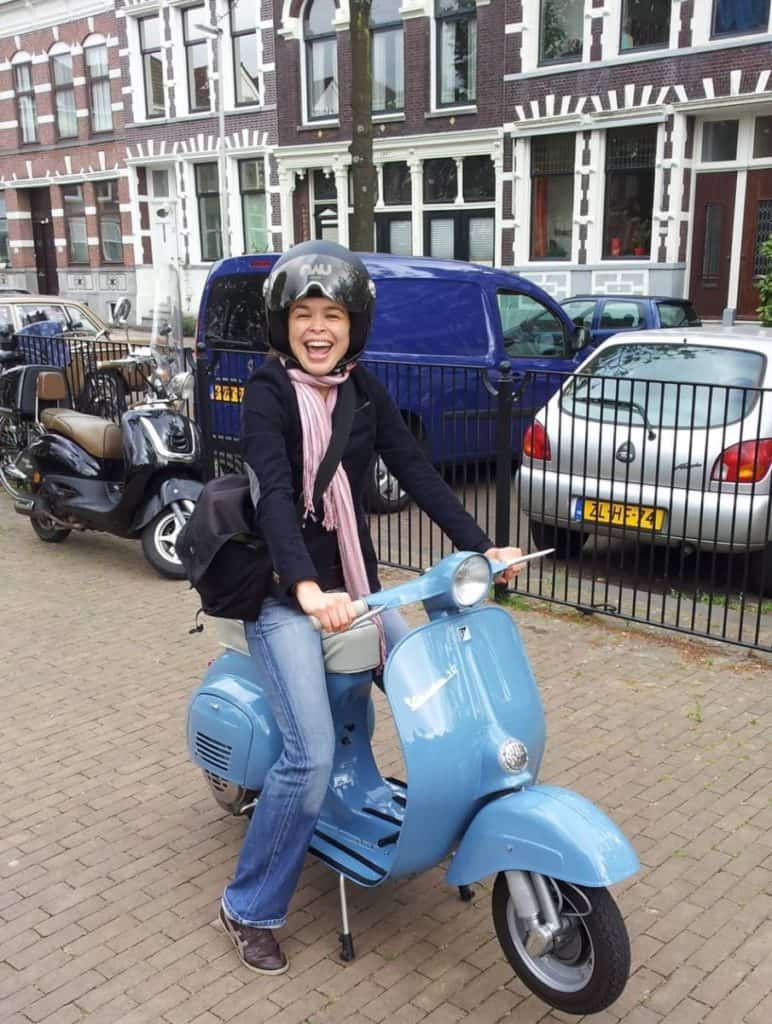 If you have tried both options but you still can not place you feet on the ground when seated, then you might want to consider a small frame classic Vespa.
Of course, this is not an option for every female driver. A classic small frame Vespa isn't automatic (3 or 4 gears) and doesn't come with electric ignition. So it is less easy to handle.
Also if you plan to drive long distances then a small frame can be uncomfortable.
However that said, I love the small frame Vespa. It always brings a smile to my face when touring through town. So if you are purchasing a Vespa as a hobby, then a small frame Vespa is an excellent choice for shorter ladies.
What should short ladies check before driving a Vespa?
We know now that ladies do not have to be strong when driving a Vespa. Length is still questionable and it all depends on the inseam length and the width of the Vespa seat.
I believe that while strength and height are the most notable aspects, there are other things that are just as important for short ladies to know before driving a Vespa.
Ask yourself the following questions before driving off: 
1. Are you an experienced motorcycle or moped driver?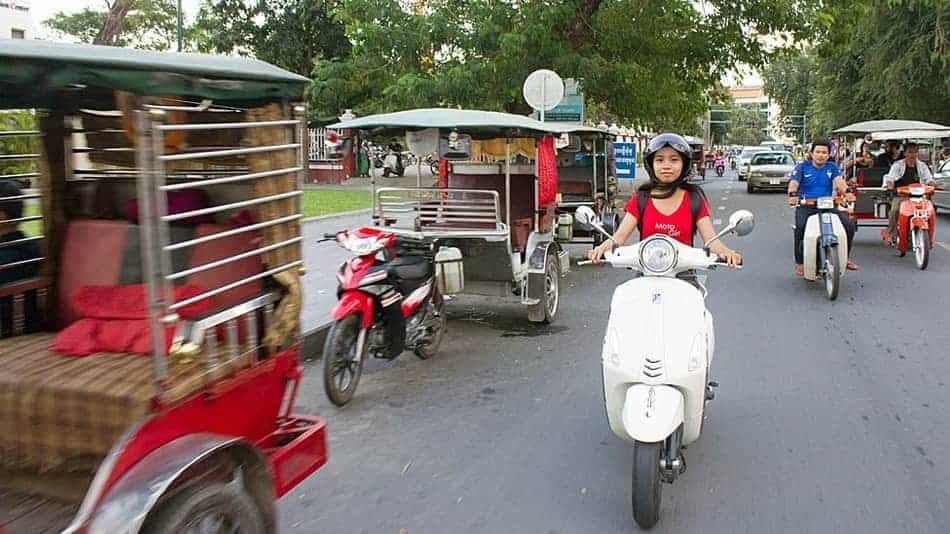 This is probably the most important question to ask yourself if you feel like the Vespa is just a bit too big for you. Experienced drivers can balance and find stability much easier, no matter how tall you are.
Just look at the Asian women driving everywhere through town with bikes that seem far too big for them. Their average size is 153mm/ 5 feet
2. Can you keep the Vespa upright with one leg on the ground when seated?
If you are seated and you can shift your weight to one side while placing your whole foot on the ground then you should be fine. Do make sure the surface is not slippery or uneven. You also might want to consider not taking a passenger with you, as you will have more difficulty balancing.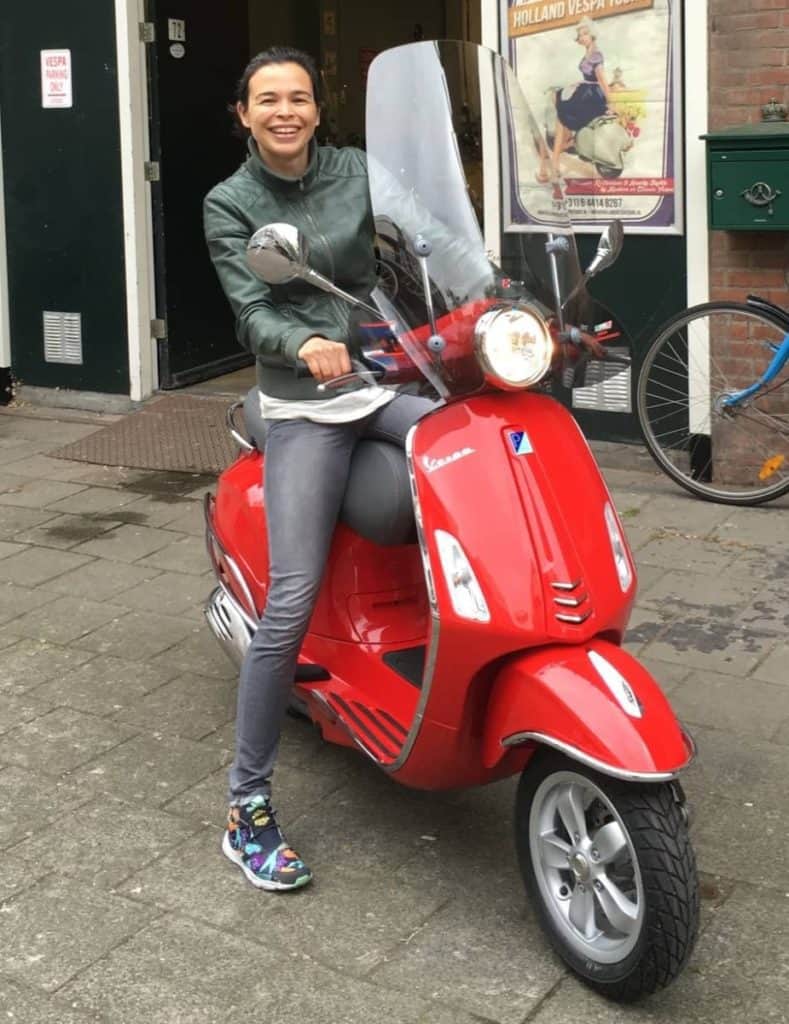 3. Can you reach the handlebar comfortably?
Sitting stable is just as important as stable footing on the ground. Leaning too much forward makes it more difficult to steer the handlebar.
4. Is it easy for you to move the Vespa around without the engine running (you don't have to be seated to do this)?
Parking and moving your Vespa around without the engine running is just as important as driving. Double-check or practice until you can handle this before driving off.
If you answer 'YES' to all these questions then you should definitely go for a test drive of various models to discover which one you like best.