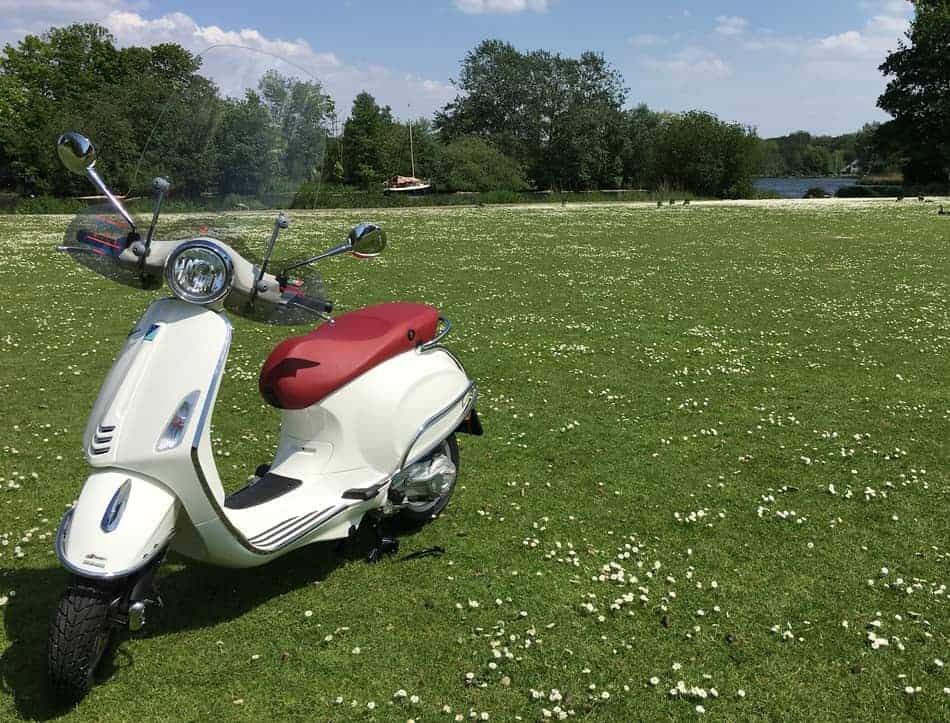 Piaggio always ensures that the Vespa evolves with time. Not only in style but also in technology. Now that more people are becoming more conscious of decreasing their negative impact on the environment, we can start to wonder: are Vespas eco-friendly scooters?
The Vespa Elettrica (2017) is an eco-friendly scooter. This electric scooter has zero-emission making it harmless to the environment when driving. The 4-stroke gas-engined Vespa produces fewer carbon emissions (10 to 23 times less) and is more fuel-efficient (20-50%) compared to the 2-stroke engine.
While the Vespa Elettrica can be considered eco-friendly, you can question what her indirect impact is on the environment? For those who are still wondering if this eco-friendly Vespa is something for them, it might be useful to have a closer look at this Vespa and the alternatives.
How eco-friendly is the Vespa Elettrica?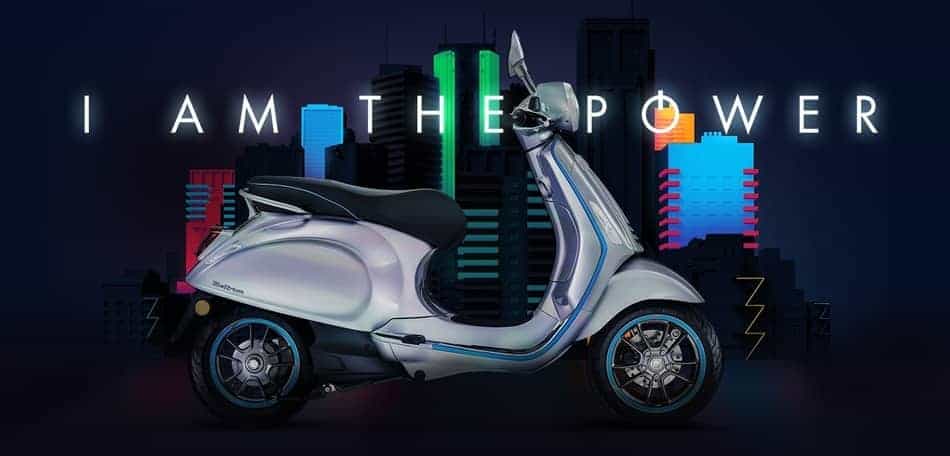 The number of electric vehicles is increasing worldwide. Fortunately, Piaggio understands the importance of changing her Vespas to our needs and has launched the Vespa Elettrica in 2017.
With a whopping price of USD 7500, you can pretty much say that this electric scooter is the most expensive on the market. As always with Vespa, you pay for the quality, brand, style, and many additional accessories.
That said, while the Vespa Elettrica doesn't use any gas and therefore doesn't emit any toxic emission what is its indirect impact exactly?
Positive environmental impact of the Vespa Elettrica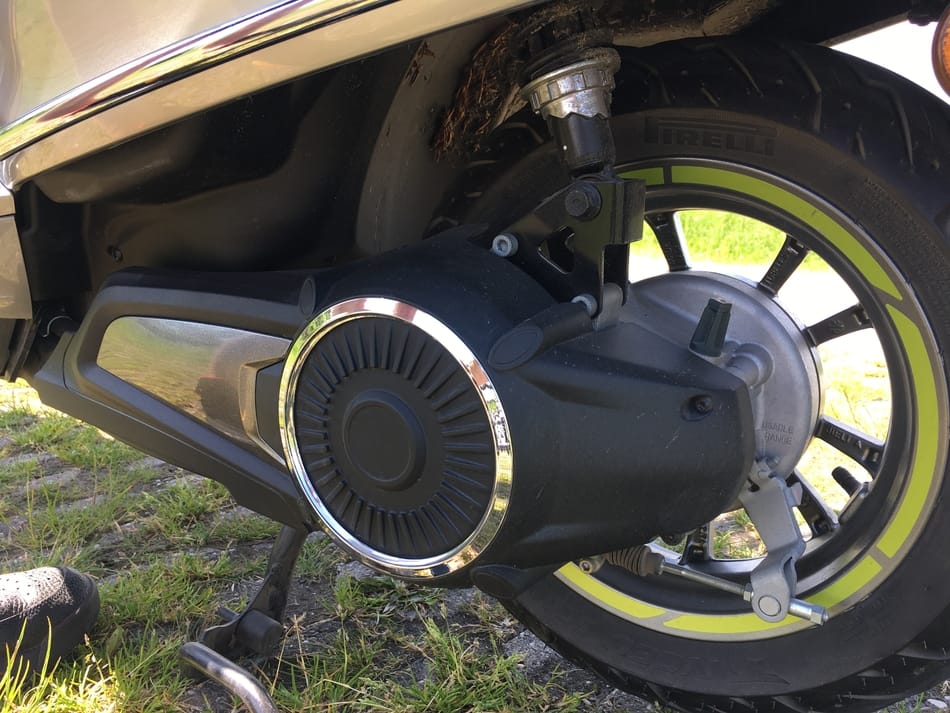 ✅ No oil leakage
The electrical Vespa doesn't use any gas. It also doesn't need synthetic oils such as the 2 and 4-stroke Vespa engines. As a result, there is no chance you will cause any harm to the environment when using the Vespa or when you accidentally use the oils improperly.
Oil needs to be changed and recycled. It is extremely bad for the environment if you spill it, especially in water and soil. You must bring the used oil to a proper recycling station or to a maintenance workshop. The oil can be recycled, but unfortunately not fully. Recycled oil is used for industrial purposes.
So it is definitely a plus side that no oil is involved when driving a Vespa Elettrica.
✅ Metal monocoque structure
The metal monocoque frame has always made Vespa unique compared to other scooter brands. The first Vespas from 1946 still look great and are able to run for many years to come. More than one owner (or even generations) can enjoy one Vespa.
Just like the other Vespas models, the Elettrica is made entirely of metal making its lifespan much longer than other scooter brands. Unlike Vespa, the frames of other motor scooters are made from various number of plastic shields and covers. These can break easily and have to be replaced.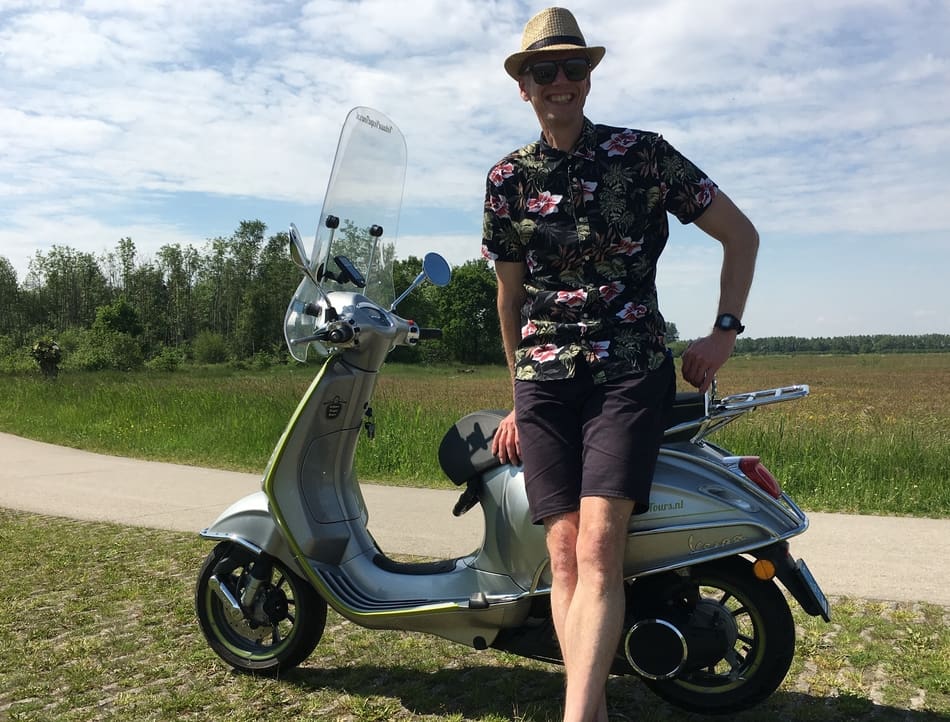 Negative environmental impact of the Vespa Elettrica
❌ Battery production and recycling
The great thing about the Vespa Elettrica is that doesn't need gas. Gas is now replaced by another energy source: a 4.2-kWh lithium-ion battery. Piaggio states that the battery has 1000 recharge cycles, equivalent to about 10 years of driving before the decrease in power is noticeable. This doesn't mean that the battery needs to be replaced immediately. It just means that its power is about 10 to 20 percent less and from there on diminishes. It's a pretty good battery if you think about it.
You will eventually notice when the battery is getting older. The distances are much shorter with a fully charged battery and the scooter doesn't go fast easily. However, in the end, the battery is done and needs to be replaced.
Electric car batteries are recycled and re-used again as storing outputs of solar energy. Re-used batteries are combined into a large battery pack or container which then provides back-up electricity for instance at airports. I guess this will be the same for the scooter batteries.
Unfortunately, there are some environmental downsides to the lithium-ion battery. The battery is made of metal such as nickel, cobalt, aluminum, and manganese. Sourcing these raw materials is often damaging the environment. Child labor is an issue as well, just as community displacement.
Luckily the car industry is taking steps to dismiss the reliability of these metals. For instance, Tesla is working on eliminating cobalt from its battery. Eventually, these major breakthroughs will eventually be applied to electric motor scooters.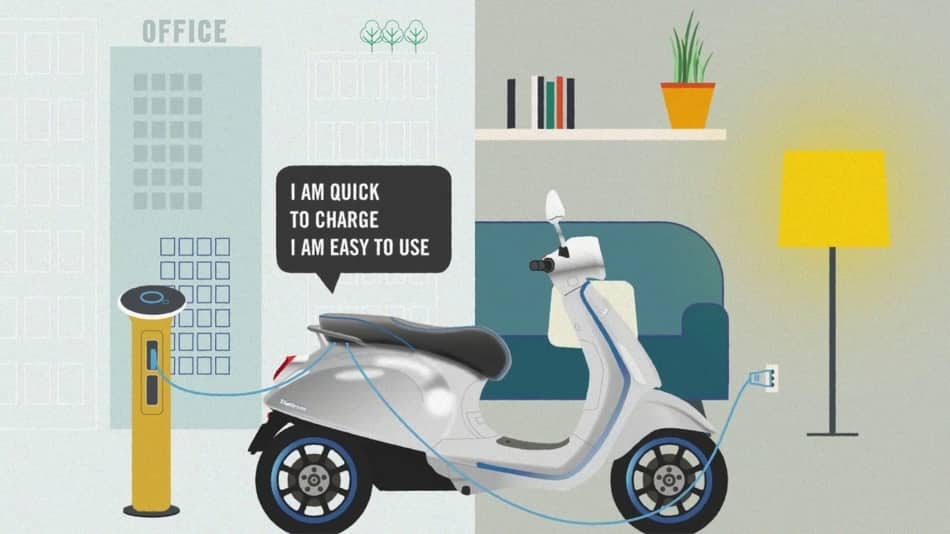 Additionally recycling electric vehicles and their batteries cost more energy and cause more pollution than recycling a regular vehicle. Until today there are still no solutions to solve this problem. Let's hope it's just a matter of time before this changes.
So when driving a Vespa Elettrica it is essential to prolong the battery life in order to keep the environmental impact much lower. There are a couple of ways to do so:
Avoid extreme temperatures such as winter and tropical climates. Take the battery out and keep it somewhere cool.
Let the battery cool down before and after charging. Try to avoid charging the battery right after driving or using it right after charging.
Always try to keep the battery charged, also when parking it for a long period of time. Best to keep the battery at least 30 to 50% charged.
Never drive until the battery is fully depleted and try to avoid charging it while it is already fully charged.
Don't use the battery to the max: tire pressure should be correct and take the weight limit into consideration.
❌ Energy for charging the battery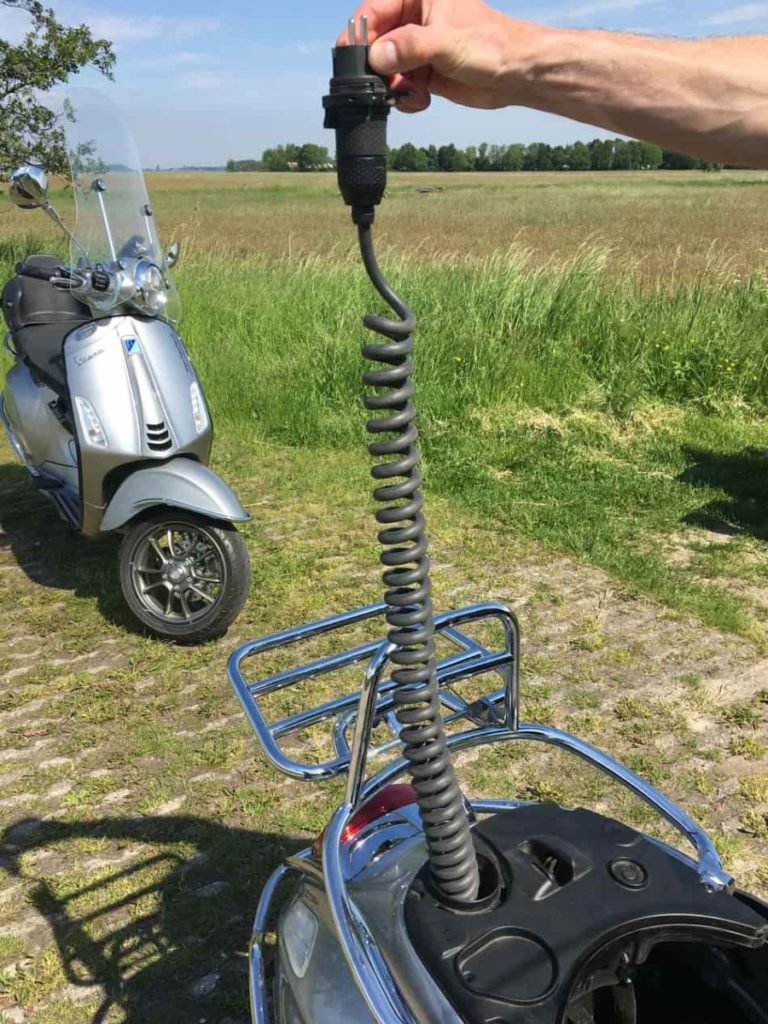 Driving an electric Vespa doesn't cause any harm to the environment, charging does. The most common source of electricity is still gas and coal. These sources of energy cause air pollution too. Fortunately, sources of energy are changing. A lot of countries are using other forms of energy such as solar and wind. This will dramatically decrease the indirect impact of charging the battery of the Vespa.
Of course, when looking at the impacts of driving a Vespa Eletricca, it is still the most environmentally way to scoot around. It also improves the air quality in cities and therefore the health of people living there.
Which gas-engined Vespa is the most eco-friendly?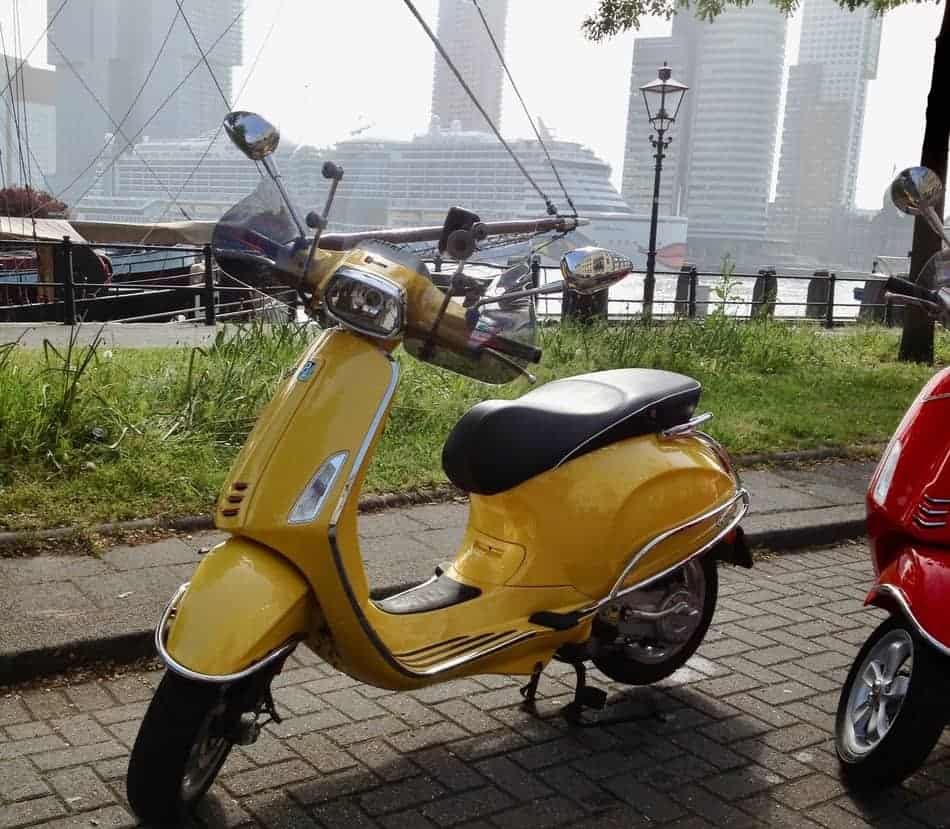 The Vespa Elettrica is by far the most eco-friendly scooter Piaggio has ever created. However, not everybody can afford such an expensive scooter or they need one with a stronger engine displacement than the 50cc. This Vespa is twice as expensive as a Vespa Sprint which even comes in 150cc engine displacement. So understandably a Vespa with a gas engine sounds more attractive.
So what is the alternative if you still want to minimize your environmental impact yet enjoy the fun of driving a Vespa?
First of all, you have to go for a Vespa 4-stroke engine instead of a 2-stroke engine. After all the research that has been done worldwide, it is clear-cut that the 2-stroke engine isn't only harmful to the environment but also to human health.
An average 2-stroke scooter engine uses 1 liter for 15 miles (20 km) while a 4-stroke engine uses 1 liter for 25 to 30 miles (40 to 50 km). That is already 50% less fuel.
Additionally, two-stroke engines run on oil and gasoline which are directly mixed together. This directly evaporates into the air. Some say these engines pollute 30 to 50 times more than a 4-stroke engine. In many European cities, 2-stroke engine scooters are banned as they produce too much smog and emit high levels of particulates.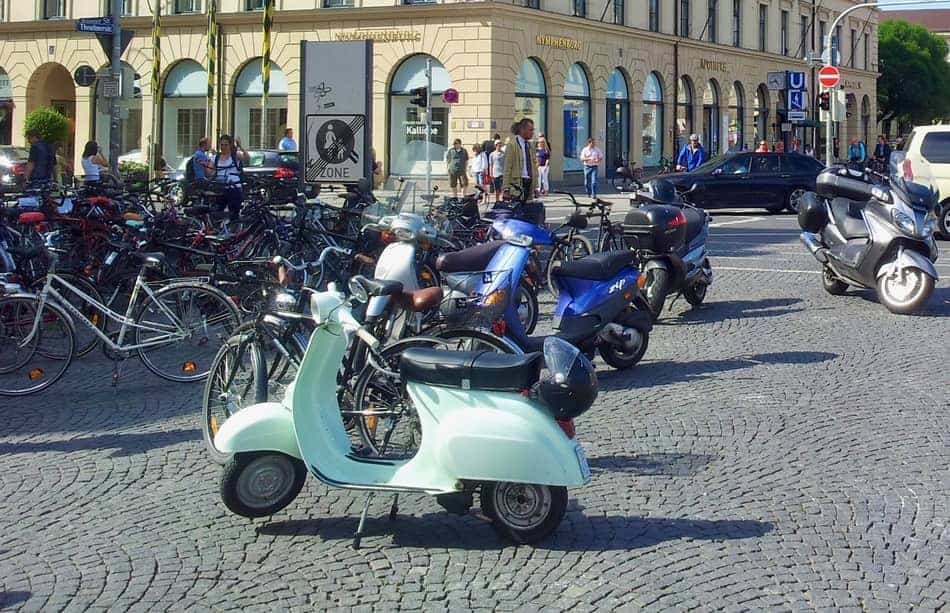 Vespa introduced the 4-stroke Vespa ET4 in 1997. While this engine was more environmentally friendly, Piaggio kept on improving the engine. A press release (2012) of the Piaggio group stated that with 1-liter fuel you could drive 35 miles (55 km) with the Vespa LX and S V3. That was 30% less fuel consumption and CO2 emission than the earlier 4 stroke models.
Today only 4 stroke engines are produced as the 2 stroke engines don't meet the European Standards anymore.
Below you can find a table with the newest Vespa series together with their fuel consumption and CO2 emissions. The bigger the engine displacement the more fuel you will be consuming.
| | | | |
| --- | --- | --- | --- |
| Vespa Model | Fuel Consumption | CO2 emission | |
| Elletrica | n/a | Zero Emmission | |
| Primavera 125CC (2017) | 49.8 km/l or 117.03 mpg | 46.6 CO2 g/km | |
| Sprint 125CC (2017) | 49.8 km/l or 117.03 mpg | 46.6 CO2 g/km | |
| GTS Super 300 (2019) | 30.3 km/l or 71.28 mpg | 76.6 CO2 g/km | |
| GTS Touring (2019) | 29.8 km/l or 70.01 mpg | 78.0 CO2 g/km | |
Fuel consumption and emission from a couple of Vespa models (source: ultimatespecs.com)
While the 4 stroke is a sensible alternative choice environmentally- and fuel efficiency-wise, there is still the matter of oil. Oil is essential for running the engine and other moving parts smoothly. The oil needs to be changed every 1850 miles/3000 km or every year.
While it is possible to bring the oil to the recycling center or to a workshop to have it recycled, there are always chances of spillage. And as mentioned earlier, the oil can not be fully recycled. The recycled oil is also used for industrial purposes, which isn't eco-friendly too.
Oil, periodic maintenance, and gas will increase the costs of your Vespa. The Vespa Elettrica doesn't use gas, or oil and even maintenance are low as it has fewer moving parts than a regular Vespa. Perhaps going for an Elettrica is not only better for the environment but also for your wallet.
Is Vespa more eco-friendly than other scooter brands?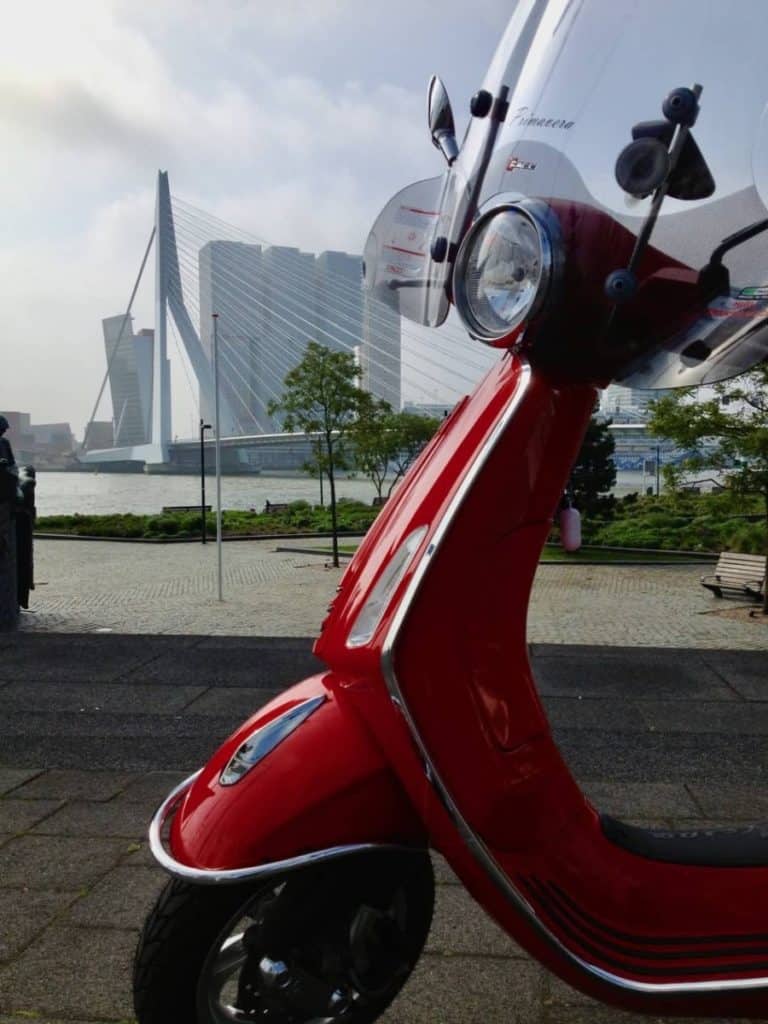 If there are slight differences in CO2 emission between Vespa models then it might be interesting to check if there are also differences between scooter brands. Let's have a look if Piaggio created a more eco-friendly motorscooter than its competitors.
Scooter Brand 50CC
Fuel Consumption
Carbo Dioxide emission
Vespa Primavera (2020)
34.4 km/l or 80.9 mpg
65 CO2 g/km
Kymco Agility (2013)
37.0 km/l or 87.12 mpg 
62.6 CO2 g/km
Yamaha Zuma
(2019)
56.2 km/l or 132.15 mpg
41.3 CO2 g/km
Keeway F-Act
(2008)
50.0 km/l or 117.61 mpg
46.4 CO2 g/km
Honda Ruckus
(2019)
61.3 km/l or 144.31 mpg 
37.8 CO2 g/km
Honda Metropolitan (2002)
49.8 km/l or 117.03 mpg 
46.6 CO2 g/km
Piaggio Liberty (2020)
35.71 km/l or 83.97 mpg
62 CO2 g/km
Comparison of fuel consumption and CO2 emission of various scooter brands (source: ultimatespecs.com)
Wow, I didn't expect that! The newest Vespa Primavera isn't the most fuel-efficient and emits the most CO2 g/km. The obvious reason I can think of why the Vespa scores much higher than the others is that the motorscooter is much heavier. Why else would it use more gas?
But then again the Piaggio Liberty scores second place when it comes to most fuel consumption. The dry weight of the Liberty is 227 lbs/103 kg and the Primavera is 258 lbs/117 kg. Both pretty heavy compared to the Yamaha Zuma that only 205 lbs / 93kg including fluids!
That said, Piaggio might want to place more effort in creating more efficient engines for their motorscooters.
Maxi Scooter models
Fuel Consumption
Carbon Dioxide Emission
Vespa GTS Super 300 (2019)
30.3 km/l or 71.28 mpg
76.6 CO2 g/km
Yamaha XMAX 300
Tech MAX (2021)
33.3 km/l or 78.41 mpg
69.6 CO2 g/km
BMW C 400 GT (2020)
28.6 km/l or 67.21 mpg
81.2 CO2 g/km
Suzuki Brugman 400 (2021)
18.2 km/l or 42.8 mpg
97 CO2 g/km
Honda Silver Wing (2020)
—
116 CO2 g/km
Comparison of fuel consumption and CO2 emission of various maxi scooter brands (source: bikez.com)
The differences between the Vespa GTS Super 300 are somewhat smaller than the BMW and Suzuki. However, this Vespa has a lower engine displacement. But overall, the differences are not that shocking compared to just a couple of maxi scooters.
Is a Vespa more eco-friendly than a car?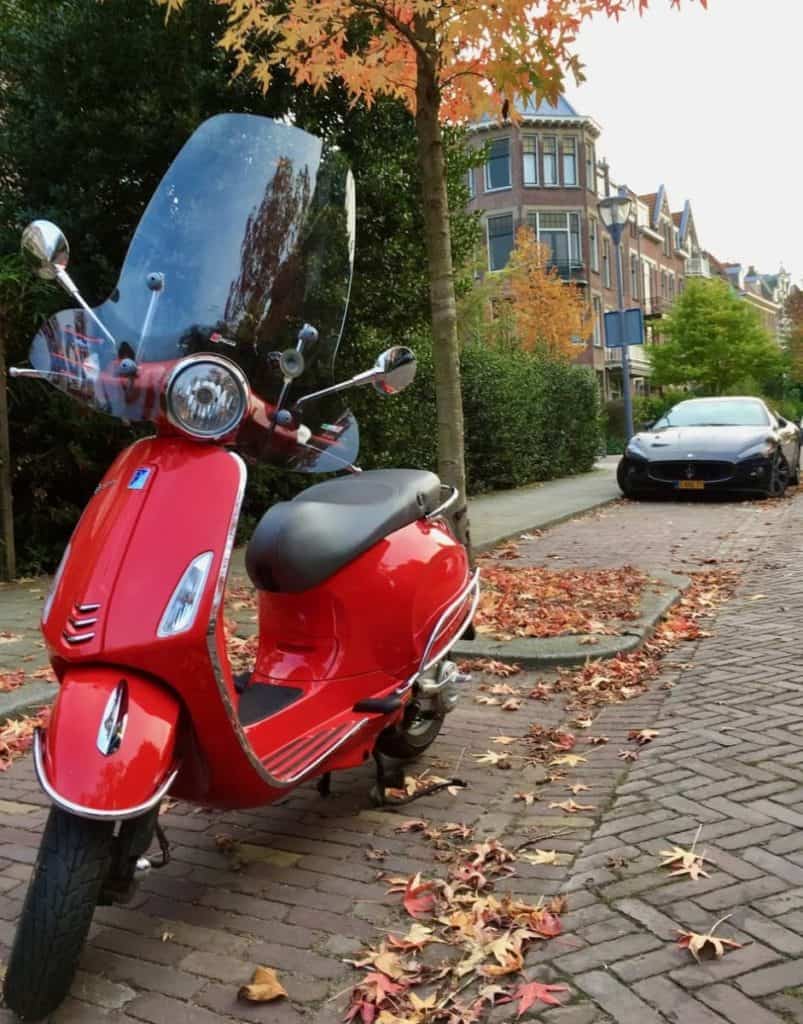 The endless discussion: is a car more eco-friendly than a motorscooter? There is a lot of information about this topic. But even if you haven't done any research yet, you can pretty much guess that a motorscooter is more eco-friendly compared to a car.
If….
You take the following into account: Motorcycles and mopeds
are fuel-efficient (average car: 1-liter fuel for 8.6 miles/14 km, average 4 stroke scooter: 1-liter fuel for 24.8 miles/40 km)
uses less fuel so emits less CO2
are made of less raw materials
use fewer chemicals and oils than cars (source: Motorcycle Industry Council)
But this is logic thinking, as a car is much bigger and more complex than a two-wheel vehicle.
Piaggio also made its calculations to prove that swapping your car for a Vespa would be economic and ecologically beneficial, especially in cities such as those in the USA. If more people would use the scooter in the city then that would save the USA 4 billion gallons of gas a year. Fuel consumption would be reduced by 58%, CO2 emissions by 80%, and there would be fewer traffic jams (source: Vespanomics).
But there seems to be more than just then these points you should be aware of if you seriously want to know if a Vespa is better for the environment.
Motorscooters emit less CO2 but there are other pollutants as well such as nitrogen oxides, hydrocarbons, and carbon monoxide that affect the environment. For instance, NOx causes smog, respiratory conditions and increases the response to allergens. Additionally, it affects vegetation growth and damages leaves. A high concentration of NOx can mainly be found in cities. (source: noxite).
All vehicles cause NOx, but the older motorcycles and those with a 2-stroke engine are the worst.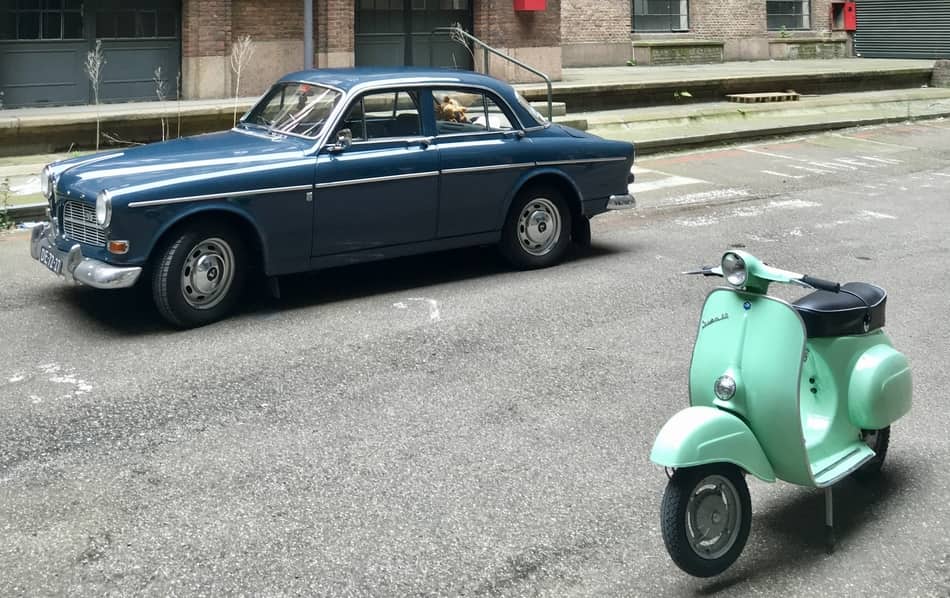 With this information in mind, what are the actual numbers between the car and the motorscooter (all models from 2000):
✅ the motorcycle uses 28% less fuel than a car
✅ the motorcycle emits 30% less carbon dioxide than a car
❌ the motorcycle emits 416% more hydrocarbons than a car
❌ the motorcycle emits 3,220 more nitrogen oxides than a car
❌ the motorcycle emits 8,065% more carbon monoxide than a car (source: Mythbusters)
Pretty shocking, especially if you initially thought that the motorscooter is more environmentally friendly than a car.
The reason why the car wins when you look at other greenhouse gas emissions is that there has been more pressure on the car industry for improvements. New cars need to meet federal standards while motorscooters have far fewer restrictions.
Scooters on the other hand do not have any limits when it comes to nitrogen oxides. The main reason for this is that motorcycle scooters have less space to install emission controls than a car. But they do affect the environment negatively. (motorscooterguide.com)
As you can imagine this discussion can go on and on. It all depends on what factors you focus on.
However, generally speaking, I think it all depends on lifestyle and needs. If you are a family, need to drive long distances, experience extremely cold weather, or have more stuff to bring then naturally a car is a far better choice than a Vespa.
But if you are single or a couple living in the city you might want to consider a 4 stroke gas engined Vespa. Not only will it save time while commuting (not stuck in traffic jams, more parking space), but it will save you money while producing less CO2.
Of course, the Vespa Elettrica is the best option if you want to be eco-friendly. The price does make you wonder if it is worth it. But if you calculate the costs of gas and maintenance then you will be saving a lot of money. Additionally, an electric Vespa needs far less maintenance than a regular motor scooter. This will save you a lot in the end too.