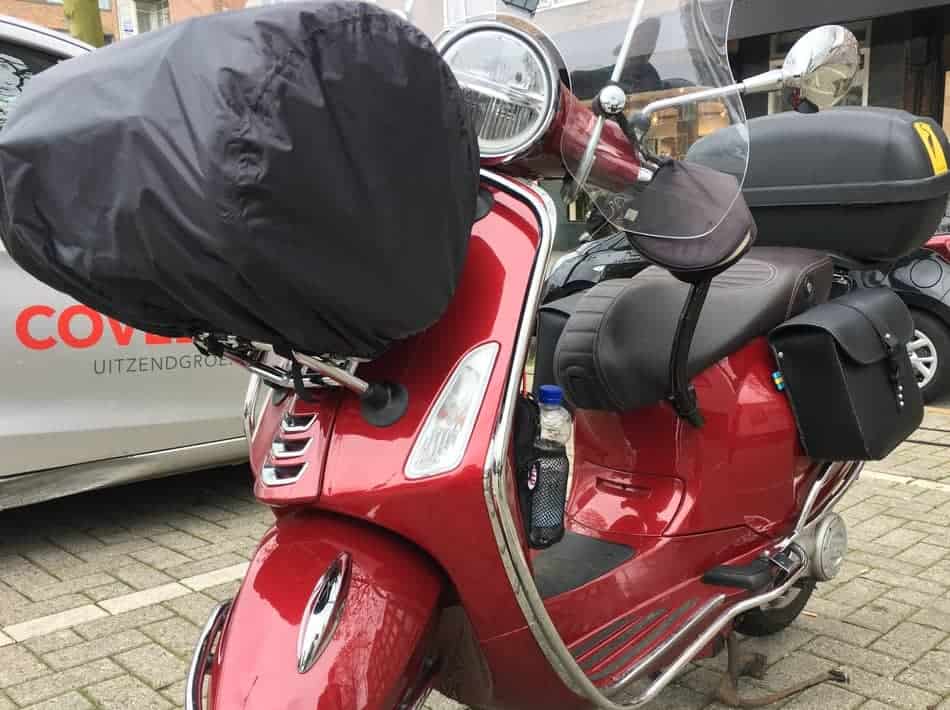 When Piaggio launched its first Vespa in 1946 it was an immediate success because of the step-through frame, sturdiness, and pay-through installments scheme. A Vespa doesn't only look good, it is easy to drive and its design enables you to easily bring more stuff along than a motorcycle.
Besides the obvious storage compartments on a Vespa, there are many other accessories you can add to your Vespa to create more possibilities to stow your belongings. It is pretty surprising how much storage a Vespa eventually can have.
While extra storage options are great and convenient, in the end, safety is the most important factor. Additional weight on your Vespa will affect the driving experience. Think about how to divide the weight over the Vespa if you really want to add as much storage as possible.
1. Underseat Storage Compartment
The most obvious storage option on a modern Vespa is under the seat. Just flip the seat open and you will find a large container underneath. You can easily stow a Vespa lock and a helmet inside. When driving the compartment is big enough for a regular bag.
Smart briefcases, hard leather handbags, and other rectangular-sized hard-cased bags do not fit in this compartment.
If there's not enough space left in the under-seat storage compartment for your helmet you can always secure your helmet on a hook. The hook is located on the side of the Vespa and is visible when you lift the saddle. Hook your helmet onto it, then close your saddle to secure it. The obvious disadvantage of this position is that it will get wet when it rains.
Classic Vespas do not really have an under-seat storage compartment. If you lift the seat of some models you will find a tiny compartment where you can keep an extra lock, a small bottle of oil, or tools. But you can't really classify it as storage.
2. Glove box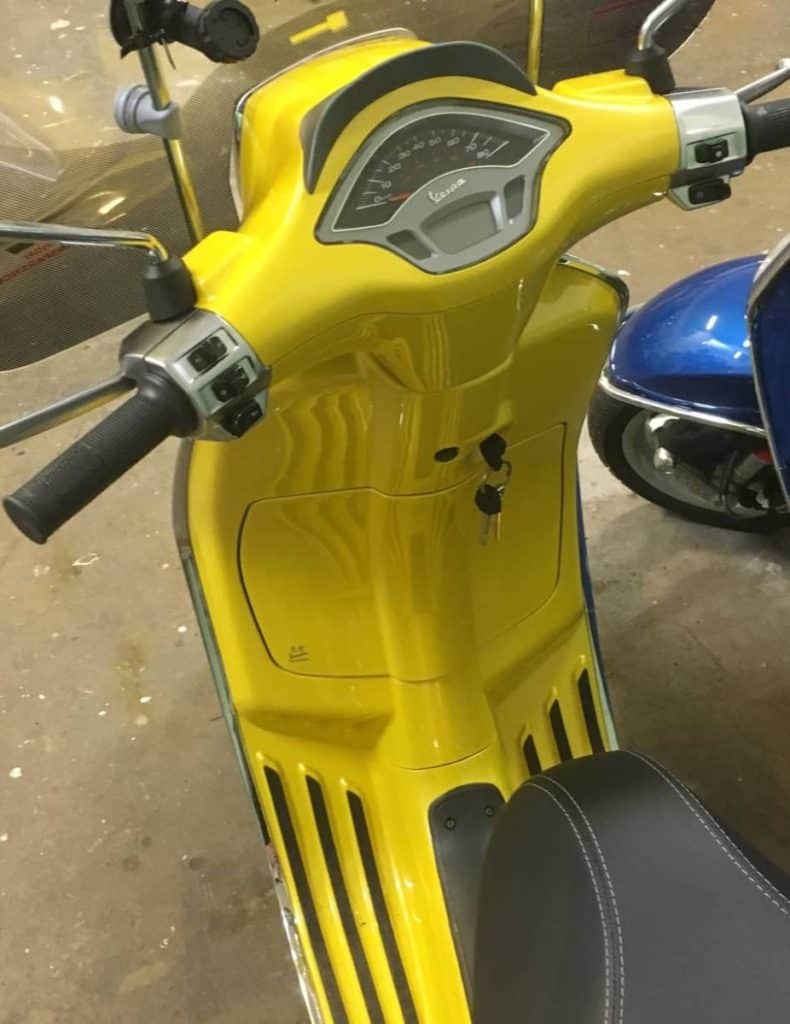 Except for the Vespa S from 2012, all modern Vespas have a closed glove box in the front panel. You can open it by inserting the key and pushing it. The glove box will flip open. Two compartments will fit something small like tools, papers, gloves, sunglasses, and a phone.
Surprisingly the Vespa S doesn't have a locked glove box. Instead, it has two small uncovered compartments. You can't really put stuff in it such as your phone. Chances are you will forget to take it out and it is gone once you get back. Or when it rains, objects can get wet. Not sure why Piaggio decided to do this, but as far as I know only the Vespa S has this 'simple' glove box design.
All GTS models newer than 2015 and the Vespa Elettrica have a USB jack power in the glove box, making it convenient to charge a phone while driving or when using a phone as navigation. However, it might be wise not to stow your phone in the glove box while charging and driving as it can get very warm after a while.
There are some classic Vespas with a glove box. The first Vespa with a glove compartment was the Vespa 125 (1958) which had a compartment in the left cowl. Soon after Piaggio launched the Vespa 160SS which had one too. The first series had a tiny glove box compartment in the rear of the Vespa, right under the seat. The second 160GS has the glove box behind the leg shield.
Soon other classic models with a glove box behind the leg shield followed: 180Super Sport (1964), Primavera (1967), 180 Rally (1968), 200 Rally (1972), the PK series (1982), the PX series (1978), and the PK series (1989). All Vespas had a glove box in the leg shield, except for the Primavera. It had a small glove compartment in the left cowl.
3. Glove box bag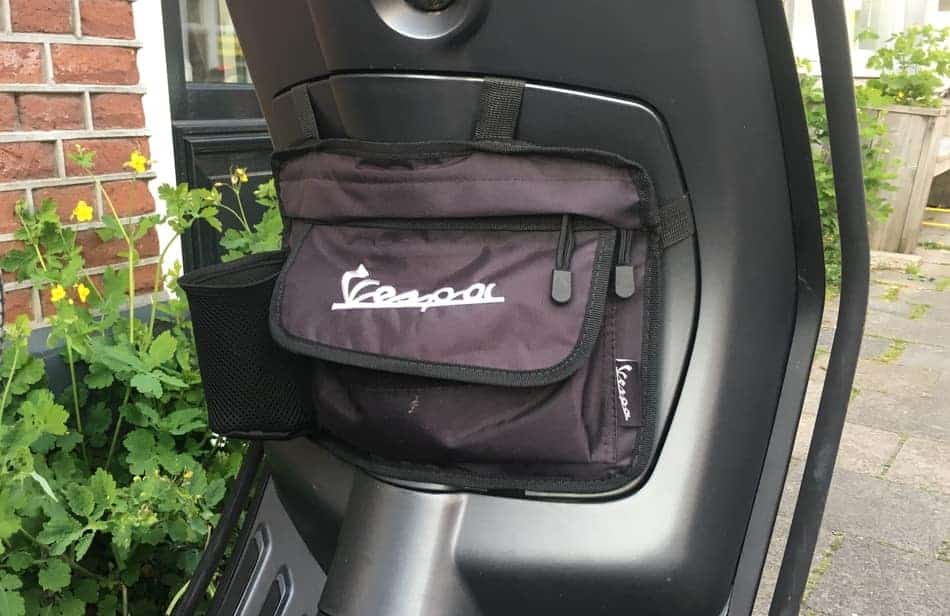 Since we just explained about storing things in the Vespa glove box, we might as well continue with the glove box bag. It is a pretty nice little pouch that you can secure on the glove box door with fasteners. The glove box bag has a couple of zipped compartments and a mesh drink holder. It is ideal to stow small stuff you quickly want access to such as change, keys, mask, membership/petrol cards, phone, etc.
The bag is securely attached with fasteners on the glove box panel and it can easily be removed in seconds. The great thing is that with this bag you still have easy access to your glove box too. They come in all kinds of materials and colors. Some even allow you to loosen the fixing fastener so you can use it as a shoulder bag after parking your Vespa.
The glove box bag is also pretty convenient for taller drivers. Often when they open the glove box, the panel will hit the driver's knees preventing it from opening properly. It makes it pretty difficult to get something out of the glove box without moving the legs out of the way. With a glove box bag, you don't need to open the glove box. As a tall driver all you need to do is reach for the zip to get whatever you want.
Some of the glove box bags are made for specific models, such as the GTS. But most of them are universal. As long as your Vespa has a glove box door then you can use it, even classic Vespas. You can buy them in various colours here.
4. Bag/Helmet Hook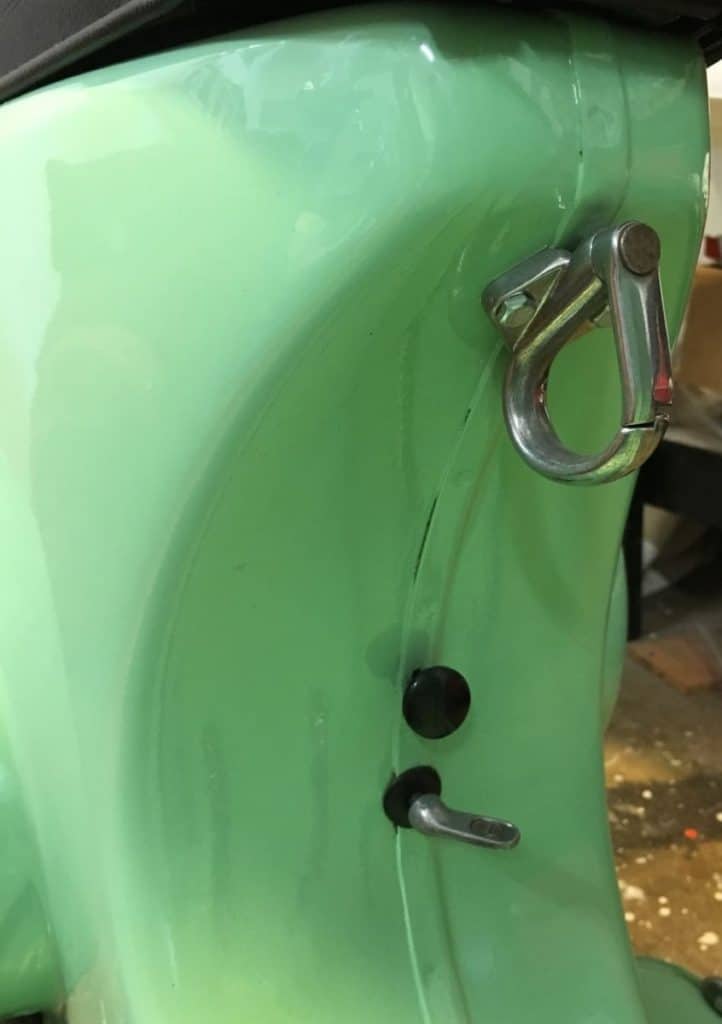 Depending on the model, the Vespa can have either one or two helmet/bag hooks. Most classic Vespas have a hook attached to the frame right under the seat. Modern Vespas have a hook built into the seat which you need to pull out to use it, such as the Vespa LX, Primavera, and Sprint.
This hook is so convenient, as you can use it to secure bags while placing them behind your legs. You will be surprised how much stuff you can bring along. Since it isn't 100% safe, we recommend not hooking too much stuff if you want to hit the highway or interstate.
The Vespa GTS models do not have a hook near the seat, but one is located just above the glove box. This is also a good place to secure a handbag or shoulder bag. The original hook is usually black and made of sturdy plastic. But if you're looking for an upgrade there is a large choice of metal hooks that come in all kinds of colors.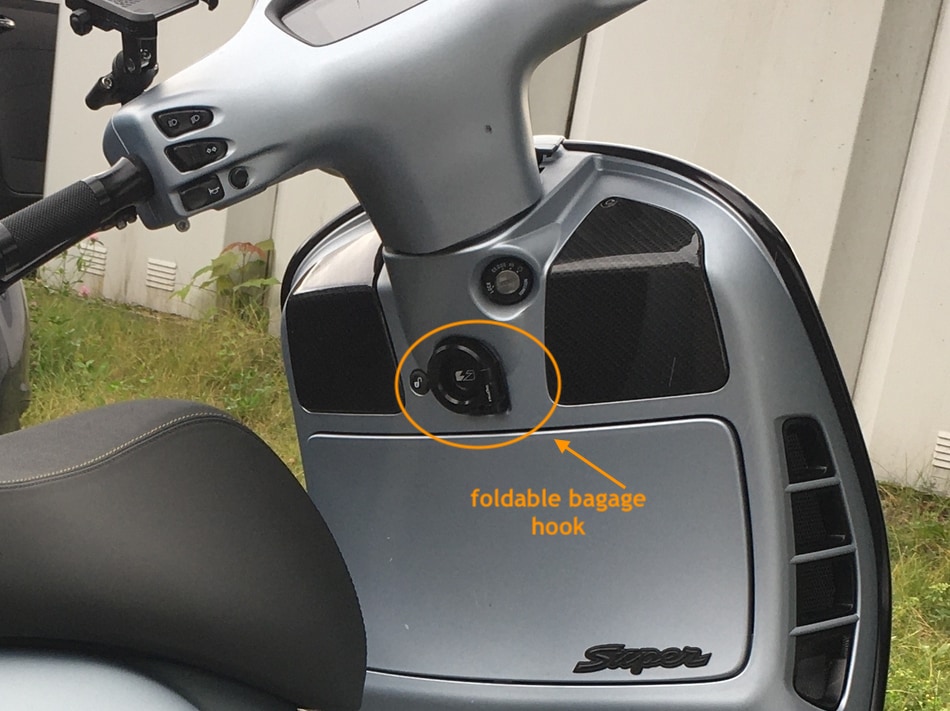 The hook is also called a helmet hook. The only reason I use the helmet hook is when picking up a passenger and I need to bring an extra helmet along. Other than that I would never leave a helmet hanging on that hook because it's easy to steal if you do. If you need to leave your helmet behind it is best to use the tiny hook that is only accessible after flipping the seat open.
5. Floorboard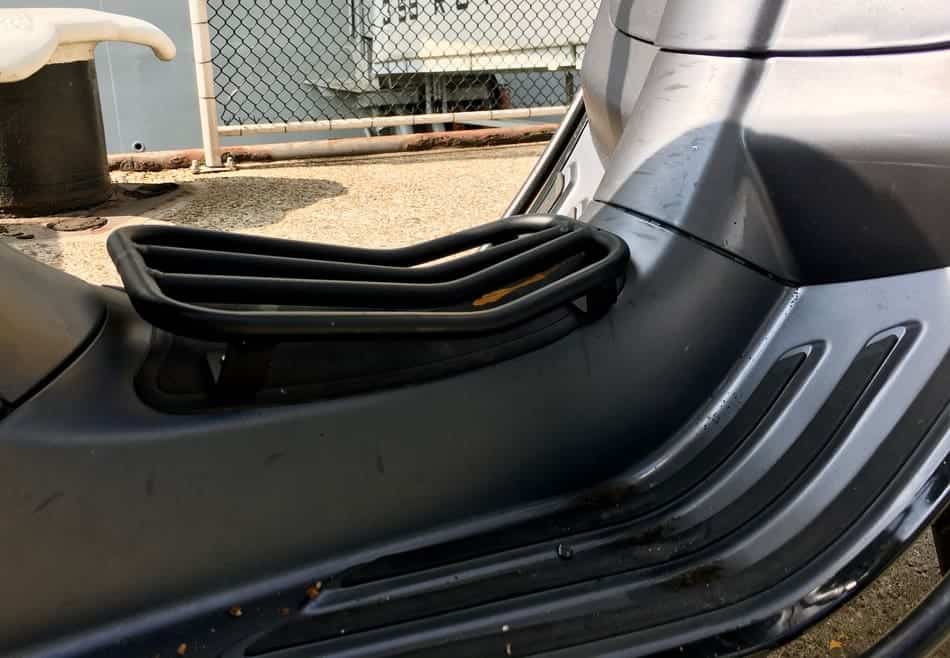 The floorboard is where you place your feet. But there is enough room to place a box or something similar there. You can secure it between your feet/legs. I always place jerrycans on the floorboard while securing it with my both feet when driving. All Vespas have rubber placed on the center of the floorboard which prevents the object from slipping.
Vespa GTS, GTV and GT owners can consider purchasing a Floorboard Luggage/Center Rack. This chrome rack is placed right in the middle of the floorboard and you can use secure odd-sized objects with a bungee cord or a strap. This rack makes it safer to drive, especially if you plan to hit the highway.
Vespa has also designed a shoulder bag specifically for the Primavera and the Sprint which can be placed on the floorboard. The wheel-shaped bag is just big enough to easily squeeze the bag between the seat and leg shield securing it enough to drive safely. The bag and its location are inspired by the Vespa 90SS where the wheel was located on the floorboard, between the driver's legs.
6. Rear rack/carrier
The chrome rear carrier is one of the most popular items Vespistis add to their classic or modern Vespa. The rack is located right behind the seat, above the rear light. There are two varieties, a flat rear rack, and a rear fold carrier. A top case, box, suitcase, or bag can easily fit on these racks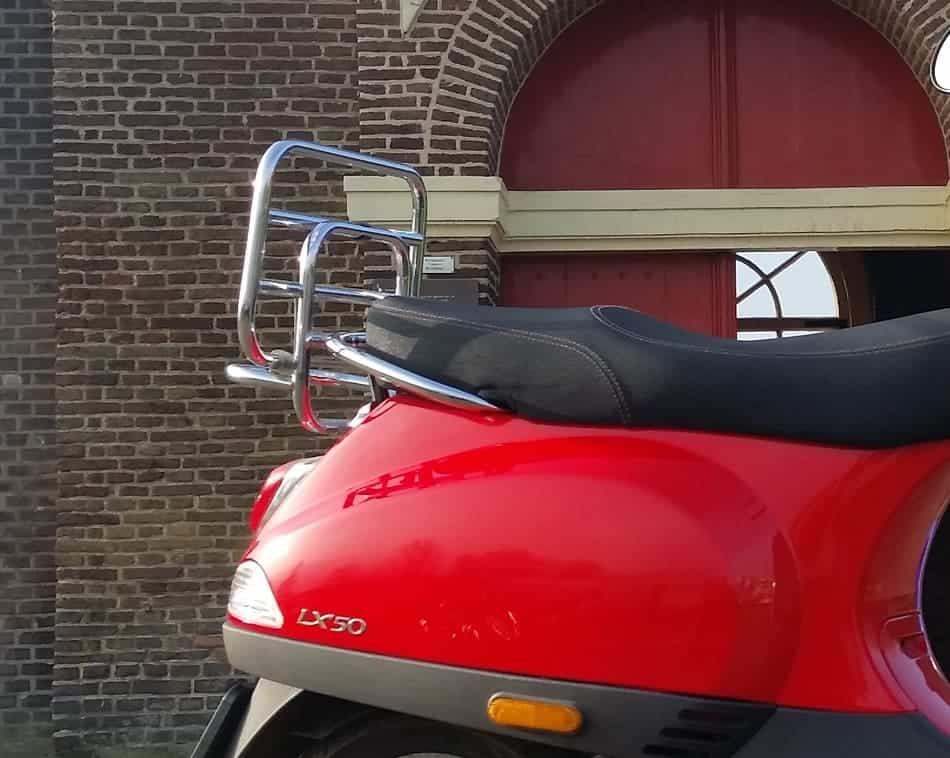 The flat rear rack can be used to strap a bag or any other type of cargo. This is the same for the rear fold carrier. The nice thing about the rear fold carrier is that when it is not in use, you only have a small piece of metal chrome attached to the Vespa. It also provides more options to secure your cargo as there are two sides on this rack.
Additionally, one side is standing upright/verticle. So if you are taking a passenger along, he or she will have some extra support for the back. This makes it more comfortable and safer.
Piaggio states that the rack can only carry up to 12-14 lbs (around 5 kg). Sometimes you might have heavier stuff strapped on it. It should be ok but if you do this too often the rack could break. More importantly, if you load too much on it you will be placing more weight on the outermost back of the Vespa. It might make the front too light when gaining speed and taking a turn.
7. Top case

/box

A top case is a convenient accessory that can be placed on the rear carrier or top box support. The most common is the hard shell top case. It has a volume of 36 liters which easily fits a helmet and/or a bag. If you go for an original Vespa top case you can get it in the color of your Vespa frame. It is a great addition for the GT, GTS, GTV models as you are sure your belongings are safely stowed when going high speed.

The plus side of these top cases is that it is definitely water-proof and they can be locked too. So you can leave stuff behind when you park your Vespa. To create more comfort for your passenger you can attach a top-case backrest. The padded backrest is made out of the same material as the saddle and placed on the side of the top case.

The top box and its support rack are different per Vespa model, so make sure you purchase one that is compatible with the model you own.

Vespa also has soft top cases also known as a roll bags. The bag can be fastened on the rear carrier and it fits all Vespa models, so you can't go wrong. The roll bags are usually in a vintage style. It is a style that you like or doesn't like. In my opinion, it is nice to see something different on a modern Vespa. The downside is that you can only close it with a buckle strap which doesn't have a lock.
8. Front rack/carrier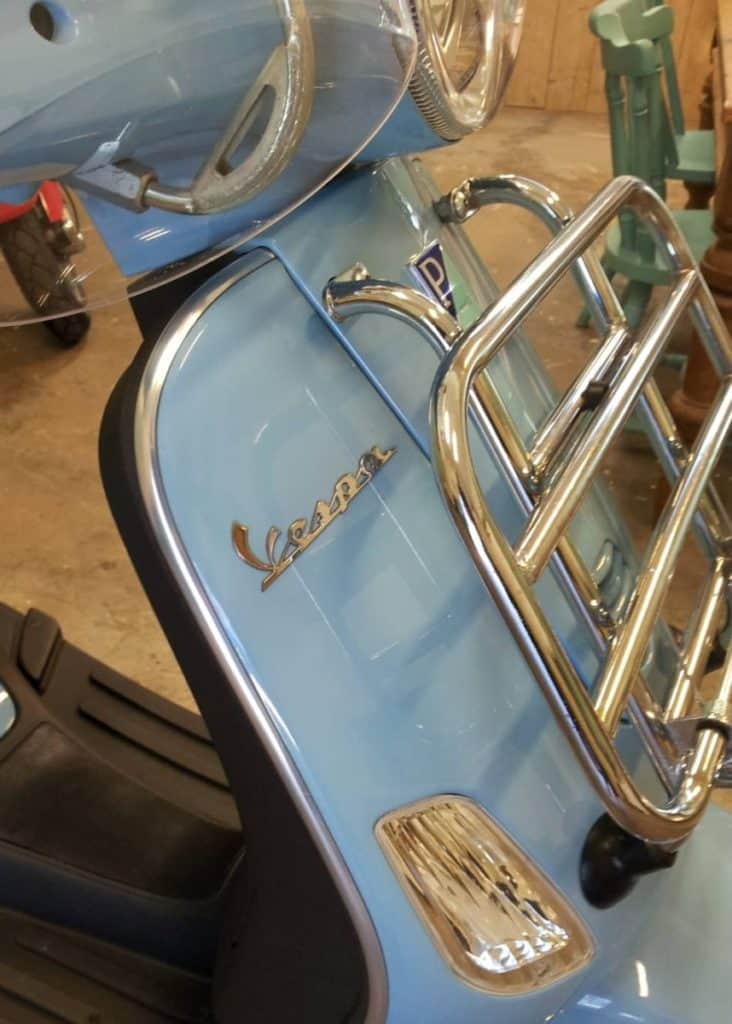 The chrome front carrier is located on the shield, right under the headlight. It is a foldable rack and is used a lot on classic Vespas to create additional storage. Modern Vespas can add one too. However, I noticed that it isn't as popular as the rear rack. The Primavera Touring always comes with a front rack upon purchase.
The front carrier is a good place to strap a bag or a suitcase. You can place a box or a crate on it as well. However, from our own experience, you should make sure your light beam isn't obstructed. We once used the front carrier for a picnic basket. But once we were driving home and the day turned into night, we couldn't see anything on the road because the basket blocked the light.
The rack can hold up to 10lb (around 5kg). That isn't much and you might be tempted to add more. The rack itself might be able to hold the weight. However, if it is too heavy then the front bodywork can get damaged easily especially if you drive over a large bump. So you should keep this in mind if you are considering this type of extra storage for your Vespa.
9. Saddlebag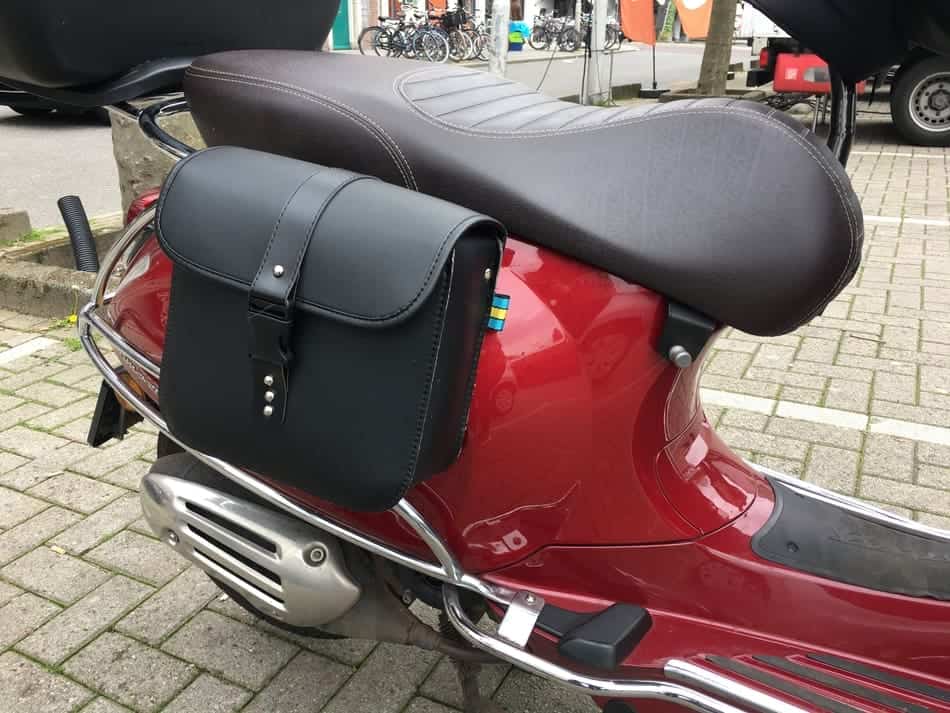 A saddlebag is two bags draped on either side of the rear wheel of a two-wheeled vehicle. This type of bag is very common on motorcycles, but some companies have it for scooters as well. You can either go for them or try a saddlebag made for motorcycles. You might need to make some minor adjustments to your Vespa.
The two bags of the saddlebag are attached by a sturdy strap. To apply it to your Vespa you need to open the seat and place the strap in the middle so both bags are hanging on both sides of the Vespa.
A saddlebag is a really easy way to create more storage on a Vespa. Ideal for those who are traveling for a long time on a Vespa and need to bring additional clothing etc. Once you arrive, you just need to flip your seat open and you can lift the bags from the scooter. You don't need to use any screws and bolts to secure it.
The bulky bags on both sides of a Vespa do increase friction when driving and will increase fuel consumption. Additionally, you need to make sure the bags are properly balanced for safe driving.
The saddlebag can cause damage to your paint. To prevent little scratches on the Vespa cowl you can stick a big see-through sticker right under the bags.
10. Leg shield bag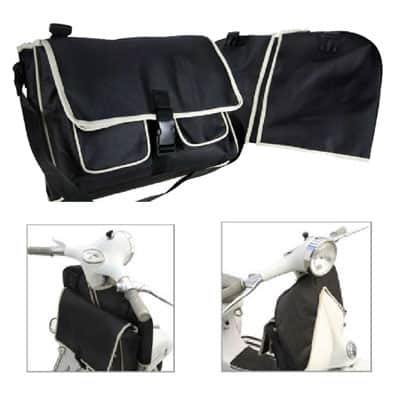 The leg shield bag is attached behind the Vespa leg shield. In the past, the leg shield bag was often used on classic Vespas. Today they are still sold for the classic Vespa and they come in different materials. The bag has several pockets that enable the driver to stow things. It kind of looks like the glove box bag described earlier.
I think the leg shield bag for a classic Vespa is quite funny looking. The bag is fastened on the front of the shield as well and kind of disrupts the classic look of the Vespa.
For the modern GT, GTL, GTV, and GTS Vespa there is a leg shield bag that is placed on the footboard and attached to the leg shield. It is a waterproof bag and can be used as a backpack. So once you leave the Vespa behind, you can easily take the bag with you with your belongings. The volume of a bag like this is around 28 liters, so you can imagine you can bring lots of stuff with this storage option.
11. Handlebar bag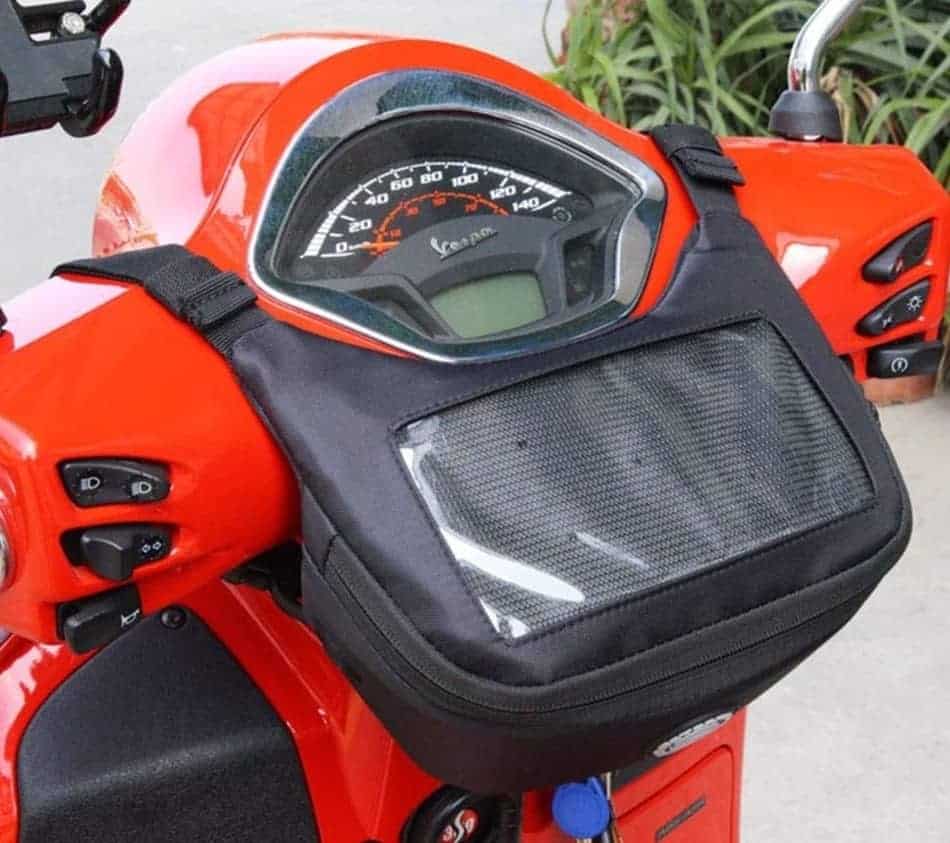 The handlebar bag is suitable for the GTS, Primavera, Sprint, and LX. You attach it right on the handlebar and it kind of hangs in front of the display. It doesn't offer a huge storage option. It is more or less a large pouch where you can stow small items such as your phone, paperwork, gloves, etc.
Some of them come with a section with a transparent cover. This is convenient if you are navigating with your phone or any other navigation system.
They are waterproof and can easily be strapped on your handlebar. This makes it easy to take the bag along if you don't want to leave it behind with your Vespa. We have found one suitable for any type of Vespa model here.
12. Backpack
This is probably the easiest storage option when driving a Vespa. Since you are sitting upright you can easily drive with a backpack or a shoulder bag across your chest. It will not get in the way when driving.
We noticed that you can drive with all sizes of backpacks, even the huge backpacker's backpack. Since the seat is pretty long you can fasten the waistband tightly around your waist. The shoulder straps should be a bit loose so the weight of the bag falls on the seat instead of on your shoulders.