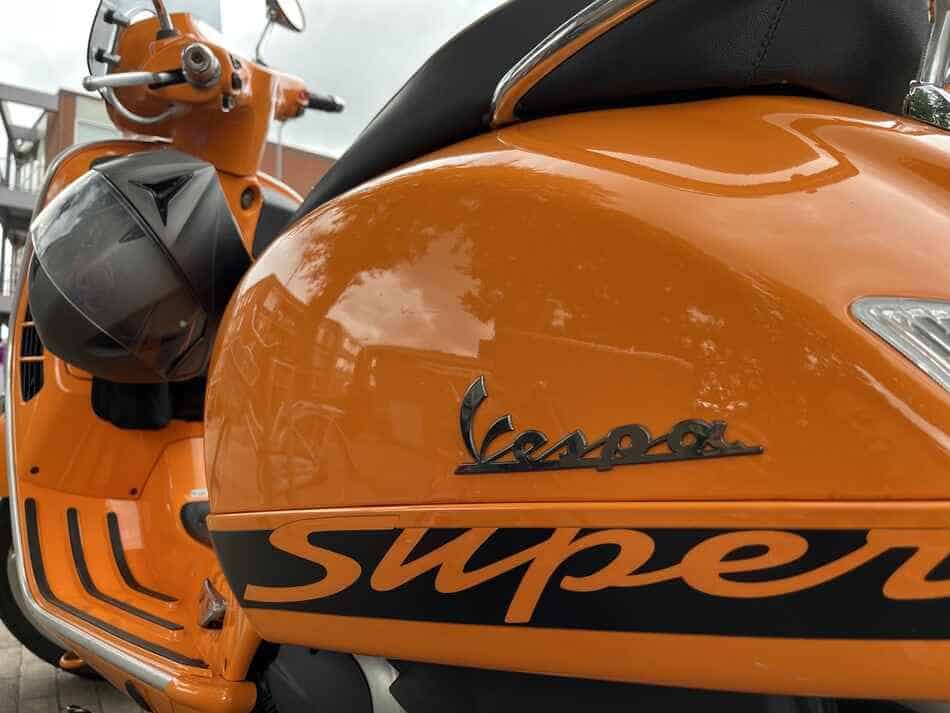 Ok let's face it, if you are going for a Vespa then you are likely not aiming for speed such as those owning a sports motorcycle or dirt bike. The Vespa (there are a few exceptions) is just not made for a fast ride. Instead, people choose a Vespa for an easy comfortable trip through the city or for commuting.
That said, it's a good idea to figure out the highest speed of a Vespa. Only then can you determine if it will meet your riding needs. 
So how fast can a Vespa scooter go? The top speed of a Vespa depends on its engine size/displacement. Vespa models come in 50cc, 125cc, 150cc, 250cc and 300cc. The models with the smallest engines are the Primavera, Sprint, LX and Et which can go 30mph (48km/h). The largest and fastest is the Vespa GTS which can reach 80mph (130km/h).
While the engine size is important for the speed, there are other factors that determine how fast you can go.
Let's see how fast each model can go and what you can do to gain optimal speed.
The maximum speed of Vespa scooters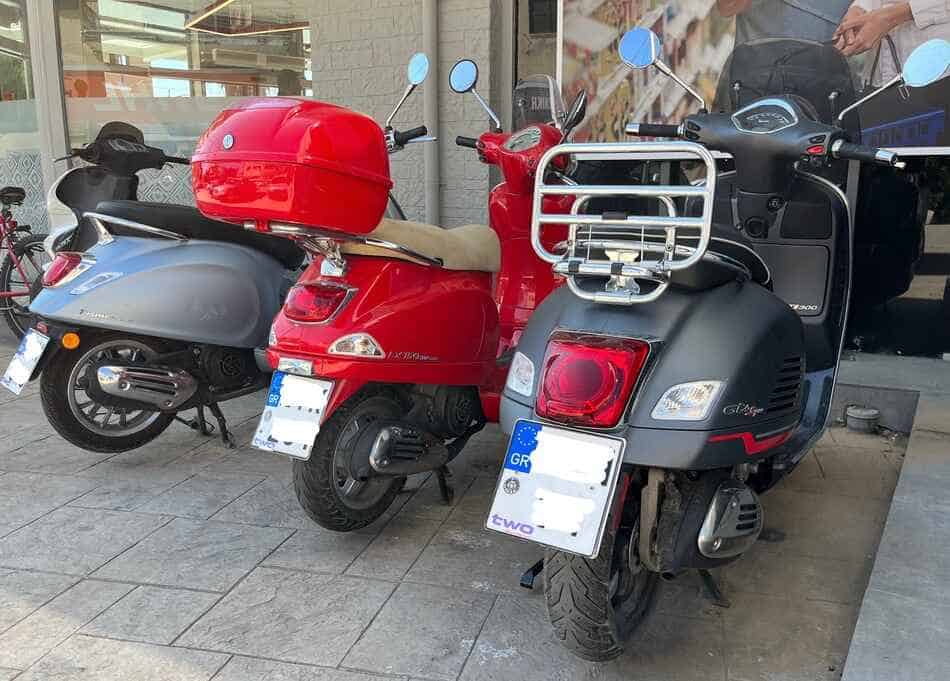 In this table, you can see how fast each modern Vespa model can go. The LX can have a two-stroke or a four-stroke engine. A two-stroke engine tends to go slightly faster than a four-stroke.
| | | |
| --- | --- | --- |
| Model | Engine size | Speed |
| GTS | 278cc | 80mph/130kmh |
| GTS Super 300 | 278cc | 80mph/130kmh |
| GTS 125 | 124.8cc | 65mph/105kmh |
| GTV 300 | 278cc | 80mph/128kmh |
| Sei Gironi | 278cc | 73mph/117kmh |
| 946 | 155cc | 60mph/96kmh |
| Elettrica 45 | n/a | 30mph/45kmh |
| Elettrica 70 | n/a | 44mph/70kmh |
| Sprint 50 (S) | 49cc | 30mph/45kmh |
| Sprint 125 (sport) | 124.5cc | 59mph/95kmh |
| Sprint 150 (S) | 155cc | 68mph/110kmh |
| Primavera 50 | 49cc | 30mph/45kmh |
| Primavera 125 | 124.5cc | 59mph/95kmh |
| Primavera 150 | 155cc | 68mph/110kmh |
| LX 50 | 49cc | 30mph/45kmh |
| LX 125 | 124.5cc | 56mph/91kmh |
| LX 150 | 150cc | 59mph/95kmh |
Table: the maximum speed of the modern Vespa models
As mentioned earlier, the bigger the cc motor the faster you can go. However other factors that can influence the speed of a Vespa (and fuel consumption) are:
maintenance (a good engine will enable you to maintain speed)
weight of the driver
additional passenger
weight of luggage
road conditions (wet and rough roads will affect speed)
steep hills (obviously you will maintain speed on a flat surface)
wind resistance
environmental factors (cold dense air increases engine performance, hot thin air reduces it)
So it is important to keep these factors in mind if you are planning to drive in traffic and want to overtake or keep up.
How to make a Vespa scooter go faster?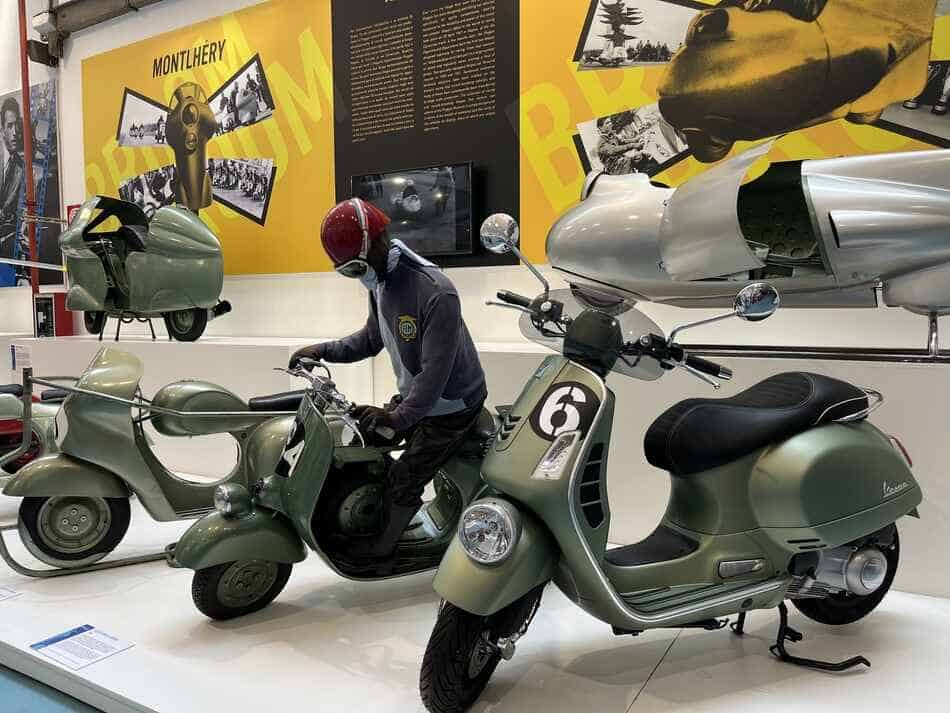 There is a Vespa model for every type of driver each with its own cc engine size. You can either go for a Primavera 50 or Sprint 50 moped. Both have a small displacement engine making them ideal for buzzing through city streets or you can go for a GTS which has a more powerful motor.
However if you are not happy with the speed of your current Vespa or you have trouble keeping up with traffic, there are existing solutions. The first things you can try are:
Replace the spark plug to improve the engine performance enabling higher speed
Replace the air filter to allow more air into the engine which will increase the power delivery
Change the transmission oil: dirty oil can slow down the Vespa's transmission
You can also take it a couple of steps further and conduct several modifications to your engine for higher top speeds. However, we do not recommend doing this for the following reasons:
you can lose your warranty
you can lose your liability insurance
it may not be legal, even if you keep within the speed limits
it can damage other parts as they are not built to go that fast
small-frame Vespa's have relatively small wheels, making it unsafe to go faster than they are meant to go
But if you are still interested, despite these warnings, then you can do the following (by a professional mechanic) to increase the speed of your Vespa:
Upgrade to a high-performance exhaust as this will improve the flow of exhaust gas and so increase the delivery of power.
Engine tuning by adjusting the fuel mixture and ignition timing can increase speed.
Install a performance carburettor to increase the amount of fuel and air in the engine creating more power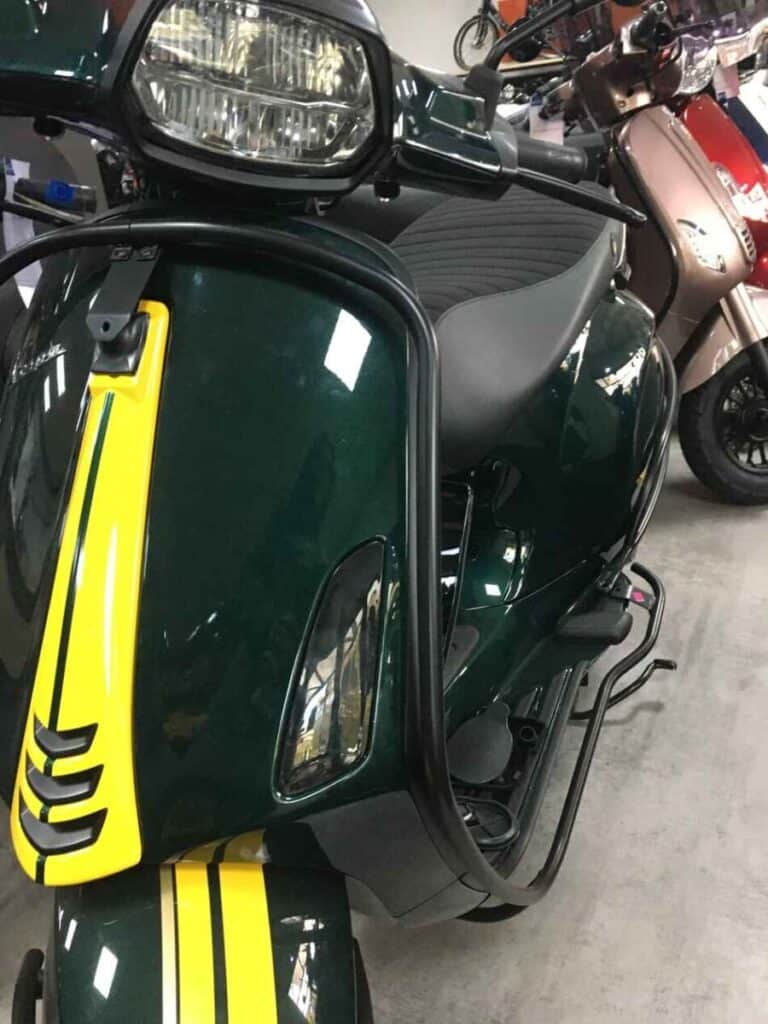 We recommend not modifying the engine
In the Netherlands, where we have scooters with a restricted engine (max 15mph/24kmh), it is popular to increase the speed of mopeds with smaller engines. However, after buying two Vespas with modified engines, we learnt that once you have increased the speed of your motorscooter you can not go back. Over time the parts have been adjusted to the higher speeds causing problems when you try to get it back to its original state.
With a modified engine and even after making changes, our two used Vespa's never sounded right. So think twice if you are considering making changes to your engine.
Can a Vespa go on a highway?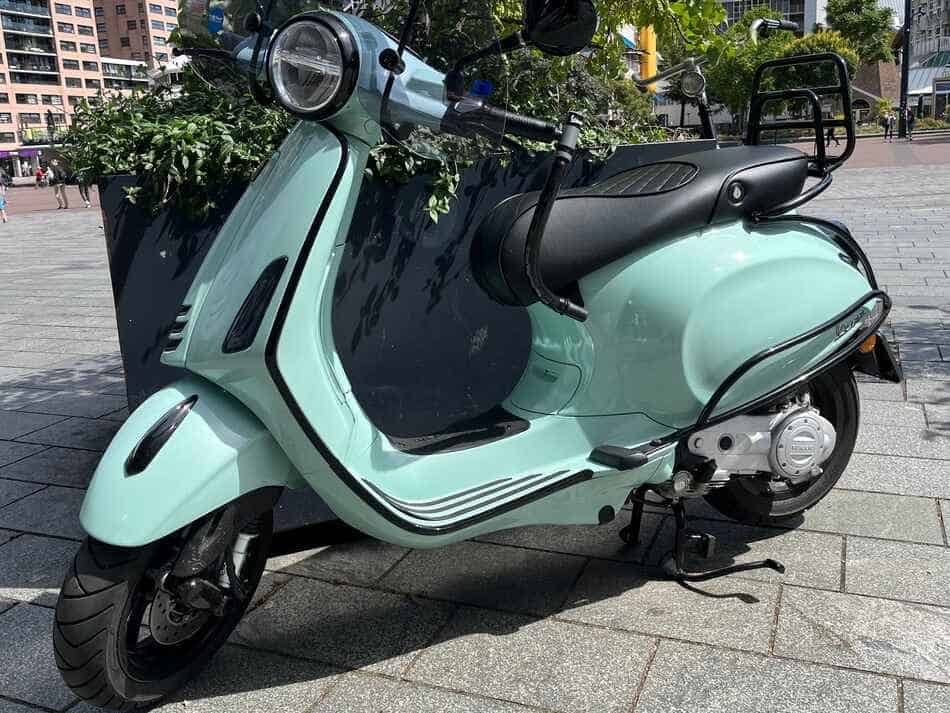 You will need to check the local regulations on what type of vehicles are allowed to drive on the highway. However generally speaking Vespa scooters, like other scooters and motorcycles with smaller engines, are allowed on most highways in the United States as long as they:
are not considered a moped such as the Vespas with a 50 cc displacement
can reach the speed of 60mph/96kmh
So a 125 cc vehicle or those with a higher engine displacement are allowed to drive on the freeway, interstate and highway.
That said, while the law permits you to drive a Primavera 150cc or Sprint 150cc on the highway, it isn't ideal. The engine is small and despite their strong frame, Vespas are not big motorcycles. You can't keep up, even if you go full throttle. It just isn't safe even with proper gear on.
If you do have to hit the highway then you can definitely do that safely and legally with a Vespa GTS 300 or with the newest GTV 300.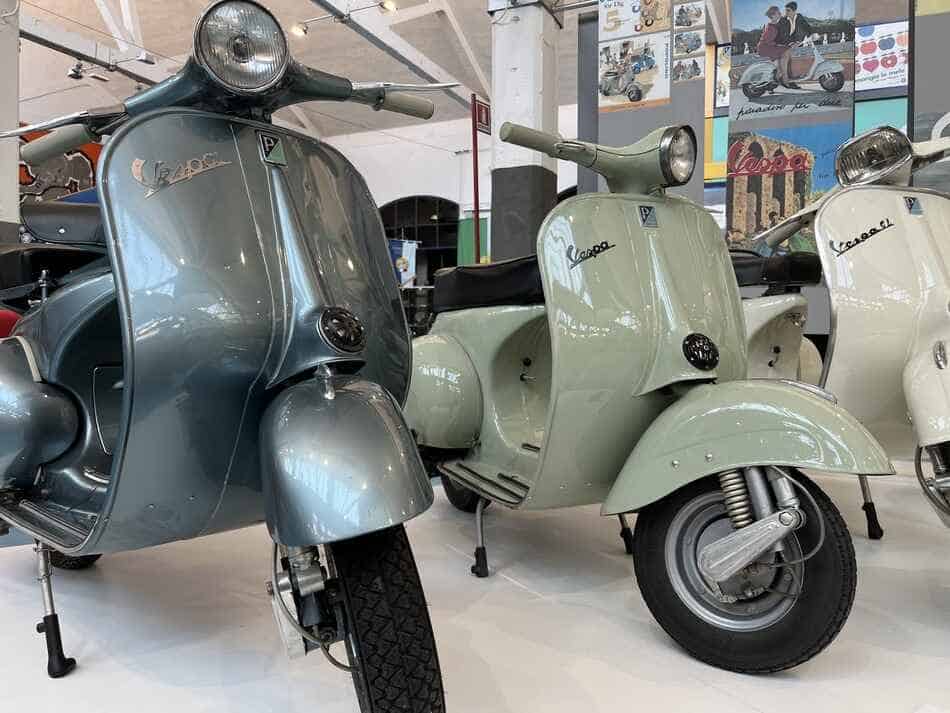 So how about the classic Vespas?
The lowest engine displacement for a classic Vespa is 50cc (small-frame models) while the 200cc (large-frame) is the largest. Unlike the modern Vespas, the classic ones do not have an automatic transmission. In theory, this does make them lighter and faster than the newest models.
In this post, we have only focused on the newest scooter on the market today but there are a lot of large-frame classic Vespas as well. They are motorcycles but we think it goes without saying that you shouldn't drive these classics on the highway. Besides the classics usually don't have a comfortable saddle anyway, so going for a long ride isn't so much fun.
Classic Vespas should be driven with care, love and appreciation where speed isn't the most important. But in the end, it is up to you of course. We have seen a couple of classic Vespas cruising on the Dutch highway and they seemed indifferent to the fast traffic around them.
Which Vespa when it comes to the highest speed?
There are a lot of great choices when it comes to the Vespa Piaggio scooter. There is basically a Vespa that fits any scooter rider's needs.
But remember you should ask yourself if you are going to drive short distances only and don't need to hit the highway. If so, then it makes no sense to invest in a Vespa with a larger displacement engine such as the GTS 300, right? These models are far more expensive than a 50 or 150 cc Vespa Primavera or Sprint.
So remember, a Vespa with a smaller motor is ideal for cities. However, if you want to drive long distances and want to keep up with traffic on the highway then a Vespa with a large engine is the safest option.
So which one should you go for when looking for your first Vespa?
Primavera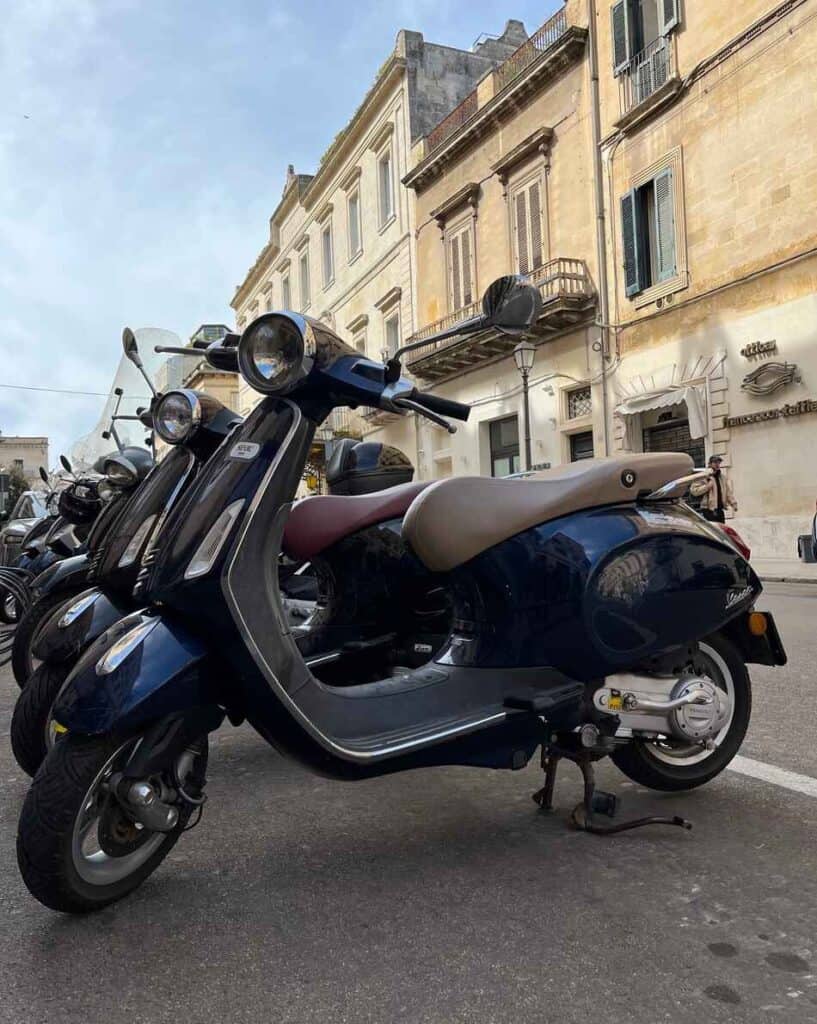 The Vespa Primavera has a sleek design and is one of the most popular models in Europe. It comes in 3 engine displacements. The Primavera 50 is a moped and can reach 30mph/45kmh. Perfect for short distances.
The highest speed of a Primavera 125 is 59mph/95kmh while the Primavera 150 can go 68mph/110kmh. Both are legally allowed on the highway however this small-frame model with larger engines is still mostly ideal for commuting from the outskirts to the city.
Sprint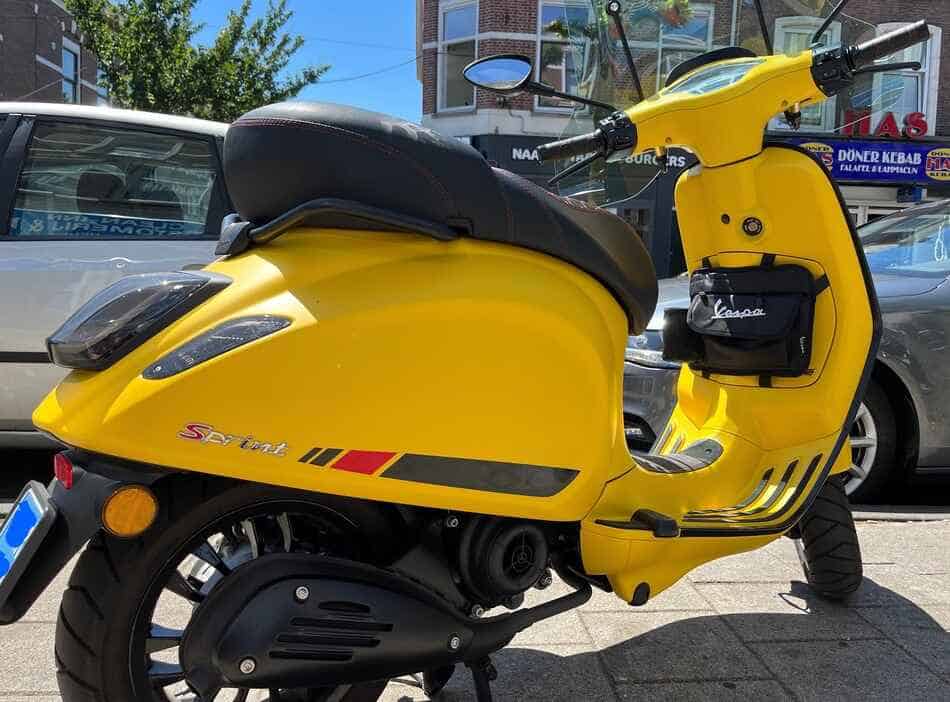 While the Vespa Sprint looks a little bit different with its sporty look, its specs are identical to the Primavera. The Sprint 50 can reach 30mph/45kmh making it popular for younger urban scooter riders. The 125 can go 59mph/95kmh and the Sprint 150 can go as fast as 68mph/110mph.
Legally you can go on the highway on the Sprint 125 and 150. However, they are small-frame motorcycles and therefore better in the city and for short rides in the outskirts and rural areas.
Vespa 946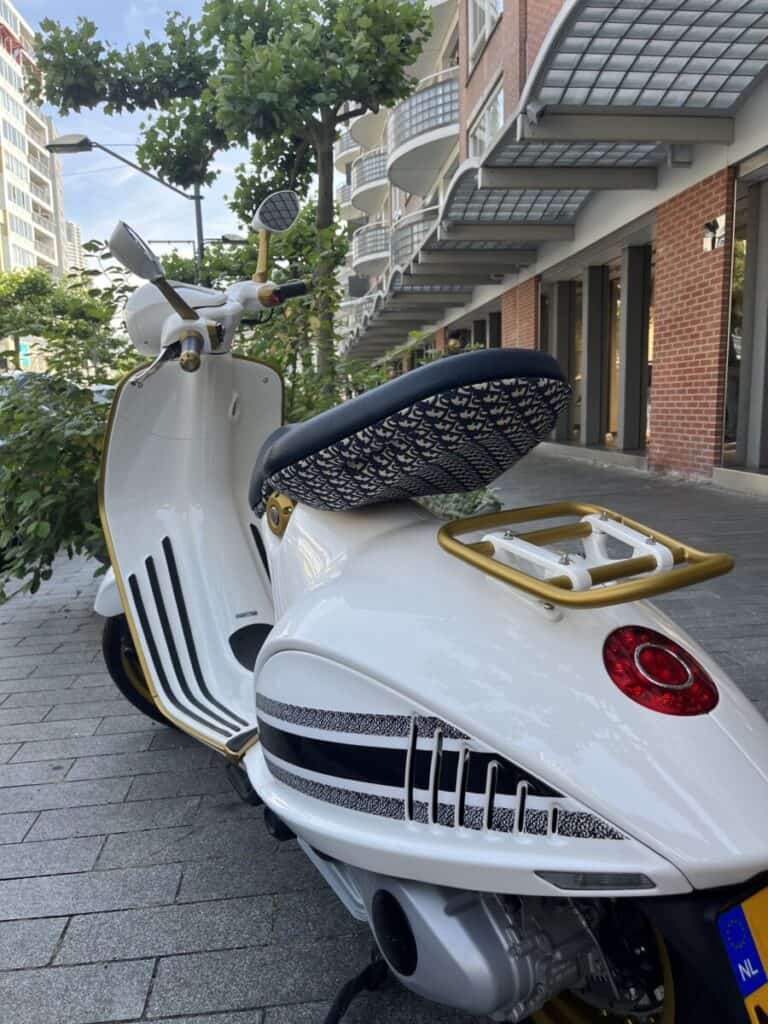 The sleek Vespa 946 has a 155cc engine and can reach 60mph/96kmh making it ideal for city riding and commuting. With its floating saddle and special frame, you will have heads turning when driving the 946 around.
In theory, 155 cc bikes can drive on the highway. But we suggest not doing so, since the 946 is a very compact scooter plus you will not always be able to reach the maximum easily. As mentioned earlier, there are many factors such as weight and wind that can influence the speed negatively.
Being able to overtake vehicles and keeping a consistent speed is important when driving in fast traffic. Therefore we think the highway isn't a great place to drive this specific model.
GTS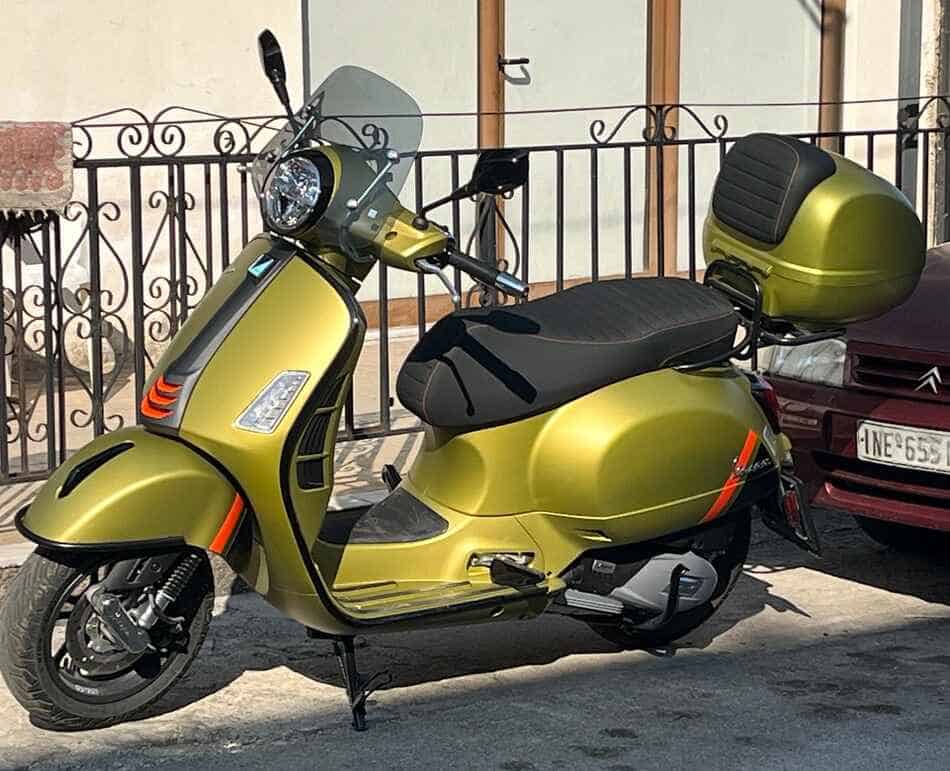 The Vespa GTS is a large-frame Vespa and is the one you will need if you are going to drive on the highway. The GTS 125 might not be the best option as they can just reach 65mph/105. While the GTS 300 and the new Vespa GTV 300 have a top speed of 80mph/130km. The unique Sei Giorni has a maximum speed of 73mph/117km.
All the large-frame Vespas have a maximum speed of more than 62mph/100kmh making them a safe and excellent choice at high speeds. Besides the speed, Piaggio has safety in mind as well and has installed strong rear disc brakes enabling precise braking.
While these scooters are officially motorcycles, there are common misconceptions among automobilists that Vespas are not allowed on the highway. I once spoke to a couple who both were driving their Sei Giorni on the Dutch highway when dozens of cars were honking and gesturing that they were crazy for driving there.
The Vespa in comparison with other motorcyclists is quite small and can resemble a Primavera for those who are not familiar with Vespa models.
That said, with its powerful engine, the GTS 300 can cover long distances in no time. Its compact step-through frame makes it ideal for city riding at low speed and the large engine makes it perfect for long distances along the highway as well.
Elettrica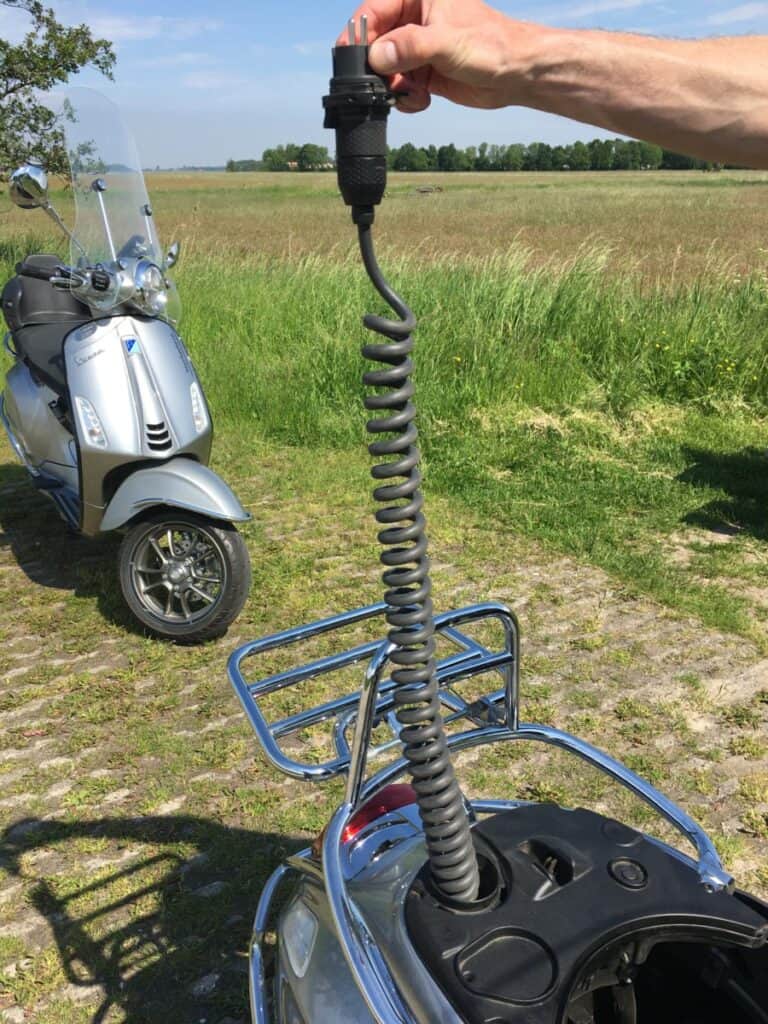 This eco-friendly Vespa is an electric scooter and is becoming more popular, at least that is what we have experienced here in Europe. The Elettrica 40 and 70 both look like the Primavera.
The Elettrica 40 can reach 30mph/45kmh making it excellent for cities and short trips, while the Elettric 70 can reach 44mph/70. The latter is of course excellent for cities as well, just as for commuting. However, this electric motor isn't allowed to drive on the highways because doesn't exceed 60mph.
We are still surprised Piaggio hasn't come with a faster electric bike yet, considering there are other brands with fast electric motorbikes. But then again, Vespa is originally from Italy where things just take more time…
More articles to read:
Is A Vespa Good For Long Rides?
What Is The Weight Limit For A Vespa? (for classic and modern)