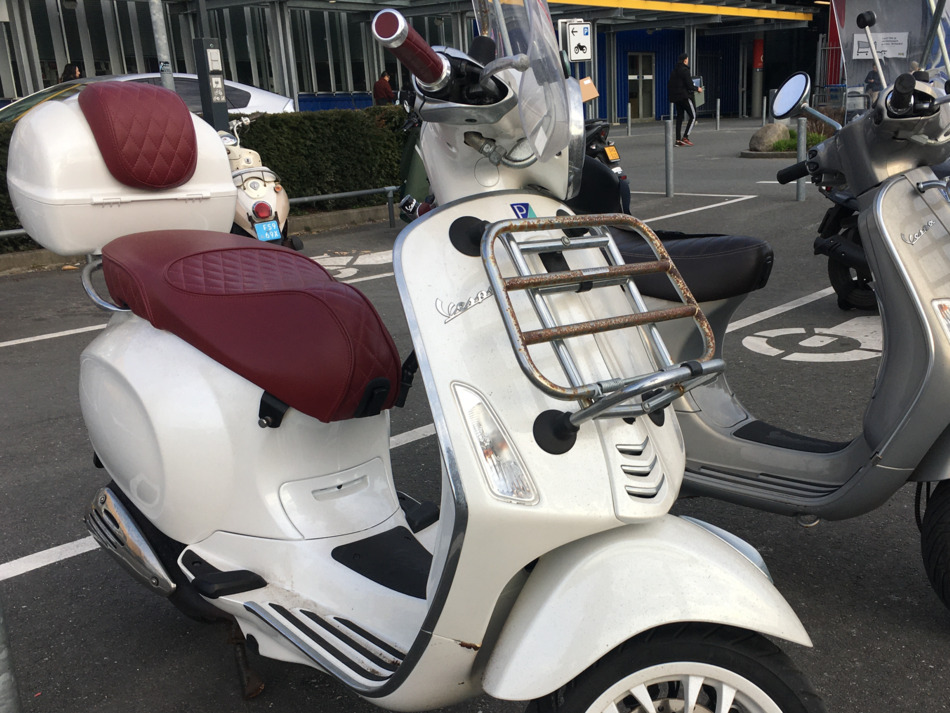 You've got your beautiful new Vespa. So what else do you need? We have listed the best Vespa accessories that we find most useful when it comes to safety and comfort when driving. From our own experience, we have noticed that there are so many accessories to choose from for your Vespa.
But you have to ask yourself: "Do I really need it?"
The type of Vespa accessories depends on your model and your needs. If you are driving on the highway regularly with your Vespa GTS then you probably are going to focus more on safety-related accessories whereas those who use their Vespa Primavera for cruising around town are likely going to get accessories to improve the looks of their Vespa.
So while we will list the 10 best Vespa accessories, think twice if it is applicable to your driving needs.
Also, Piaggio has a lot of original Vespa accessories and it comes as no surprise that they look great. But if you are considering accessories from other scooter brands which are somewhat cheaper, double check if it actually fits your Vespa model.
1. Helmet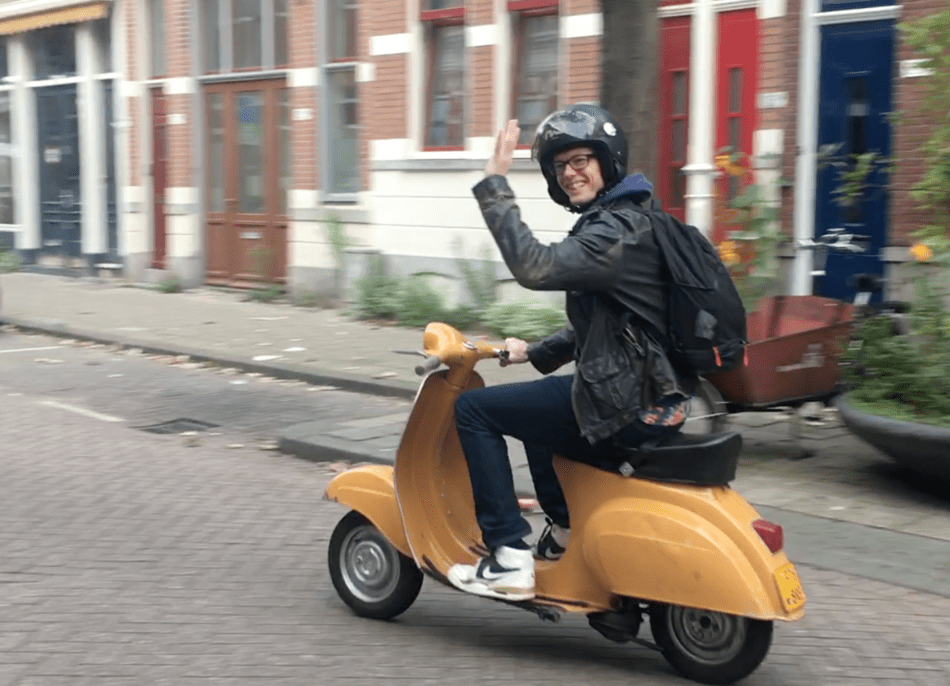 The helmet is probably the most obvious accessory you will need for your Vespa. Not only is it mandatory to have one but it is important for your own safety.
The 3 types of helmet models are:
full-face helmet
modular helmet
open face helmet
All Vespa helmets (except two) are open-face helmets. As you can imagine the 'OPEN-FACE' doesn't sound like the safest option, yet Piaggio always shows pictures of their Vespas with a driver using this type of helmet.
In an article that we have written about Vespa helmets, you can read the differences between these 3 models and which helmet is the most suitable in your case.
As for helmets, we suggest checking out other brands other than Vespa alone.
2. Proper Clothing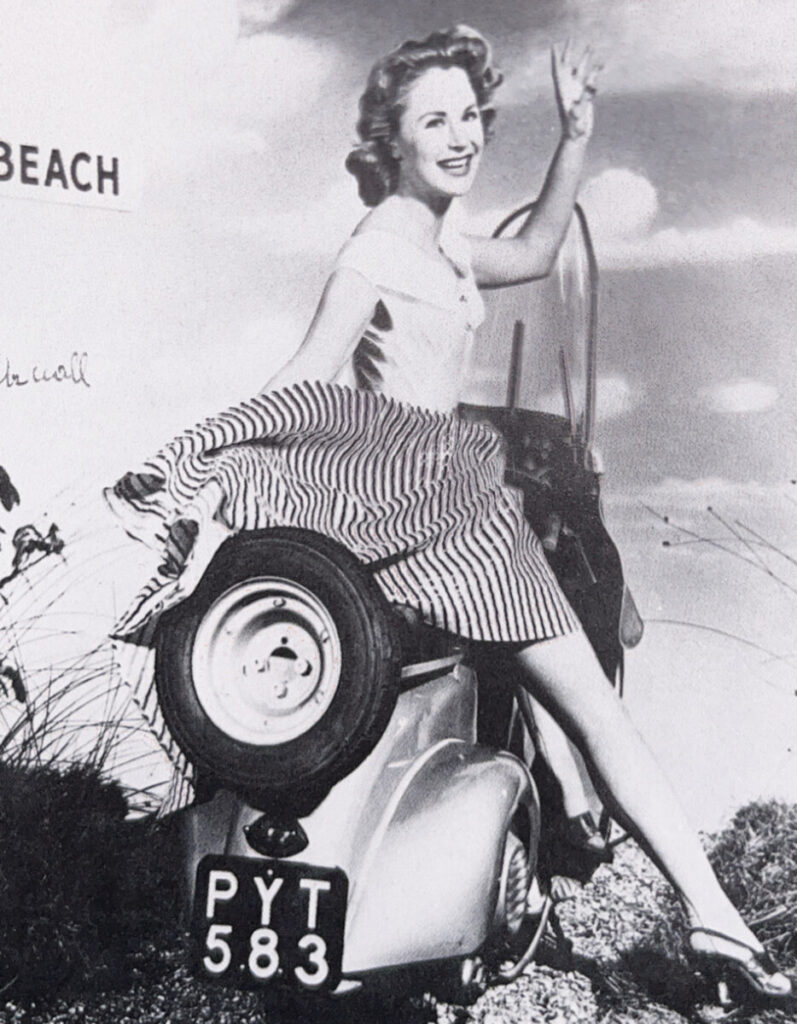 As always safety first….so it would be wise to invest in proper motorcycle clothing. However, I fully understand if every now and then looks are more important and you decide to wear a nice dress with high heels, or a nice suit when driving your Vespa. Because hey…that was the initial idea of Piaggio when they designed the very first Vespa.
When it comes to proper motorcycle clothing, Vespa doesn't have much to offer. Yes, they have the t-shirts, jackets, and hoodies but nothing that will protect a driver on a Vespa GTS going high speed on the highway.
Like the helmet, Vespa's marketing strategy has always been the looks and the image. I guess the drivers' safety is a bit lower on their priority list. Luckily this is not the case when it comes to the scooter itself.
So that said, if you have a Vespa with a large engine displacement and you know that you will be driving through heavy and fast traffic, then we highly recommend checking out a motorcycle store.
You can either go for the leather or the polyester motorcycle jacket. Either way, the best thing about these jackets is that you can insert armor protectors in the designated sections. For instance, at the chest area, back, elbow, and shoulders.
You can decide for yourself what amount of protection you want. This is also the case for pants.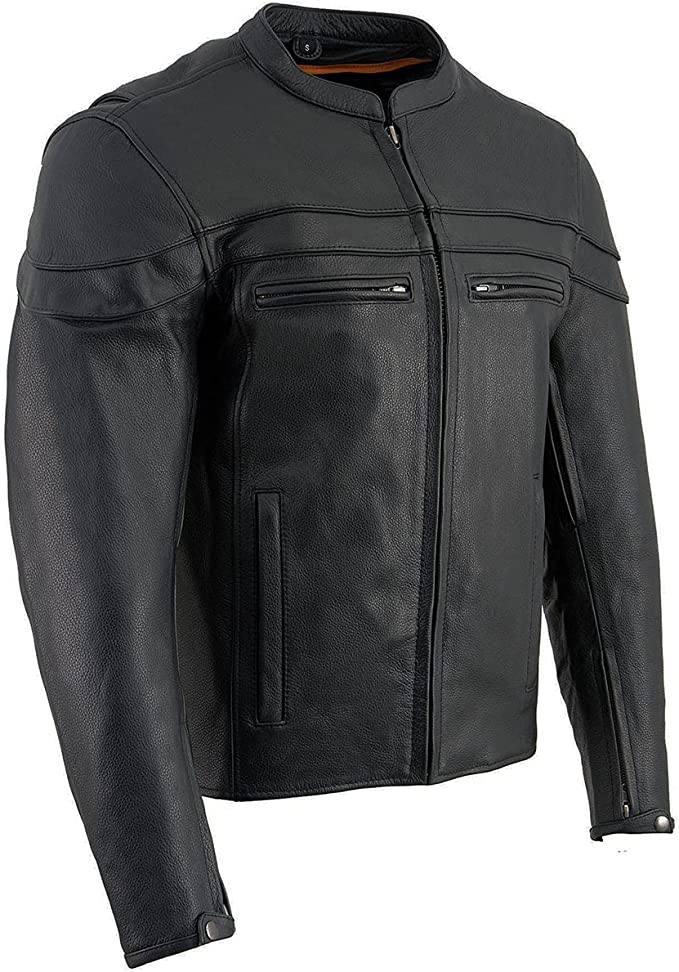 Owners with a 50cc or 125cc Vespa, who mostly drive in the city should also consider a proper jacket, especially in cold climates. When we were renting out our Vespas in the spring and the autumn season, people would underestimate how cold it could get when driving.
Don't forget, when you are driving you are not moving at all. So your body can not warm up.
Gloves are always a good accessory to have. No matter what temperature. If it's cold your hands can feel like they are going to freeze off if you don't have proper gloves.
And for the summer? If it's really hot then thin driving gloves can be great as an alternative sun-block to avoid your hands from getting sunburnt.
Besides the jacket and the gloves, it is also wise to invest in proper rain gear if you plan to drive your Vespa in all weather conditions.
When buying rain gear make sure it fits comfortably and that it has reflectors so other motorists can see you in bad weather conditions. Remember, the leg shield will likely prevent your feet from getting wet during a rain spell. So rain overboots are really not necessary when driving in the rain on a Vespa.
3. Windshield/Fly-screen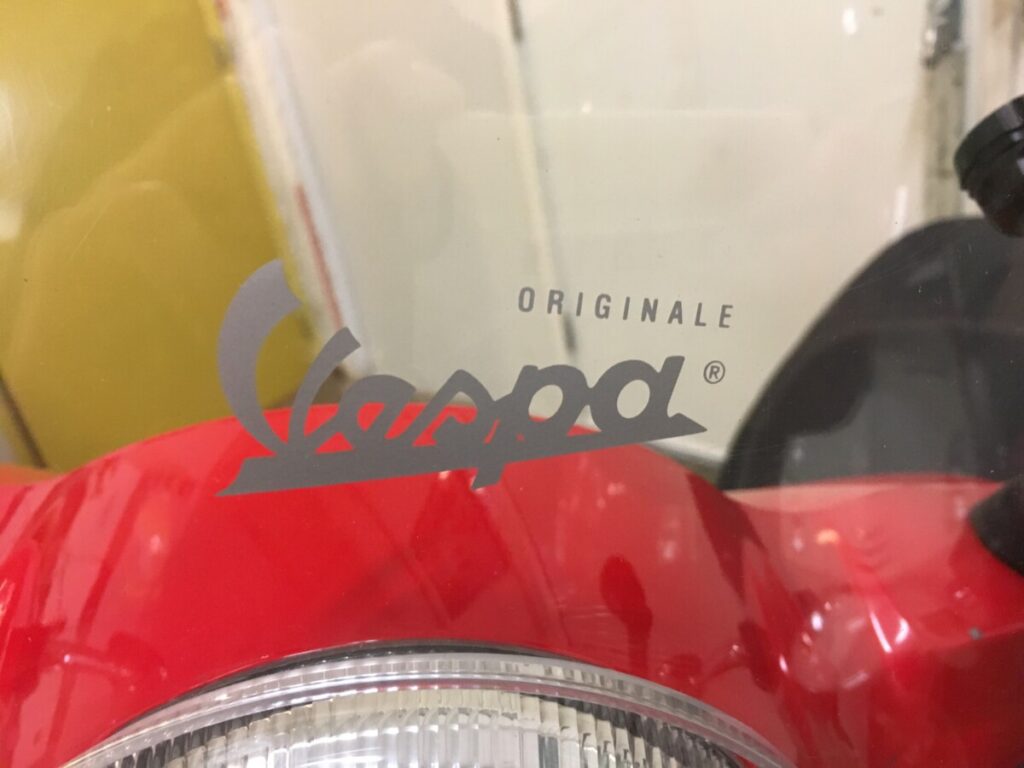 A windshield is ideal for many reasons: it protects you from the wind, avoids flies getting into your eyes, nose, and mouth, and protects you from debris. So it's a great accessory for your Vespa.
There are two types of windscreens: mid-size and full-size. In most cases, the Vespa GTS has a mid-size windscreen but as seen in the picture below there are those who prefer a full-size one.
We always placed a windscreen on our Vespas for a more comfortable ride. However, when we were using it for commuting, we noticed that when it was dark and it rained, the windscreen would be more of a nuisance. We could hardly see ahead of us.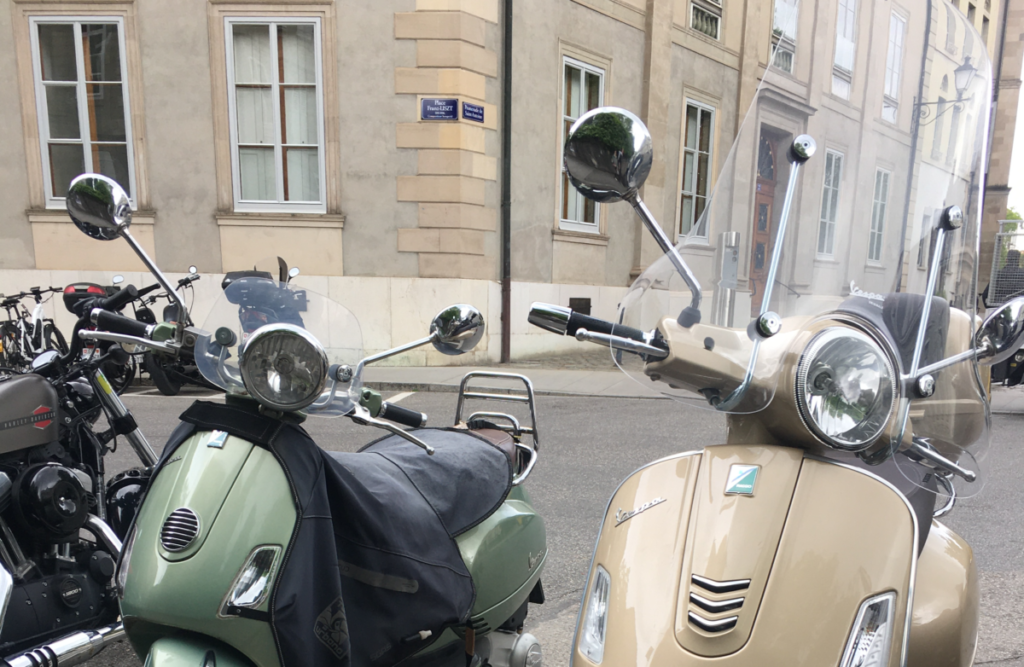 Luckily Faco, a brand that also makes windscreens for all Vespa models has come up with a solution. With the Faco Split Windscreen you can slide the top half of the screen up and down. So in whichever situation, you can adjust the height of the windscreen to your liking.
So if you want to feel the summer breeze, you can slide it down. And if you feel like you need more protection from the wind, you can slide it up.
4. Protection/Crash Bars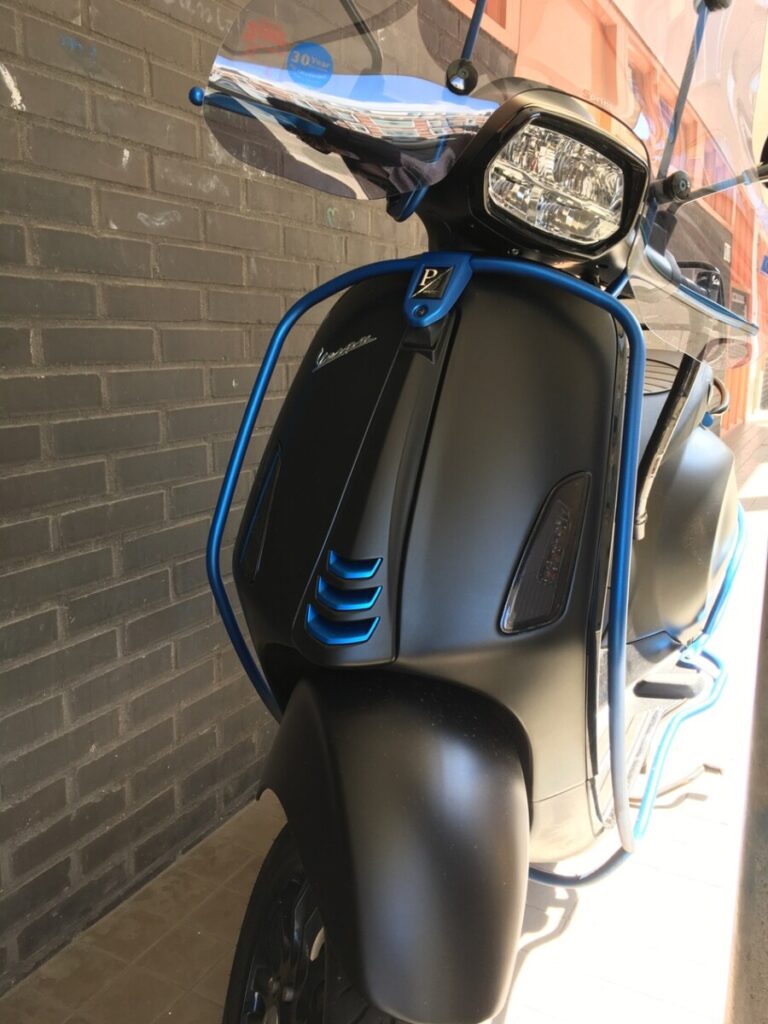 When it comes to protection bars, we would definitely say it is a must to have them. You can be a great driver and think that you will not need them but you never know if somebody bumps into you and you fall, or when somebody carelessly parks their car and tips over your Vespa.
Believe me, you would have wished you had protection bars installed.
That said, protection bars don't guarantee that your Vespa will be scratch or dent-free in a minor accident. But at least it does have some sort of protection.
When renting out our Vespas, most of the damage was caused along the leg shield and the rear. Once we installed rear protection bars we had less damage on the cowls.
You can install various protection bars on various parts of your Vespa: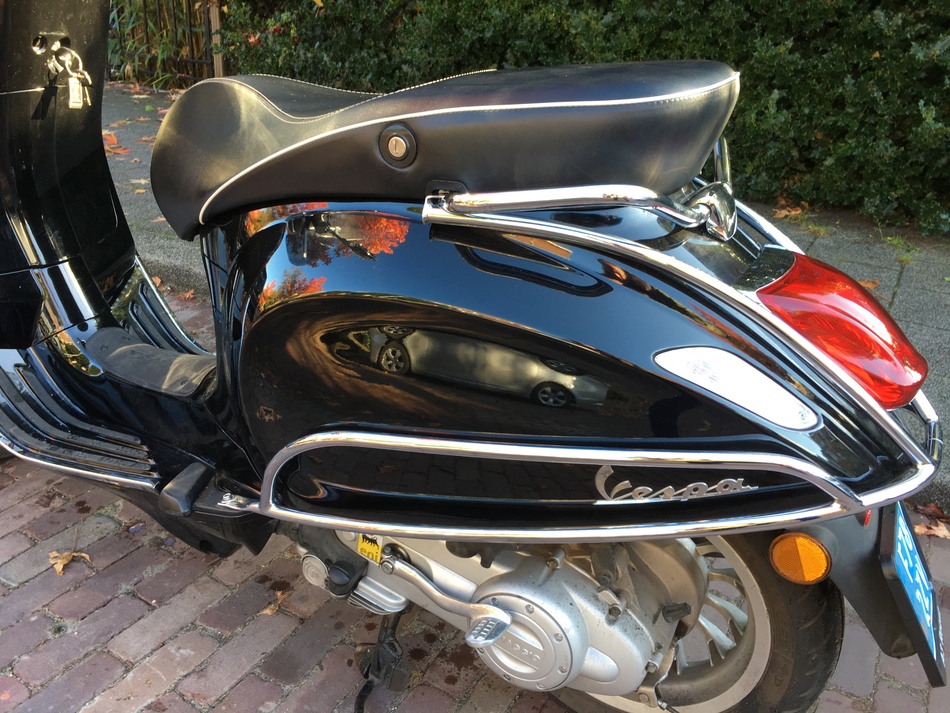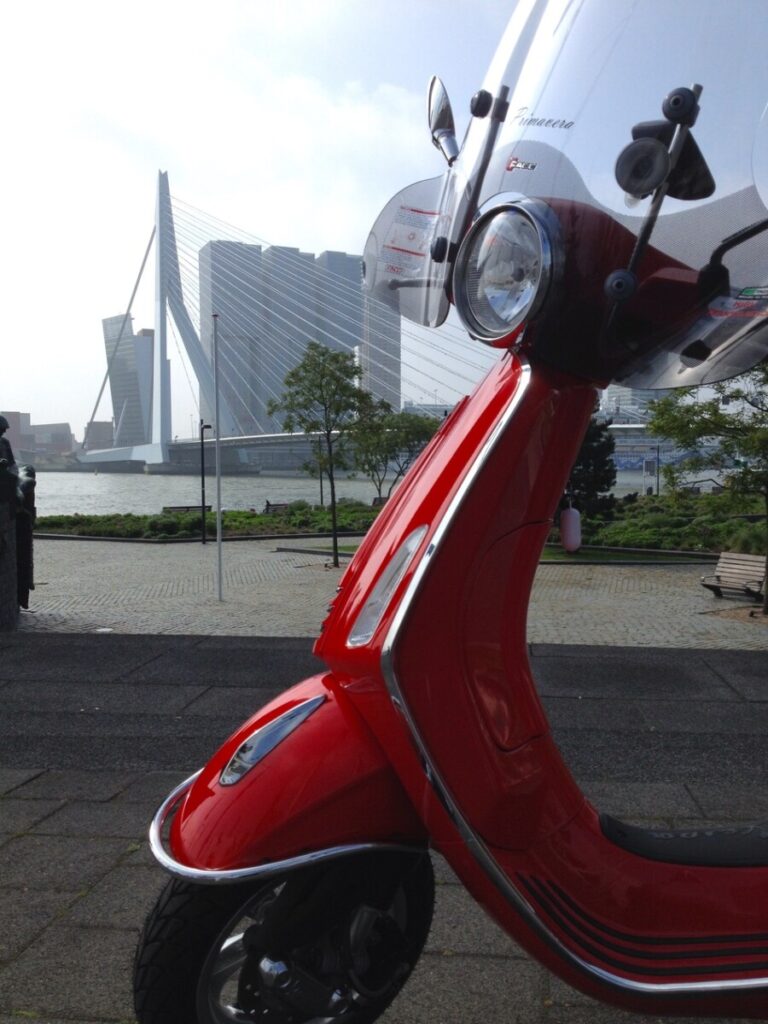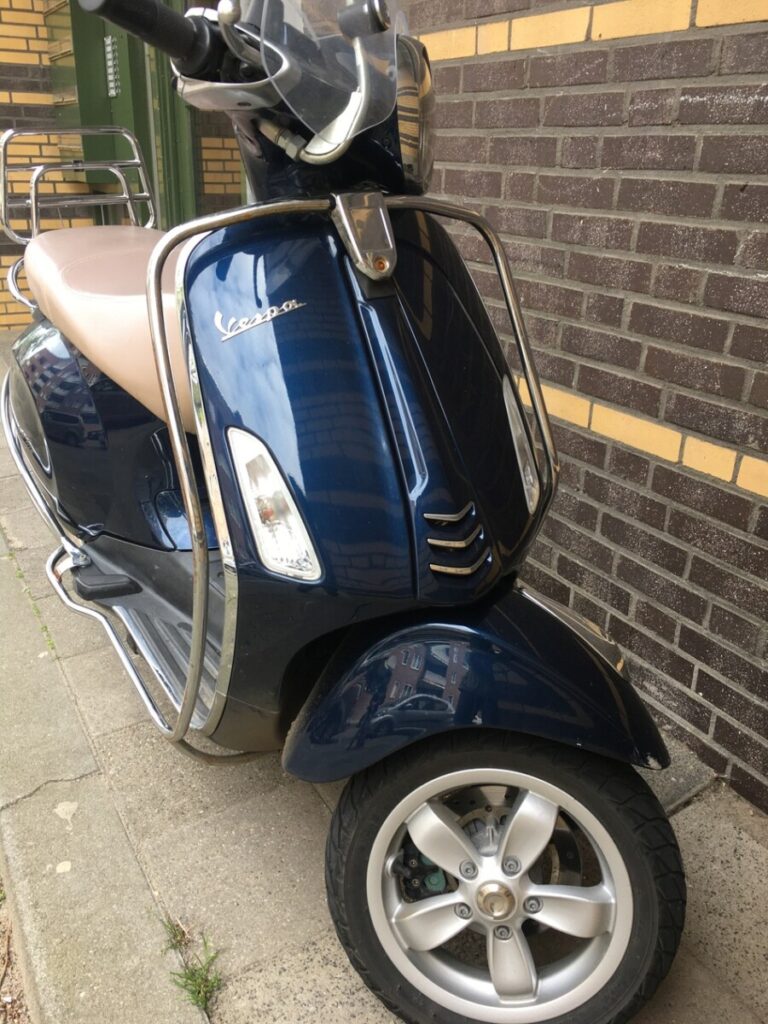 If you have a GTS and are searching for a rear crash bar, you may want to have a look at these.
5. Storage
There are many ways to store your stuff on a Vespa. We have given tips in an article we posted on Vespa storage. But in general, there are many ways to create additional storage.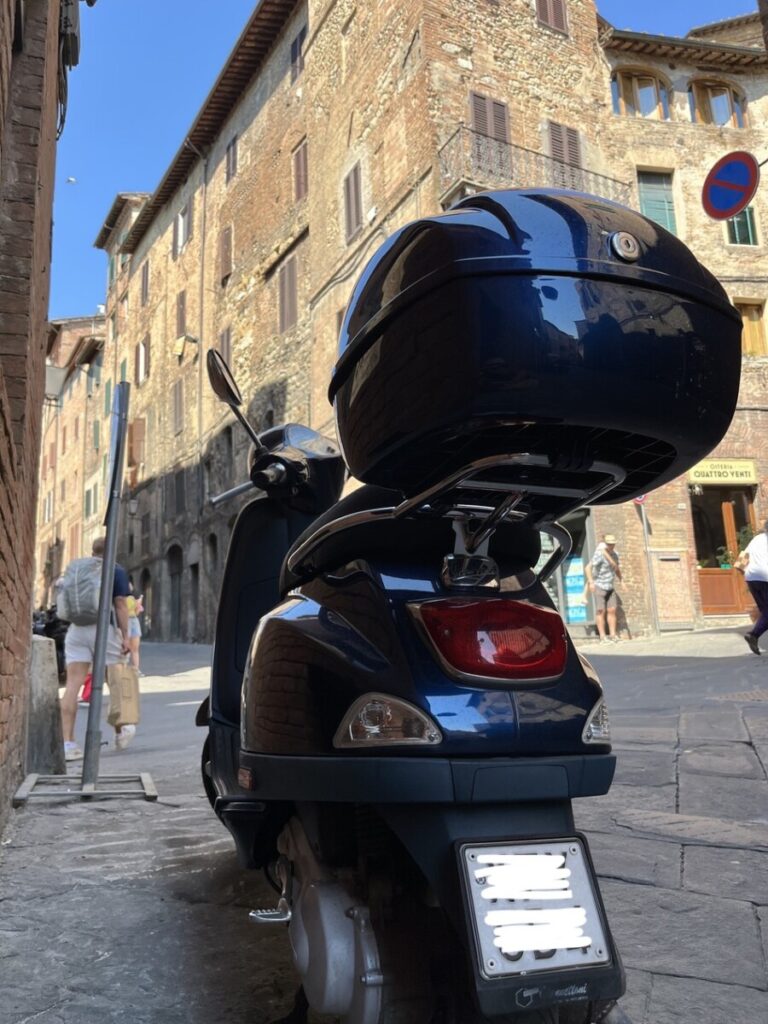 The most popular is the hard case (or top box) which you can mount on the back. Many do not like the looks of a hard case on a Vespa and I can understand. But luckily Vespa does have cases in the same color as the Vespa, making it look so much better compared to a polyester black case.
You will need to purchase an additional top box rack in order to secure your hard case onto your Vespa.
Additionally, you can go for bags that can be secured on your Vespa. Such as the:
saddle bag
handlebar bag
leg shield bag
6. Phone mount
Where are you nowadays without your smartphone? Luckily today there are numerous phone mounts that you can attach to your Vespa. Vespa has its own as well, which is attached to the mirror handle.
With the GTS you can also connect your phone to your Vespa. If you have a helmet with Bluetooth then you can even leave your phone in your pocket while you hear the navigation tell you which way you need to go.
Check out which phone mount suits you best.
7. Scooter leg cover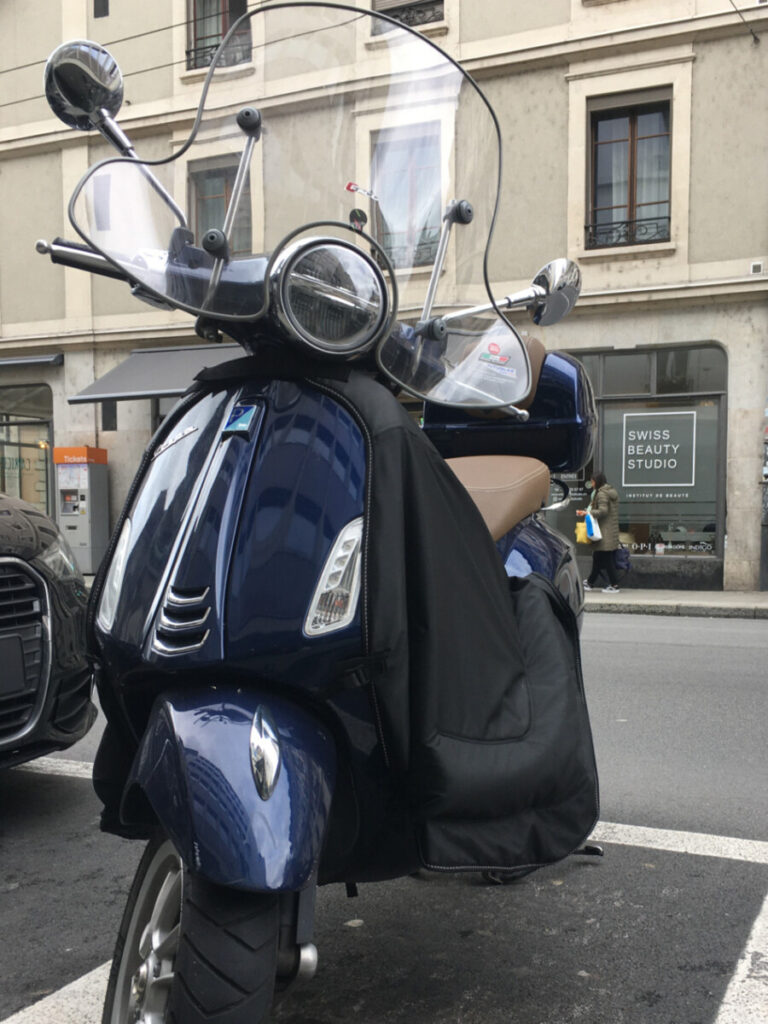 For those who drive in colder seasons, the leg cover is a blessing. It keeps you much warmer enabling you to drive longer distances without losing sense in your legs and toes.
A leg cover is also ideal to protect yourself from the rain.
Again Vespa has its own original cover. There are many more on the market that will fit your Vespa model as well, such as those from the Tucano brand. They even produce quality leg covers for specific Vespa models.
The ideal scenario is to have a leg cover made specifically for your Vespa model, so you are sure it can be attached securely. Plus you are sure you can cover the seat as well if you need to park your Vespa in the rain.
The Vespa leg cover for the GTS fits pretty tight as it is attached by two screws and hooks, so you are sure it will not be flying off at high speed. As for the other models, they use velcro straps and hooks.
8. Handlebar Muffs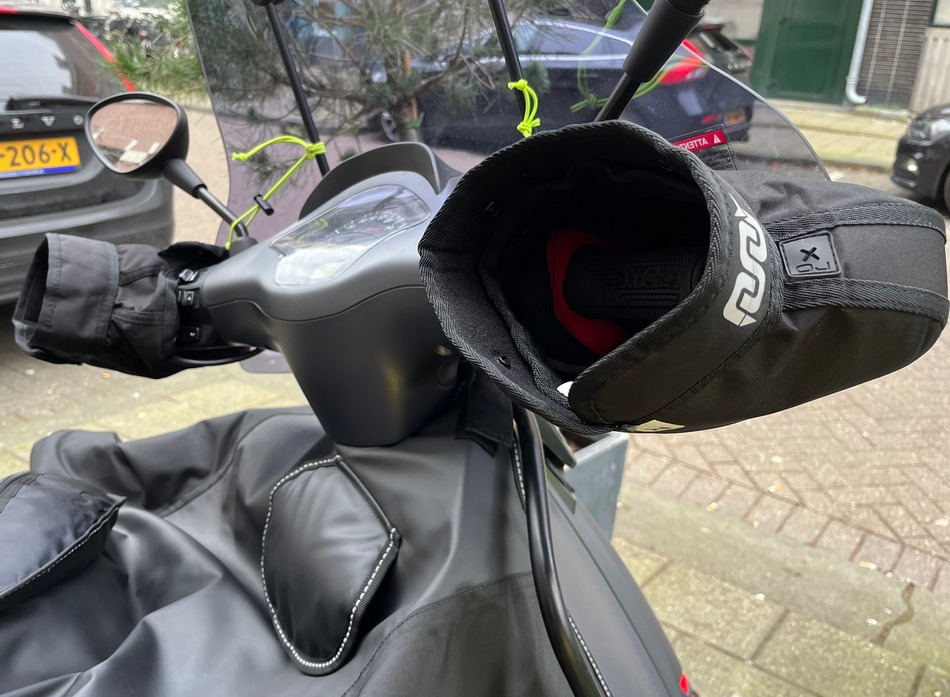 Your hands can get extremely cold when driving a Vespa, especially in the colder seasons. No movement and the continuous sense of the wind on your hands will have them feeling like popsicles in no time.
Gloves do wonders, but for extra measures, you can also consider handlebar muffs. These are huge gloves attached to your steering wheel. Ideal for those who need to drive in the rain, as most of them are waterproof as well.
Vespa has its original handlebar muffs, but you can find many other brands that have made them suitable for a Vespa.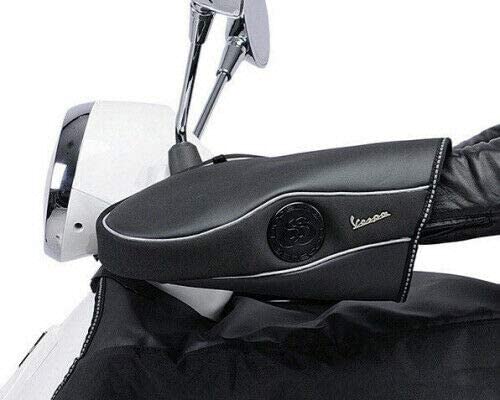 9. Racks
You can assemble 3 types of racks on your Vespa to provide more options to take an extra bag along. Racks are really convenient, however, there is one we wouldn't recommend.
Let's have a look at what type of racks you can choose from: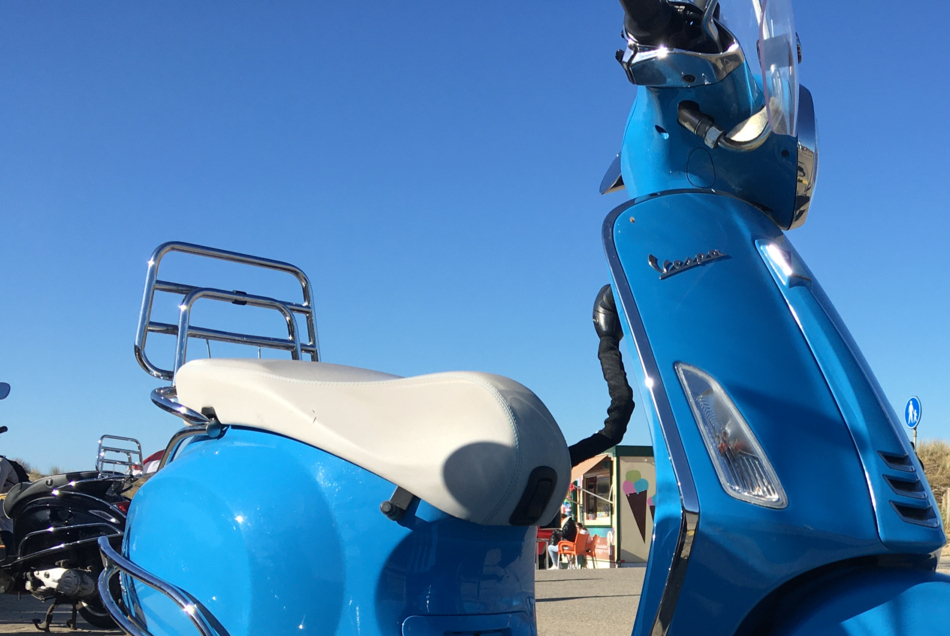 Folding Rear Rack: This rack is placed just behind the Vespa saddle, enabling you to flip it down if you have an extra bag you want to strap it onto. We really like this rack, because it also provides extra security for a passenger. The passenger will feel the rack against his/her back making it impossible to fall off the Vespa if the driver suddenly accelerates.
There is even a folding rack that makes it even more comfortable for a passenger to tag along safely.
Front Rack: Like the rear rack, the front rack is made to take extra luggage with you. We don't have good experiences with this one though. The rack is mounted on the front shield of the Vespa, which can look pretty cool. But, we noticed that if you would fasten a bag on this rack there might be a chance that the front light is obscured.
Once we were driving in the dark with a bag attached to the front rack. We could hardly see a thing so not such a smart thing after all.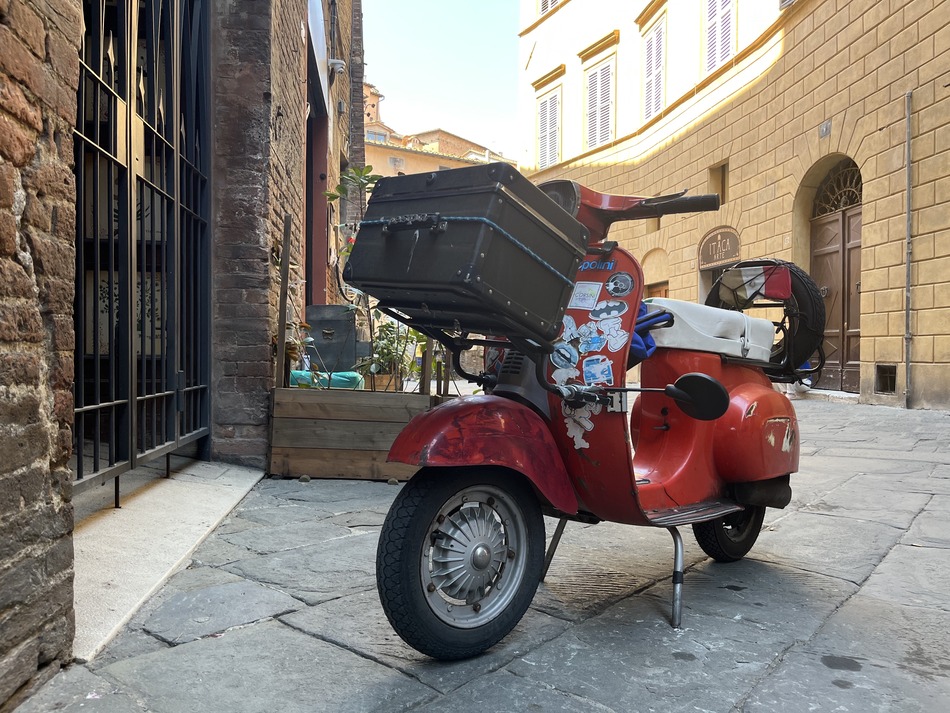 Floorboard Rack: If you often place bags on the floorboard between your legs, it can feel unstable sometimes. By installing a floorboard rack you can fix the bags making it a safe way to drive.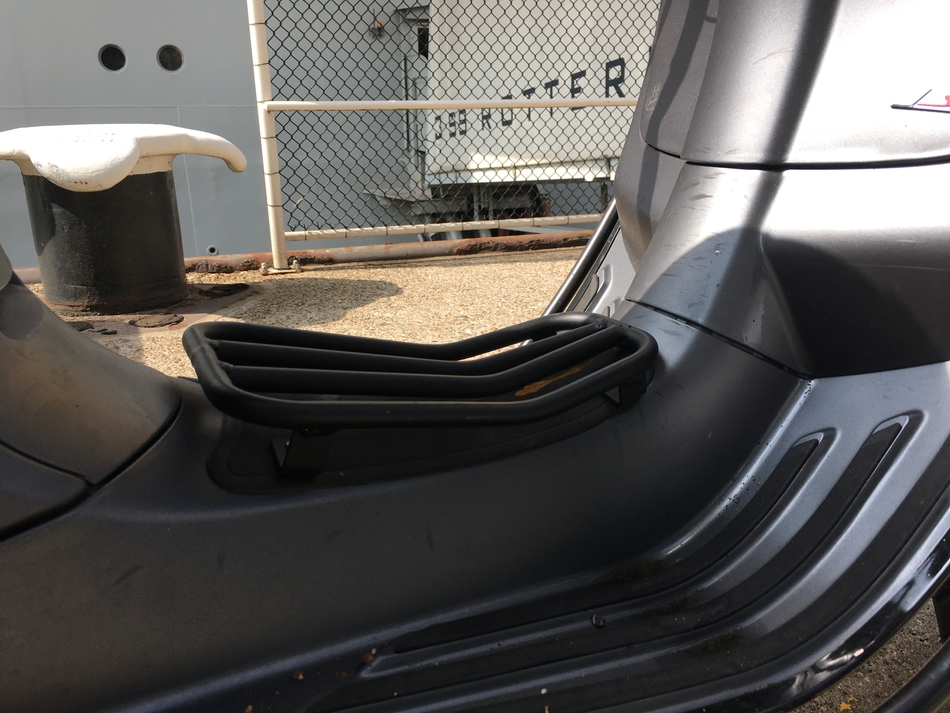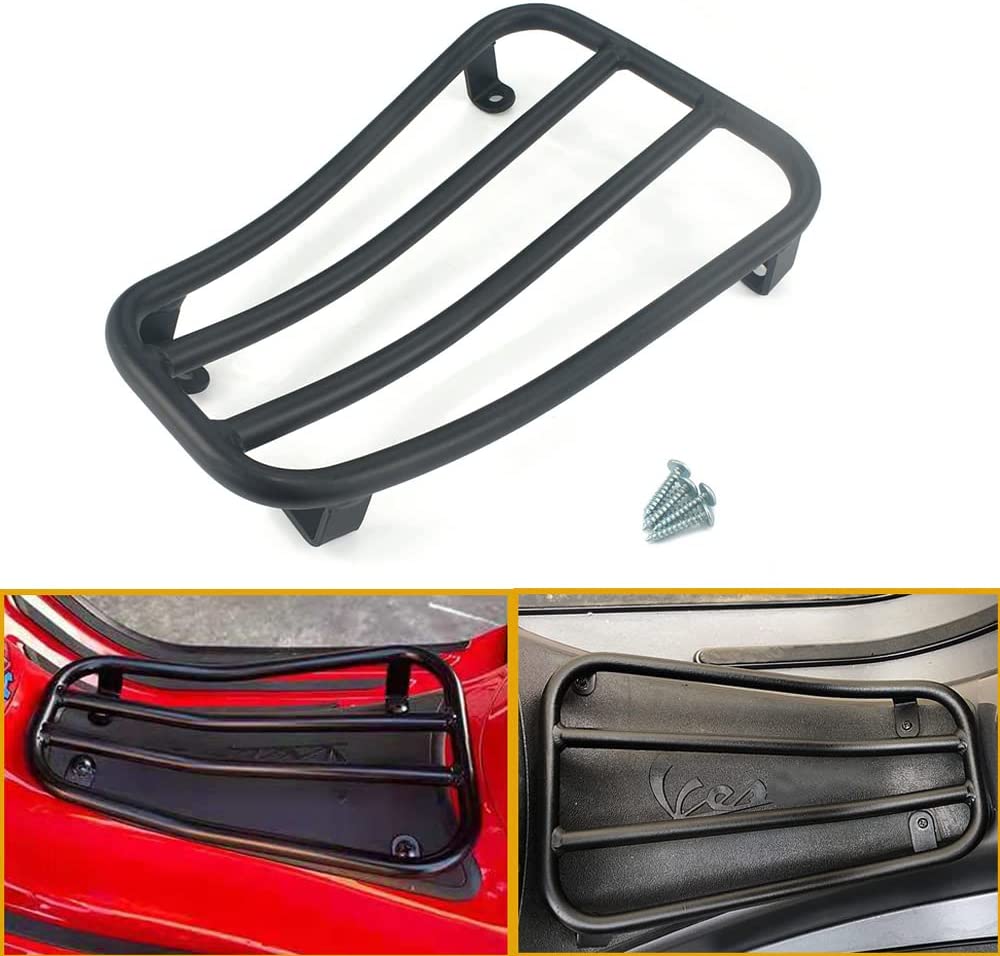 10. Passenger comfort
If you plan to take a passenger along, then there are a couple of accessories that not only increase the comfort of the passenger but also provide extra safety.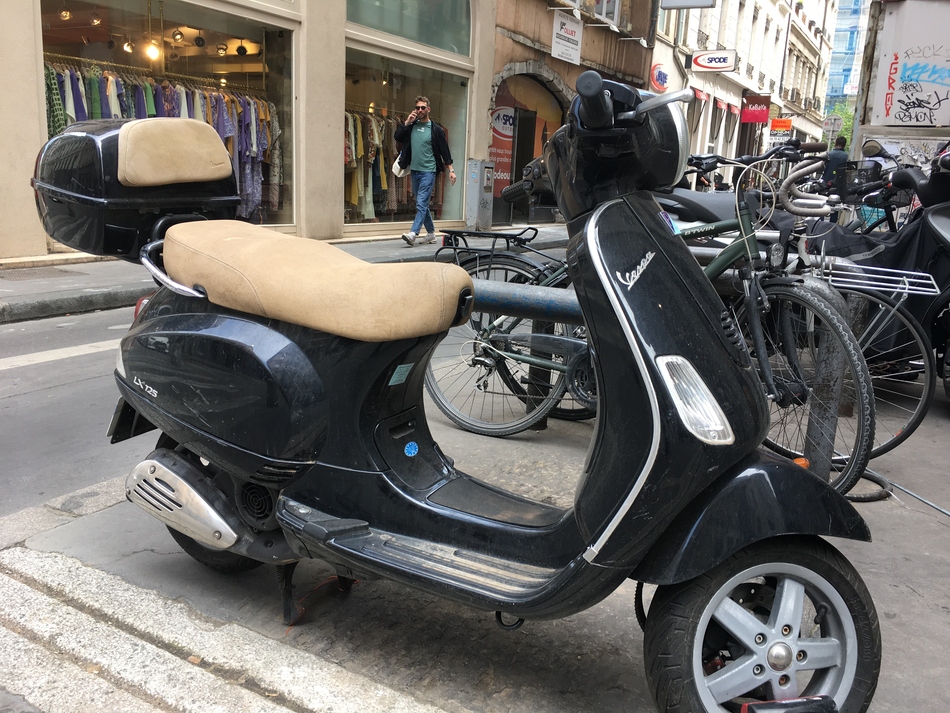 As mentioned earlier, a folding rear rack provides a kind of support for the passenger. The passenger is unable to fall off the back of the Vespa easily because he or she is sitting between the driver and the rack.
If you have a Vespa with a high engine displacement (125cc and above) we do recommend using a top box. By adding a top box with an additional backrest your passenger will feel more comfortable when going high speed.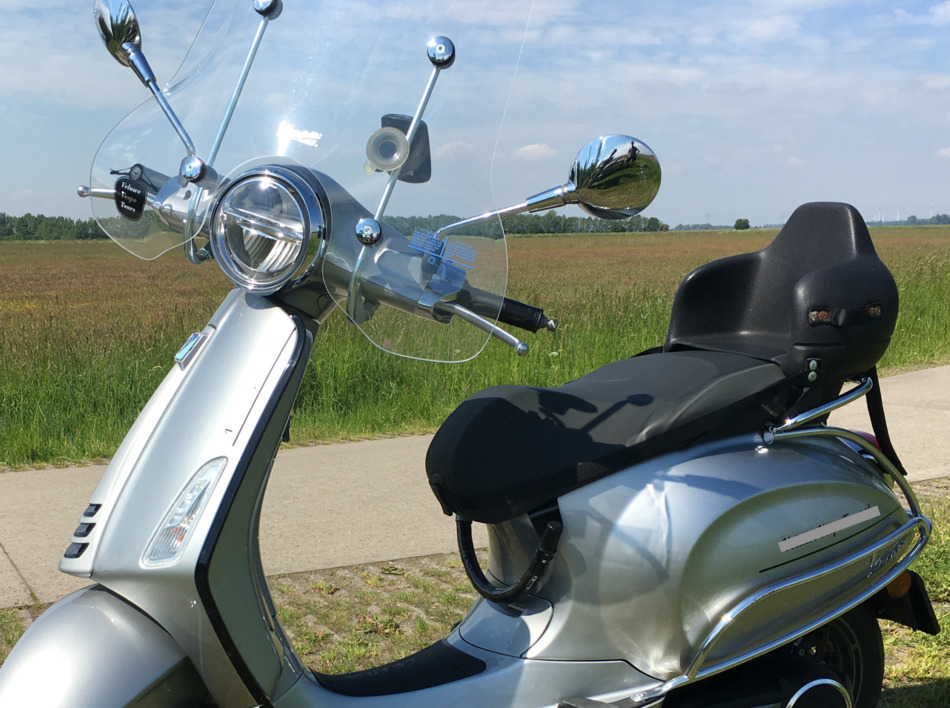 If you are going to take a child with you, then in most countries he or she must be able to reach the footrest. But there are some countries that allow smaller children to hop on but do recommend using a child seat.
We recommend this too. The child will be seated more securely making it much safer to drive. You can read more about what you should be aware of when taking a passenger along in an article we posted.
11. Rubber Floor Mat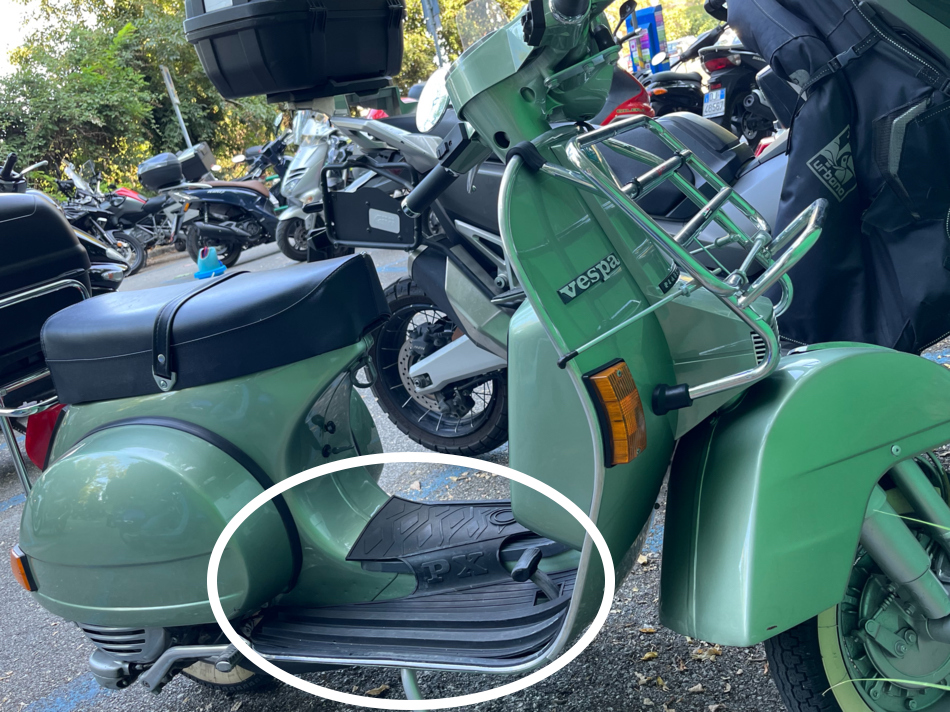 The floorboard of a Vespa tends to get dirty and with its rubber lining it can get pretty difficult to clean. If you want to keep cleaning simple then you should consider a rubber floor mat. All you need to do is lift the rubber floor mat and rinse it off with water.
Not only does a rubber floor mat prevent little debris from settling in the lines and corners of your floorboard, but it also provides an extra non-slippery service under your feet when driving.
Make sure you buy the original Vespa floorboard for your specific model. Here you can check if there is a floor mat available for your Vespa model.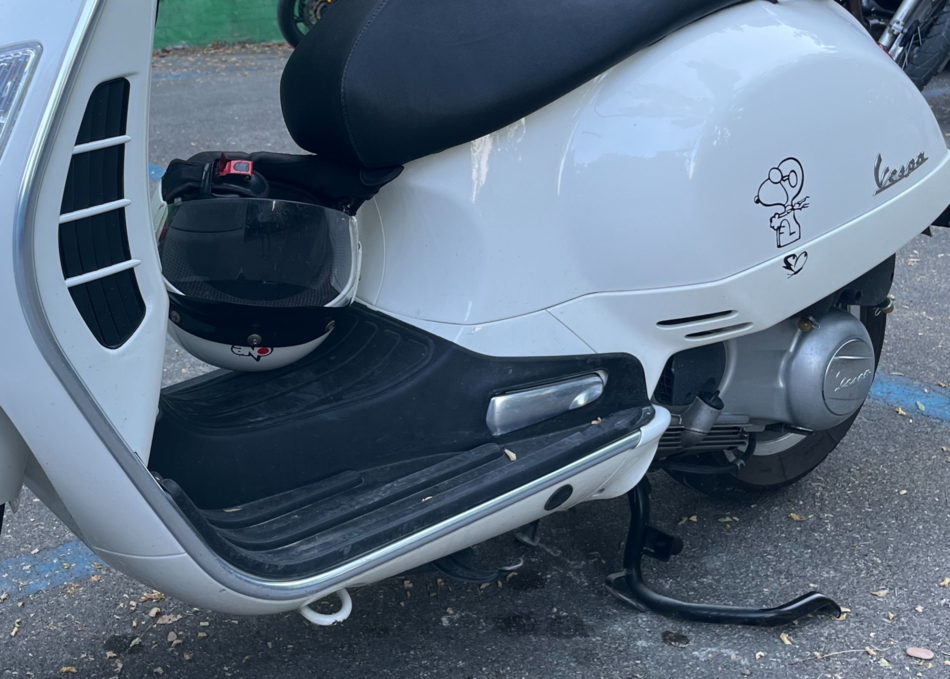 12. Stickers
Well, this last one doesn't really increase your driving comfort, but it will make your Vespa more unique. Over the years Vespa owners have used their Vespa to express their style, whether it is by customizing the color, adding additional chrome to make it 'bling', or just by adding stickers.
There are all kinds of Vespa scooter stickers that you can choose from.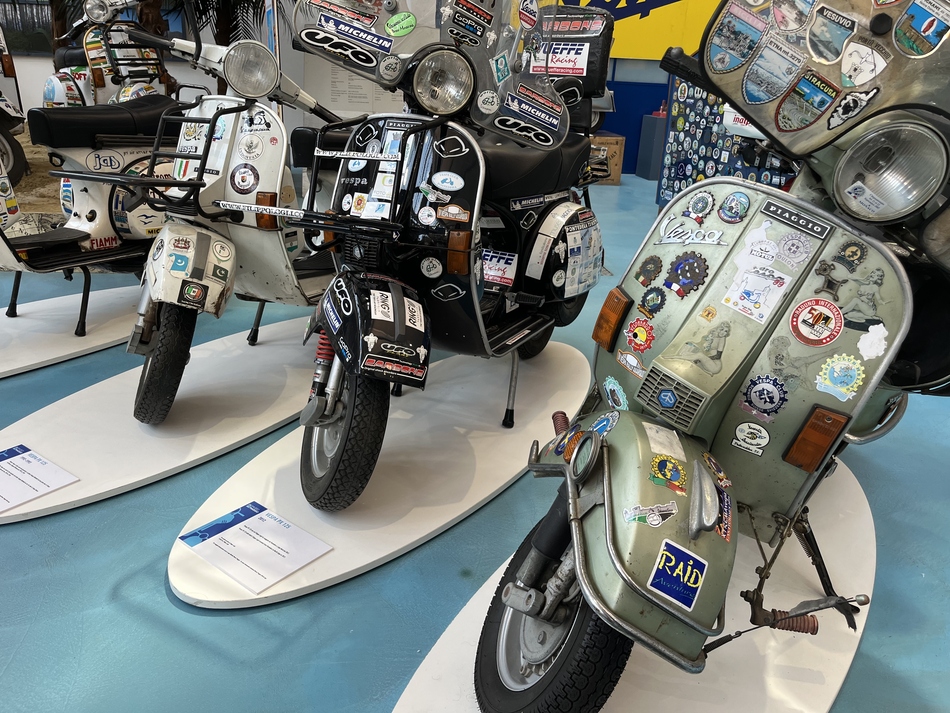 Stickers are an easy way to differentiate your Vespa from others. There are many stickers online but for our rental company, we designed our own and had them printed. So if you want something unique, then we highly suggest doing this. You can easily find somebody on Fiverr to do this for you.