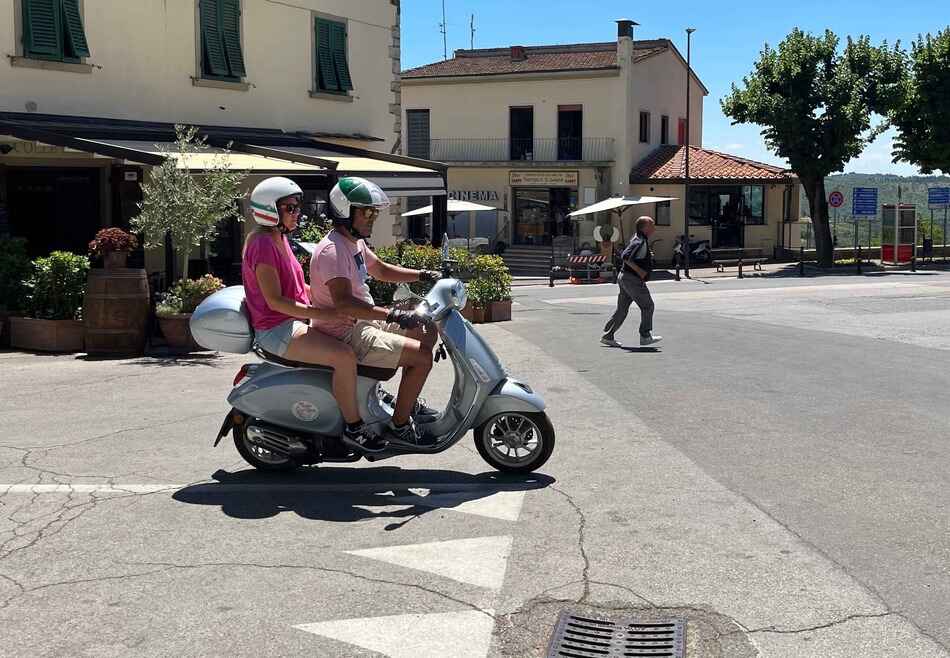 Once owning a Vespa rental company ourselves in Rotterdam, The Netherlands, we can fully understand why you would want to rent a Vespa in Italy. Just picture yourself cruising along the scenic Amalfi Coast, meandering through the enchanting streets of Florence, or driving past the famous historical sites in Rome.
What better place to rent a Vespa than in the country where the history of this iconic scooter started?
You can rent a Vespa in Italy if you meet the rental requirements. These can differ per company but generally speaking you must be in possession of an International driving license (if not European), minimum age of 18, and be familiar with the Italian traffic laws specifically for scooters.
Just the fact that you have stumbled upon this article and are considering renting a Vespa on your holiday in Italy makes it even more necessary to continue reading. We have listed tips on what you should think of when renting a Vespa and where the best places are to rent one.
What You Must Know Before Renting a Vespa in Italy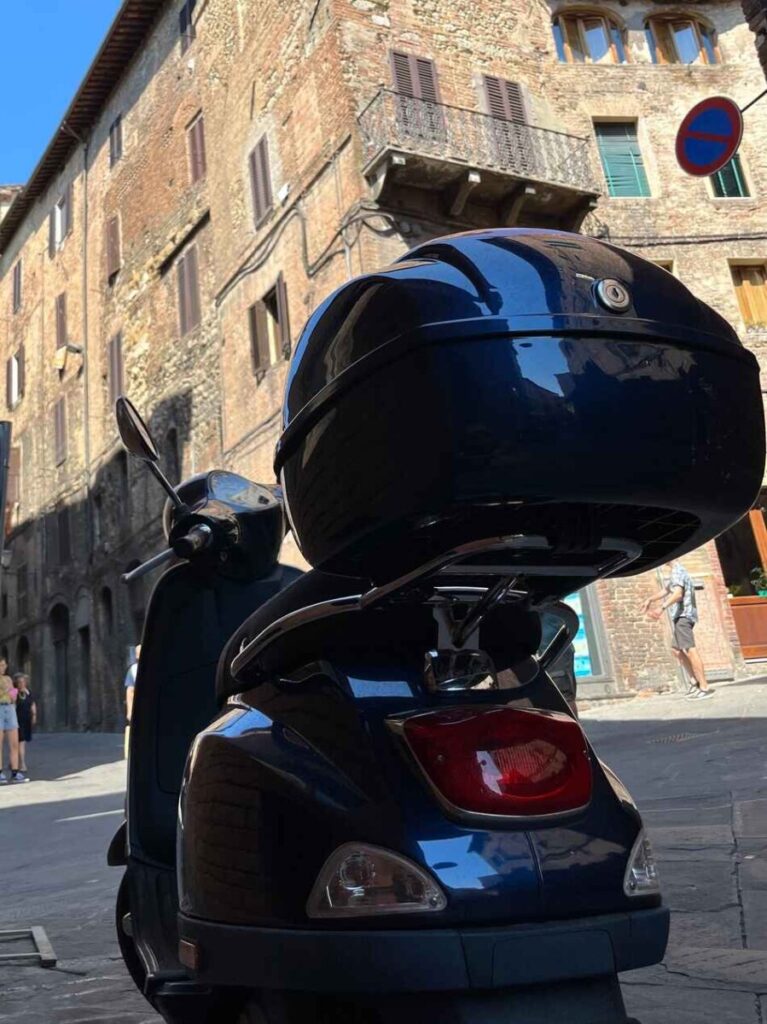 Familiarize yourself with the legal requirements for driving and renting a Vespa in Italy.
Before embarking on your Vespa adventure in Italy, it's crucial to familiarize yourself with the legal requirements for renting and driving a Vespa. First and foremost, you must possess a valid driver's license that permits you to ride a scooter. In most cases, an international driver's license is enough, but it's always wise to check the specific requirements of the rental company or local authorities.
Ensure that you meet the minimum age requirement for renting and operating a Vespa. While this may vary slightly between rental companies, generally, you must be at least 18 years old. Some companies may require riders to be older (such as in Rome) or even hold a motorcycle license. Make sure to clarify these details beforehand to avoid any disappointments or complications.
It is also essential to understand Italian traffic rules and regulations before hopping on your rented Vespa. Take some time to familiarize yourself with speed limits, road signs, and other relevant laws specific to scooters. For instance, you are allowed to rent a Vespa with a 125cc with a regular driving license, but you are not allowed to drive it on the motorway.
This knowledge will not only keep you safe but also help you avoid any potential fines or penalties during your Italian escapade.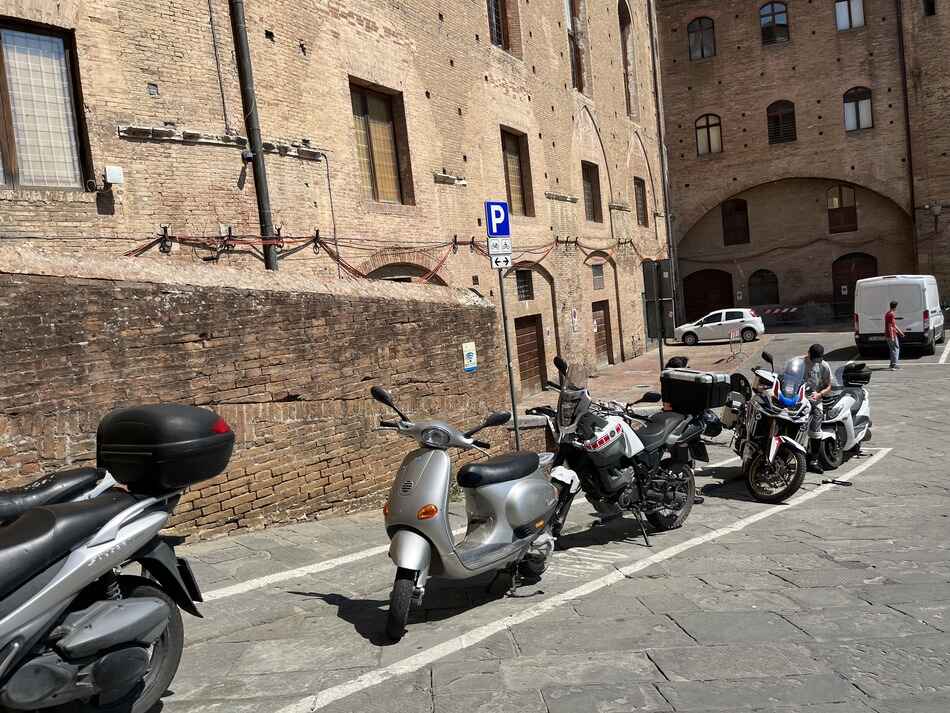 What to bring when renting a Vespa
An international driving license, unless you are an EU citizen then a regular driving license is sufficient
Credit card from which a deposit is withheld
Passport or ID Card
Understand the different types of Vespas available for rent and choose one that suits your needs.
There are various models available catering to different preferences and needs. Understanding these options will allow you to select the perfect scooter for your adventure.
Classic Vespas: These iconic Vespas offer a nostalgic experience as you cruise through picturesque Italian streets. Classic Vespas are known for their timeless design and reliable performance. However, if you are considering this type of Vespa you really need to be an experienced driver and fully understand driving with manual gears.
Modern Vespas: If you prefer to drive without much fuss then the modern automatic Vespas are an excellent choice. They combine sleek aesthetics with advanced features, making them perfect for urban exploration.
Vespa GTS: For those seeking a more powerful ride, the Vespa GTS series provides enhanced performance and speed. With larger engines and sportier designs, these Vespas are ideal for longer journeys or riding in hilly terrains.
To fully understand the differences between a classic and a modern Vespa check out an article that we wrote about this topic.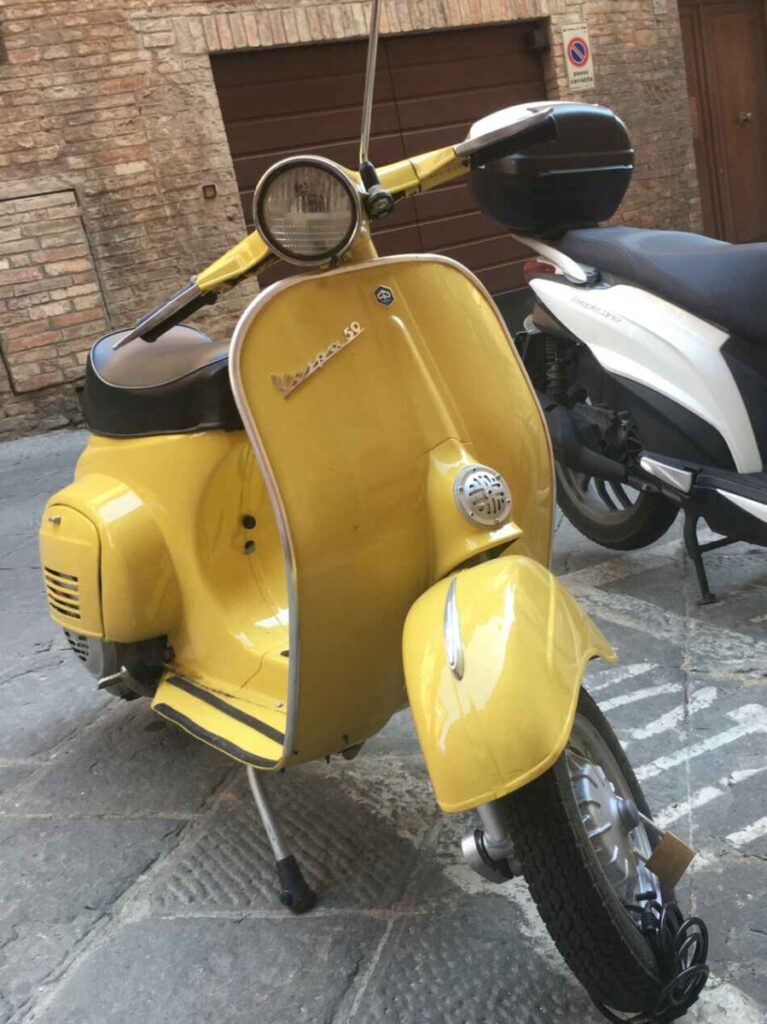 Consider factors such as engine power, storage capacity, and seating comfort when choosing your Vespa. It's also worth discussing your itinerary with the rental company to receive expert advice on the most suitable model for your intended route and duration of use.
Do remember that once you choose a Vespa with a 150cc engine displacement or larger, you will need a motorcycle license as well.
Last but not least (we can't stress it enough), make sure you have some experience in driving a scooter. Traffic is different in Italy. In Rome, it can get crazy and in the countryside, the streets can be narrow and steep.
And while the chance to drive a classic Vespa might feel like a one-in-a-lifetime opportunity, please be truthful to yourself and ask yourself if you can handle driving manually. When we had our own Vespa rental company, we had so many accidents with renters who just wanted to rent a classic Vespa no matter what. In the end, we had accidents, or they regretted choosing it because it was too stressful to drive.
Learn about insurance options and coverage when renting a Vespa in Italy.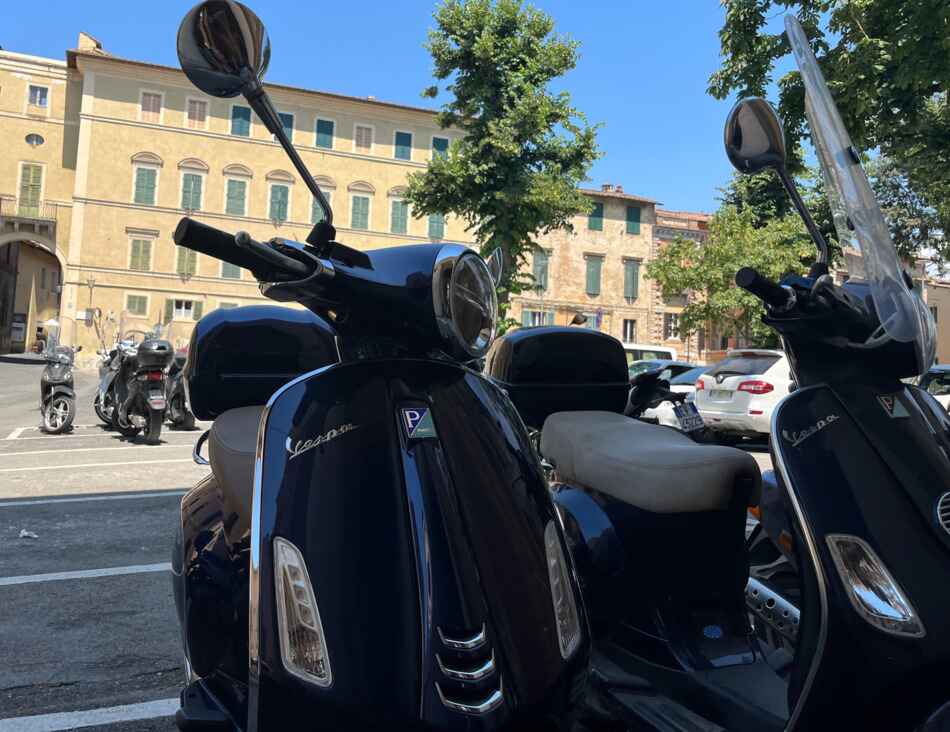 Insurance is an essential aspect of any vehicle rental, including Vespas in Italy. While it may seem like an additional expense, having adequate coverage can save you from potential financial burdens if an accident occurs during your rental period.
Third-Party Liability Insurance: This type of insurance is mandatory in Italy and covers damages caused to third parties involved in an accident. It ensures that their medical expenses or property damage are taken care of by the insurance provider.
Collision Damage Waiver (CDW): CDW is optional but highly recommended as it protects you from bearing the full cost of repairs or replacement in case of damage or theft of the rented Vespa. However, it's crucial to carefully read and understand the terms and conditions associated with CDW to avoid any surprises later on.
Personal Accident Insurance: Although not always included in standard rental packages, personal accident insurance provides coverage for medical expenses resulting from injuries sustained during an accident while riding a rented Vespa.
Before finalizing your rental agreement, discuss insurance options with the rental company to ensure you have appropriate coverage based on your needs and preferences. Remember to ask about deductibles or excess fees that may apply in case of a claim.
Discover important safety tips to ensure a smooth and enjoyable Vespa rental experience.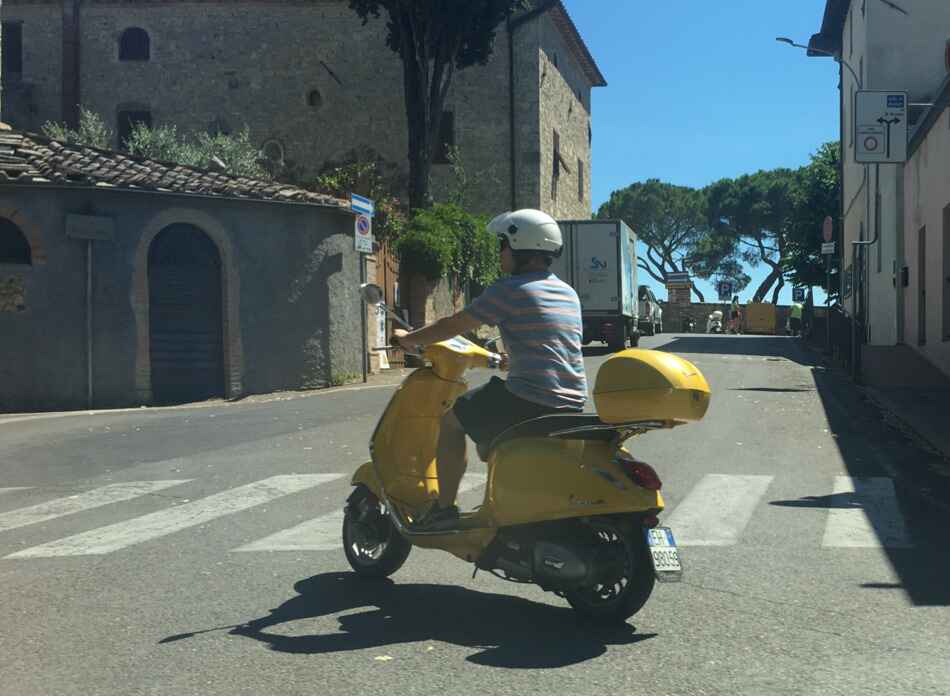 While riding a Vespa can be an exhilarating experience, it's crucial to prioritize safety to make your rental adventure in Italy as smooth and enjoyable as possible. Here are some essential safety tips to keep in mind:
Wear a Helmet: Always wear a helmet when riding a Vespa, regardless of whether it is legally required or not. A helmet significantly reduces the risk of head injuries and enhances overall rider safety.
Follow Traffic Rules: Observe speed limits, traffic signals, and road signs diligently. Adhering to Italian traffic rules will help you navigate the roads safely and avoid unnecessary accidents or fines.
Stay Alert: Be aware of your surroundings at all times. Keep an eye out for other vehicles, pedestrians, and potential hazards on the road. Defensive driving is key to ensuring your safety while enjoying your Vespa rental.
Practice Defensive Riding: Italian roads can be busy and chaotic, especially in cities like Rome or Florence.
Which Vespa Rentals in Italy?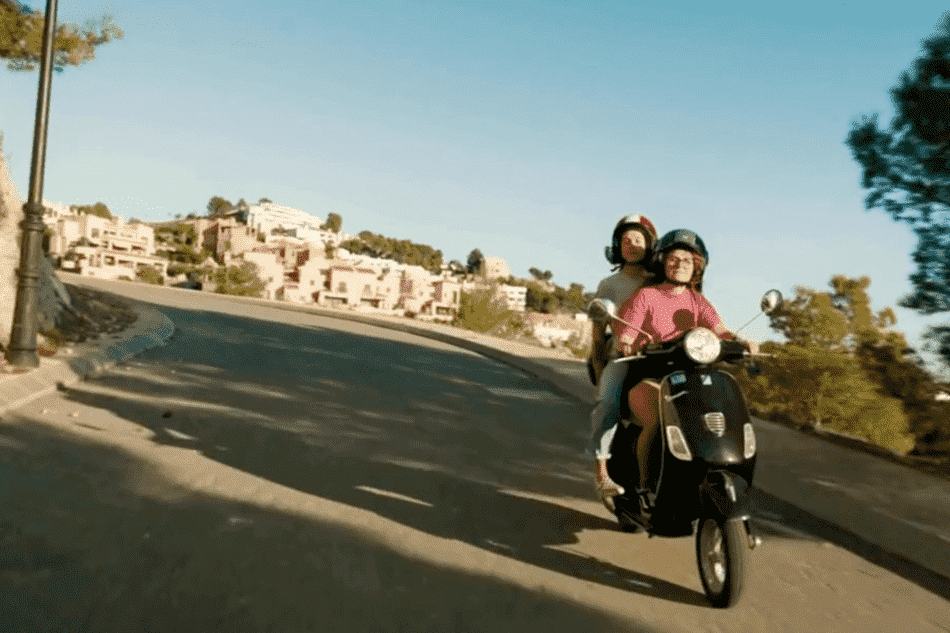 Compare prices and services offered by different Vespa rental providers across Italy.
When planning your Vespa adventure in Italy, it's essential to compare prices and services offered by different rental providers. While many companies offer similar experiences, variations in pricing and additional services can make a difference in your overall experience. Here are some factors to consider when comparing different Vespa rental providers:
Pricing Structure: Check whether the rental fee is charged per day or per hour. Some companies may also offer discounted rates for longer durations or package deals that include guided tours or additional accessories.
Insurance Coverage: Ensure that the rental company provides comprehensive insurance coverage for both you and the scooter against any unforeseen circumstances. It's important to understand the terms and conditions of the insurance policy before finalizing your rental.
Deposits and Refunds: Inquire about the deposit required for renting a Vespa and whether it is refundable. Understanding the refund policy will help you plan your budget accordingly.
Additional Services: Some rental providers may offer extras such as helmets, locks, maps, or GPS devices at no additional cost. These services can enhance your experience and save you from extra expenses.
Pick-up and Drop-off Locations
Mileage Restrictions and Destination Considerations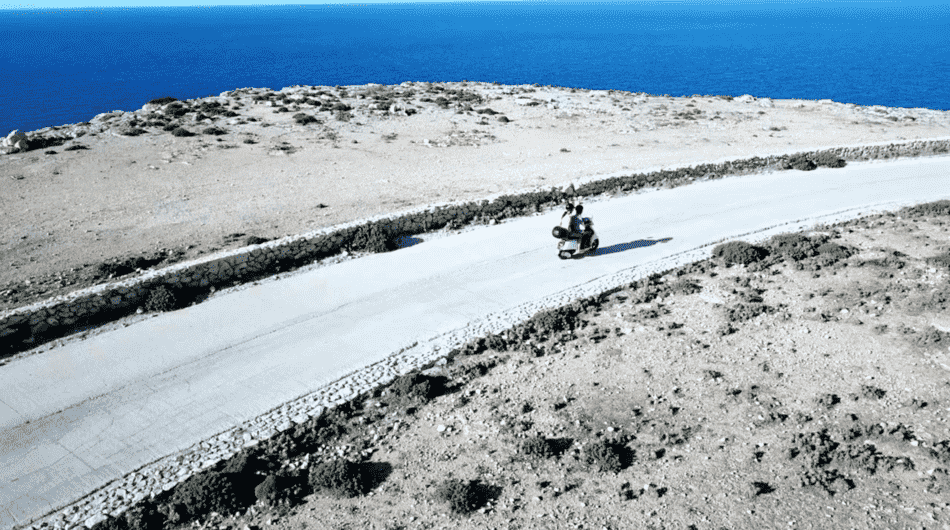 When renting a Vespa in Italy, it's essential to understand any mileage restrictions or destination limitations imposed by the rental company. Here are some points to consider:
Mileage Restrictions: Some rental companies may impose mileage limits as part of their terms and conditions. This means that there could be a maximum number of kilometers allowed during your rental period without incurring additional fees. Be aware of these restrictions and plan your itinerary accordingly.
Destination Restrictions: Certain rental companies may have specific restrictions on where you can take the rented Vespa. They might prohibit riding on highways or venturing into certain areas due to safety concerns or insurance limitations. Make sure to clarify these restrictions beforehand to avoid any issues during your trip.
It's important to respect these restrictions as they are in place for your safety and the well-being of Vespa. Violating these terms could result in penalties or additional charges, so it's best to adhere to them.
Typical Rental Durations for renting a Vespa in Italy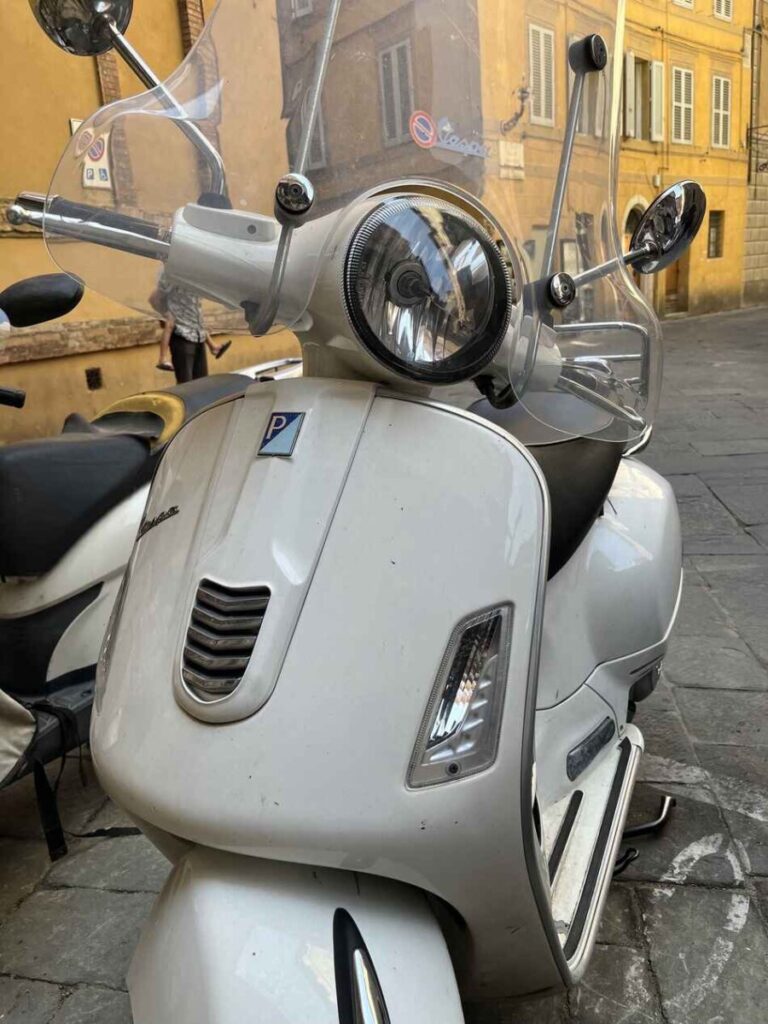 When renting a Vespa in Italy, rental durations can vary depending on your needs and preferences. Here are some common options offered by rental companies:
Hourly Rentals: If you only need a Vespa for a short period, some rental companies offer hourly rentals. This is ideal if you want to explore a specific area or take a quick ride around town.
Daily Rentals: Some rental companies allow you to rent the Vespa within their opening hours. This means you have to return it by the end of the day. Look a bit further if you prefer to rent a Vespa for a whole 24 hours. There are some that do so.
Weekly Rentals: For those planning an extended trip in Italy or wanting to immerse themselves in the Vespa experience for longer periods, many rental companies offer weekly rentals. This option provides greater flexibility and cost-effectiveness compared to daily rentals.
Customized Durations: Some rental companies may also offer customized rental durations based on your specific requirements. Whether you need the Vespa for a few days or several weeks, inquire with the rental company about their flexibility in accommodating your desired duration.
It's important to note that prices may vary depending on the duration of your rental period and the type of Vespa chosen. Make sure to clarify all pricing details with the rental company before finalizing your reservation.
Top-rated Vespa rental companies in Italy
To help you make the most of your Italian adventure, we have compiled a list of the top-rated Vespa rental companies in the most visited places in Italy. These reputable companies ensure a hassle-free experience and provide well-maintained Vespas for your convenience.
You will notice that most rental companies only rent out Vespas with an engine displacement of 125cc or higher. We think that is also the best to tackle the steep hills which Italy is known for. A Vespa 50cc will have a more difficult time, as you can read in the article we wrote about uphill driving.
Renting a Vespa in Rome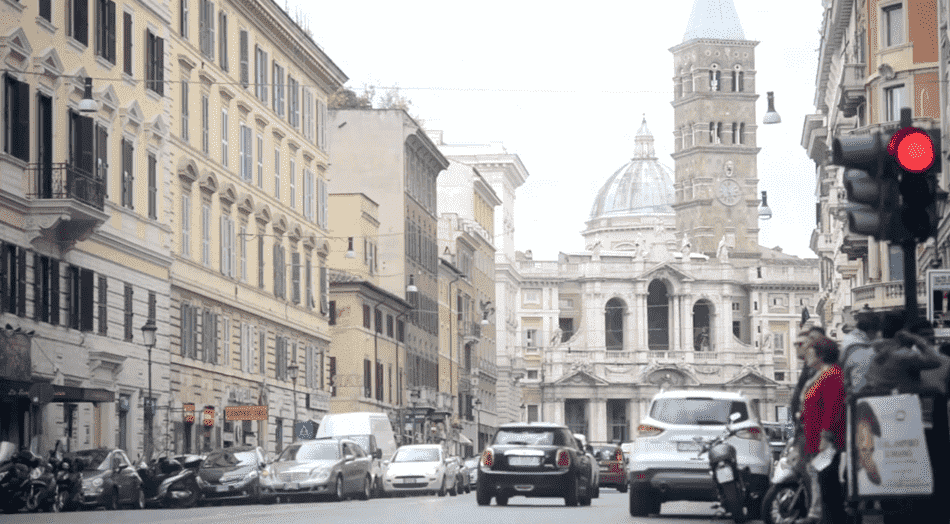 Rome is not only a popular place to visit, but the traffic is extremely busy. Therefore you will soon notice that most Vespa rental companies require you to have scooter driving experience. The traffic plus Rome being a city with a maze of streets is just too much for an inexperienced driver to handle.
Luckily these rental companies offer a private driver to take you. However, this makes the rental price more expensive than in other cities of Italy. Expect to pay around 115 to 190 euro for just an afternoon with a guide and if necessary a driver. If you are an experienced and confident driver and want to drive yourself with without a guide expect to pay 45 to 75 euro per day/24h depending on the Vespa model.
These are the Vespa rental companies that we recommend:
Renting a Vespa in Florence and Tuscany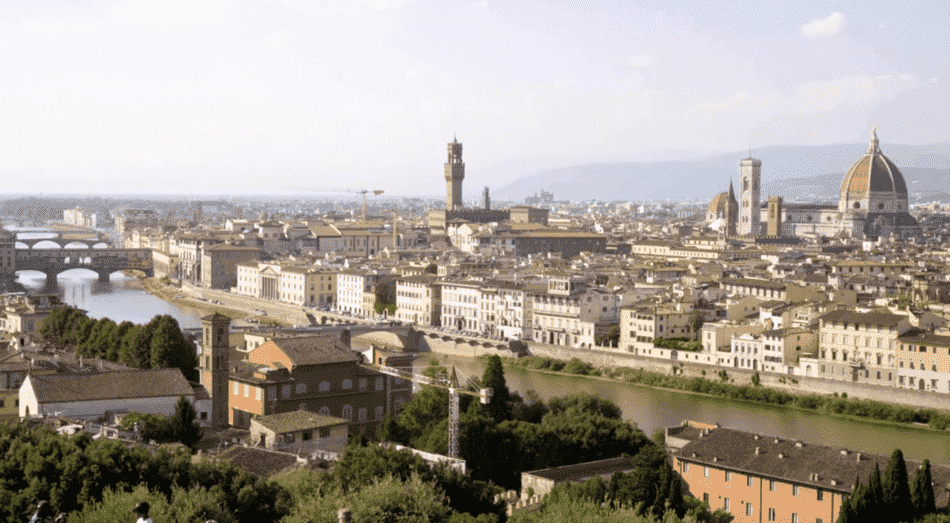 Florence is a wonderful place to rent a Vespa. Drive through this beautiful city followed by a tour of the surrounding countryside. There are also many Vespa rental companies located in the heart of the famous Chianti region enabling you to enjoy this vineyard region to the fullest.
Tuscany is a quiet region making it pleasant to rent a Vespa, also for those who are less experienced. You will notice that the Vespa rental companies offer more self-drive options. You can rent a Vespa for 60 to 70 euros per day depending on the engine size displacement. If you rent longer than just a day, then they offer you a discount.
If you want a guided Vespa tour expect to pay around 95 euros for an 8-hour tour.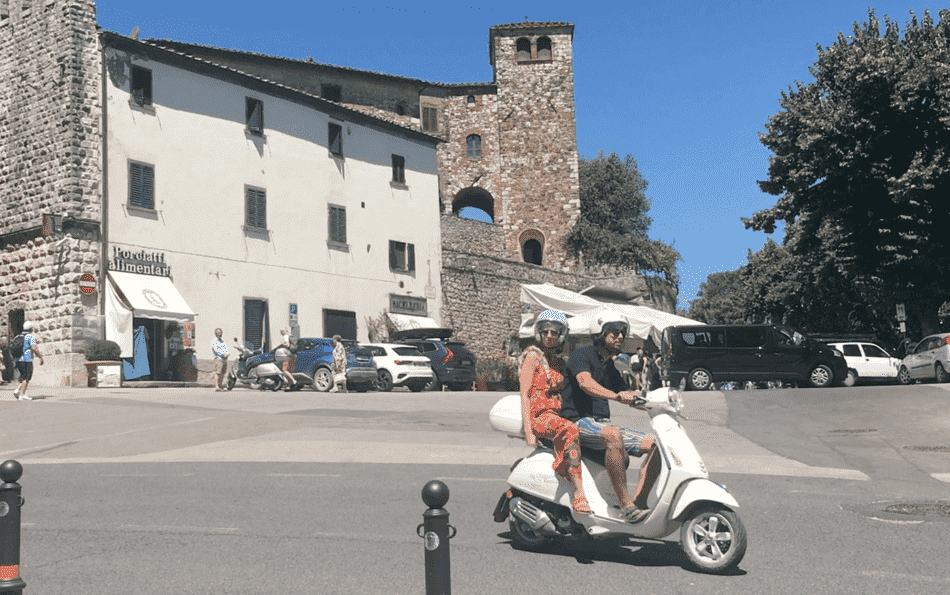 Renting a Vespa in Naples and Almafi Coast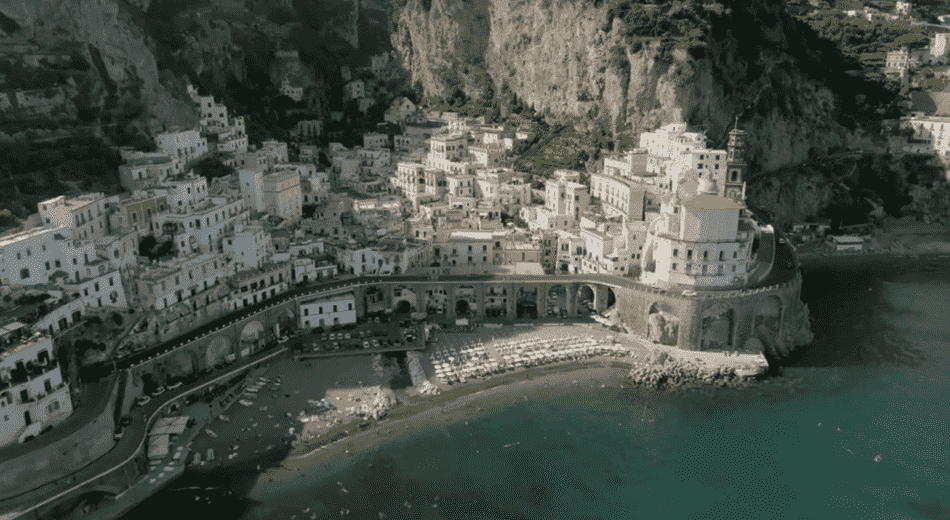 Known for its colorful cliffside houses and stunning beachfront, the 'Amalfi Drive' is a must when traveling through this region. And what better way than on a Vespa?
We do recommend only renting a Vespa if you have had previous scooter driving experience. The roads along the Amalfi Coast can be narrow, winding, and challenging to navigate even for experienced drivers. That said the Vespa is an ideal way to travel around the little cities. You will have no trouble finding your way through the narrow steep streets while searching for a parking spot.
There are numerous rental companies in the region, however, non of them offered guided tours and just a few actually rent out Vespas. Prices range from 69 euro to 100 euro per day.
You can also choose to rent a bike in Naples, where there are more choices in Vespa rental and prices are somewhat lower. The rental companies we added do offer guided tours as well. Prices range from 60 to 70 euros a day for just a Vespa. Guided tours can range from 120 euros to 220 euros, depending on the duration and an extra passenger.
Renting a Vespa in Sicily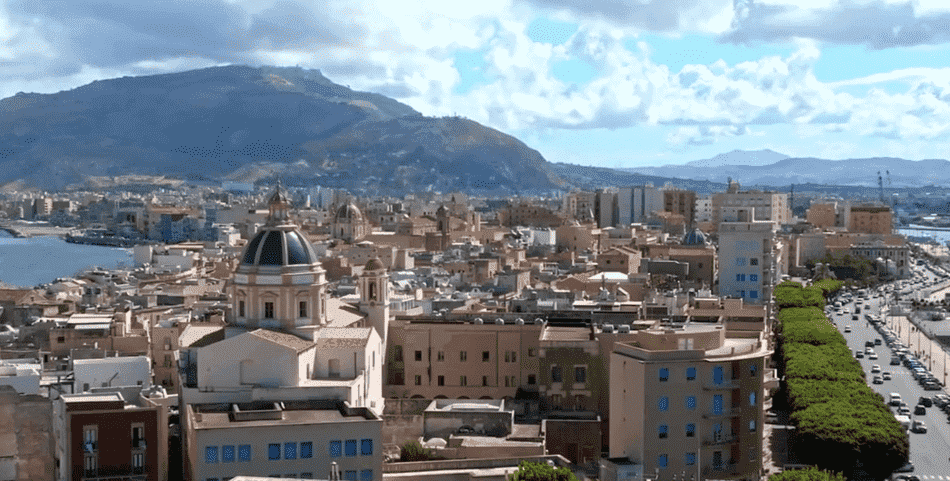 Sicily is a gorgeous island known for its ancient architecture, vineyards, mount Etna, beautiful beaches, and panoramic views. A perfect island to rent a Vespa. If you are in Sicily for a longer period of time, you can rent a Vespa for more than a day and do an amazing road trip.
We did discover that there are a lot of rental companies, but just a few who actually rent Vespa scooters. Many companies rent regular motorcycles with heavy engine displacement. However that said, we found a couple that even offer guided tours and pre-set routes for your mobile.
Prices start from 35 euro to 61 euro depending on the model. Guided tours are around 100 euro for 2 people.
Trapani Vespa Tour/91100 Rent (Sicily): Ride a Vespa GTS 300 or a Primavera/GTS/LX 125 along the coast and through historical places with a guide (including guided walk) or independently.
SicilyMotoRent: While this rental company mainly focuses on motorcycles, they do have a Vespa GTS 125. And the best thing is that they have this long list of routes so you will see the best of the island when renting a Vespa here.